Hosting a Kentucky Derby party is a great way to celebrate the fastest two minutes in sports without spending a fortune at the track. Pull off a fantastic event with fabulous food at minimum costs.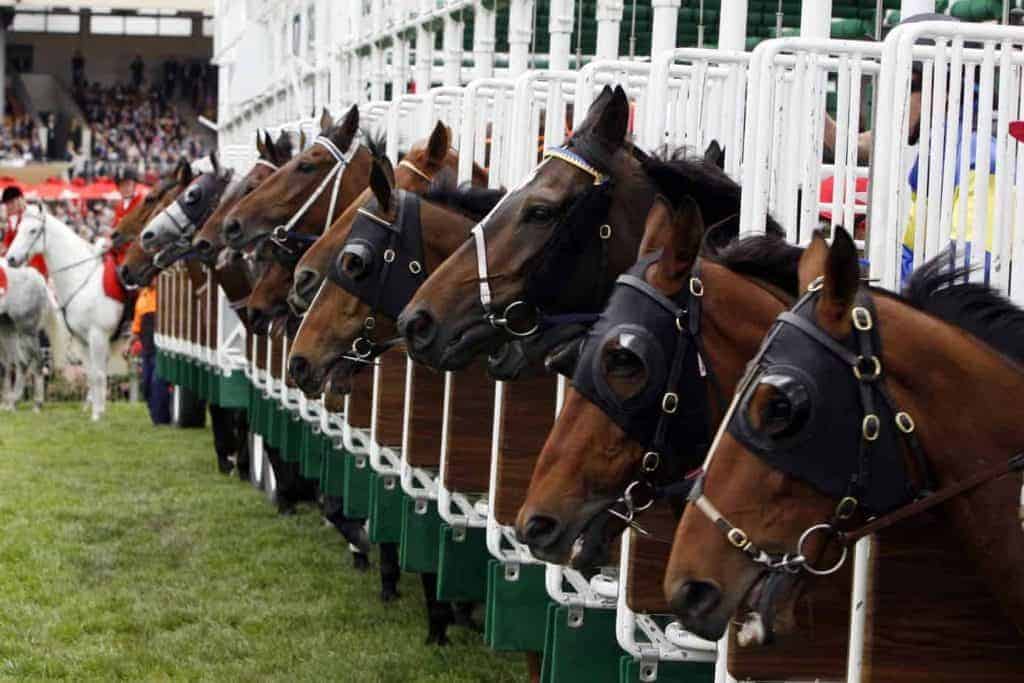 The Kentucky Derby is just around the corner. If you are from Louisville, you've been planning for at least six months. By now, Dee's Crafts is packed with ladies gathering the accessories for their hats, or placing an order to have one custom made!

Have I ever told you about the hat I had custom made from Dee's? It cost a pretty penny, but I do believe it was the best hat at the track… if I do say so myself. 🙂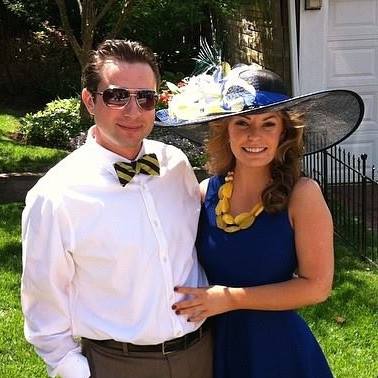 The Derby is a great excuse to get dressed up and throw some money around at Churchill Downs, or host a party at home with delicious Kentucky Derby party food, friends and friendly betting.

If you are headed to the track this year, check out my insider tips for attending the Kentucky Derby. There's some great info for first timers!

If you are hosting a party at home, let's get to the "How To"! There's no real science to hosting a Kentucky Derby party, but when it comes to hosting any large gathering at your home, it's always a good idea for a refresher.

How to Host a Kentucky Derby Party
If you've been hanging around here lately, you know how passionate I am about enjoying the parties and gatherings you host. Because if you don't, it shows. Your guests feel the tension!
I don't agree to decisions that will introduce stress into planning a party, because I know the more simplistic, the less chance for something to go awry. It's simply not worth the hassle!

This means I wouldn't choose to have a chocolate fountain that would require constant babysitting for 30 people. It's cool – yes – but also stressful. Ain't nobody got time for that!

It also means my parties may not be Southern-Living covershots, but they are always enjoyed by all – including the hosts. And that's the most important part!

1. Set a Party Theme.

If you are sticking with tradition, you can skip down to #2, but you might consider adding a theme to make things even more exciting!

For our previous Kentucky Derby party, we did a Derby Fiesta! and everyone truly enjoyed getting into the spirit of dressing up. We had some interesting outfits show up, and it was super fun finding a fiesta-themed fascinator on Amazon!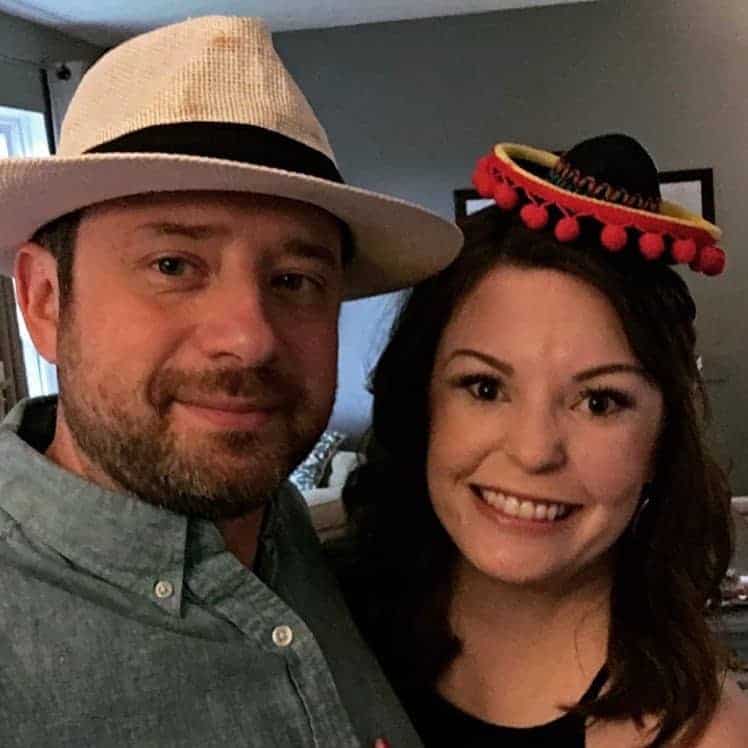 Other theme ideas include Casino, Beach Party, Carnival, 20's Flapper, 80's Skate Rink… really, the sky's the limit.

2. Serve Kentucky Derby Recipes.

Whether you are in Louisville or hosting from afar, the food is always the most important aspect of a party, especially when it comes to a Kentucky Derby party.

Now that you've determined your theme, this should be pretty easy.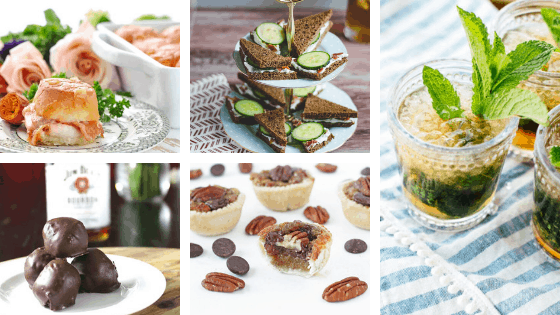 For our Derby Fiesta, we chose to stick with the mexican theme and did a taco bar (all in the crockpot!), but you may choose to stick with more traditional fare. If so, I shared a round-up of traditional kentucky derby party food that is complete from drinks to desserts! You'll definitely want to check that out.

Here are some ideas on traditional Kentucky Derby food:
… anything with bourbon!

3. Find Kentucky Derby Party Decorations.

Don't go overboard! This tip goes right along with making stress-free decisions. Choose items that are inexpensive and that you could use again in the future.

Amazon is your friend! Solid colored table-cloths will do wonderfully with fun, themed cocktail napkins. You can also pick up horse figurines from a craft store (or your kid's toy box!) for some flare. Here's my Amazon Affiliate link with pre-selected decorations. This provides me with a small commission at no extra cost to you!

Some other decor ideas are sandwich skewers, drink stirrers, banners, pinatas… you can find anything on Amazon or Dollar Tree!

4. Send Out Kentucky Derby Party Invitations.

If you are choosing to go potluck style, Facebook may be easier for invitations so you can have a running list of the food your guests are bringing right there on the event page. There are a few online invitation sites that allow comments and chats between guests, which are all great ideas for organizing who's bringing what.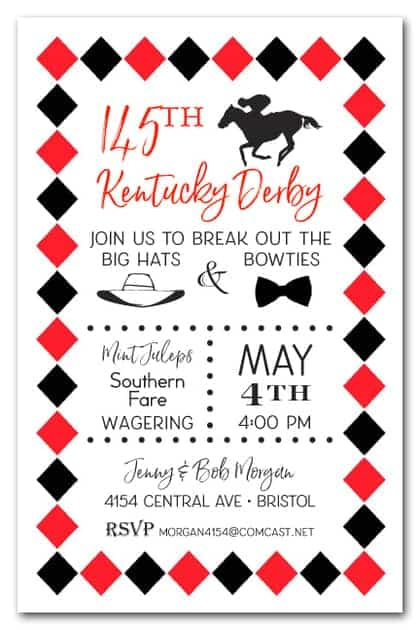 OR, You can go progressive style and send out invitations and the recipe to a dish you would like them to bring. This is also a ton of fun and doubles as a way to take a few things off your plate.

Again, Amazon has great options for Kentucky Derby party invitations as do other online invitation services. Be sure to keep track of all of your RSVPs.

5. Set Up Betting Stations.

You can't have a Derby party without proper betting stations!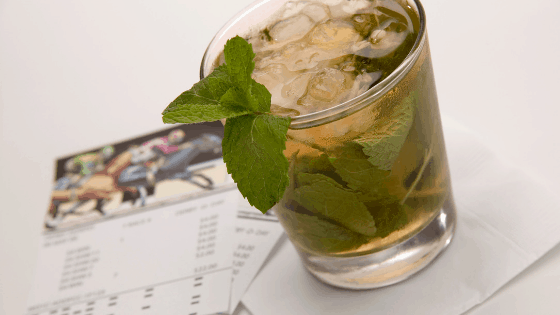 These can take the form of raffle drawings, money pools or just the old fashioned betting on each race. Conveniently, we have a bar in our kitchen that overlooks the living room. We line up a few laptops and allow guests to place their bets on the Twin Spires app. The set up makes a perfect area for betting and researching the winning horse.

The Twin Spires app is available on iOS and Android. As far as knowing what to bet and how to pair the horses, you will have to find that information elsewhere! I choose strictly by the horses' names or pretty colors of the silks. You can tell I take this betting stuff to heart. 🙂

6. Finally…Enjoy Yourself & Don't Stress!

My husband always says "What's the worst that can happen?" and he's so right! The worst thing that could happen is you mess up every single recipe, serve hot beer and can't find the races on TV. But, if the food is terrible and the beer is hot, you order pizza and send the husband to the quick rip!

I jest. But my point is that not sweating over the small stuff, or rather not stressing over what hasn't happened yet, allows you to focus on being a gracious and graceful host.

As a host, it's your job to set the tone of the party!

Happy Derby Day and Happy Betting!