How organized is your kitchen? If you've searched endlessly for a certain casserole dish or wrangled a gadget shoved in the back of the cabinet, this post is for you!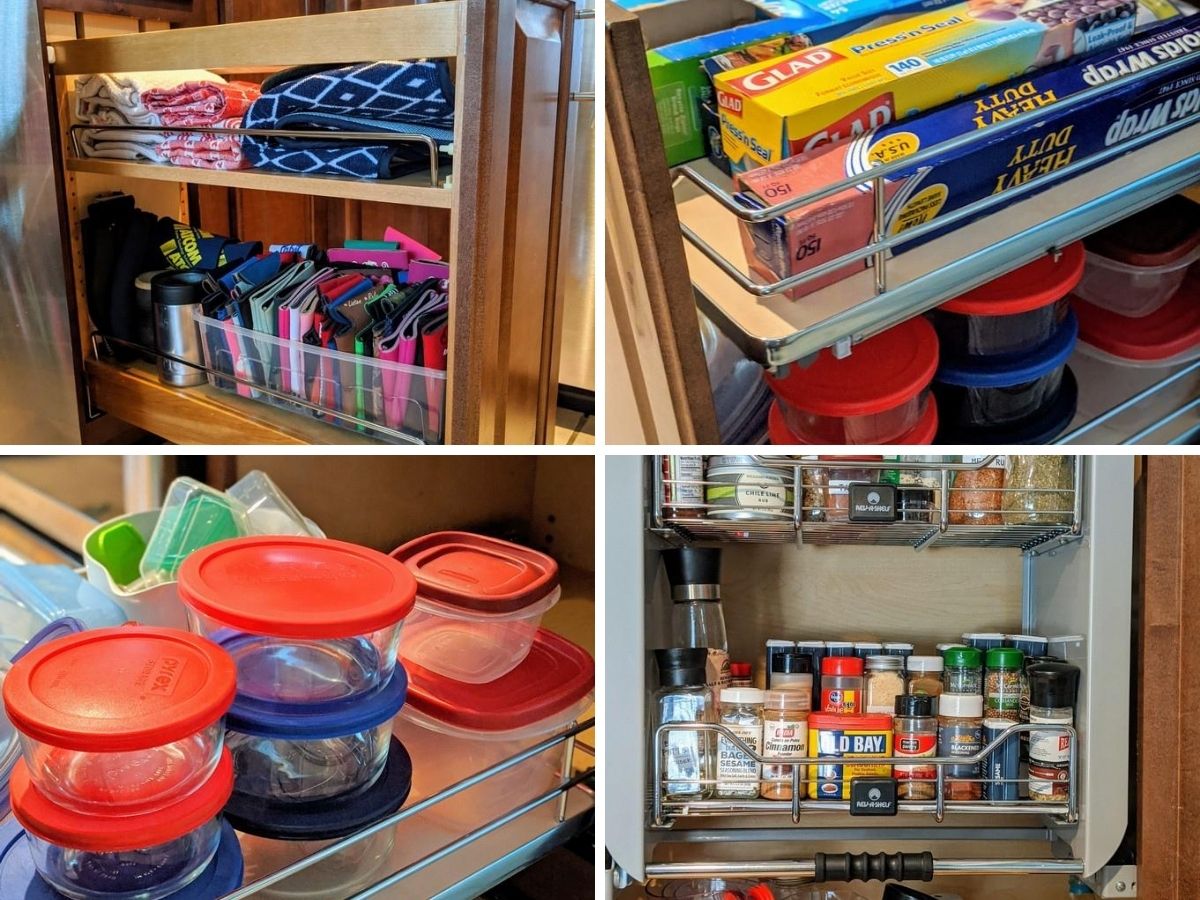 With all the cooking and hosting we do, kitchen organization is a real necessity around here! Our kitchen isn't small, but after realizing how much rearranging, stacking, and searching I do, it was clear we needed some real kitchen cabinet storage solutions.
Enter: Rev-A-Shelf.
The thing we love most about our Rev-A-Shelf pullouts and spice racks: the quality! It seems like such a first world fix, but being able to quickly access the items used most makes my time in the kitchen so much more enjoyable.
Pull Out Shelves for Kitchen Cabinets
Rev-A-Shelf Pullouts
We installed the solid bottom pullout shelves in two cabinets on both sides of our stove. These cabinets housed food storage containers, plastic wrap, foil, a pressure cooker, and a blender. Because everything was thrown inside, I had to crouch down on my hands and knees just to grab a sandwich bag.
Now, after the installation of two pullout shelves in each cabinet, I can easily see everything and grab it quickly.
We also installed two pullout drawers to hold our pressure cooker, blender and KitchenAid accessories. A super convenient feature because my standmixer lives right above this cabinet, and I don't have to break my back to wrangle the pressure cooker.
Rev-A-Shelf Spice Rack
This was probably the most exciting addition to our kitchen! I'm only just over 5 feet, so grabbing a spice from the top shelf always required a step-stool and climbing on the counter.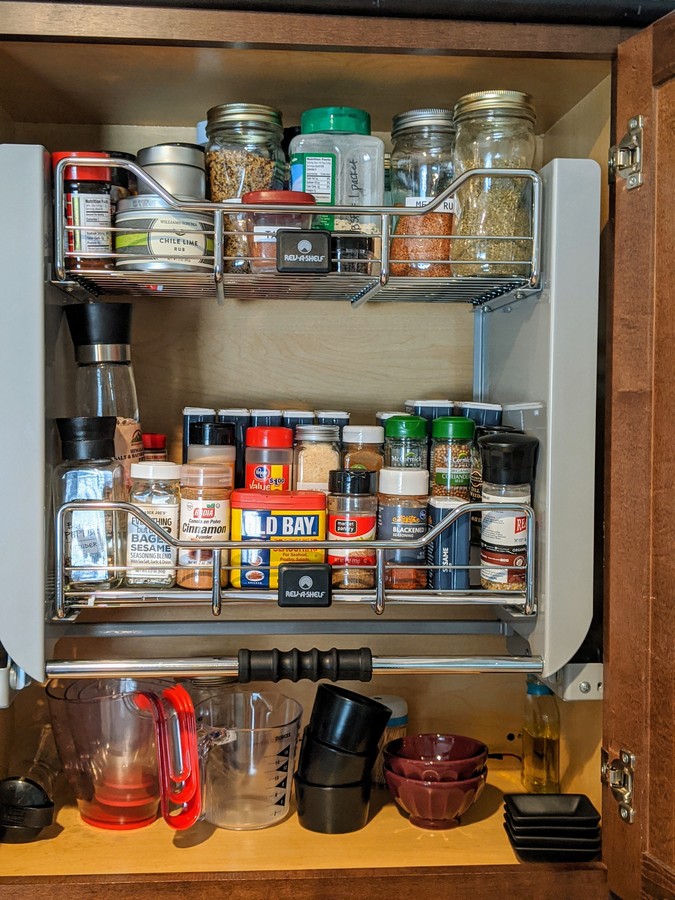 With this pull-down shelf, I can easily raise and lower my spice rack with ease.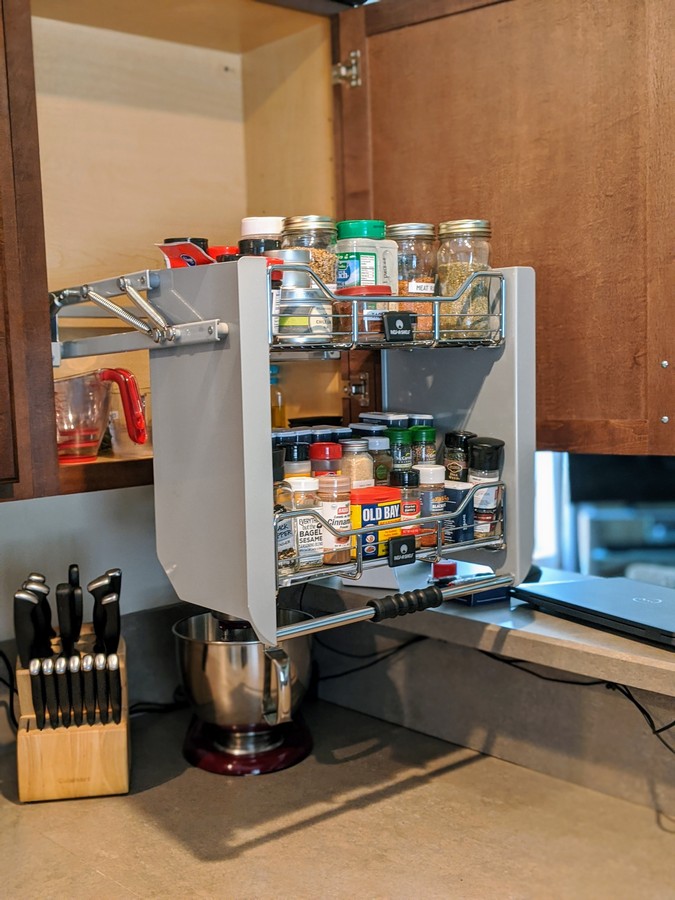 Pro tip: Install the shelf a little higher, so you can still have some storage below.
Base Cabinet Pullout
For this narrow cabinet – we were really struggling with what to do with this space. It was stuffed with a file cabinet full of koozies – a Pinterest discovery that didn't work well for us.
The Base Cabinet Pullout is a great storage solution for spices, utensils, etc. But, because of the location of our cabinet, none of those options really made sense.
But we did have a massive amount of koozies that were overflowing out of said cabinet, as well as too many kitchen towels stuffed in a drawer. So, this space was the perfect hybrid!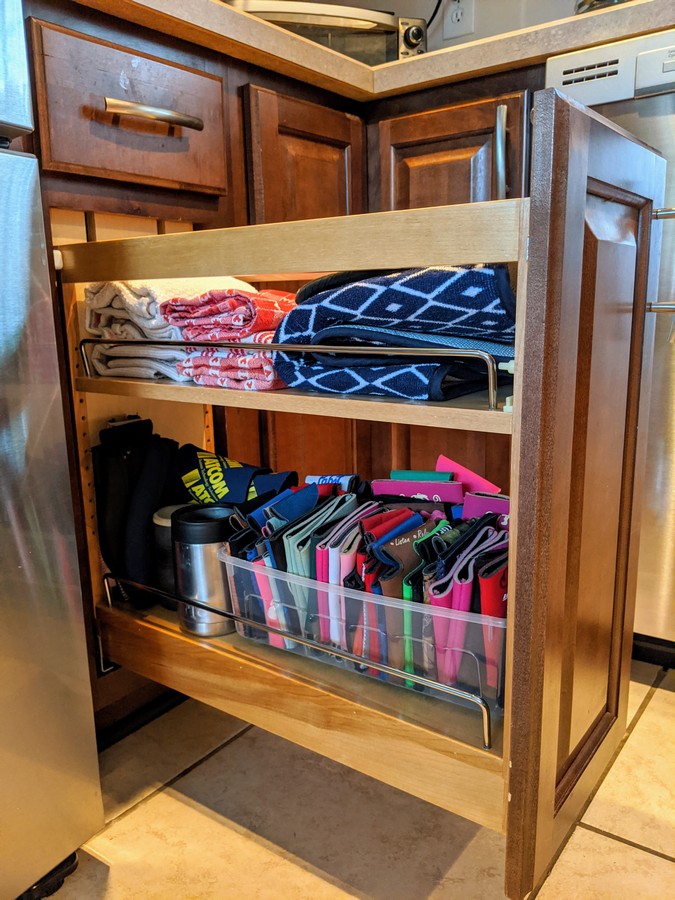 I love how this pullout drawer maximizes a narrow space into a real handy drawer. The two shelves multiply the space and the bars on either side hold taller items in.
Now, that tiny drawer that was stuffed with dish towels holds small items like chip clips and other small random kitchen things.
Installation:
I know most people cringe at the idea of purging, sorting, and organizing all the kitchen things, but I'm here to tell you that you don't need a major overhaul to get your ducks in a row.
The installation process was simple and only required basic tools like a screwdriver and a drill.
Overall, we highly recommend these products. Make life easier in the kitchen!