Thanksgiving means delicious turkey, sides, and plenty of leftovers. Instead of wasting all of that hard work, transform Thanksgiving leftovers into delicious casseroles, soups, sandwiches, and more with these creative recipes.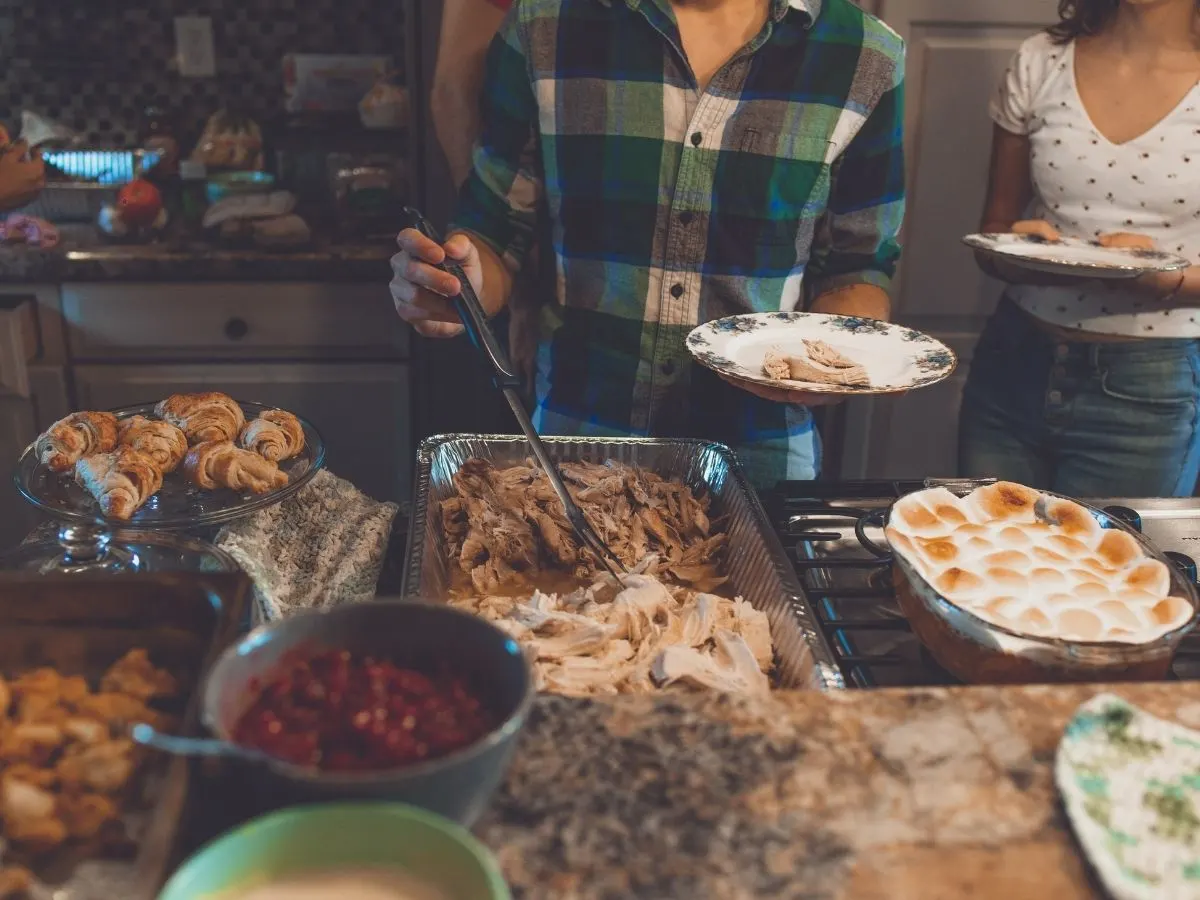 You've planned the Thanksgiving menu, gotten the ingredients, thawed the turkey, made the most beautiful oven-roasted bird, cued the music, devoured the meal…and now it's time to deal with the leftovers.
Even after a second helping (or two), there is still plenty to go around. Now, putting away leftovers turns into a game of refrigerator Tetris – and wracking your brain about how to use up the hodgepodge of what's remaining of Thanksgiving
How to Use Up Thanksgiving Leftovers
As much as one may love this meal, there are only so many times you can eat a turkey sandwich.
If you are like most families, you have an abundance of cornbread dressing, turkey, mashed potatoes and gravy, and green bean casserole stowed in the refrigerator.
What to do with leftover turkey
Alternatively, turkey also freezes well. If you have a lot of leftover turkey in your fridge, remove it from the bone and freeze in a zip-top bag.
Use frozen turkey within 3-6 months for any of these recipes:
Turkey Tettrazini
Turkey and Noodles
Turkey Cuban Sandwiches
Turkey Noodle Soup
What to do with leftover mashed potatoes
Whether you stuck to the stovetop version or made your mashed potatoes in the pressure cooker, you probably have plenty of leftovers.
Instead of tossing them out, try the different ways to use up leftover mashed potatoes.
Can I freeze Thanksgiving Leftovers?
When it comes to freezing leftovers, there are some that you should avoid freezing.
| Freezer-Friendly | Not Freezer-Friendly |
| --- | --- |
| Stuffing or Dressing | Green Bean Casserole |
| Roasted Turkey | Salads |
| Cranberry Sauce | Cream-based Casseroles |
| Mashed Potatoes – only if made with heavy cream, not broth | Cream-based custards, mousse, or pies |
| Turkey Gravy – made without dairy. | |
Avoid freezing cream-based casseroles, many desserts, and gravies/sauces, as they can "break" when frozen and won't have the same texture.
How long are Thanksgiving leftovers good for?
Leftovers are good for 3-4 days in the refrigerator or up to 6 months in the freezer.
How do you reheat Thanksgiving leftovers?
Reheating Thanksgiving leftovers depends on what you are reheating.
Most leftovers can be reheated in the oven at around 350F for 15-20 minutes at a time.
I recommend assembling a "meal" in a casserole dish (or oven-safe dish). For example, add the turkey, mashed potatoes and gravy, and green bean casserole. Then, cover and warm at 350F degrees for about 20 minutes.
Tips on Storing Thanksgiving Leftovers
It's easy to get sidetracked when you are hosting a large holiday meal, but after everyone has served themselves and retired to the sofa, put those leftovers away!
Thanksgiving leftovers should be left out for no more than 2 hours. Longer than 2 hours can create an environment for bacteria to grow.
Before Thanksgiving Day, make sure you have plenty of food storage containers.
Vertical quart containers for gravy, mashed potatoes, cranberry sauce or anything that can be piled into a container and not ruin the aesthetics or flavor of the dish. Here is a smaller version at 16 ounces.
Rubbermaid Easy-Find Lids are a lifesaver! Never hunt for matching lids again.
Grab these inexpensive containers to send leftovers home with your guests!
Other Thanksgiving & Christmas Recipes
[mv_create key="125″ type="list" title="Recipes for Thanksgiving Leftovers" thumbnail="https://www.southerncravings.com/wp-content/uploads/leftover2Bpumpkin2Bpie2Bmilkshake.jpg" layout="circles"]