Pesto without pine nuts is an easy, affordable, and delicious take on traditional versions! All you need is 6 simple ingredients and less than 10 minutes for this herbaceous and versatile sauce. Toss it with pasta, spread it on pizza, serve it with roasted vegetables, and more.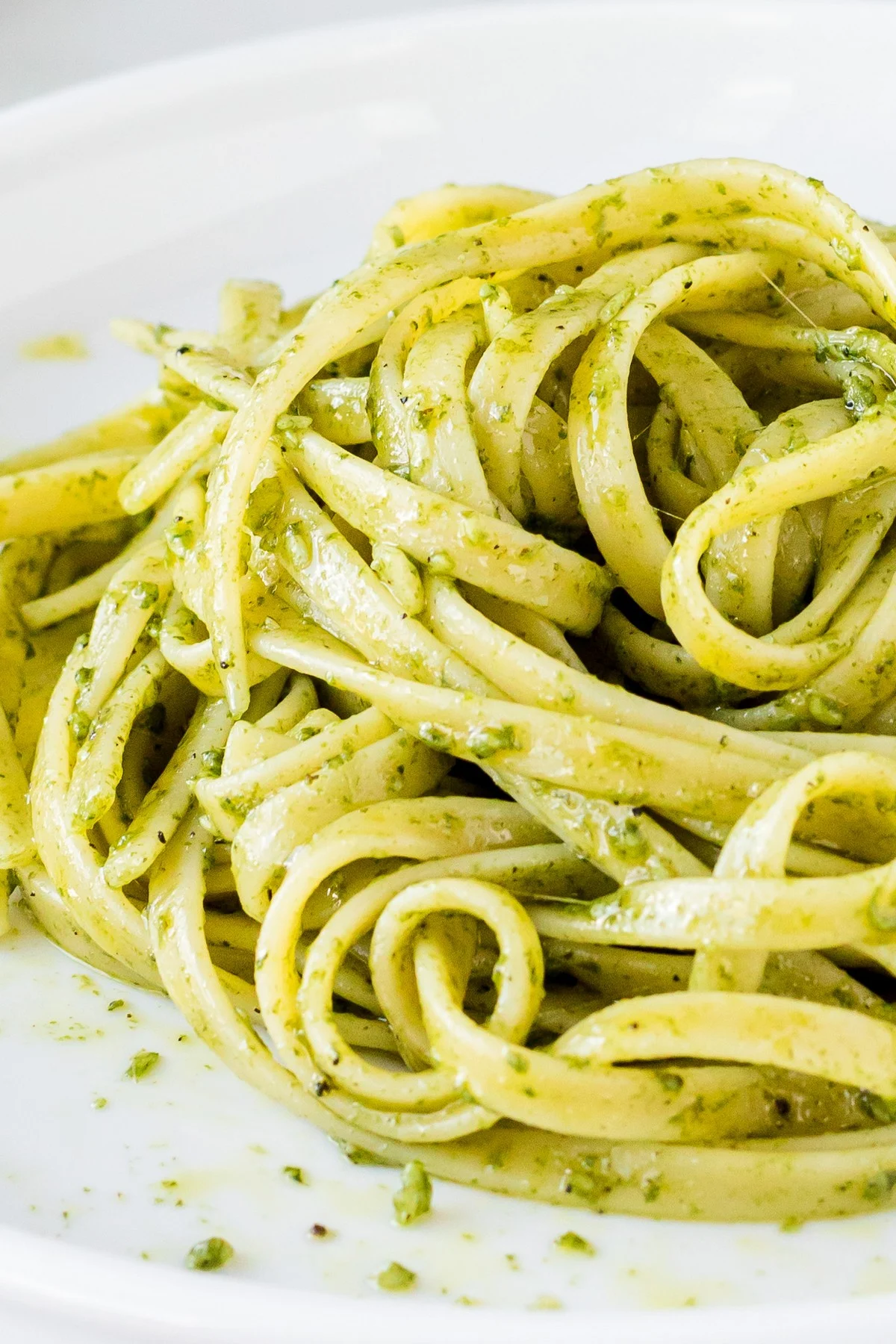 I'm such a sucker for simple and budget-friendly meals! Pesto is ridiculously good (no one can tell me otherwise), but it can be a bit pricey to make at home with how expensive pine nuts are.
This recipe ditches the nuts altogether, resulting in a version that contains fewer calories and is way more cost-effective. That means more pesto for everybody!
Why I Love This Recipe
Versatile: Use it as a dip or dressing, drizzle it on roasted vegetables, spread it on homemade pizza, or mix it with pasta. You can add this nut-free pesto to virtually anything and everything!
Allergy-friendly: Since it doesn't contain any nuts, it's safe to send to work or school. Plus, it can be enjoyed by people who follow almost any diet.
Few ingredients: Seriously, it is possible to make a delicious pesto recipe with just 6 easy-to-find ingredients.
Easy Pesto Without Pine Nuts
Traditionally, pesto is made from fresh basil, garlic, pine nuts, Parmesan cheese, and olive oil. While the classic version is perfect as-is, the pine nuts really do drive up the price tag!
I'm here to tell you that you can make just as flavorful of a recipe while still taking it easy on the wallet. In fact, many people prefer the flavor of pesto without pine nuts, don't have access to them, or may even be allergic.
This simple recipe requires just 6 ingredients (including salt and pepper) and can be added to all your favorite dishes. From pasta to pizza, it adds herbaceous, zesty, and garlicky flavors. Try it out for yourself and thank me later!
Ingredients For Pesto Without Pine Nuts
See the full list of ingredients in the recipe card below.
Garlic: Fresh garlic cloves provide bold, zesty, and savory notes. Try not to use garlic powder for this recipe if possible.
Basil leaves: You will ideally want Genovese, Italian Large Leaf, or sweet basil for a bright and vibrant pesto flavor.
Olive oil: Make sure to use high-quality extra-virgin olive oil as it really makes a difference! Avocado oil works as well, but it isn't quite the same.
Parmesan: Adds a salty, cheesy, and umami-rich flavor. Use freshly grated Parmesan for the best taste. If you don't have Parmesan, swap in Pecorino Romano cheese.
Salt & pepper: Since Parmesan is already quite salty, taste the pesto before adding too much salt. Cracked black pepper adds a slight kick!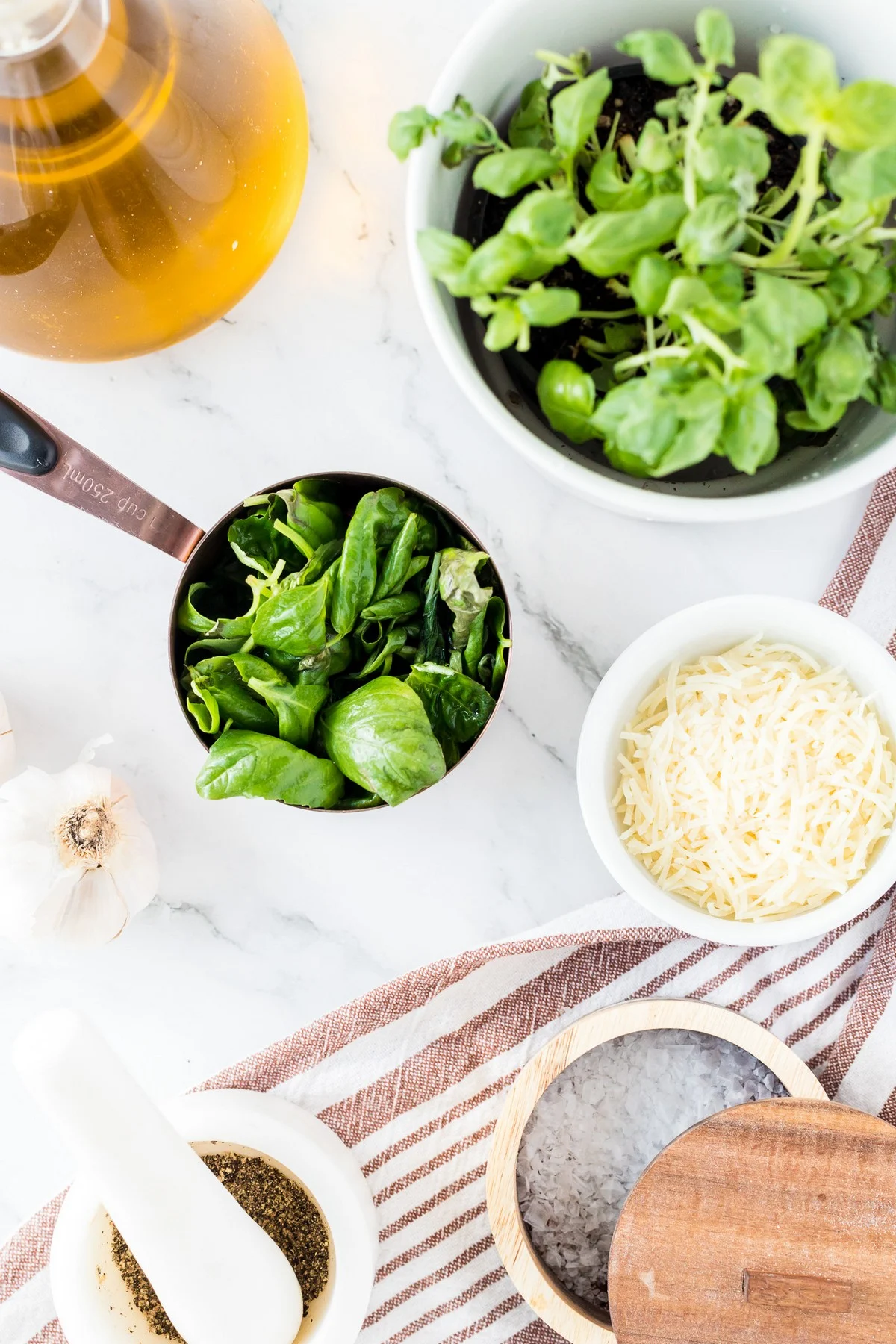 How To Make Pesto Without Nuts
Step 1: Pulse the garlic & basil
Place the garlic and basil in a food processor or blender and pulse until everything is roughly chopped. Be careful not to over-pulse as it will overheat the basil, changing the flavor and color.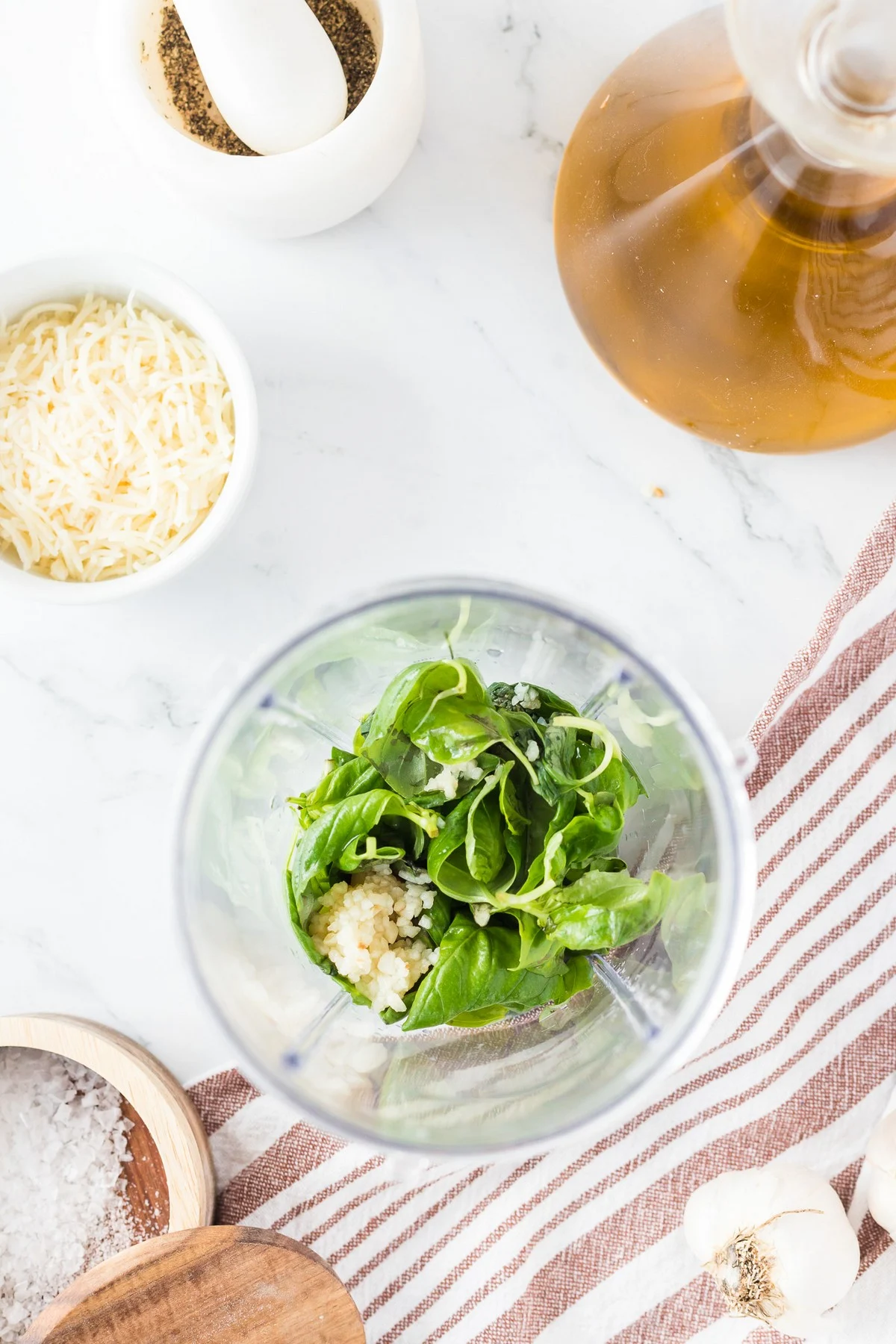 Step 2: Add the oil
Once the basil and garlic are pulsed, add the oil and pepper and process the mixture. Make sure to scrape down the sides throughout processing until everything is well blended. If it is still very thick and hard to blend, add more olive oil a little bit at a time.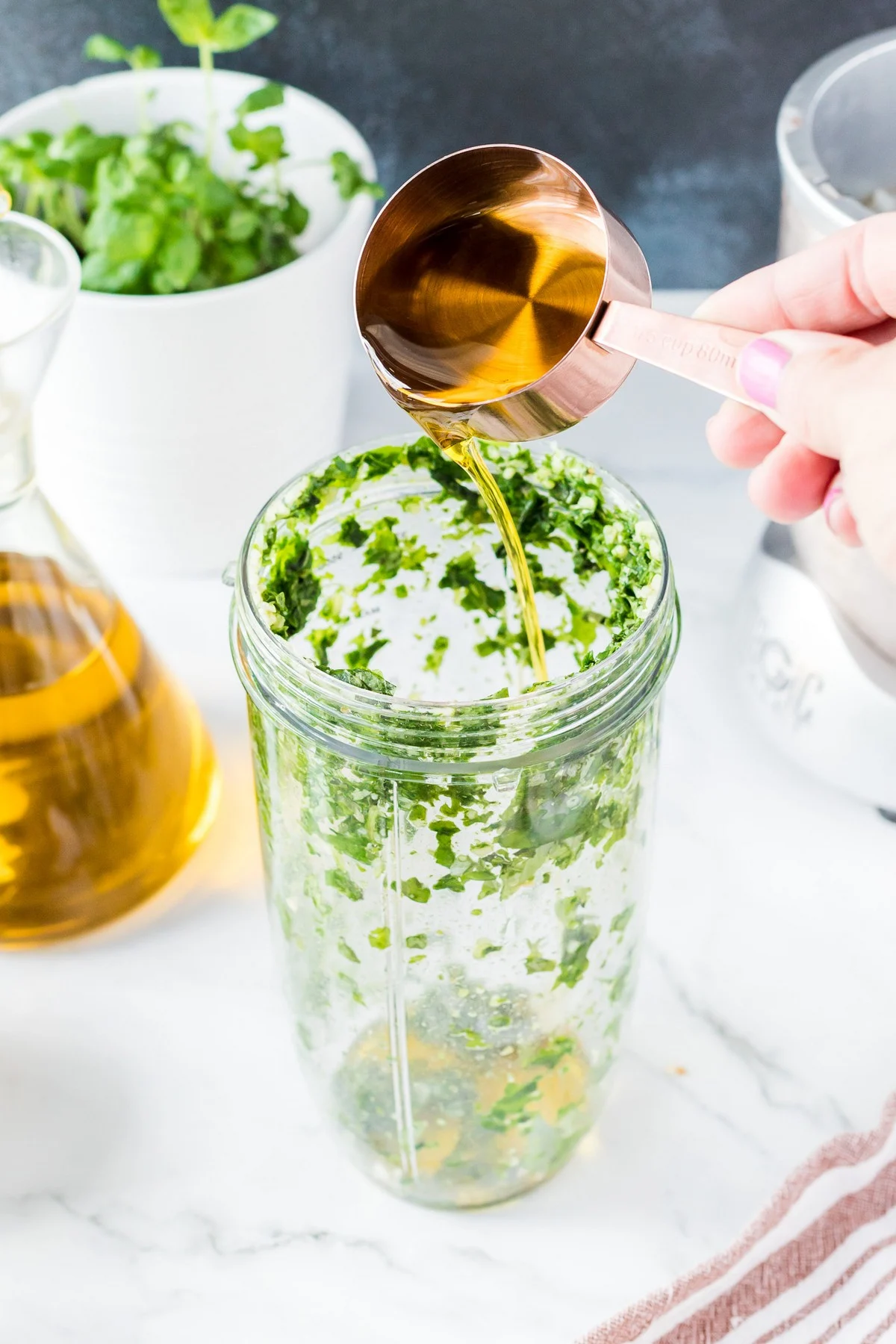 Step 3: Mix in the cheese
Add the Parmesan and pulse the pesto until the cheese is incorporated. Taste it and add salt to your liking. Start with a small amount since you shouldn't need too much!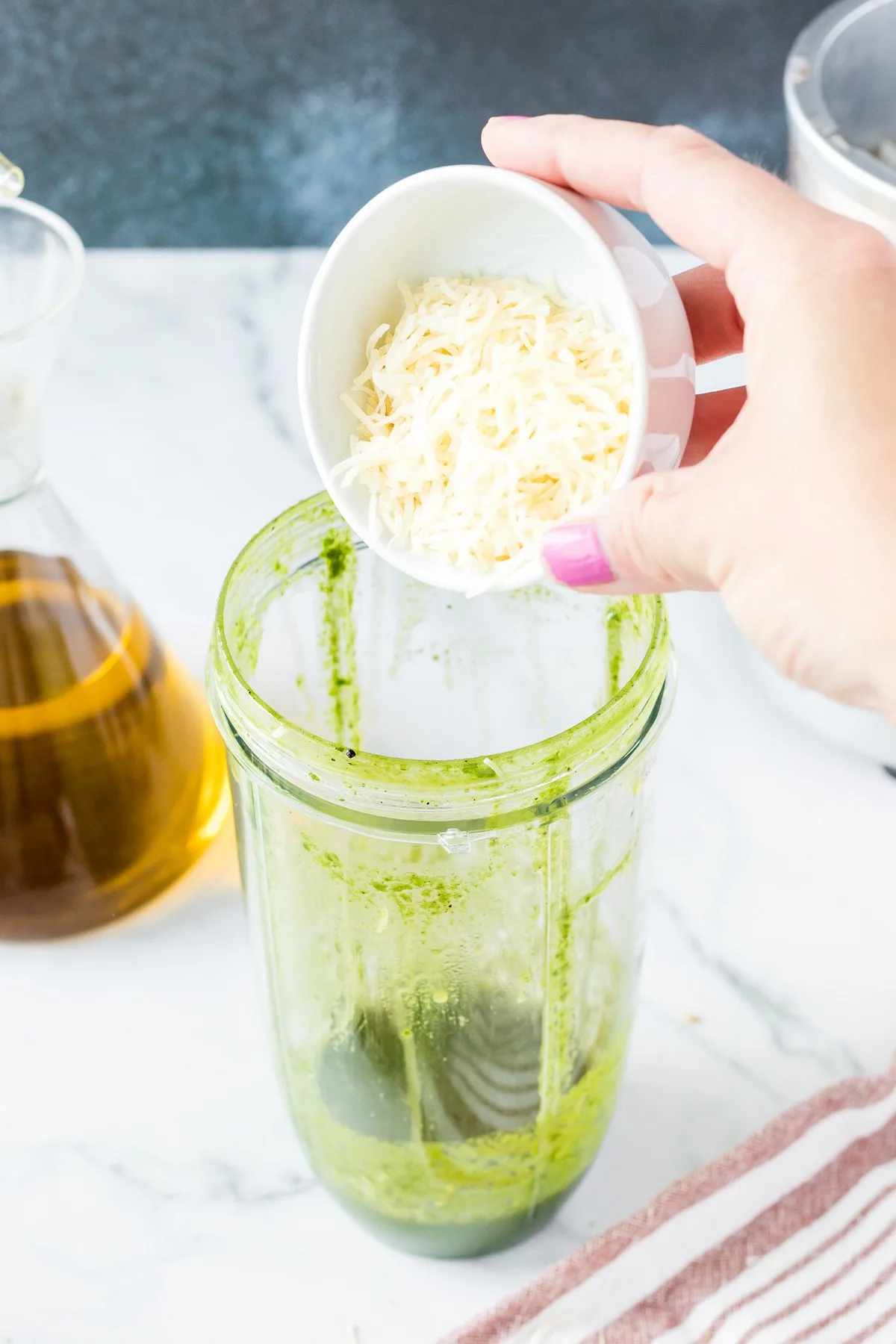 What To Serve With Pesto
Serve pesto without pine nuts just like you would traditional pesto! Here are some of my favorite ideas:
Pizza: Replace tomato sauce with pesto for homemade pizza.
Pasta: Toss pesto without nuts with your favorite pasta like linguine, penne, angel hair, or even gnocchi.
Sandwiches & paninis: Spread it on chicken paninis, sandwiches, or wraps.
Dips: Mix some pesto into a vinaigrette, hummus, or mayonnaise for a herbaceous and vibrant dip.
Roasted vegetables: Drizzle some over roasted vegetables for a summery side dish.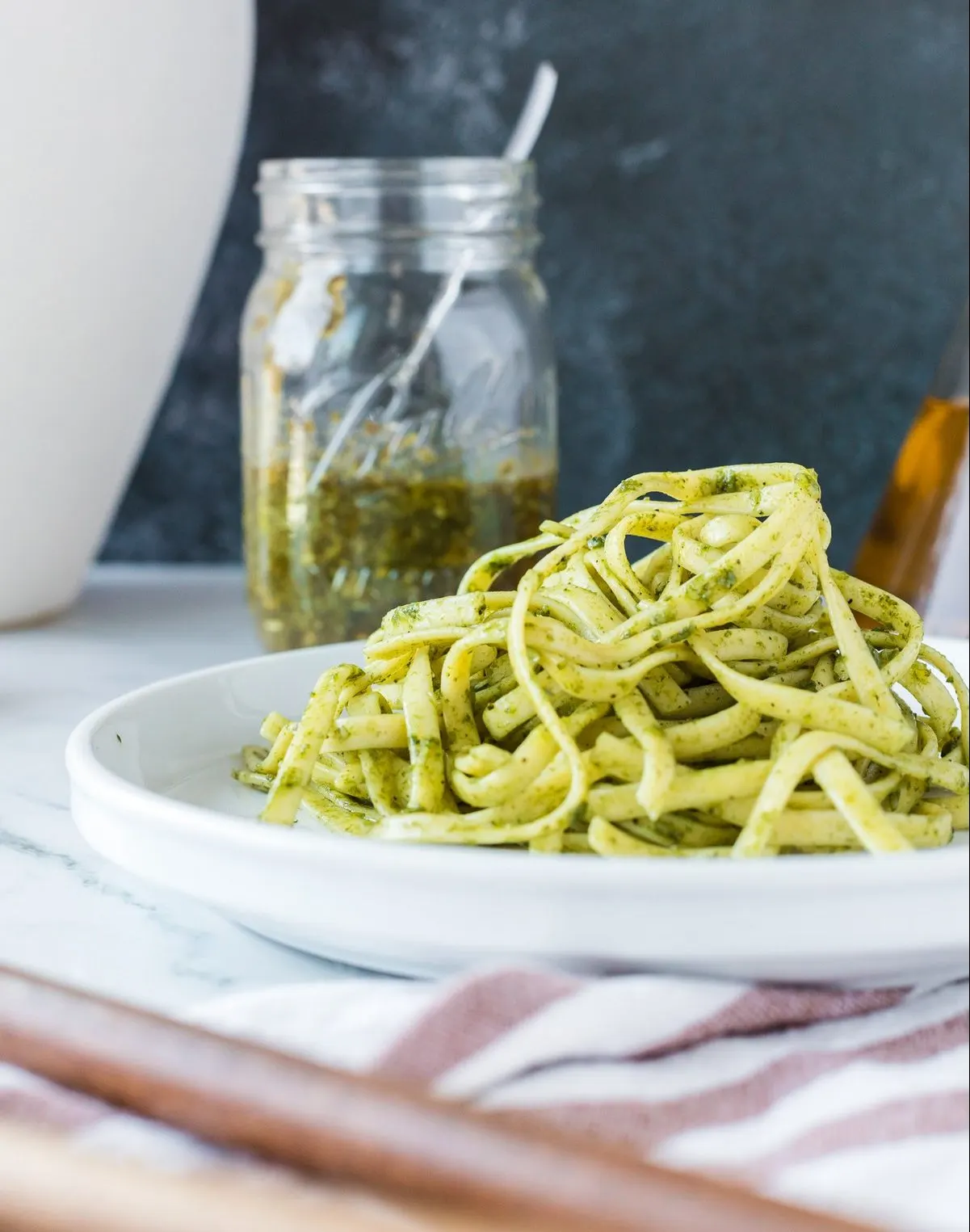 What To Do With Leftovers
Leftovers are always welcome when it comes to pesto without pine nuts. Follow these simple tips to keep your batch fresh:
Fridge: Transfer pesto to an airtight container and keep it in the fridge for 6-7 days.
Freezer: You can also freeze pesto for longer storage periods. Spoon it evenly into an ice cube tray and place it in the freezer until hardened. Once frozen, you can transfer the cubes to a freezer-safe bag or container. If kept this way, the pesto will last at least 5 months.
Note: You may notice a little browning as the pesto sits in the fridge. You can prevent this by layering plastic wrap directly over the surface of the pesto.
Recipe Variations
Greens: Not enough basil? Replace some or all of it with greens like arugula, cilantro, mint, kale, spinach, or parsley.
Nuts: For a more traditional version, add pine nuts. Alternatively, try blanched almonds, raw cashews, walnuts, or sunflower seeds.
Add-ins: Make a unique flavor twist by adding ingredients like sun-dried tomatoes, lemon juice, or roasted red peppers.
Tips For The Best Recipe
Fresh basil: Using fresh basil makes all the difference in the world. Don't even think about using dried basil because it doesn't release the natural oils. Fresh basil is what makes pesto such a beloved condiment!
Don't blend too long: Blending basil too long causes oxidation, resulting in brown basil. Make sure to only pulse the pesto until just combined for a vibrant green color.
Store correctly: In addition to following the storage instructions outlined, you can add a layer of oil on top of this pesto without nuts to reduce the chances of browning.
Salt: Salt helps break the basil down, so don't skip adding it (but, don't go overboard)!
Additional Recipes
If you're a fan of pesto without pine nuts, here are some more of my favorite sauces for you to test out:
Frequently Asked Questions
Is pesto vegan?
Pesto is not typically vegan-friendly because of the Parmesan cheese. However, you can easily skip the Parmesan or use a dairy-free variety.
What can I use instead of pine nuts in pesto?
There are so many ways to make pesto without pine nuts. You don't need to use nuts at all, but you can also add options like almonds, cashews, hazelnuts, or walnuts if you prefer more texture and flavor.
How important are pine nuts in pesto?
Although pine nuts are traditionally found in pesto, they are not 100% necessary to create a flavorful condiment. You can add other nuts or leave them out completely. Without pine nuts, pesto is much cheaper and less calorie-dense.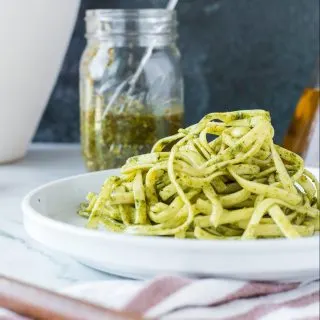 Easy Pesto without Pine Nuts
Pesto without pine nuts is an easy, affordable, and delicious take on traditional versions! All you need is 6 simple ingredients and less than 10 minutes for this herbaceous and versatile sauce. Toss it with pasta, spread it on pizza, serve it with roasted vegetables, and more.
Ingredients
1

clove

garlic

(roughly chopped)

1

cup

basil leaves

⅓

cup

olive oil

( plus more as needed)

3

tablespoons

Parmesan or Pecorino Romano cheese

(finely grated)

Kosher salt

(to taste)

Black pepper

(to taste)
Instructions
Add the garlic and basil to a food processor or blender and pulse until everything is roughly chopped.

Add the oil and a pinch of black pepper and process until well blended.

Add the cheese and pulse until blended in. Taste and add salt as desired.

If the sauce is too thick, continue adding olive oil and blending until you reach the desired consistency.
Nutrition
Calories:
710
kcal
Carbohydrates:
3
g
Protein:
5
g
Fat:
76
g
Saturated Fat:
12
g
Polyunsaturated Fat:
8
g
Monounsaturated Fat:
54
g
Cholesterol:
13
mg
Sodium:
265
mg
Potassium:
111
mg
Fiber:
0.4
g
Sugar:
0.1
g
Calcium:
181
mg
Iron:
1
mg