Skillet Cornbread is the quintessential southern side dish! Made in a cast iron pan, this recipe is a savory addition to your next pot of soup or chili.
There are few things more southern than a crispy-edged skillet of cornbread. Growing up in the South, cornbread was always made in a cast-iron skillet, generally one passed down through generations.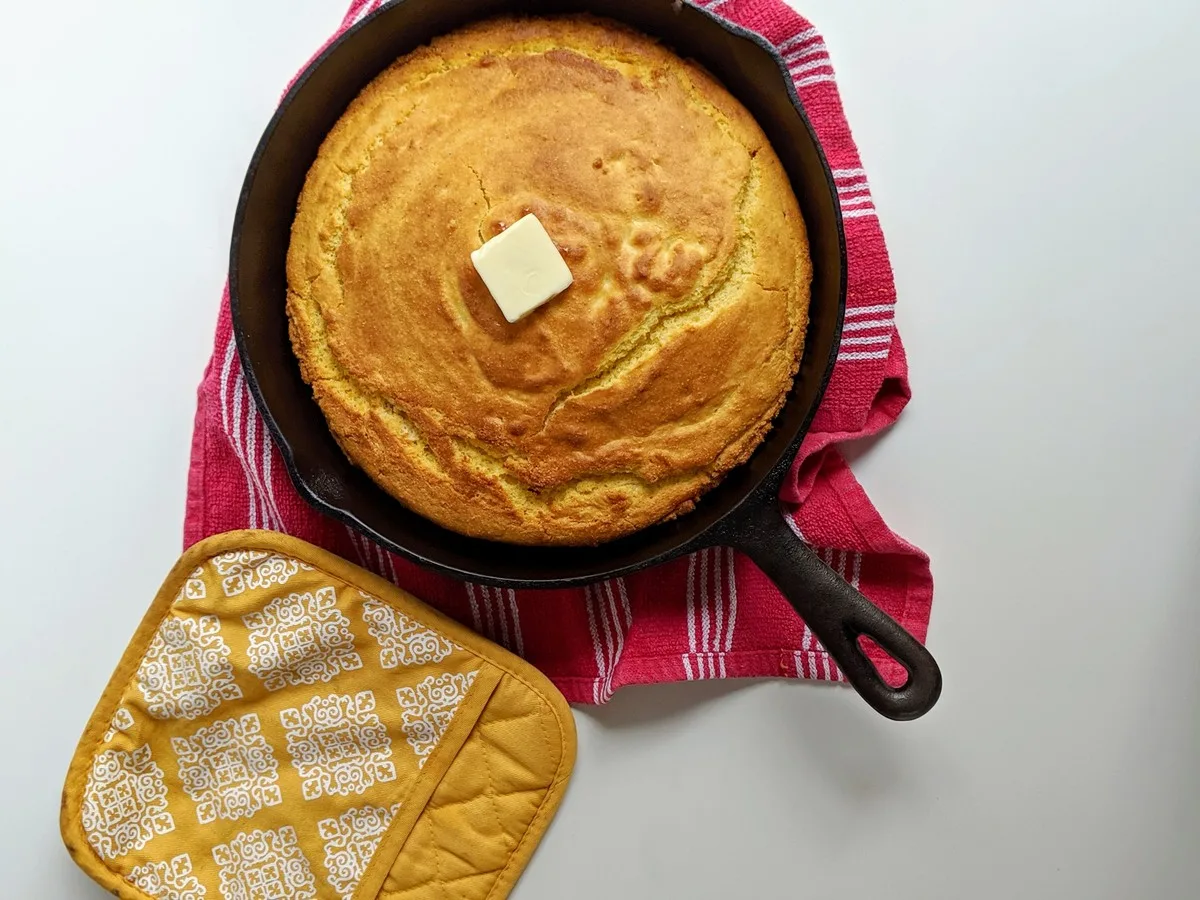 Now, I own my grandmother's skillet – and if I'm honest, it's older than me by about 20 years! Call me a sentimental mush, but I feel so connected to her when I use it.
There are several cautionary tales when it comes to caring for cast-iron cookware, but I'll get into that later. I use this recipe frequently, especially in my Cornbread Dressing during the holidays. It's also a delicious companion with red beans and rice, or as cornbread muffins for easy, hands-free serving!
Each time I buy cornmeal, I stick to Martha White. It's my tried and true brand loyalty because I know it will come out just right every time. I practically go into auto-pilot making this recipe. It's easy, fast and absolutely delicious.
Cornbread recipe variations
Most Southerners protect their heritage – including cherished cornbread recipes – as if someone will jerk it out from under them.
There seems to be a large debate on how exactly the perfect cornbread recipe is made.
Here are a few different variations on cornbread recipes:
In the South, it's all about savory, buttery, crispy-edged, crumbly goodness that pairs perfectly with vegetable soup or beef stew.
You can serve this from a skillet or bake into perfectly portioned muffins.
Southwestern areas tend to kick up their recipes with green chillies, peppers, and other Southwestern spices.
Steps for the recipe
The steps are detailed in the recipe card below. It's as simple as mixing and baking!
FAQ on Southern Skillet Cornbread
What is the best pan to cook cornbread?
A 10-inch cast iron skillet is always the best! It gets the edges nice and crispy, while the inside is perfectly done.
Can I bake cornbread in a glass dish?
Yes, but the edges will not crisp up as they would in a cast iron skillet.
Can I use milk instead of buttermilk?
If you don't have buttermilk, regular milk (same measurement) will do just fine for this recipe. I've heard of people adding in baking soda or powder, but I've never found that to be necessary.
How do you season a cast iron cornbread pan?
I've got a whole blog post on caring for your cast iron skillets here:
Is corn pone the same as cornbread?
No, it's much thicker and malleable than this recipe. It turns out more like a cornmeal cake instead of a slice of cornbread.
Is cornbread and corn muffin mix the same?
Yes, instead of adding all of the batter to the skillet, fill each greased muffin tin about 3/4 of the way full of batter. Then, bake until golden brown.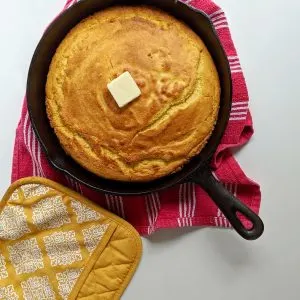 Skillet Cornbread Recipe
This easy southern cornbread recipe can be used to sop up chillies, soups or as an ingredient in other recipes.
Ingredients
¼

cup

Vegetable oil

(, plus 1 teaspoon)

1

large

Egg

1 ½

cups

Buttermilk (1 1/3 cups milk)

2

cups

Martha White® Self-Rising Enriched Yellow Corn Meal Mix
Instructions
Preheat oven to 450ºF. Add 1 teaspoon of vegetable oil to well-seasoned cast-iron skillet. Place skillet in oven to heat for about 5 minutes.

Whisk egg in medium bowl. Then, add remaining vegetable oil, buttermilk, and cornmreal mx to bowl and mix until well-combined.

Carefully, pour batter into skillet, on top of the hot oil. The edges will begin to bubble!

Place in the preheated oven and bake 20 to 25 minutes or until golden brown.
Notes
*Add a dab of butter to the top after baking for extra calories and tasty goodness.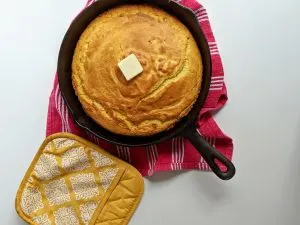 *Batter should be creamy and pourable. If too thick, add 1 to 2 tablespoons additional buttermilk.