Baked crab legs are the easiest way to eat and prepare Alaskan king crab. Oven-baked in butter and Old Bay seasoning, the tender, succulent meat slips right out of the shell when cracked! This delicious seafood meal is prepared in under 30 minutes and is steamed to perfection.
Similar to steaming, baking crab legs in a foil packet yields the juiciest result. Plus, the butter and Old Bay add even more richness to the crab meat.
One major hassle when it comes to eating crab: all the work that comes with it! Since the foil is wrapped around the crab leg clusters, it creates its own steaming oven. Then, the meat pulls away from the shell so perfectly.
You never have to worry about losing that delicious crab meat ever again!
The great thing about this recipe is it's all done on a sheet pan (much like my sheet pan shrimp boil!), so this recipe can go from the oven right to the table!
This would be fun to do for a crowd of people, too. Spread this out on a large outdoor table for guests with a low country boil and some bread and you've got yourself a feast!
Recommended Tools:
As an Amazon Associate and member of other affiliate programs, I earn from qualifying purchases.
Seafood crackers and tools
Nordic Ware baking sheet
While cracking tools are recommended when shelling crab, you can easily use your hands and a pair of good kitchen shears to reach the meat, too.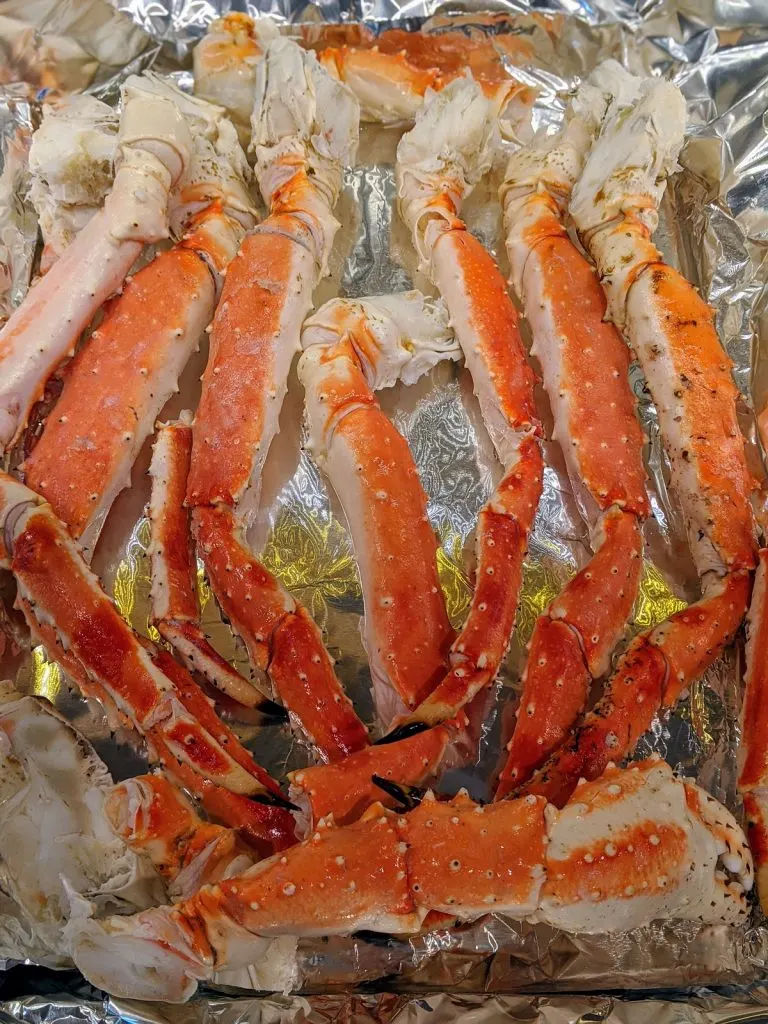 Similar to steaming, baked crab legs are so easy to make! This king crab legs recipe is made all on one pan with rich, tender pieces of large crab that slip right out of the shell.
Snow Crab vs. King Crab
If you've been around long, you know how passionate I am about sustainable seafood. Not only does it mean better quality seafood, but sustainable harvesting practices also help our ocean life and environment, too.
Here are a few quick tips for choosing crab legs:
Purchase wild-caught instead of farm-raised. This means the crabs were harvested from their natural environment, instead of "manufactured" from a farm and fed and pumped with who knows what to make them larger.
Look for harvesting locations in/around Alaska and Russia. King crab has a limited harvesting season and requires a cold water habitat, so they are most commonly found in and around the Bering Sea.
Snow crab is usually a little easier to find, so you can use snow crab as an alternative, but you will need to reduce the cooking time as snow crab is smaller.
The main difference between snow crab and king crab is the size. King crab is larger with thicker legs and clusters than snow crab. However, their legs are shorter in length.
A snow crab's meat is ideal for shredding and is commonly used to prepare crab cakes. Much like lobster, most people describe king crab as sweet, tender, and rich in flavor!
When it comes to reaching the meat, snow crab poses a little more of a challenge, but king crab legs provide large chunks of tender leg meat – perfect for hungry seafood lovers!
Through my research, I found this chart from Maine Lobster Now. They are an excellent resource for information on sustainable seafood and much more. Plus, they even deliver fresh seafood to your door! I'm definitely bookmarking them for future orders!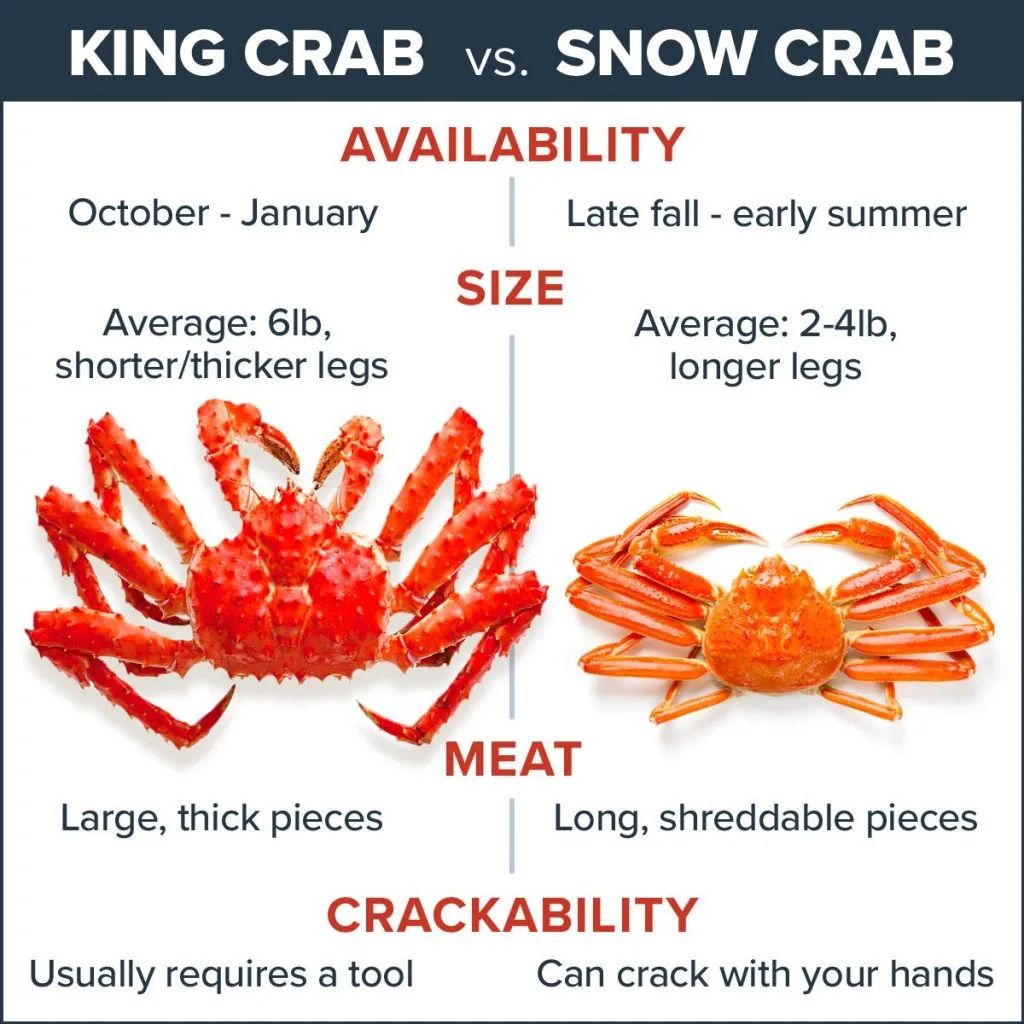 How to Cook King Crab Legs in the Oven
As an alternative to steaming, baked crab legs are a delicious way to prepare king crab.
By preparing them in the oven, you eliminate the fuss and hassle of filling a giant boiler pot, boiling the water, timing the crab, and draining that huge vat of hot water. The oven method is much easier and less of a hassle overall.
First, I like to prepare the Old Bay and lemon butter sauce and set aside half of the mixture for dipping later. Then, use a pastry brush to baste the crab legs with the remaining butter and place the crab legs in the oven!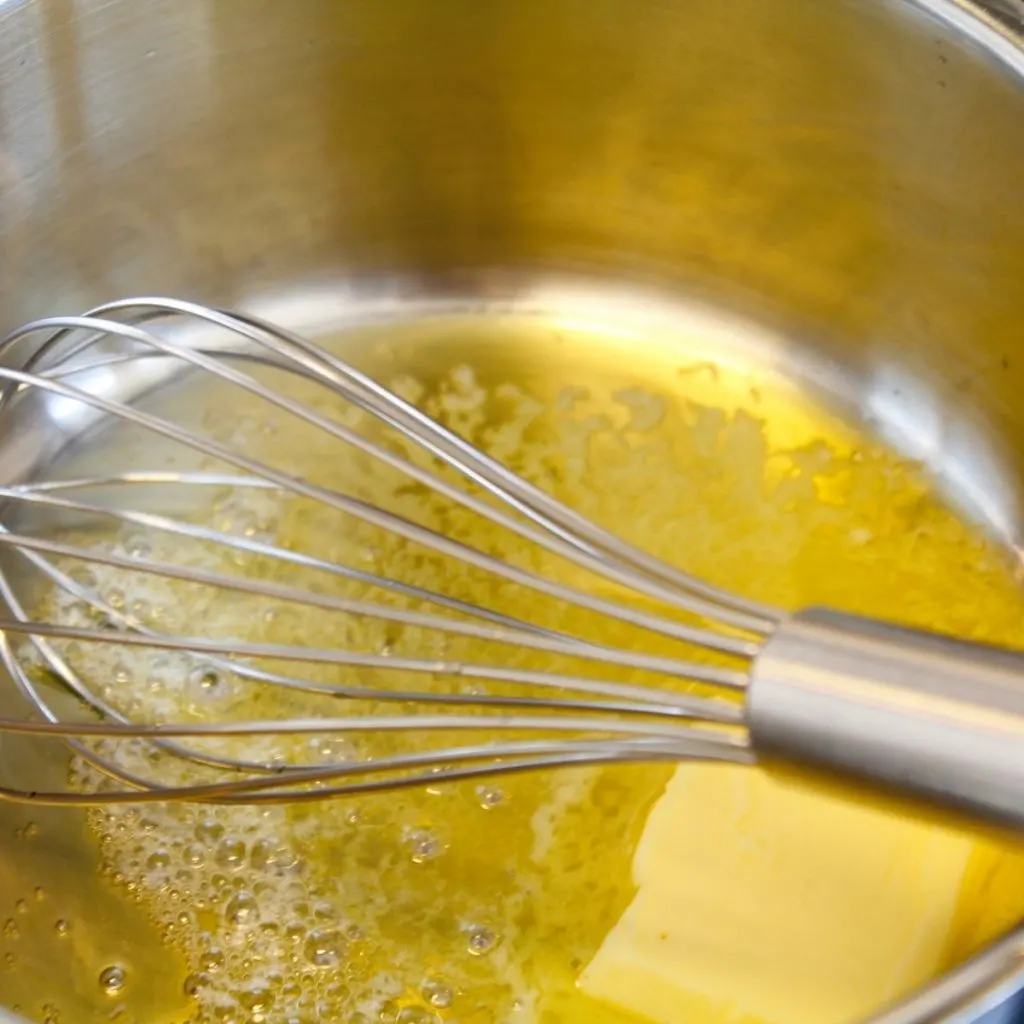 How long to bake crab legs
Depending on the thickness of the legs, crab legs take about 20-25 minutes in the oven at 400 degrees.
How to bake frozen king crab legs
If you are using frozen crab legs, follow the same instructions but increase the cooking time to 30 minutes.
How to Eat Crab Legs
This is the tricky and messy part. Sometimes you just have to get in there with your hands, but a good pair of kitchen scissors and "crackers" will make the job easier.
Crack the leg away from the cluster. Then, crack at the joints to work with different sections.
Working one section at a time, bend the pieces back and they should snap in half to expose the meat inside.
Slide the meat out, dip in butter and enjoy!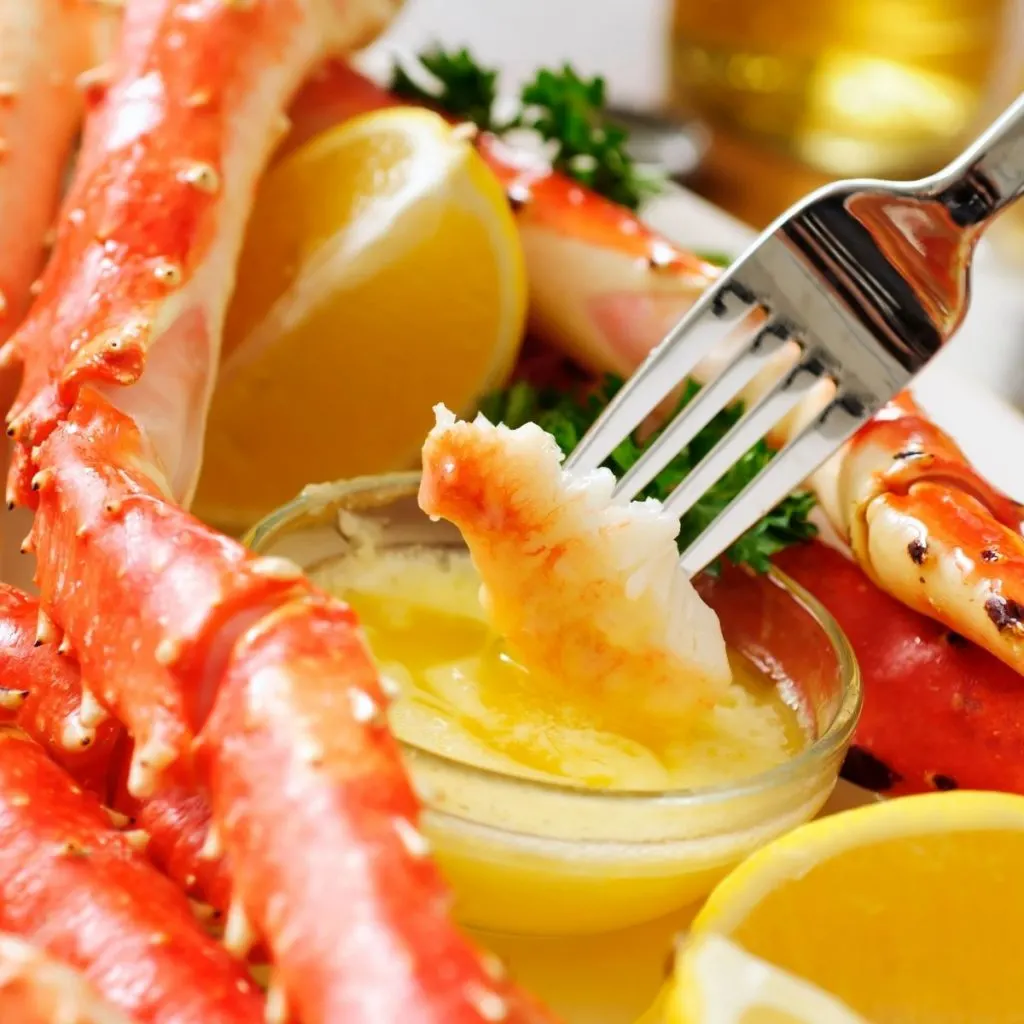 The meat from the cluster can easily be exposed by breaking apart with your hands or crackers.
Tips for reheating, storing, and leftovers
To reheat crab legs in the shell, preheat your oven to 350F degrees, wrap the crab legs in foil and bake for 15-20 minutes.
To reheat crab meat, add to a hot skillet and saute for 3 minutes or until warmed through.
For easy storing, crack the crab and remove the remaining meat. Place in an airtight container and refrigerate for up to 3 days.
Crabmeat is also delicious served cold over a salad, mixed in pasta and pesto sauce, or prepared as a seafood salad.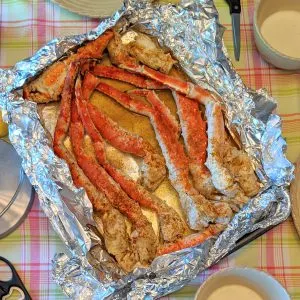 Baked Crab Legs
Baked crab legs are the easiest way to eat and prepare Alaskan king crab. Oven-baked in butter and Old Bay seasoning, the tender, succulent meat slips right out of the shell when done! This delicious seafood meal is prepared in under 30 minutes and is steamed to perfection.
Ingredients
3

pounds

King Crab Legs *

(see note #1)

6

tbsp.

Butter

(1 stick)

1

tbsp.

Old Bay Seasoning

(plus more, divided *(see note #2))

1

teaspoon

Lemon Juice

1

clove

Garlic

(minced)
Instructions
Preheat oven to 400F degrees. Line a baking pan with large pieces of aluminum foil. Place crab legs on top of the foil in a single layer. Set aside.

In a small saucepan, melt butter over medium heat. Whisk in 1 tablespoon of Old Bay Seasoning, the lemon juice, and garlic. Reserve half of the mixture for dipping later.

Using a pastry brush, brush crab legs with butter mixture. Season with to taste with additional Old Bay if desired.

Tent the foil by bringing together all four sides of the aluminum foil to create a "packet" around the crab legs.

Bake in the preheated oven for 20-25 minutes.

For easy handling, allow the crab legs to cool for 5 minutes before serving. Serve with the reserved Old Bay butter mixture for dipping.
Notes
Note #1: Snow crab legs may be used in place of king crab legs. If so, reduce cooking time by 10 minutes. (this recipe has not been tested with snow crab)
Note #2: Cajun seasoning may be used in the place of Old Bay Seasoning.
Serve with:
Fresh vegetables
Melted garlic butter for dipping
Crusty french bread
Fresh salad
Nutrition
Serving:
1
pound
Calories:
648
kcal
Carbohydrates:
1
g
Protein:
88
g
Fat:
30
g
Saturated Fat:
15
g
Polyunsaturated Fat:
10
g
Trans Fat:
1
g
Cholesterol:
301
mg
Sodium:
5660
mg
Baked Crab Legs FAQ
Can you overcook crab legs?
Yes, cooking too long will result in tough meat with a brittle shell.
What should I serve with king crab legs?
Fresh vegetables, salad, potatoes are all excellent accompaniments to seafood.
What is the difference between snow crab legs and king crab legs?
Mainly the size and location of harvest. King crab requires a much colder climate than snow crab.
How long do you heat crab legs in the oven?
Wrap in foil and bake at 350F degrees until warmed through.
Where does king crab come from?
King crab is commonly found in or around the Bering Sea – most commonly near Alaska and Russia.
How long do you bake crab legs?
Prepare crab legs as instructed in the recipe, then bake for 20-25 minutes.
Can you bake crab legs?
Baking crab legs is the best and easiest way for tender, delicious crab meat!