Savory, herby, crispy, smashed red potatoes are the envy of every other side dish! Every bite is a flavor bomb of crispy edges on the outside and soft, fluffy textures on the inside. Seasoned with buttery garlic, parmesan, and rosemary. This is a recipe that keeps it simple – made from start to finish on one sheet pan!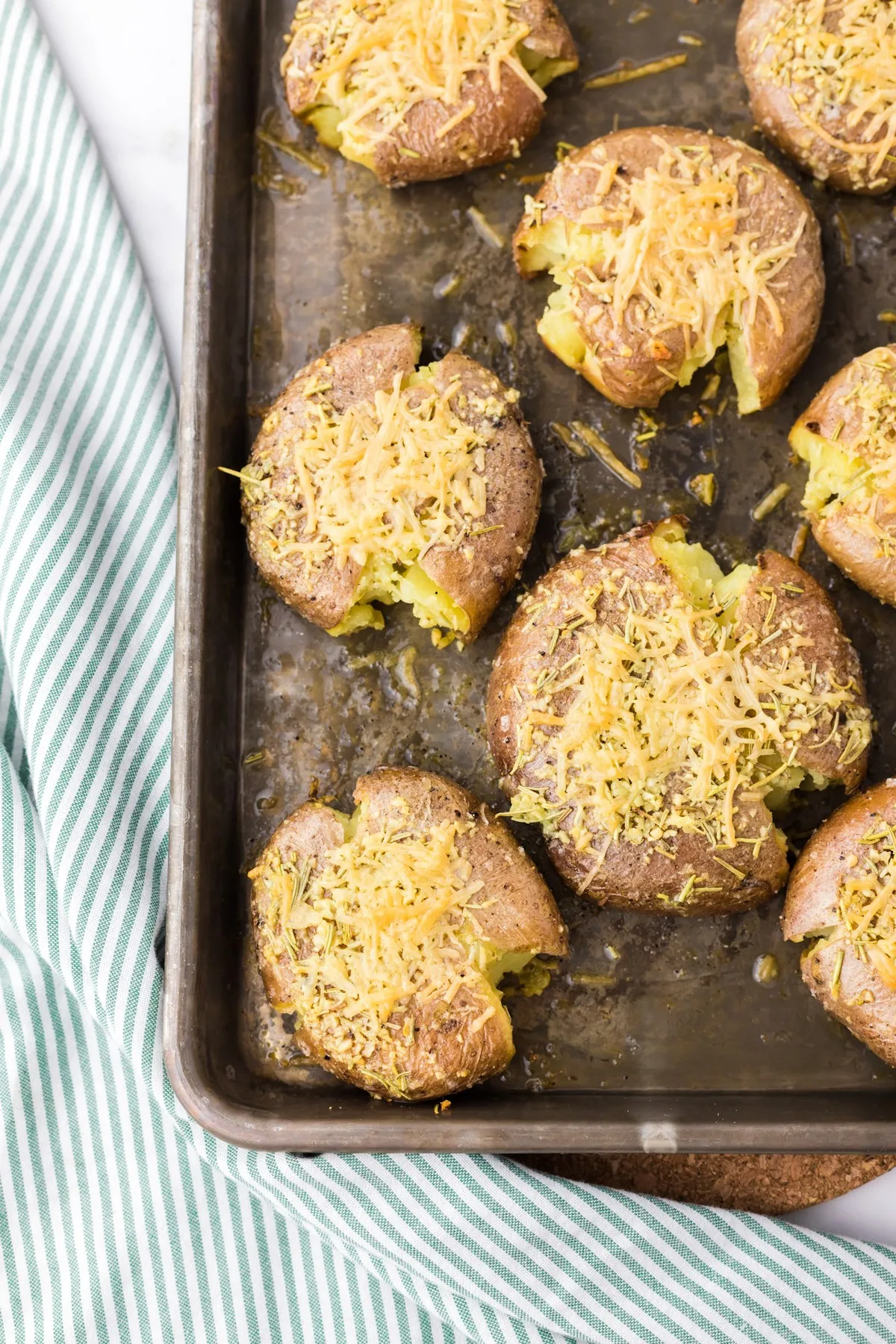 The number one thing that really melts my butter: using one dish! The simpler the better for me, and I know you can relate, too. I probably read about a dozen other versions of these roasted smashed potatoes before I threw my hands in the air and trotted off the beaten path.
But, as much as I would like to claim full originality of this recipe, it was Foodie Crush and her Rosemary Garlic Butter Smashed Potatoes who truly inspired this recipe! She is one of my go-to's for simple recipes – and she really brings it with the side dishes.
If you're in the mood for more of a baked potato, this savory recipe will really make your tastebuds sing!
More Side Dish Recipes:
Most recipes will have you boil the potatoes first, then precariously tilt the large pot of heavy potatoes and boiling water over a sink and drain the potatoes – all while melting your face off with steam. Then, carefully transfer them to another dish to put them in a piping hot oven, then smash…yada yada yada. Nobody got time for that!
This recipe is way easier: wash, season, roast, smash, eat. Yum!
Red potatoes are the perfect little vehicle for an elegant side dish. You can roast them, fry them, boil them, top 'em with cheese — whatever! You can't mess these puppies up. And in this recipe, the red potato really shows off by smashing just enough but still maintaining its shape. It's glorious!
You've probably also heardred potatoes and new potatoes used interchangeably.
According to Harvest to Table, an online gardening site, "new potatoes is a term for any variety of potato that has been harvested before it has reached maturity. (However, mature round red potatoes are also called new potatoes simply because they are small.) New potatoes are also called baby potatoes and sometimes creamers. They can be as small as marble-sized."
For this recipe, it's best to use the mature versions of new potatoes – the red potato. Find ones that are about 2-3 inches in diameter, and use those that are roughly the same size.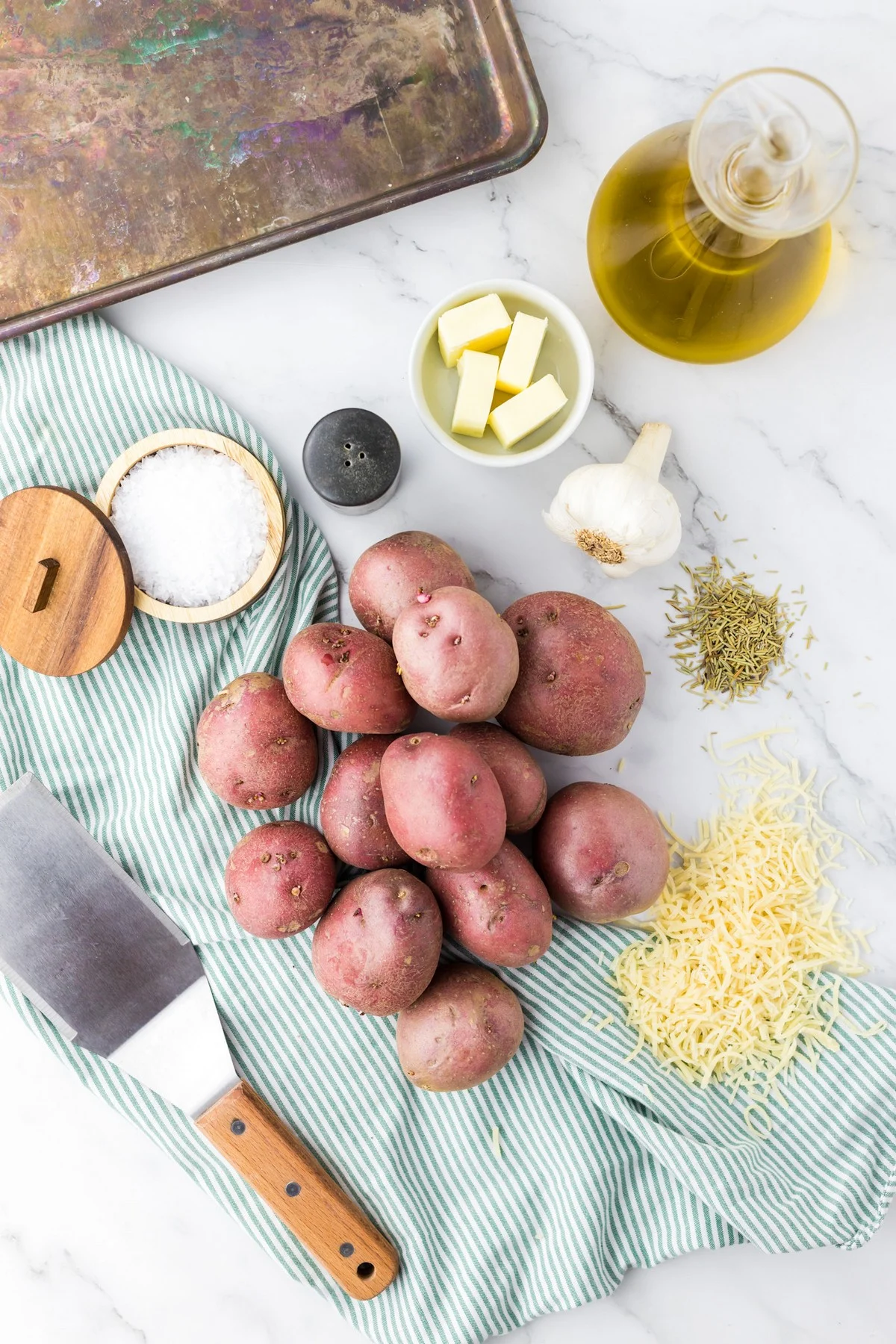 You can use smaller, marble-sized potatoes, but reduce the cooking time – probably by half. If red potatoes aren't available, you can follow similar steps using fingerling potatoes,
This side is a great accompaniment to any main dish. It's simple enough for a weeknight meal, but could also pass at an elegant dinner party or a special dinner. Pair it with a great steak, pot roast, pulled pork. It also plays nicely with other vegetables, like roasted asparagus or green beans.
Steps to Make these Potatoes
First, gently wash the potatoes with a little veggie brush and hot water. Just brush away any dirt specks that may have been left behind.
Then, place all of the potatoes in a large bowl and drizzle with olive oil and a hefty pinch of salt. Turn them out onto an ungreased non-stick baking sheet, like this one from Nordic Ware.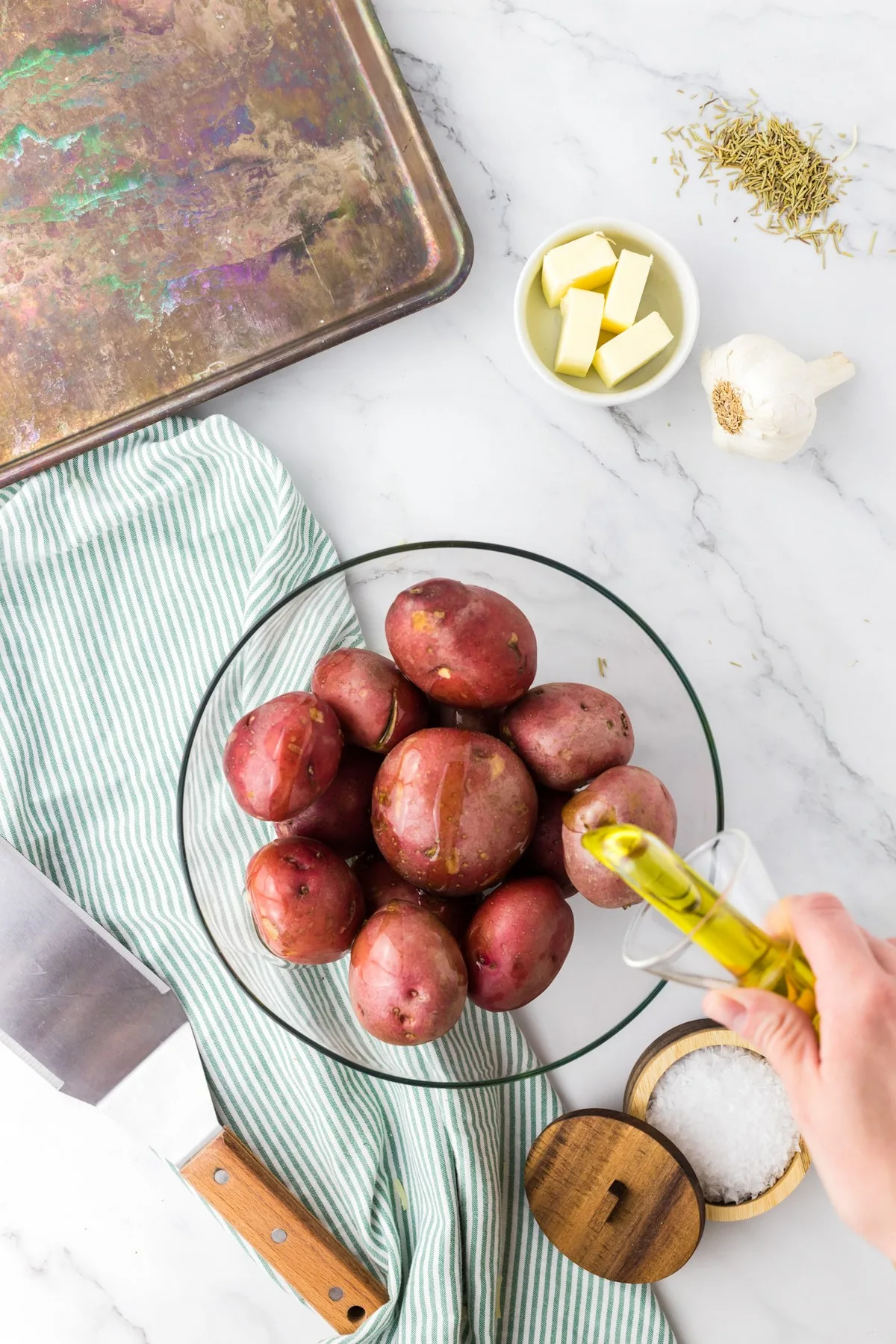 And bake them until tender. Then, smash them with a potato masher, ricer, or fork.
It doesn't matter how you flatten them out, but just do it. They certainly don't have to be perfectly round or beautiful either – just scrappy enough so all of the melty butter, garlic and herbs have somewhere to snuggle and create flavor babies. Yep, I said it: flavor babies.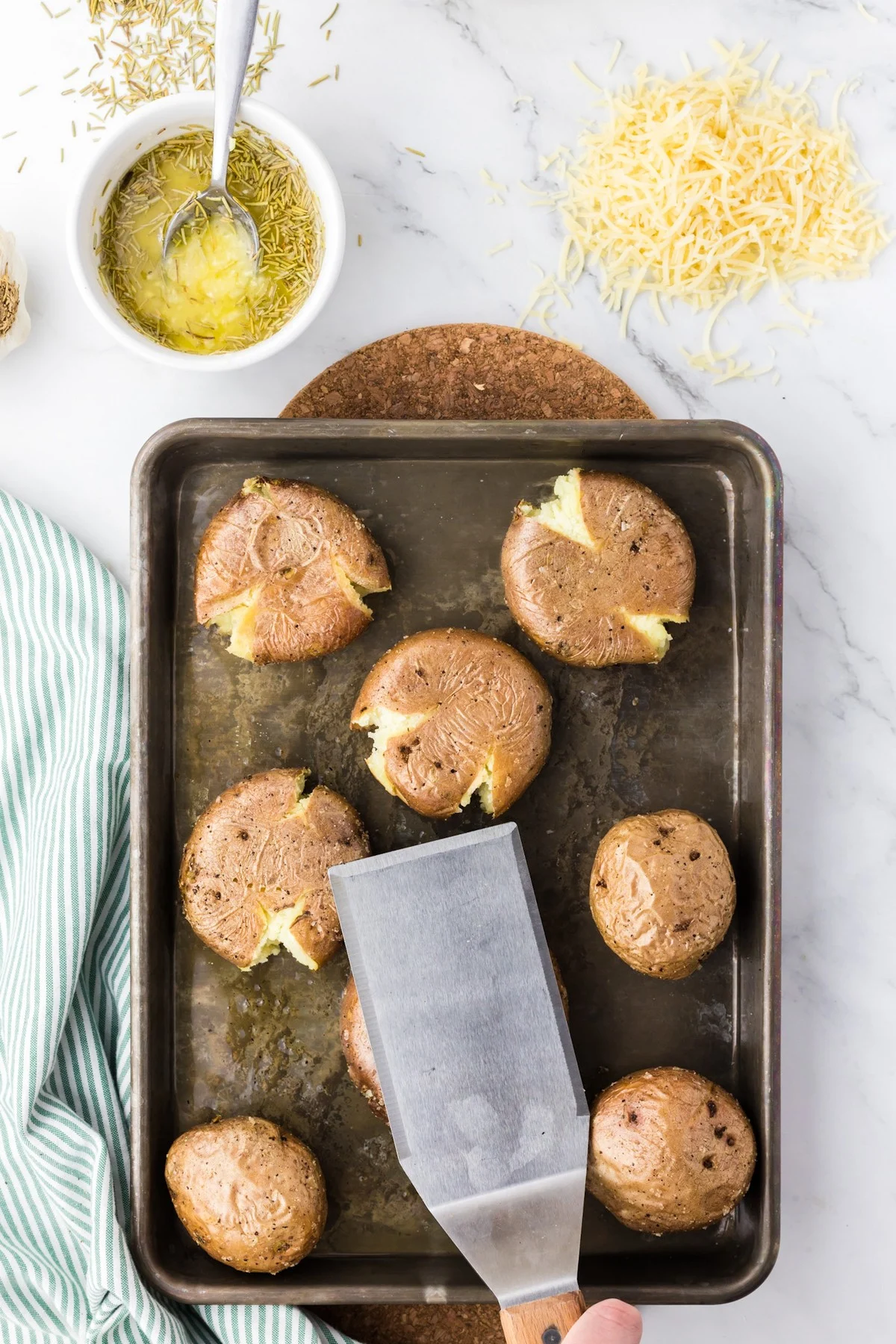 The little crevices and divots in the smashed potato holds all of the yummy flavors!
Here's the thing about roasting potatoes to get crispy skin: you have to give them room to breathe! If you overcrowd your pan, you will effectively steam the potatoes. Leaving you with "meh" potatoes. Like I said, you can't screw these up. They'll still be good but not the best ever.
If, after roasting, smashing, and seasoning, you want even crispier edges, turn the broiler on for a minute or so. Watch carefully – all it takes is a second to go from toasted to totally burned.
Topping Suggestions
Personally, I think these are showstoppers on their own. They don't need any dipping sauces or adornments.
But, if you must, dollop them with a little sour cream, aioli, sriracha mayo, or garnish with chives.
Variations
If you are already serving a flavorful main dish, keep these simple by adding a little salt and pepper to the butter before basting, and omit the garlic, rosemary, and parmesan cheese.
You could also turn these into a game day treat and make them fully loaded with cheddar cheese, bacon, and green onion. And sour cream. 😉 It would be like a deconstructed potato skin.
Basically, you can top these suckers with anything you enjoy with a regular potato. The sky's the limit!
Frequently Asked Questions:
What are red potatoes best used for?
Red potatoes are best for roasting, frying and smashing! Because they are high in moisture, they hold their shape well when cooked.
What is the difference between mashed potatoes and smashed potatoes?
Typically, mashed potatoes are peeled, boiled, then whipped with sour cream, mayonnaise, and seasonings. Sometimes the skin is left on. Russet, baking, or yukon gold potatoes are best for mashing.
Smashed potatoes are whole roasted potatoes (usually red in color) that are about 1 to 2 inches in diameter. Then are roasted, then "smashed" with a fork or potato masher and seasoned. They are not blended together, or whipped, like mashed potatoes
How do you make roasted potatoes crispy?
A good rule of thumb for roasting is to provide the food plenty of room to crisp up!
For optimal crispness, don't overcrowd your baking sheet with too many potatoes. This causes them to steam, instead of allowing air to freely circulate around the potatoes.
Also, a high oven temperature makes the cooking time quick but also blisters the skin around the potato. Coupled with a drizzle of olive oil, you will have crispy potatoes in no time!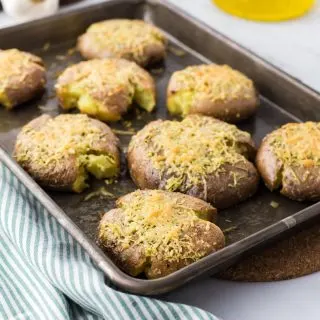 Crispy-Skinned Smashed Red Potatoes
Savory, herby, crispy, smashed red potatoes are the envy of every other side dish! Every bite is a flavor bomb of crispy edges on the outside and soft, fluffy textures on the inside. Seasoned with buttery garlic, parmesan, and rosemary. This is a recipe that keeps it simple – made from start to finish on one sheet pan!
Ingredients
2

pounds

Whole Red Potatoes

(about 2-3 inches in diameter)

Cooking Spray

4

tbsp.

Sunflower Oil

1

tbsp.

Kosher Salt

1

teaspoon

Black Pepper

(to taste)

4

tbsp.

Butter

(melted)

4

Garlic Cloves

(minced)

1 ½

teaspoon

Dried Rosemary

Parmesan Cheese

(freshly grated)
Instructions
Preheat oven to 400 degrees.

Place clean potatoes in a large mixing bowl. Toss with olive oil. Season with kosher salt and black pepper.

Lightly grease a large baking sheet with cooking spray.

Spread potatoes onto a baking sheet. Place in a 400-degree oven for 30 minutes or until potatoes are fork-tender.

While the potatoes bake, mix the melted butter, garlic, and dried rosemary in a small bowl. (see note 1)

Meanwhile, mix the butter, rosemary and garlic in a small bowl.

When potatoes are tender, gently press down to "smash" each potato with a potato masher or large fork.

Using a pastry brush, generously brush each potato with the

garlic butter

mixture. Sprinkle with Parmesan cheese.

Return the pan to the oven for 15-20 minutes or until the broken edges of the potato crisp and begin to turn light brown.

Serve immediately.
Notes
Please read the entire post for details, tips, and more!
Note 1: Butter can be easily melted by microwaving in 15-second intervals until melted. Warming over low heat via stovetop will work, too.
This recipe makes a great side dish for any main course!
Nutrition
Serving:
3
potatoes
Calories:
294
kcal
Carbohydrates:
31
g
Protein:
4
g
Fat:
18
g
Saturated Fat:
6
g
Polyunsaturated Fat:
11
g
Cholesterol:
21
mg
Sodium:
724
mg
Fiber:
3
g
Sugar:
2
g