Crock pot taco soup is the ultimate no-fuss Tex-Mex comfort food! It brings together the best of two worlds — the hearty richness of chili and the spicy vibrance of tacos. It's a true game-changer for those looking for a mouthwatering, easy-to-make dish!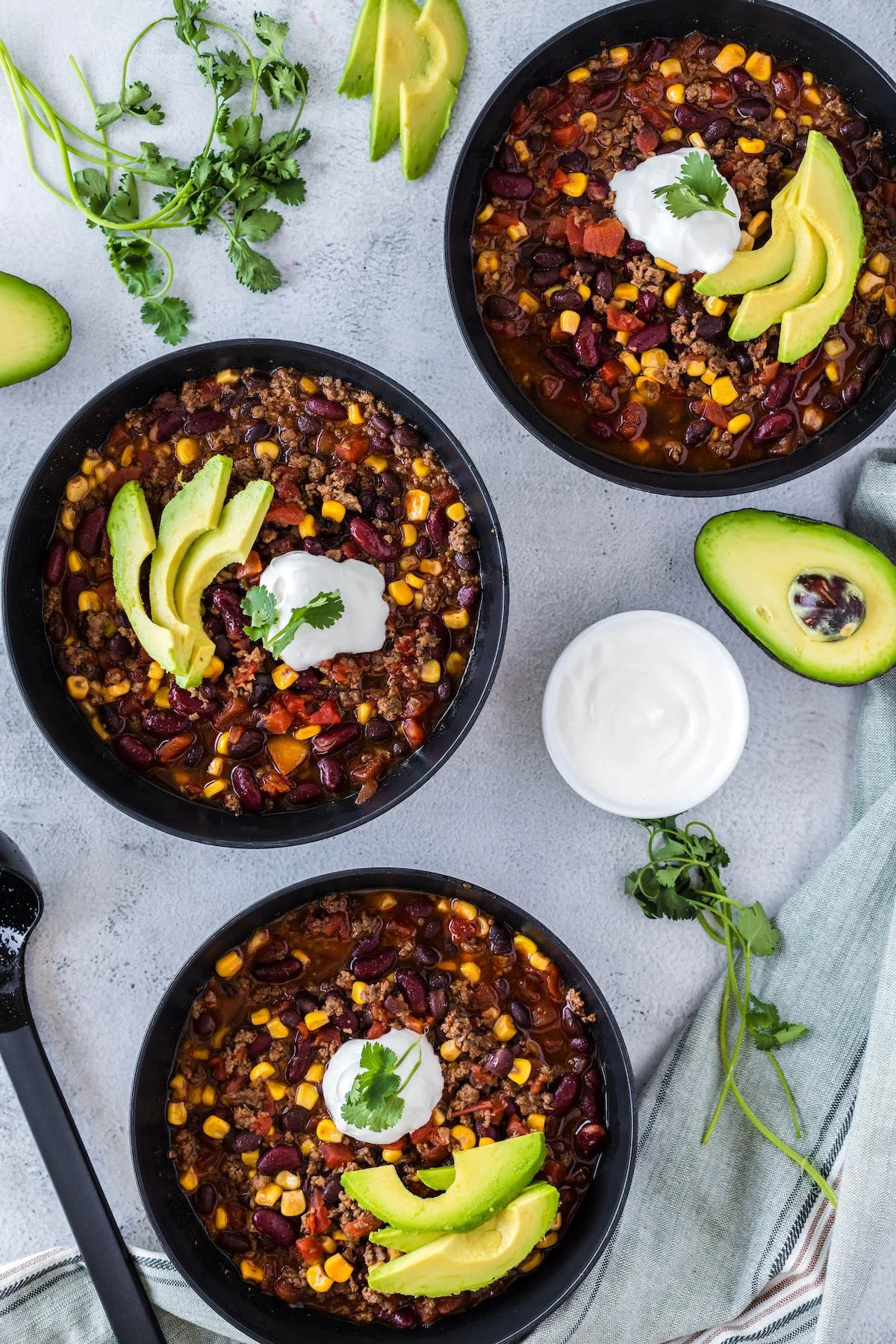 Why You'll Love This Recipe
Effortless: This original taco soup recipe is one of the simplest meals to make! Just brown the beef, add the rest of the ingredients, and simmer until it's bubbling.
Crowd-pleaser: This recipe is perfect for game days, large family gatherings, potlucks, or any occasion where you need to feed a crowd.
Comforting: Nothing beats the warmth and satisfaction of a bowl of taco soup, especially on cool fall or winter evenings.
What is taco soup?
Taco soup is an easy, hands-off recipe that's extremely popular in the Southern United States. Taking inspiration from both chili and tacos, it's packed with hearty, spicy, tangy, and rich flavors that will keep you full and satisfied for hours!
It showcases ingredients like ground beef, two kinds of beans, corn, Rotel tomatoes, and taco seasoning. Everything is slow-cooked in the Crockpot until the flavors meld together, creating a recipe the whole family will love!
For the best eating experience, serve your beef taco soup hot, garnished with shredded cheese, green onions, cilantro, corn chips, and a dollop of sour cream.
Ingredients For Taco Soup
Ranch seasoning: Adds a creamy, tangy, and herbaceous flavor. Use a store-bought option for more convenience, or try making your own with a mix of dried parsley, dill, onion powder, and garlic powder if needed.
Taco seasoning: Gives the soup its spicy kick! Again, this can be homemade or store-bought. For a homemade mix, use chili powder, cumin, paprika, and garlic powder.
Beans: I like to add black beans and kidney beans for a hearty texture. Both canned beans and home-cooked beans will work. If you don't have black or kidney beans, try replacing them with other types like pinto or navy beans.
Sweet corn: Offers bursts of juicy sweetness to balance the spices of this crock pot taco soup. Frozen corn also makes a good substitute.
Diced tomatoes: Provides a juicy, tangy base. To create a smokier flavor, substitute regular diced tomatoes with fire-roasted diced tomatoes.
Beef broth: Deepens the rich, meaty flavor of the soup. For a lighter flavor, replace the beef broth with chicken or vegetable broth instead.
Rotel tomatoes: Add zest and a bit of heat. Make sure to double-check the can since there are different spice levels of Rotel tomatoes. If you can't find them, use extra diced tomatoes with canned diced green chilies.
Ground beef: Provides richness and a hearty texture. I prefer to use 80/20 ground beef for the best results, but you can use 90/10 for a leaner flavor.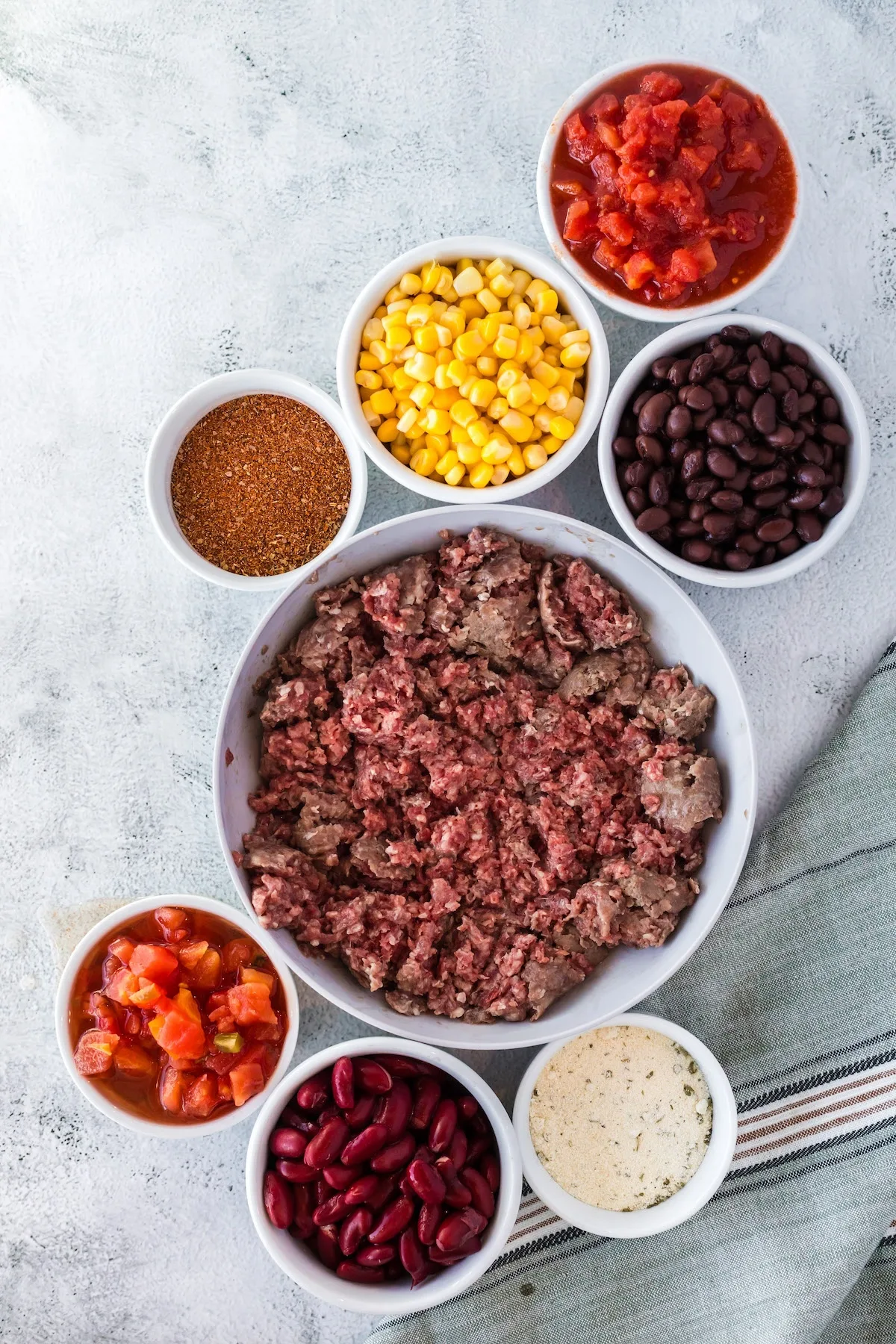 How To Make Beef Taco Soup
Step 1: Brown The Beef
Start off by browning your ground beef in a large skillet. Don't forget to pour off any extra grease as it cooks — we want flavor, not a grease fest! Once it's browned, add it to the Crockpot.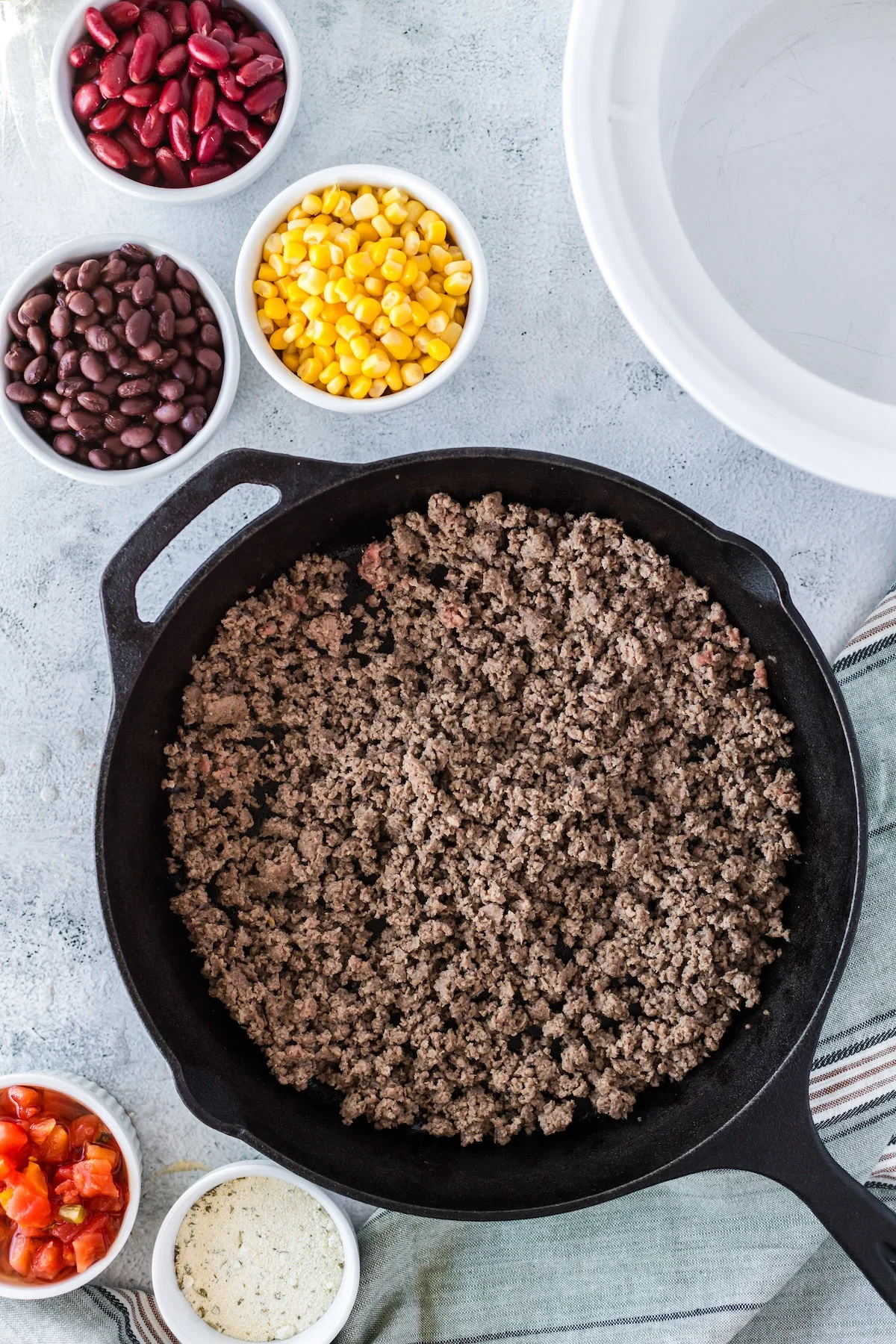 Step 2: Prepare The Rest
Drain and rinse the kidney beans and black beans in a colander. Additionally, strain the sweet corn. Dump everything into your Crockpot with the beef, including the ranch and taco seasoning.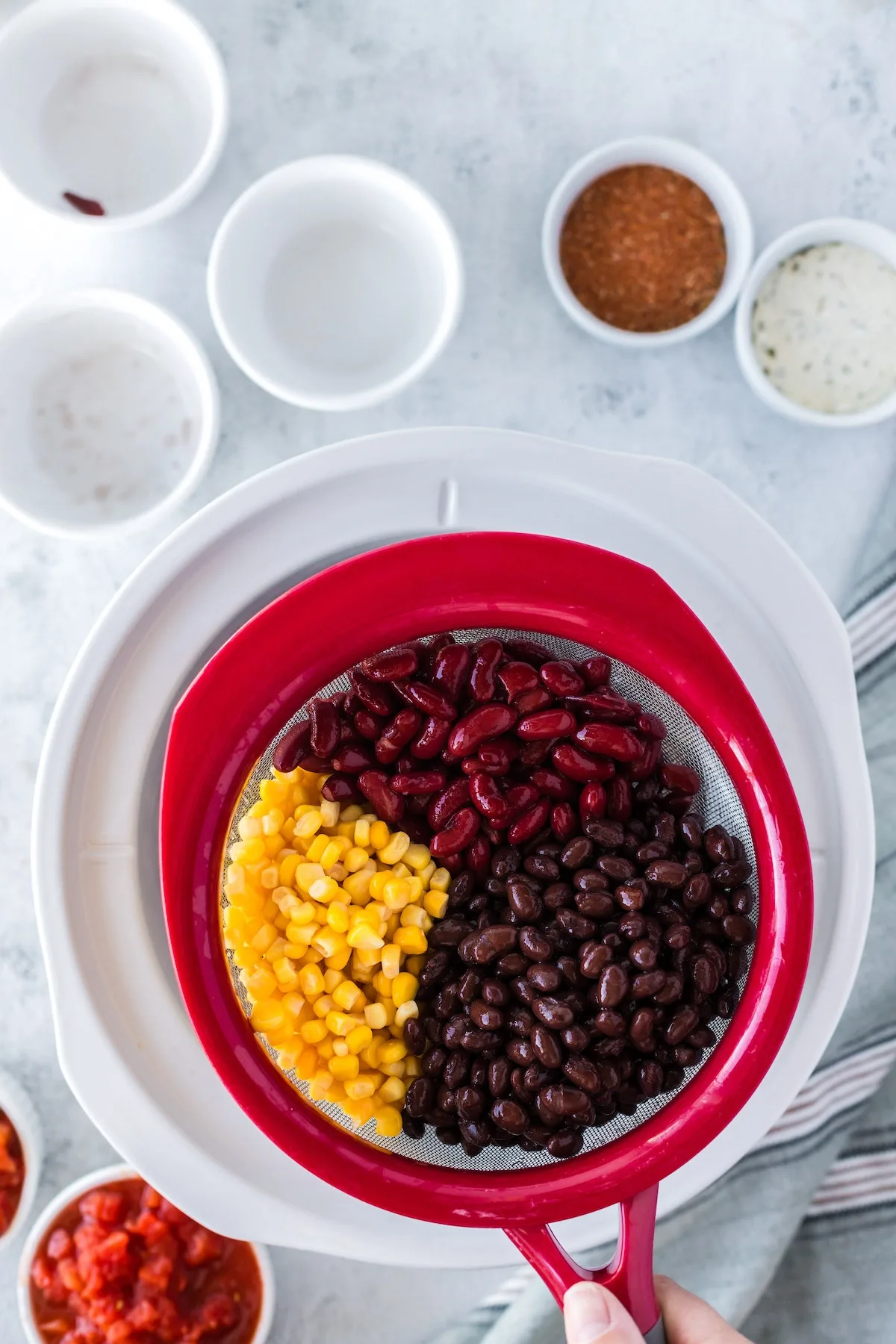 Step 3: Bring It All Together
Give the mixture a good stir, then let it simmer for a few hours until your kitchen smells like crock pot taco soup heaven! Serve it with your favorite toppings and garnishes.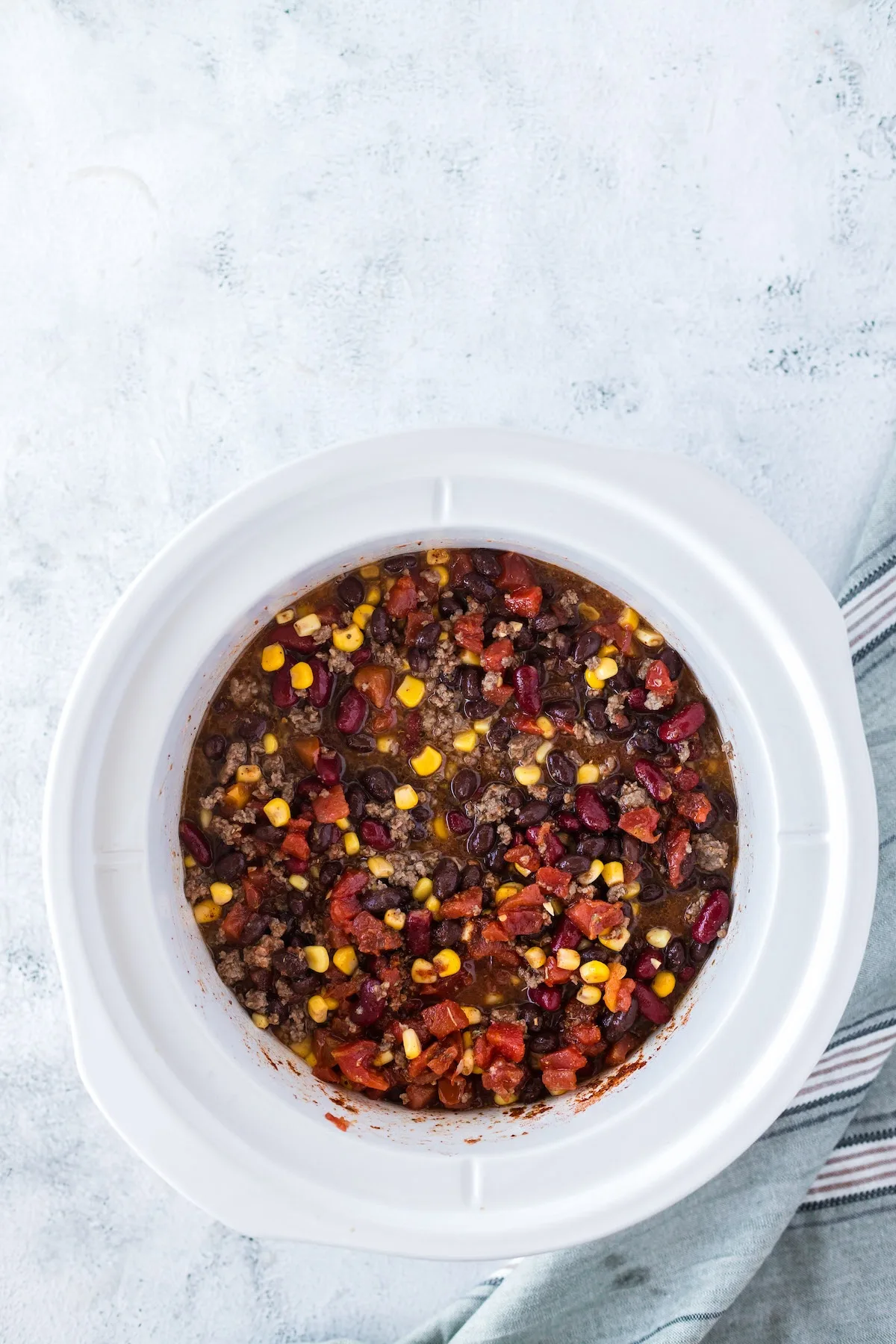 What To Serve With Crock Pot Taco Soup
Now that you know how to make taco soup, try customizing your bowl with some of my favorite toppings and sides like these:
Corn chips: For the perfect textural balance, serve this beef taco soup with crunchy corn chips.
Cheese: Shredded cheese melts into the hot soup, creating a gooey, melty consistency.
Sour cream: For a creamy, cooling element, add a dollop of sour cream on top.
Avocado: Sliced avocados add a buttery richness that complements the spicy soup.
Tortillas: Warm, soft tortillas or crispy tortilla strips make a great side for dipping.
Recipe Variations
Protein swap: Replace ground beef with ground turkey, pork, or chicken.
Veggies: Add bell peppers, mushrooms, zucchini, or carrots for a colorful twist.
Creamy: For a creamier version, stir in some cream cheese.
Extra spicy: Add a dash of hot sauce or more diced jalapeños for extra heat.
Pasta taco soup: Stir in some pasta for a heartier version of this crock pot taco soup.
Tips For The Best Recipe
Browning: Make sure you thoroughly brown the beef for a richer taco soup flavor.
Heat level: Adjust the heat by adding or reducing the amount of taco seasoning and Rotel tomatoes. For a mild version, replace the Rotel tomatoes with regular diced tomatoes and make your own taco seasoning to control the spice.
Consistency: If your crock pot taco soup is too thick, add more broth to reach your desired consistency.
What To Do With Leftovers
If you have leftovers or want to make taco soup ahead of time, just follow these simple storage instructions:
Fridge: Once cooled, store beef taco soup in an airtight container for up to 3-4 days.
Freezer: For longer storage, freeze crock pot taco soup in freezer-safe containers or bags for up to 2-3 months. I suggest portioning them in single-serving containers for easier reheating.
Reheating: Reheat your taco soup on the stovetop over medium heat or in the microwave until warm.
Additional Recipes
If you enjoyed this beef taco soup recipe, here are a few more quick and easy dinner recipes:
Frequently Asked Questions
Can I make this soup on the stovetop?
Absolutely! To make it on the stovetop, just brown the beef, then add it to a stockpot with the rest. Simmer everything on low for about an hour.
Is this taco soup recipe spicy?
Not necessarily! The spiciness depends on the Rotel tomatoes and taco seasoning used, both of which you can adjust to your preference.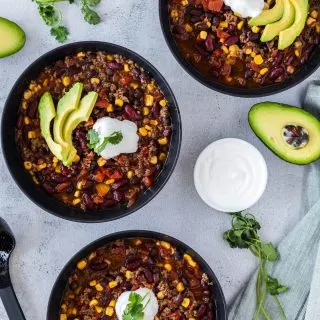 Easy Crock Pot Taco Soup
Crock pot taco soup is the ultimate no-fuss Tex-Mex comfort food! It brings together the best of two worlds — the hearty richness of chili and the spicy vibrance of tacos. It's a true game-changer for those looking for a mouthwatering, easy-to-make dish!
Ingredients
1

ounce

ranch seasoning packet

1

ounce

taco seasoning packet

15

ounces

black beans

15

ounces

kidney beans

15

ounces

sweet corn

15

ounces

diced tomatoes

15

ounces

beef broth

15

ounces

Rotel tomatoes

1

pound

ground beef
Instructions
In a large skillet, brown ground beef and pour off any excess grease. Add to crock pot.

In a colander, drain and rinse kidney beans and black beans.

To the same colander, strain sweet corn.

Add beans and corn to the crock pot. Then, add the (undrained) cans of tomatoes and beef broth to the crock pot.

Stir in Ranch and Taco seasoning packets. Stir.

Simmer for 3-5 hours or until bubbling.

Serve with corn chips, shredded cheese, and sour cream if desired.
Notes
Can use homemade ranch and taco seasoning if desired.
Try seasoned canned tomatoes for additional flavor. Examples: fire roasted tomatoes, with green chillies, salsa style, hot, spicy, etc.
Stretch this recipe by adding an extra can of broth.
Nutrition
Calories:
366
kcal
Carbohydrates:
43
g
Protein:
22
g
Fat:
13
g
Saturated Fat:
5
g
Polyunsaturated Fat:
1
g
Monounsaturated Fat:
5
g
Trans Fat:
1
g
Cholesterol:
40
mg
Sodium:
808
mg
Potassium:
928
mg
Fiber:
11
g
Sugar:
7
g
Calcium:
77
mg
Iron:
5
mg