Melty ham and cheese sliders are the perfect finger foods! These Hawaiian roll sandwiches are packed with layers of juicy baked ham, swiss cheese, and your favorite condiments. This hearty snack recipe comes together in under 30 minutes!
If you are making these as a part of an appetizer spread, be sure to include other game-day snacks, like a charcuterie board, chicken wings, spinach and artichoke dip. The great thing about this recipe is that you can customize these sandwiches with whatever meats, cheeses, and condiments you like!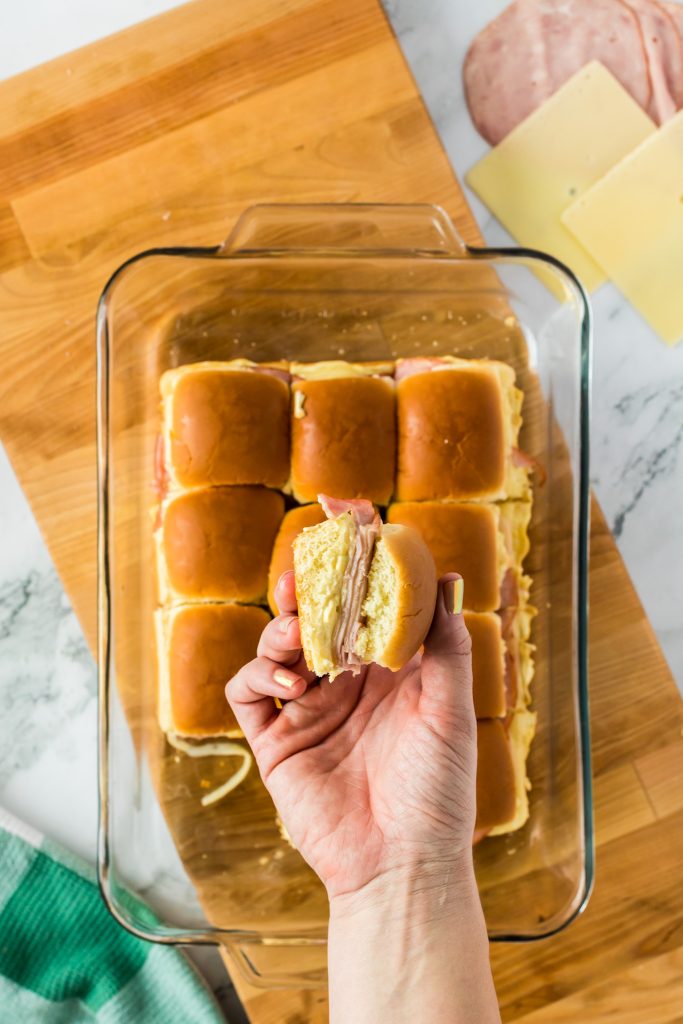 Easy Hawaiian Roll Sliders
These sliders are a family favorite - mainly because you can swap out ingredients as you like. You could even make a sandwich platter with different meat and cheese combinations.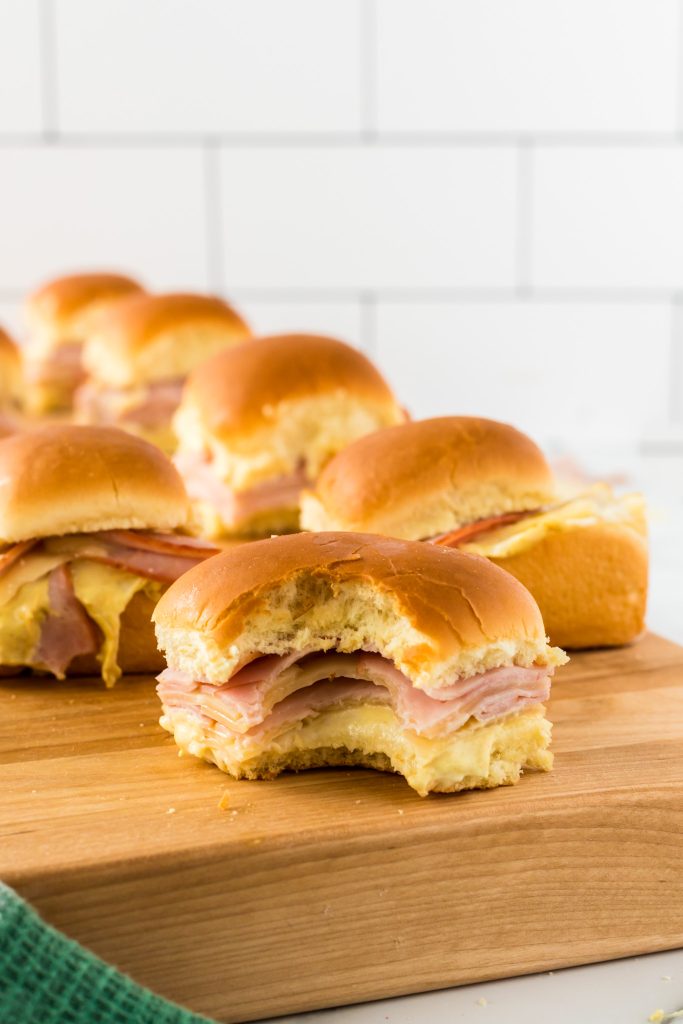 Because these are all baked together as one giant sandwich casserole, it's easy to feed a lot of people with minimal work. Just assemble the sliders, bake, and serve with a couple of side dishes. Done!
Tools to make this recipe easier
Bake these in a casserole dish for the best results. I prefer to use a lightly-colored glass casserole dish to bake these in. You can also use a disposable aluminum pan if you are taking these to a party.
Use a casserole carrier to transport these while hot or keep them warm so folks can snack as needed.
A silicone spatula is great for spreading mayo and mustard across the bottoms of the rolls. You can also leave off the condiments or add others as desired.
Use a pizza cutter for slicing the sliders once they are done.
Ingredient Notes and Substitutions
King's Hawaiian Rolls make this recipe! The sweetness of the bread and the savory toppings are a delicious combination. You could also use any sliders, mini rolls, or even dinner rolls you find at the store.
Feel free to use any sandwich meat you like if ham isn't your thing. Think of all of the other options like corned beef, roast beef, leftover spiral ham, turkey, leftover or sliced deli chicken. Make sure whatever meat you choose is sliced thin enough for a small sandwich.
Experiment with different cheeses like cheddar, provolone, Mozzarella, American, Colby, Monterey Jack, Havarti, Gouda, mozzarella, Muenster, etc.
Feel free to add or leave off condiments or add on different toppings like pickled red onion, pickles, or whatever else you enjoy on a sandwich.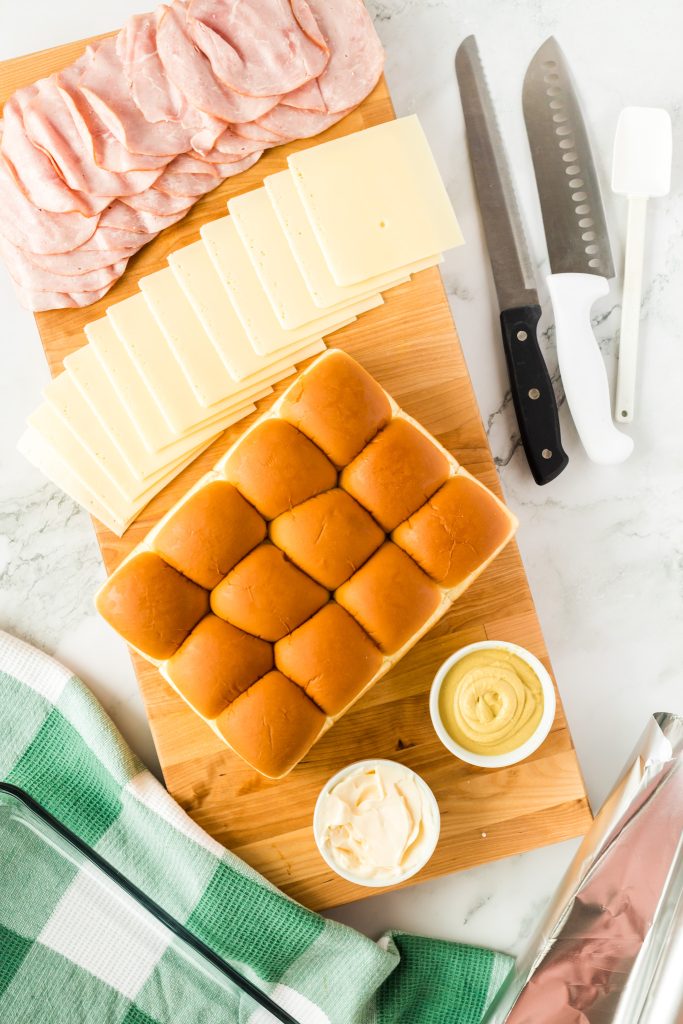 Making Sliders with Hawaiian Rolls
Regardless of your meat and cheese selections, the process is very much the same!
Slice the Slider Rolls
First, start by slicing the rolls through the center so you have tops and bottoms. Do your best to keep the rolls connected. It's much easier and faster to cut 3 or 4 at a time if you can't manage the entire package.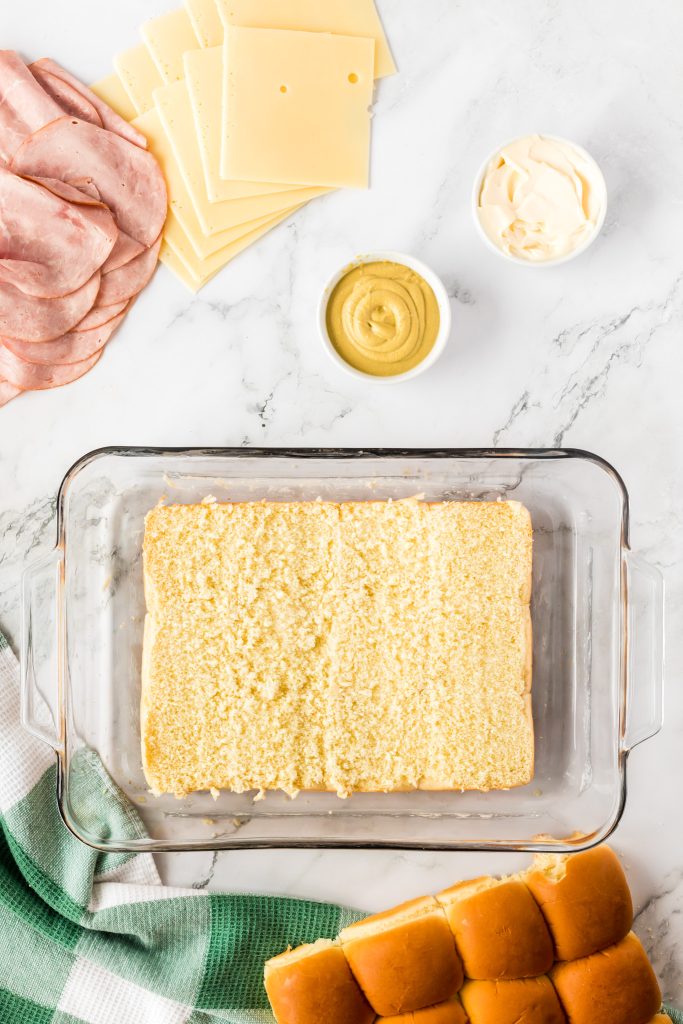 Then, place the bottoms in a casserole dish. Spread the mayo and mustard together with as much or as little as you please.
Layer and Make the Sandwiches
Layer with the deli meat and cheese, alternating each layer. Add the tops to the sandwiches.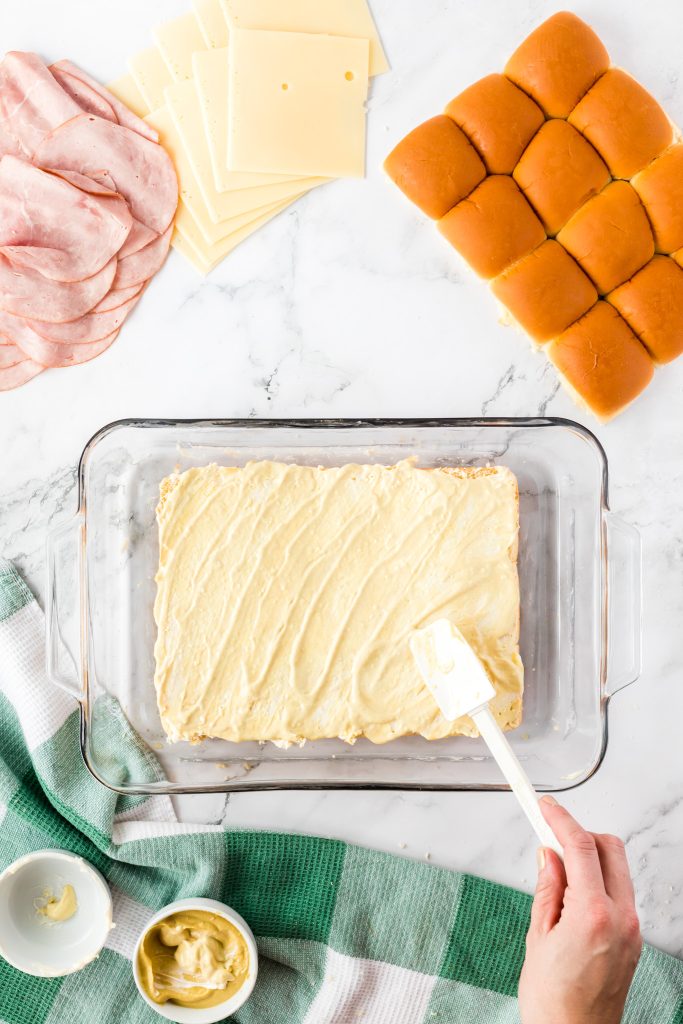 Tip: If your rolls become disconnected when slicing, make a mental note of how many bottoms are laid across the top of the dish so you add the same number of top rolls onto the meat and cheese layers.
Bake the sandwiches
Lightly cover the dish with foil and bake for about 20 minutes or until the cheese is melty and gooey! I like to brown the tops for the last few minutes of cooking for a little color.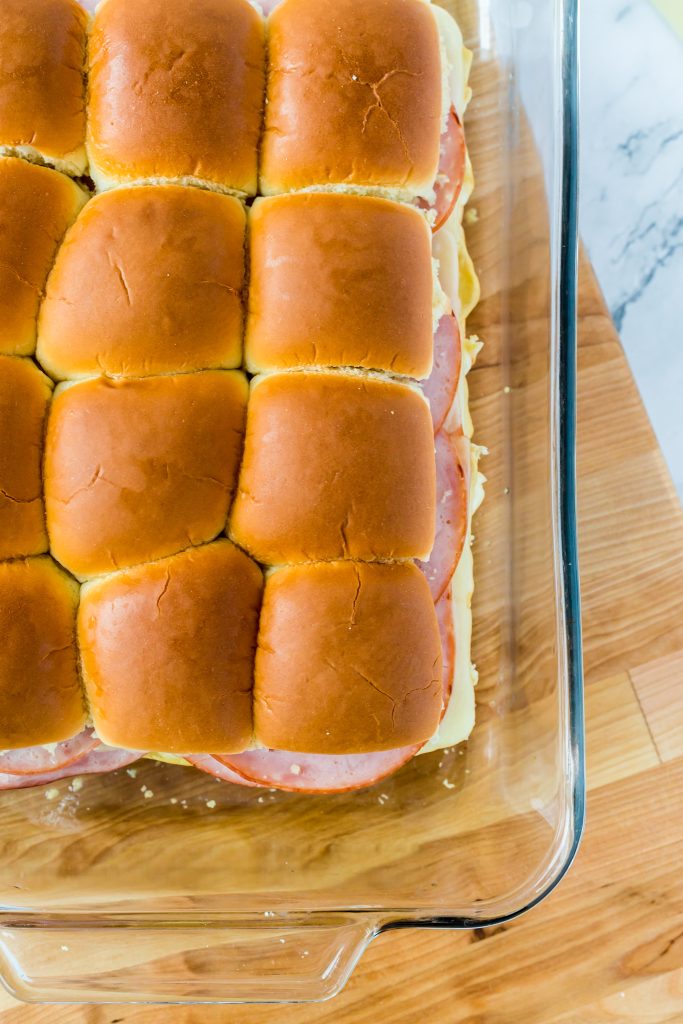 When you remove them from the oven, let them stand for a few minutes before slicing. Otherwise, the sandwiches will completely fall apart.
Serve!
Slice with a large knife or pizza cutter, then serve with chips or your favorite side dish.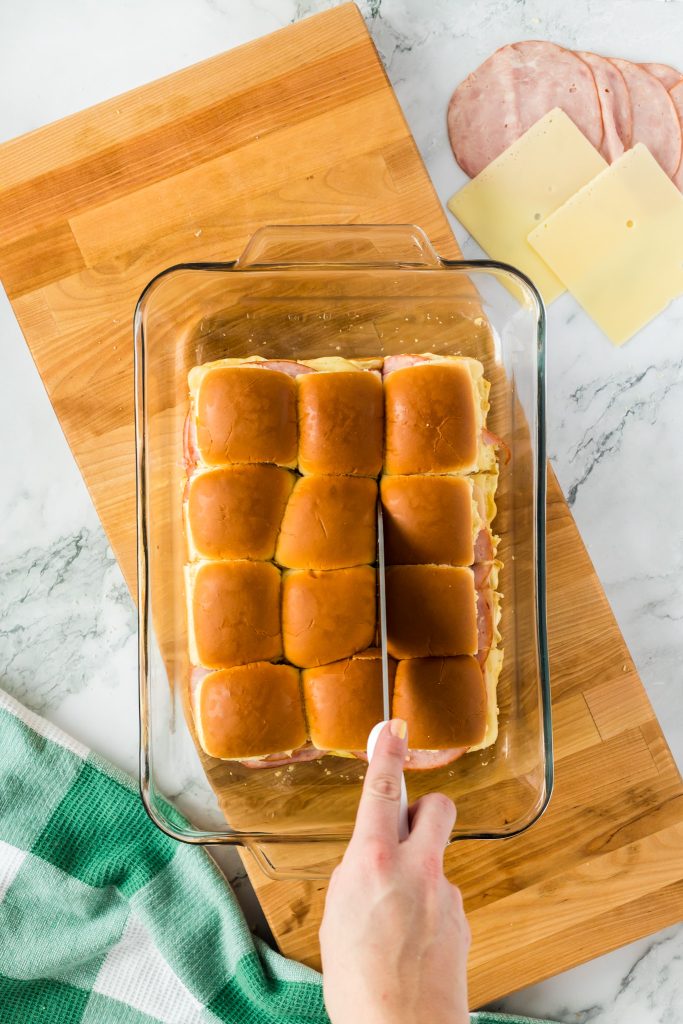 Can you reheat ham and cheese sliders?
These sliders are excellent as leftovers, too. To reheat these, place them in an oven-safe dish or baking sheet and warm in a 350F degree oven for about 10 minutes or until warmed through.
You can also pop these in the microwave for a minute at a time, but they will likely turn out soggy.
What do you top ham and cheese sliders with?
There are many recipes similar to this one that add sauce over the top of the sliders. I've found this makes them soggy, messy, and difficult to eat.
If you choose, you can also brush a little butter over the top of the sandwiches, but there is still plenty of flavor without butter or sauce.
Side dishes to serve with ham and cheese sliders
Just about anything goes with ham and cheese sliders, but here are a few side dishes that are not chips: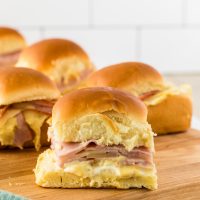 Hot Ham and Cheese Sliders
Melty ham and cheese sliders are the perfect finger foods! These Hawaiian roll sandwiches are layered with juicy baked ham, swiss cheese, and your favorite condiments. This hearty snack recipe comes together in under 30 minutes!
Print
Pin
Rate
Ingredients
12

pack of Hawaiian sweet slider rolls

slider-sized, cut in half

¾

pound

deli ham

thinly sliced

¾

pound

Swiss cheese

thinly sliced

Mayonnaise

optional

Dijon Mustard

optional
Instructions
Preheat oven to 350F. Lightly grease a 9x13 inch casserole dish. Set aside.

Using a large serrated knife, slice the rolls in half so you have a 'slab' of tops and a 'slab' of bottoms. Place the bottoms in the prepared dish. (It's easier to slice 3-4 connected rolls at a time vs. each individually.)

Spread a thin layer of mayonnaise and mustard over the bottom of the rolls using a knife or silicone spatula.

Begin layering the ham and cheese on top of the rolls, alternating layers of ham and cheese.

Add the top 'slab' of rolls on top of the layers of ham and cheese.

Cover with aluminum foil and place in the oven for about 20 minutes or until cheese has melted.

Uncover and cook for about 3 to 5 more minutes, or until the tops of the rolls have browned slightly.

Remove from the oven and let stand for 5 minutes.

Using a pizza cutter or sharp knife, slice into individual sliders and serve immediately. Sliders are best warm and fresh.
Notes
Substitutions:
Here are a few side dishes that are not chips:
Topping Ideas:
Add or leave off condiments

and toppings as desired.
Other appetizer ideas: