Learn how to make a charcuterie board in minutes! This tutorial includes everything you need including meat and cheese pairings, food ideas, and how to build the best charcuterie board. Piled high with meats, cheeses, olives, sauces, and other snacks of your choice, this easy snack platter can be as extravagant or as simple as you like.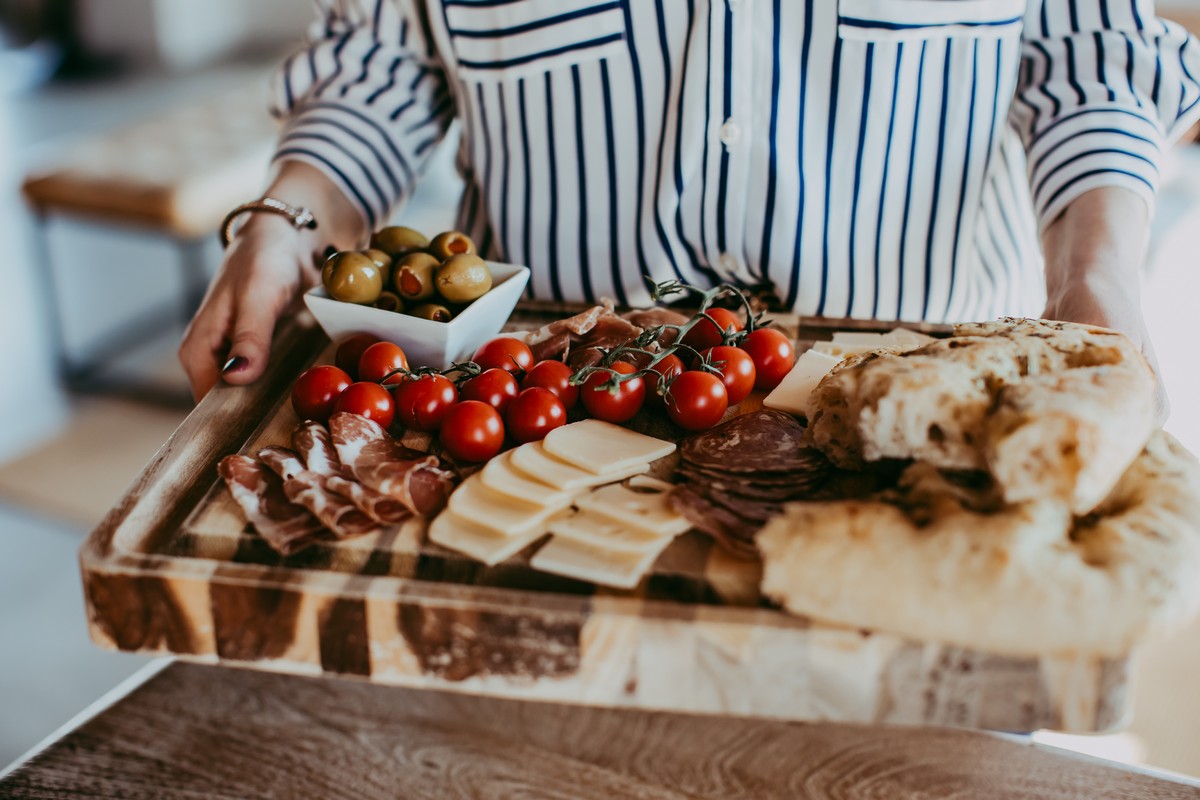 This recipe is great for any season, celebration, and party! Grab a few of your favorite snack ingredients and I'll show you how to assemble a beautiful board. Plus, a few pro tips and products we love.
When it comes to hosting, I love efficiency and recipes that allow for customizations, and a charcuterie board hits all those points and then some!
What is a charcuterie board?
Pronounced [shahr-koo-tuh–ree], a charcuterie board is essentially a platter filled with meats and cheeses. Often, you will also find olives, pickles, bread, and crackers on the board, too.
The great thing about a platter like this is it can be an appetizer, snack, or full-on dinner. It's so easy to layer it up to feed more people, scale it down for pre-dinner snacks, or even make a meal out of it.
Snack Board Ingredients and Tools
What to put on a charcuterie board is a loaded question! There are so many different ingredients to choose from. You can get as fancy or as simple as you like.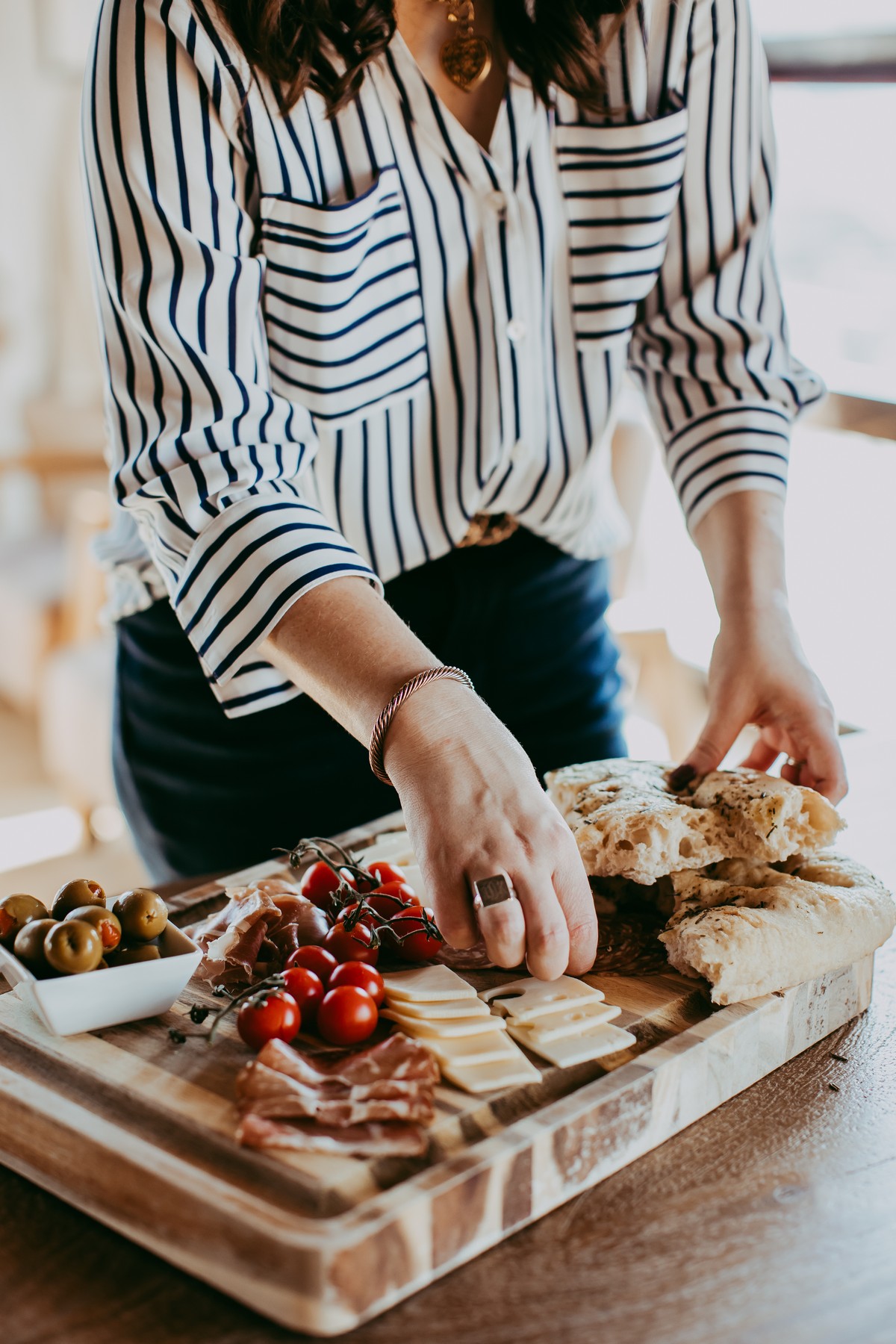 If cured meats and fancy cheeses aren't your thing, stick to simple crackers with your favorite cheese!
Charcuterie Board Meats
Most meats on a traditional charcuterie board are cured, dried meats, like salami, capicola, summer sausage, calabrese, pepperoni, and prosciutto. You can also use slices of fresh deli meat, too.
Charcuterie Board Cheese
Choose any variety of soft and hard cheeses. Buy the cracker-sized cuts to save time during prep and refilling the board.
Hard cheeses: manchego, cheddar, swiss, parmesan, Emmental, pecorino-romano, etc.
Soft cheeses: goat cheese, brie (try baking!), cream cheese (with pepper jelly on top!), burrata, mozzarella, etc.
Other Ingredients
Spreads, dips, and condiments: high-quality olive oil and balsamic vinegar, savory jams, mustards, olive oil, hummus, chutneys, etc.
Sweet additions: dried fruits, fresh berries, apple slices
Savory additions: nuts, pickles, marinated peppers or other veggies,
Vehicles: crackers, bread, crisps
Tools we love that make this recipe easier
How to Build a Charcuterie Board
Assembling a board is really a strategy of layering different kinds of ingredients on the board and filling in the holes with nuts, fruits, olives, and things like that.
First, find a board or platter large enough for the accoutrements. Alternatively, you can tape down a large sheet of butcher paper on your countertop for a larger crowd.
Next, begin layering the meats and cheeses in rows or small piles. I like to design the board so the meats and cheeses all come together in the center of the board.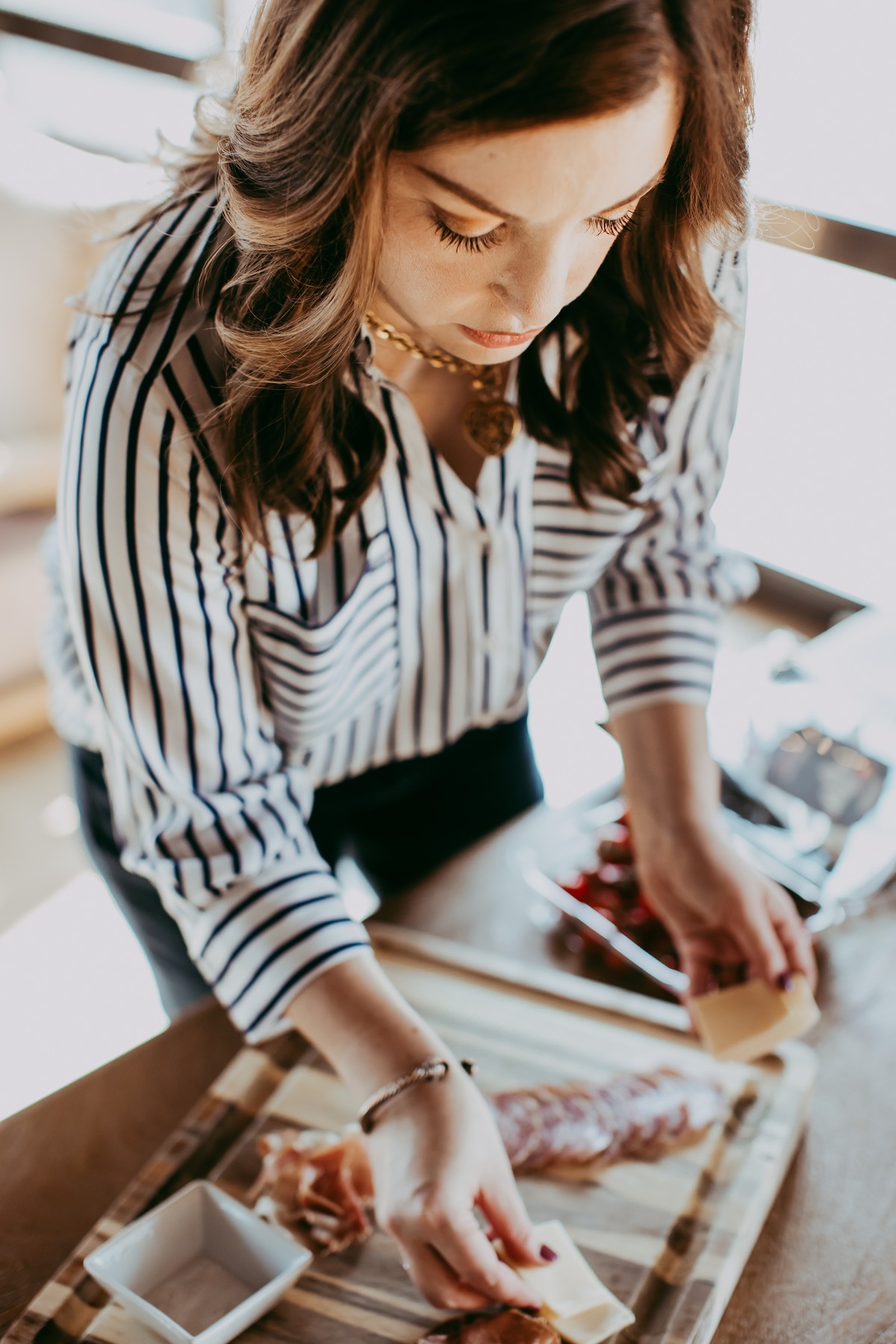 I typically don't cut my meats or cheeses. But, separating them before laying them on the board helps guests easily grab the pieces. Using precut cheese is also a big time-saver!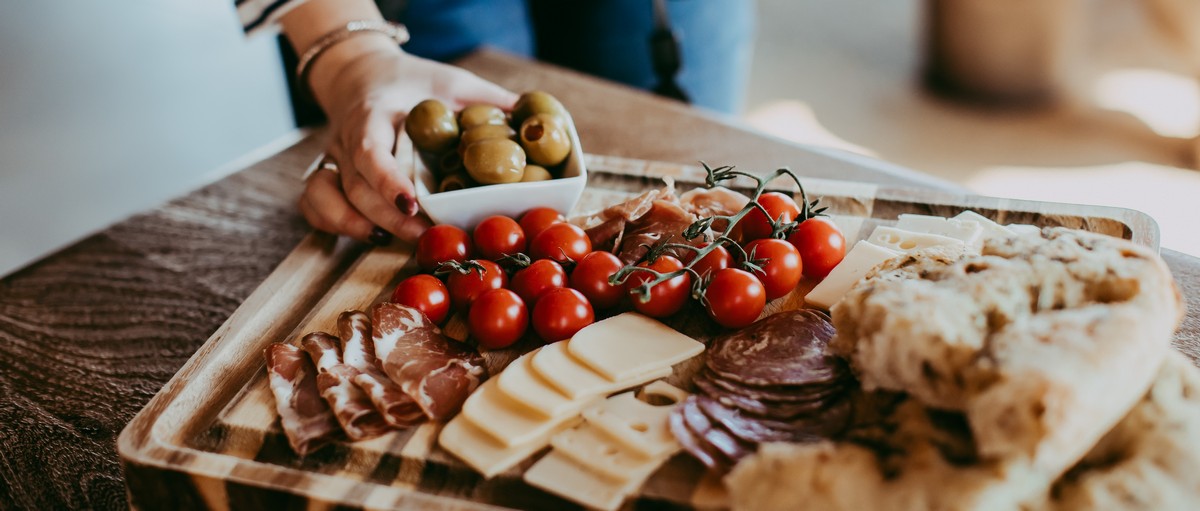 Add the savory and sweet accompaniments. Use colorful ramekins, or different shaped bowls or even glasses to add depth.
I recommend keeping things like olives and pickles in a small bowl so the juices are contained and don't run into other sections of the board.
Finally, add your bread and crackers.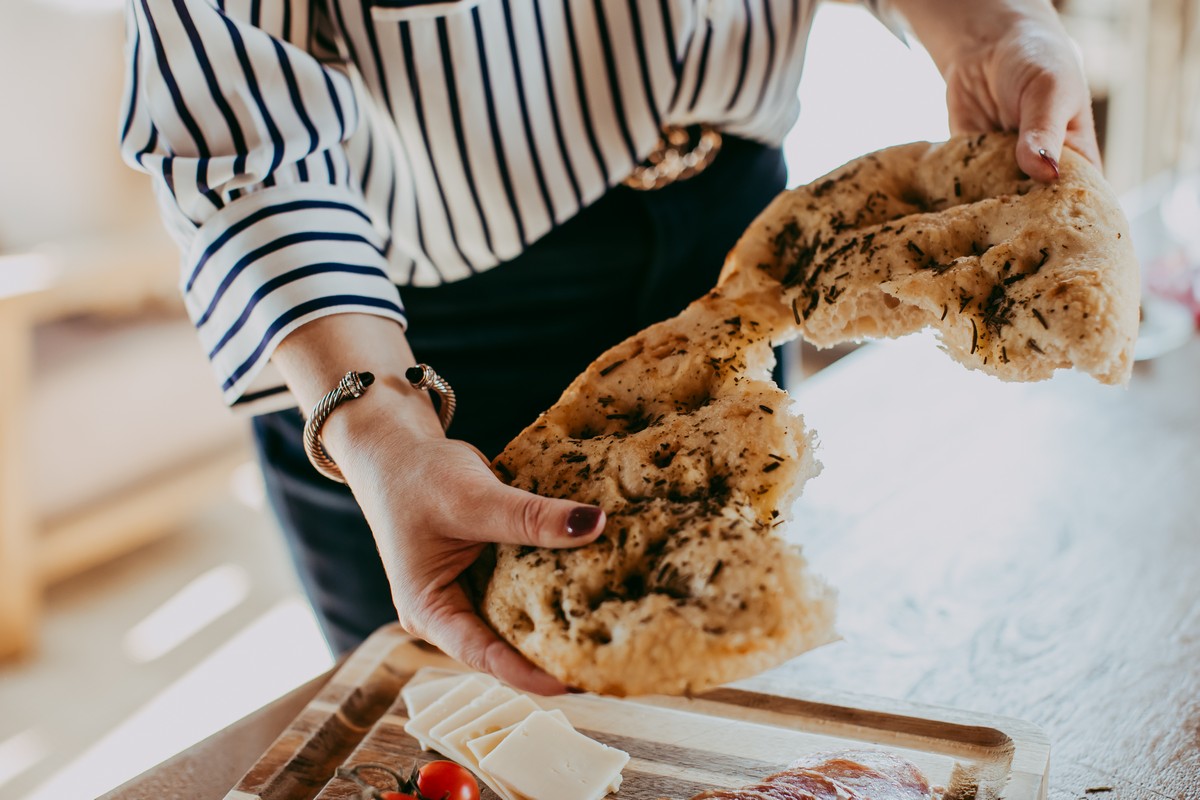 Serve!
Tips for Making a Charcuterie Board
Keep it familiar and simple! Have a variety for everyone, but don't overload your board. Make sure the board is filled with ingredients you and your guests enjoy eating! When in doubt, avoid unfamiliar territory and keep it simple.
Finding ingredients. You can find all of these ingredients at your local grocery store. If you are searching for something new to try, Trader Joe's, Whole Foods, Fresh Market, and other specialty stores always have interesting options.
Serving size. Account for about 4 pieces of each item per person. You kinda have to eyeball this one. Take into consideration the number of people eating and if your charcuterie board is an appetizer or the main course.
Folding the meats can add a cohesive aesthetic to the board.
Yield: 4
How to Make a Charcuterie Board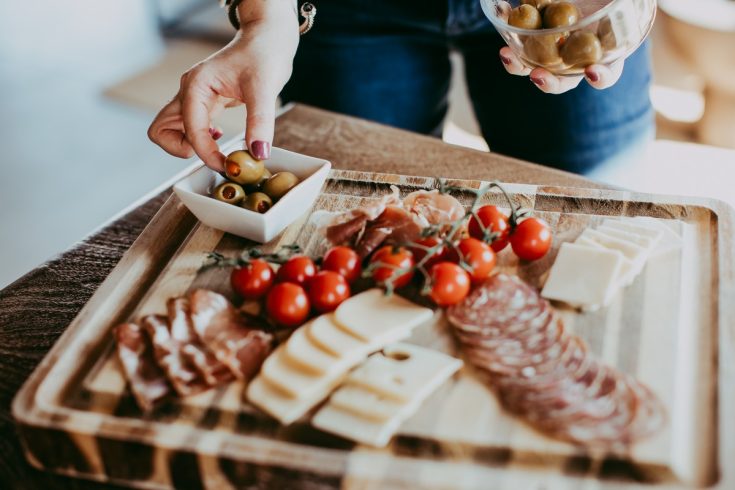 An impressive charcuterie board is the secret for easy entertaining! Piled high with meats, cheeses, olives and other snacks, this elegant appetizer can be as extravagant or as simple as you like.
Ingredients
Meats
Cheeses
Olives
Pickled vegetables
Dips or spreads
Bread or crackers
Instructions
Pull out a beautiful board or platter. Flat and square is always best. We like to use a large cutting board.
Unpackage your meats and cheeses. Arrange meats, cheeses, olives, and other items in a trailing motion on the board.
Add jams, dips, spreads or oils in small bowls for dipping.
Don't forget the vehicles! No board is complete without sliced, buttery (and garlicky!) bread for dipping and pairing. Crackers and crisps will work, too.
Notes
Please read the entire post for details, tips, and more!
Recommended Products
As an Amazon Associate and member of other affiliate programs, I earn from qualifying purchases.
Nutrition Information:
Yield:
4
Serving Size:
1
Amount Per Serving:
Calories:

154
Total Fat:

9g
Saturated Fat:

3g
Trans Fat:

0g
Unsaturated Fat:

4g
Cholesterol:

36mg
Sodium:

210mg
Carbohydrates:

8g
Fiber:

1g
Sugar:

1g
Protein:

11g
The nutritional information is provided as a courtesy and is an estimate generated by a calculator.