Charcuterie skewers are an unbelievably quick and easy finger food that always impresses at family get-togethers and holidays. With a combination of Kalamata and green olives, mozzarella balls, salami, and cherry tomatoes, each bite will transport you straight to the Mediterranean!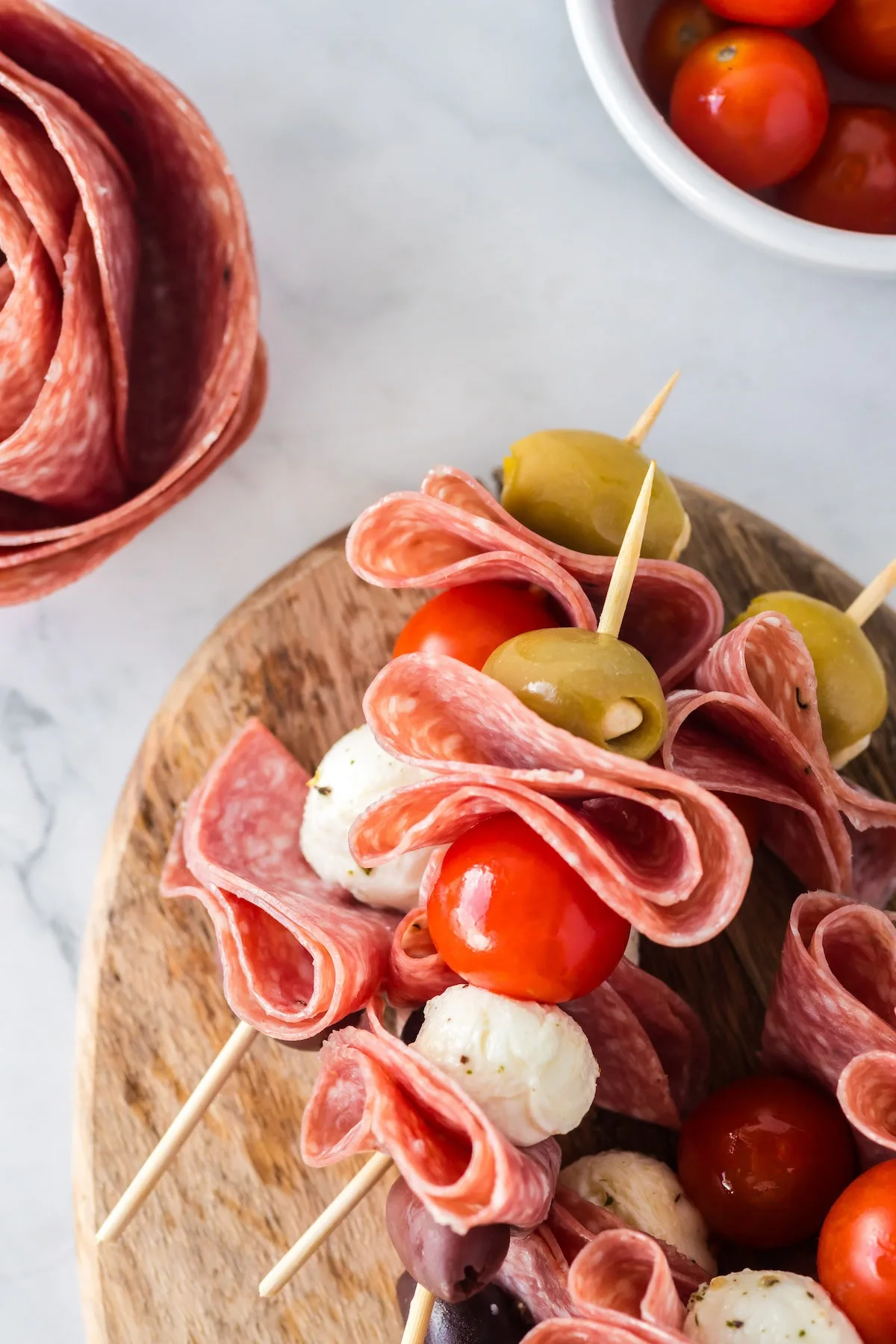 These antipasto bites have become my go-to recipe when I need something simple to make that will also present well at a party. Not only are they beautiful to look at, but they're packed with delicious flavors!
With so many customization options available, I promise you will come back to this recipe time and time again.
Why You'll Love This Recipe
Effortless: This recipe is so simple to prepare! Just thread your favorite antipasto ingredients onto skewers and you're done!
Crowd-pleaser: Once you put the plate down, these charcuterie skewers will disappear right in front of your eyes. I've always had great luck with people loving this recipe!
Portable: Anything served on a stick is perfect for the on-the-go or standing events. Plus, it's germ-free!
Easy Charcuterie Skewers
Originating from Italy, antipasto (antipasti in plural) means "before the meal" and traditionally consists of cured meats, olives, cheeses, and other appetizers. Translating this into skewers makes it a portable, flavorful, and fun snack or appetizer.
Each charcuterie skewer is packed with two types of olives, creamy mozzarella balls, salami, and fresh cherry tomatoes. Their vibrant colors make them an absolute treat for the eye, but the textures and flavors are the real highlight of this recipe.
My favorite part of antipasto bites? No cooking is necessary! All you have to do is assemble and serve. Enjoy them by themselves or alongside other appetizers like bruschetta, fresh or roasted veggies, dips, and more.
Ingredients For Charcuterie Skewers
Olives: Both Kalamata olives and green olives add a tender, briny, and tangy texture and flavor. Make sure they are both pitted. Alternatively, use black olives.
Marinated mozzarella balls: Provide a soft and creamy texture with tangy, herbaceous notes. You can also use feta or any firm cheese you like cut into cubes.
Salami: Adds a touch of savory spiciness. Make sure to cut or fold the salami so it fits properly on the skewer. Prosciutto, pepperoni, or ham are all great options as well.
Cherry tomatoes: Bring a juicy burst of flavor and a pop of color. Grape tomatoes will also work, or you can play around with sun-dried tomatoes for a more intense taste.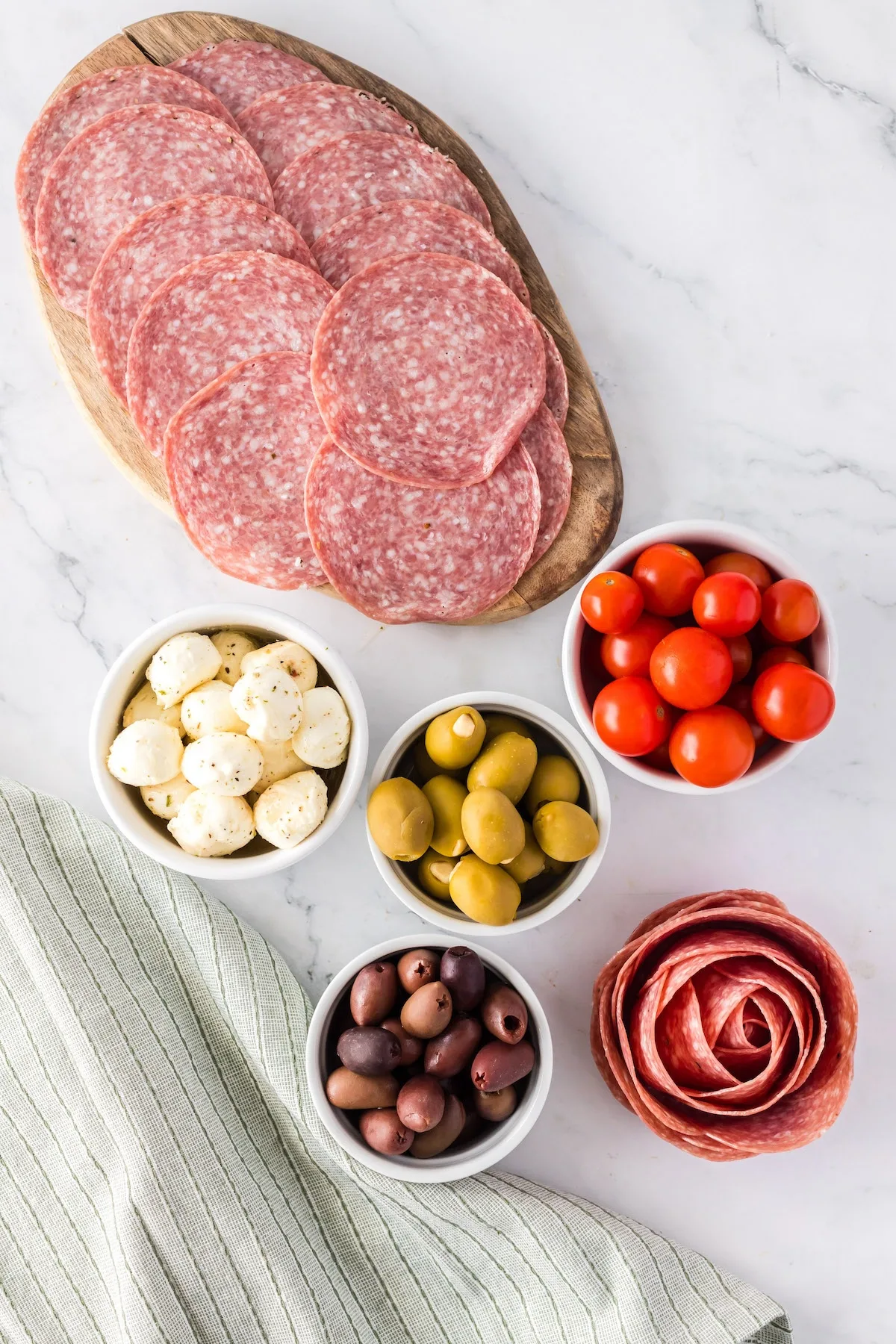 How To Assemble Charcuterie Skewers
The fun part about making charcuterie skewers is that you can thread them in any order you like! I recommend placing an olive at each end to hold everything in place, but it's up to you.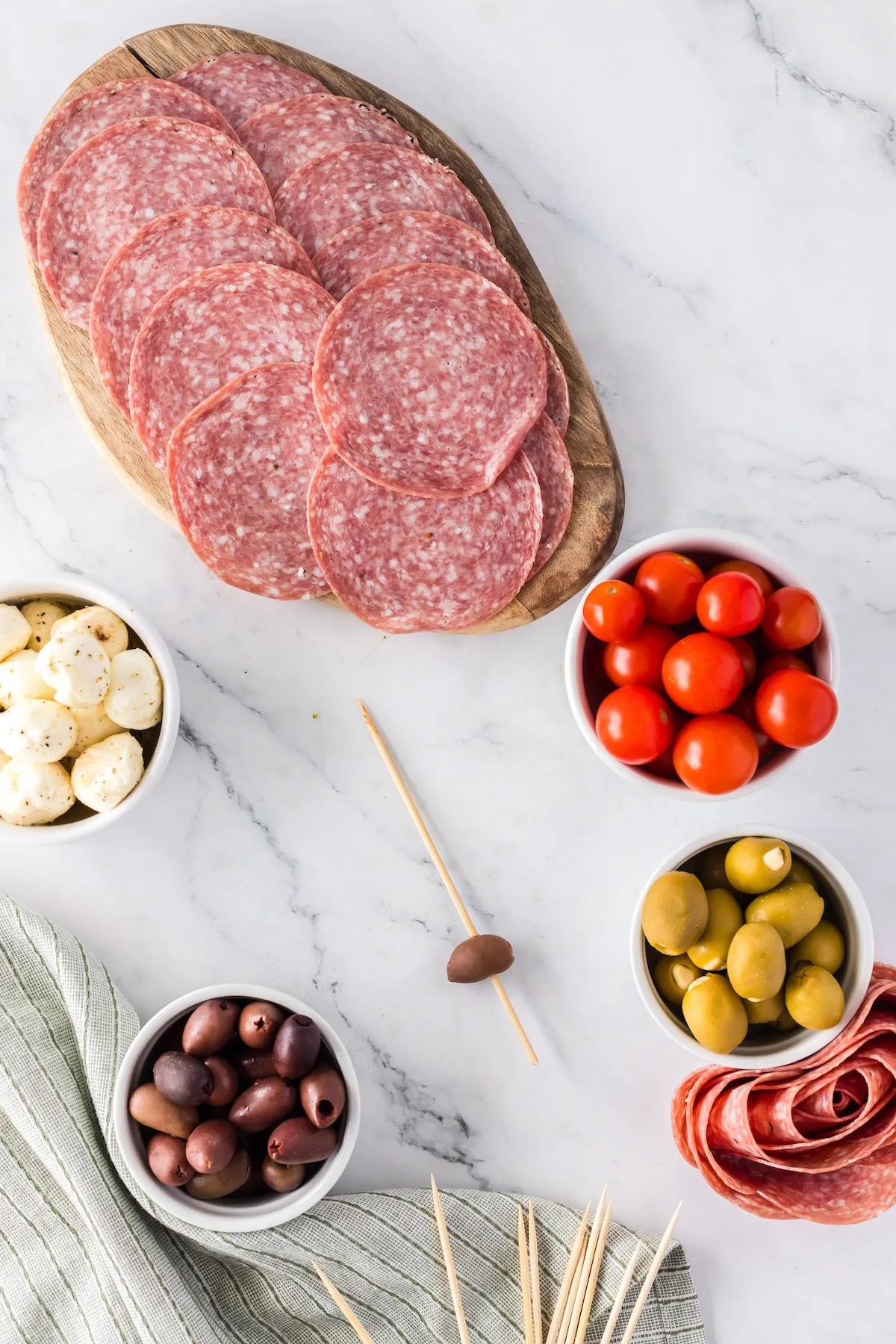 Additionally, I recommend alternating between olives or cherry tomatoes, then mozzarella cheese balls and salami to keep the flavors interesting.
Once you figure out a pattern that works for you, repeat it with all of the skewers for an organized and beautiful presentation. Arrange the charcuterie skewers on a serving platter of your choice, and you can even garnish them with fresh herbs or a drizzle of olive oil.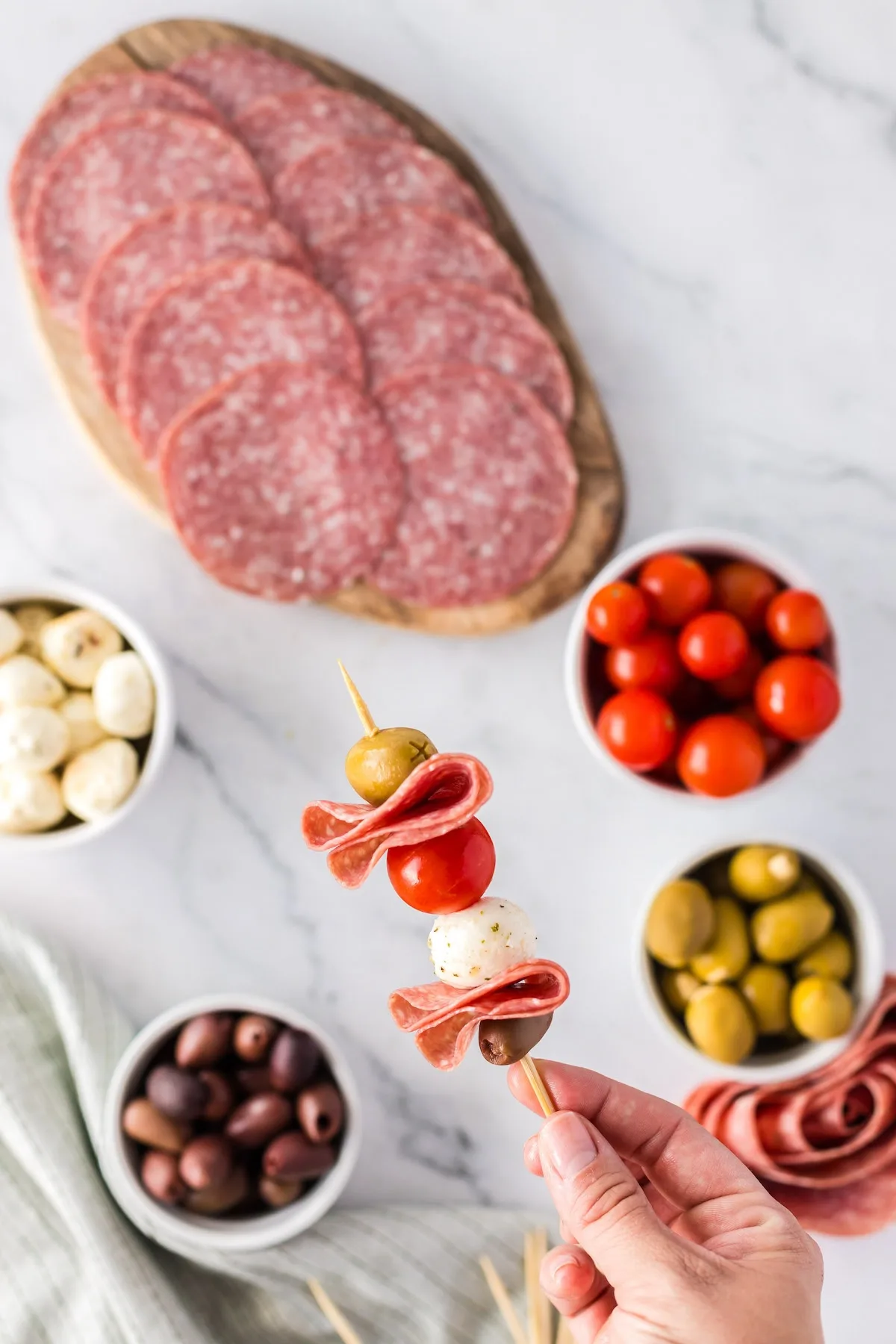 What To Serve With Antipasto Bites
Along with other charcuterie favorites, you can pair these antipasto bites with a light Italian vinaigrette or basil pesto without pine nuts as a dipping option.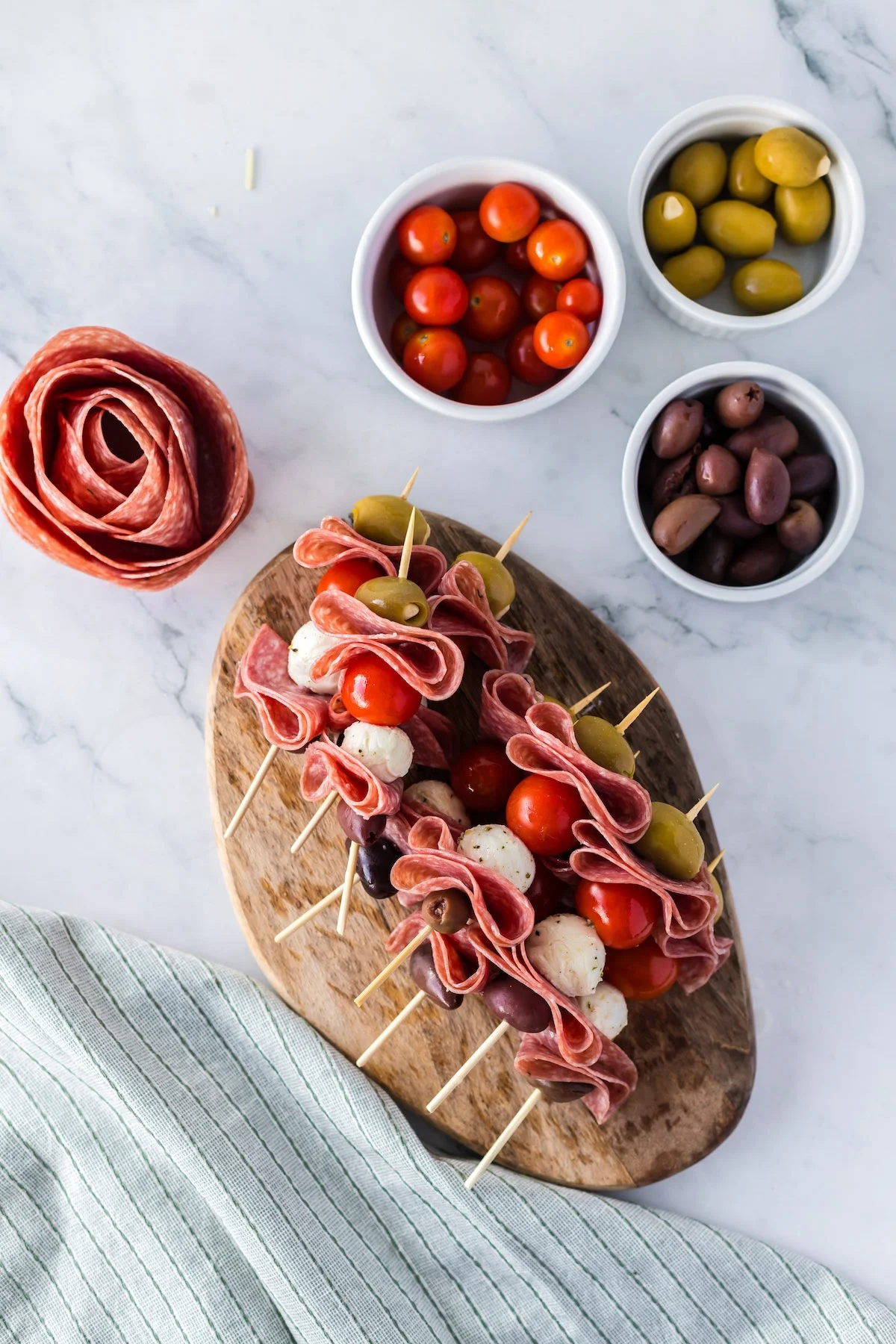 If you're going for a full Italian spread, try serving them with bruschetta, Caprese salad, Italian pasta salad, or focaccia bread on the side. For a refreshing option, add an Aperol Spritz or a glass of Prosecco to the side.
Recipe Variations
Tortellini: To bulk up these antipasto bites, add your favorite type of tortellini to the mix.
Cheese: Use feta cheese or provolone instead of mozzarella for a twist.
Artichokes: Add artichoke hearts for a truly Mediterranean feel.
Red peppers: Use roasted red pepper pieces for a sweet touch.
Seafood: Instead of cured meat, try using grilled shrimp for a seafood touch.
Stuffed olives: Swap stuffed olives with cheese or garlic for an extra flavor kick.
Herbs: Mix in fresh basil or mint leaves for a herbaceous element.
Asparagus: Try using grilled or pickled asparagus in place of tomatoes.
Mushrooms: Incorporate marinated mushrooms for an earthy element.
Tips For The Best Recipe
Source the right olives: Use high-quality olives for the best flavor, and don't forget to make sure they're pitted!
Serve at room temperature: Allow any cold ingredients to come to room temperature before serving charcuterie skewers. This results in a much more flavorful appetizer.
Ripe tomatoes: Ensure your tomatoes are ripe but firm for the best flavors. You don't want them to have wrinkled skin.
Fold: Fold the salami neatly into quarters to prevent it from unraveling on the skewers.
Avoid overcrowding: Don't overcrowd the skewer to allow each ingredient to shine.
Serve immediately: Serve your skewers right away after assembling them for the freshest flavor.
What To Do With Leftovers
If you end up with leftover charcuterie skewers, just follow these simple steps to keep them fresh:
Fridge: Store the skewers in an airtight container for up to 2 days in the refrigerator.
Freezer: Since this recipe is made with fresh produce and cheese, I don't recommend freezing charcuterie skewers. The texture will change too much once thawed.
Make-Ahead Tips
The great news is that antipasto bites are the perfect make-ahead option for parties, bridal showers, potluck dinners, and more. Just assemble the skewers a few hours or a day ahead of time, then store them in the refrigerator in an airtight container until you're ready to serve.
When you're ready, transfer them to a serving platter and let them come to room temperature. Just save any garnishes or drizzles until you're about to eat.
Additional Recipes
If you enjoyed these charcuterie skewers, take a look at some more quick and easy appetizers like these:
Frequently Asked Questions
How far in advance can I make charcuterie skewers?
It's best to prepare charcuterie skewers up to a few hours in advance. This ensures freshness and keeps the ingredients crisp, but you can also assemble them the night before if need be.
Do I have to fold the salami?
No, you don't have to fold the salami. However, folding whatever meat you're using will enhance its texture and make it look more presentable on the skewer.
Can I use longer skewers?
Yes, you can use longer skewers. They're especially useful if you want to include more ingredients. Ultimately, it all comes down to personal preference.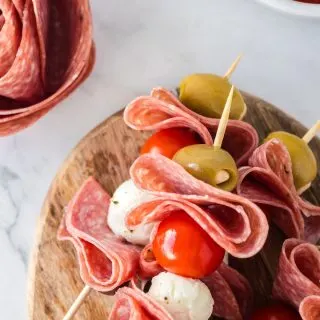 Mediterranean Charcuterie Skewers
Charcuterie skewers are an unbelievably quick and easy finger food that always impresses at family get-togethers and holidays. With a combination of Kalamata and green olives, mozzarella balls, salami, and cherry tomatoes, these are perfect for entertaining!
Ingredients
Kalamata olives

(whole, pitted)

Marinated mozzarella balls

Salami

Cherry tomatoes

Green Olives

(whole, pitted)
Instructions
Thread ingredients onto skewers in any order you like. I recommend placing an olive at each end to hold everything in place.
Notes
I folded the salami into quarters – half and then in half again.