Baked ravioli is an absolute game-changer for busy nights! Dig into layers of cheesy pasta and juicy tomato sauce without the tedious layering work traditional lasagna requires. It's a quick and easy dish to make when you're not in the mood to spend hours in the kitchen!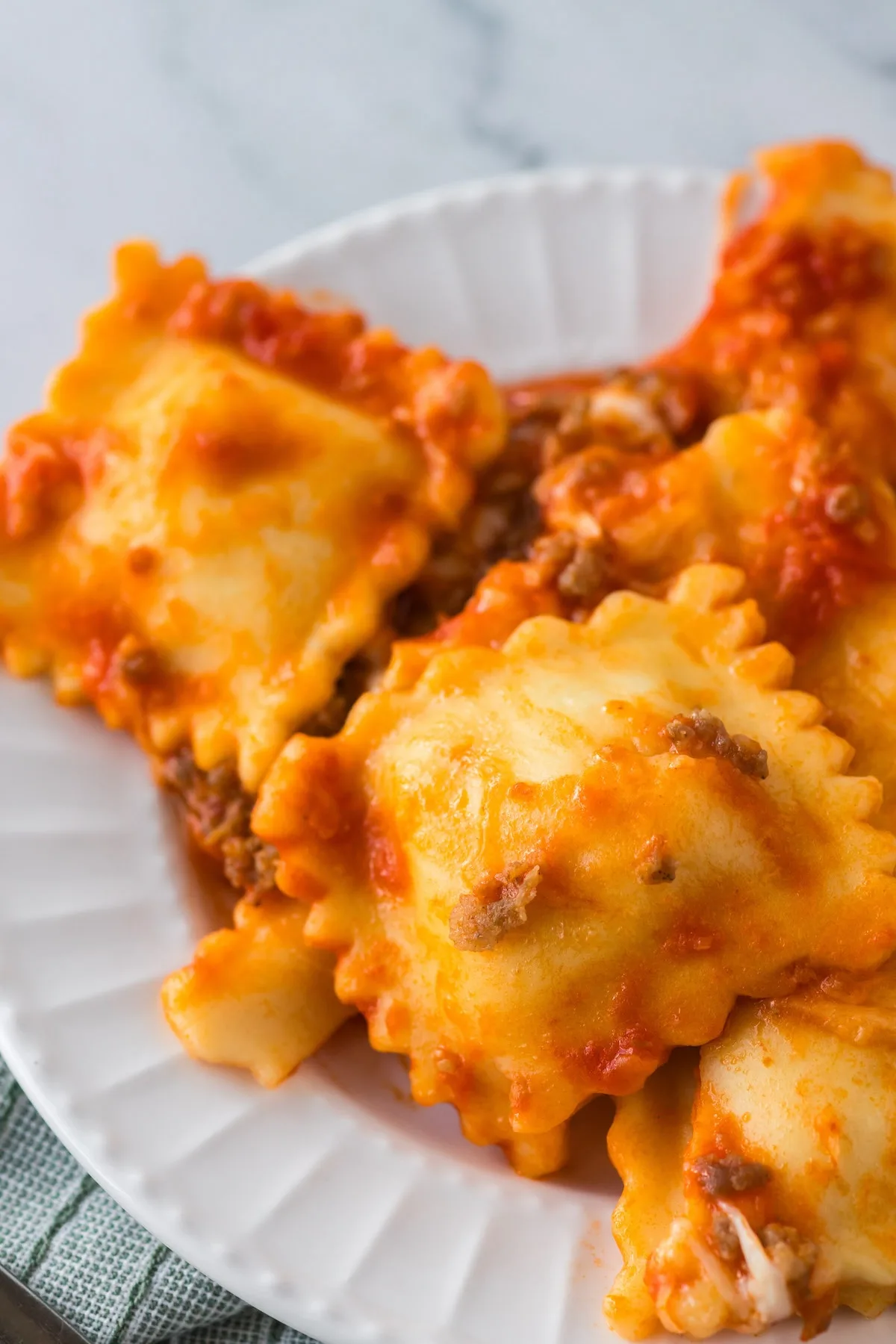 Why You'll Love This Recipe
Simple to make: Just add the ingredients to a baking dish and heat it up in the oven.
Cheesy: With cheese-stuffed ravioli, mozzarella, and Parmesan, this ravioli casserole is for cheese lovers only!
Versatile: You can add meat, like ground sausage or beef, to bulk it up, or keep your baked ravioli vegetarian with just cheese and tomato sauce.
Crowd-pleaser: This baked ravioli recipe is always a hit at family dinners and potlucks.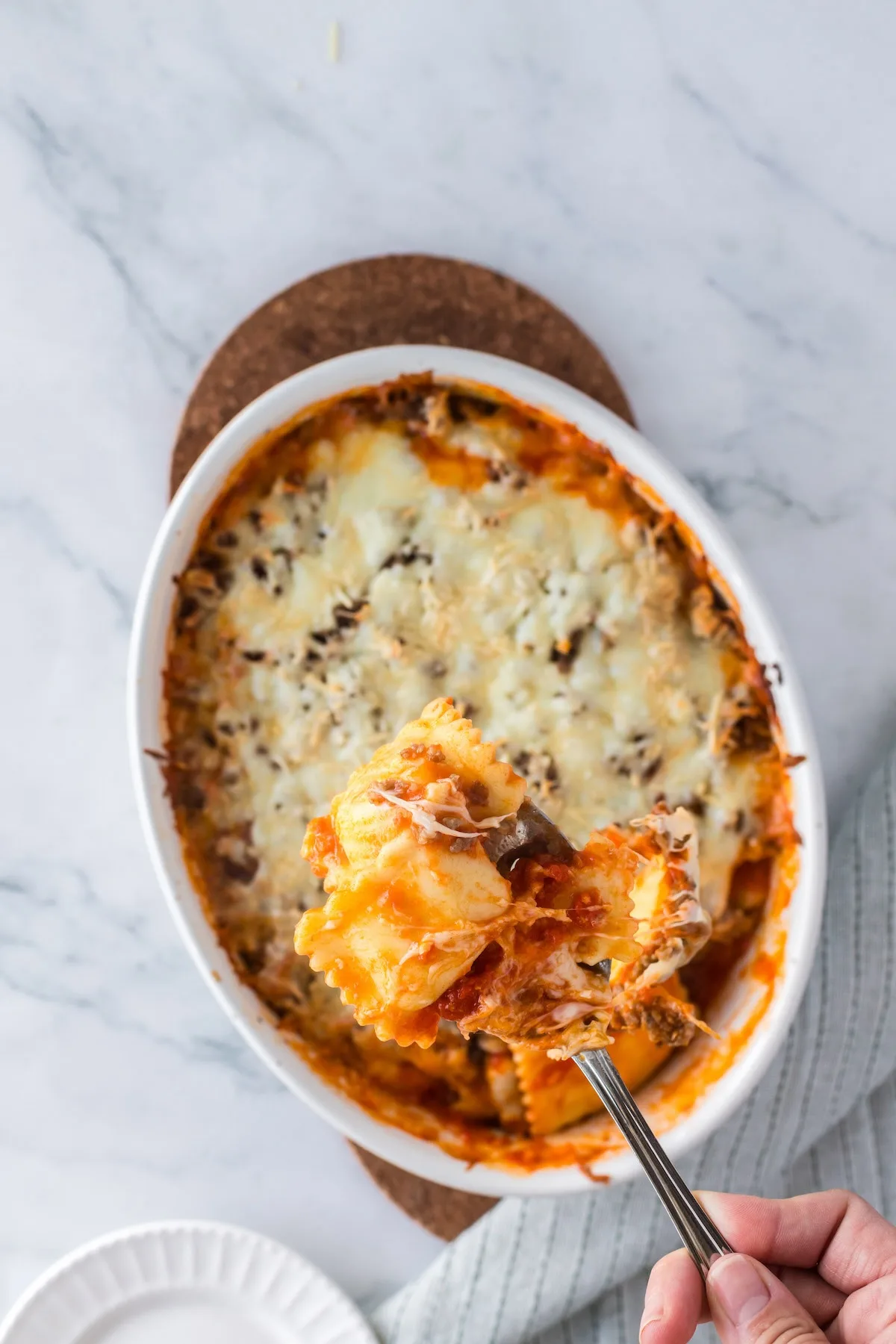 What Is Baked Ravioli?
This baked ravioli recipe is a simplified version of the classic Italian dish that normally takes an entire afternoon to make. I like to call it a lazy lasagna with ravioli since it's way easier and quicker to whip together, even on weekdays!
I use ravioli as a hack to skip the intricate layering process typically required in traditional lasagna making. Simply combine vibrant tomato sauce, tender pasta, and gooey cheese in a dish, then bake it until bubbly and golden brown.
Serve this dish with a side of crusty bread, garlic knots, Caprese salad, or roasted veggies for the ultimate spread. I guarantee you'll be making this recipe on repeat!
Ingredients For Baked Ravioli
Marinara sauce: Adds a tangy, juicy element to balance the richness of the cheese. You can use store-bought or homemade spaghetti sauce for this recipe.
Cheese ravioli: I think cheese ravioli is the perfect centerpiece of this ravioli casserole, but you can experiment with spinach or meat-filled ravioli for a twist.
Mozzarella: Provides a mild, creamy taste and an unmatched melting ability. Alternatively, you can try provolone or mild white cheddar.
Parmesan: Freshly grated Parmesan adds a sharp, nutty flavor that truly elevates this baked ravioli recipe. If you don't have Parmesan, opt for Asiago or Pecorino Romano.
Ground meat: Although optional, you can add ground beef or Italian sausage for more texture and flavor throughout the casserole.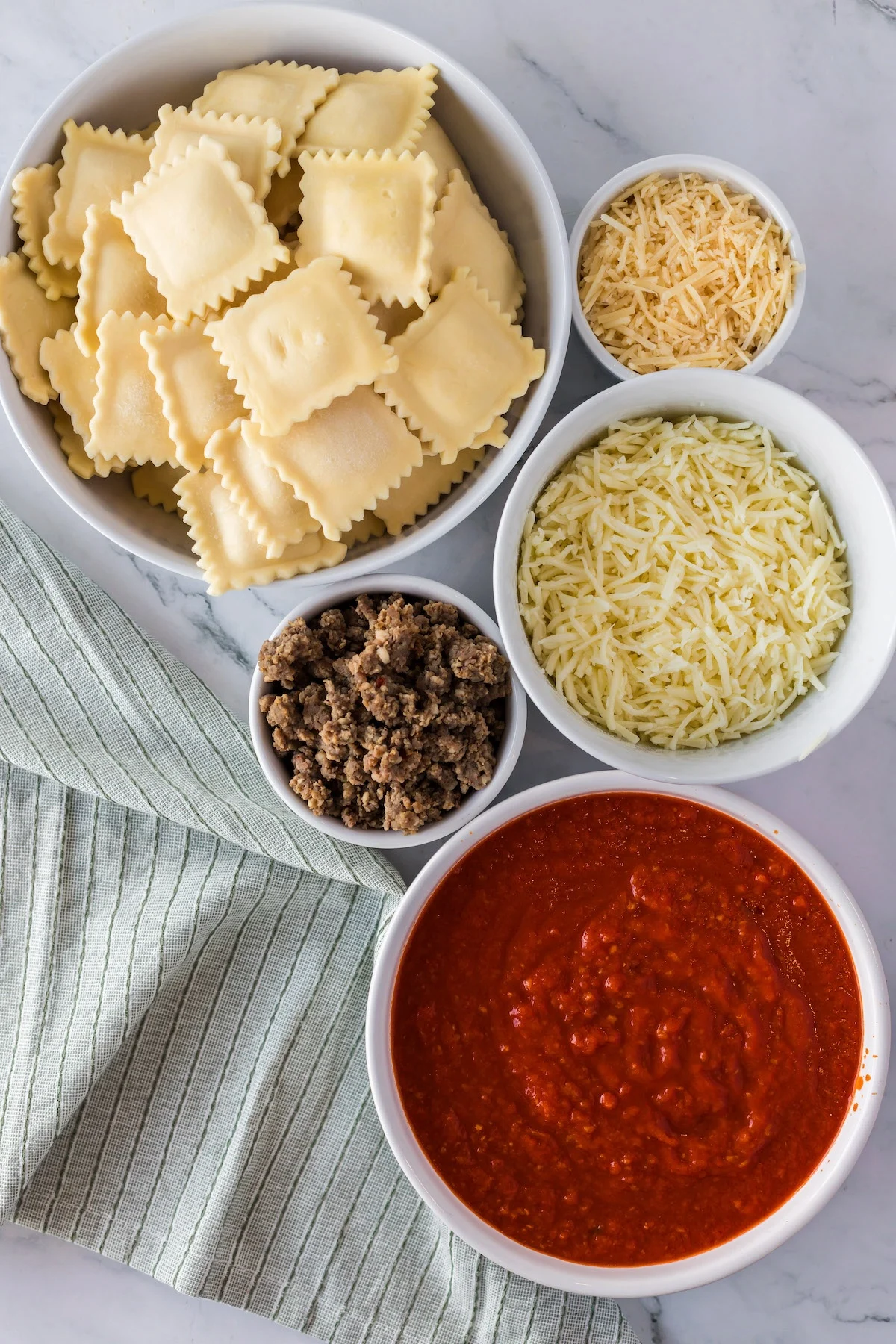 How To Make Baked Ravioli
Step 1: Preheat & Prep
Heat up your oven, then grab out a 9×13 baking dish and give it a quick grease. Trust me, you won't want any of that ravioli goodness to stick to the pan.
Step 2: Layer The Ingredients
Add a splash of marinara sauce to the base of your casserole dish. This provides another layer of non-stick insurance! Lay down the frozen ravioli pieces, ensuring they snugly fit in one layer.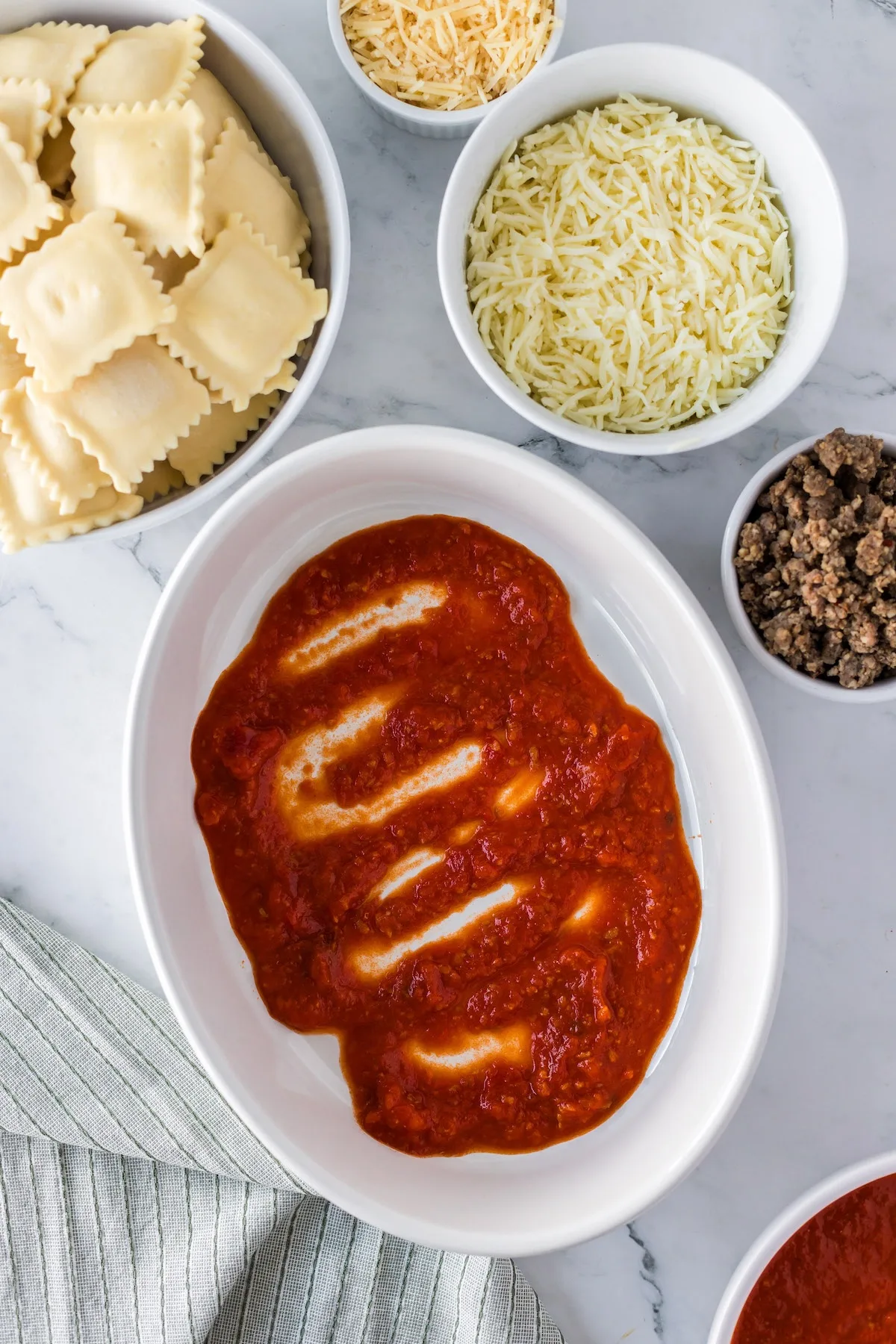 Cover them in more sauce, then sprinkle them with mozzarella. If you're feeling like something a little more hearty, toss in browned ground beef or Italian sausage, then repeat the whole process until the ingredients are gone.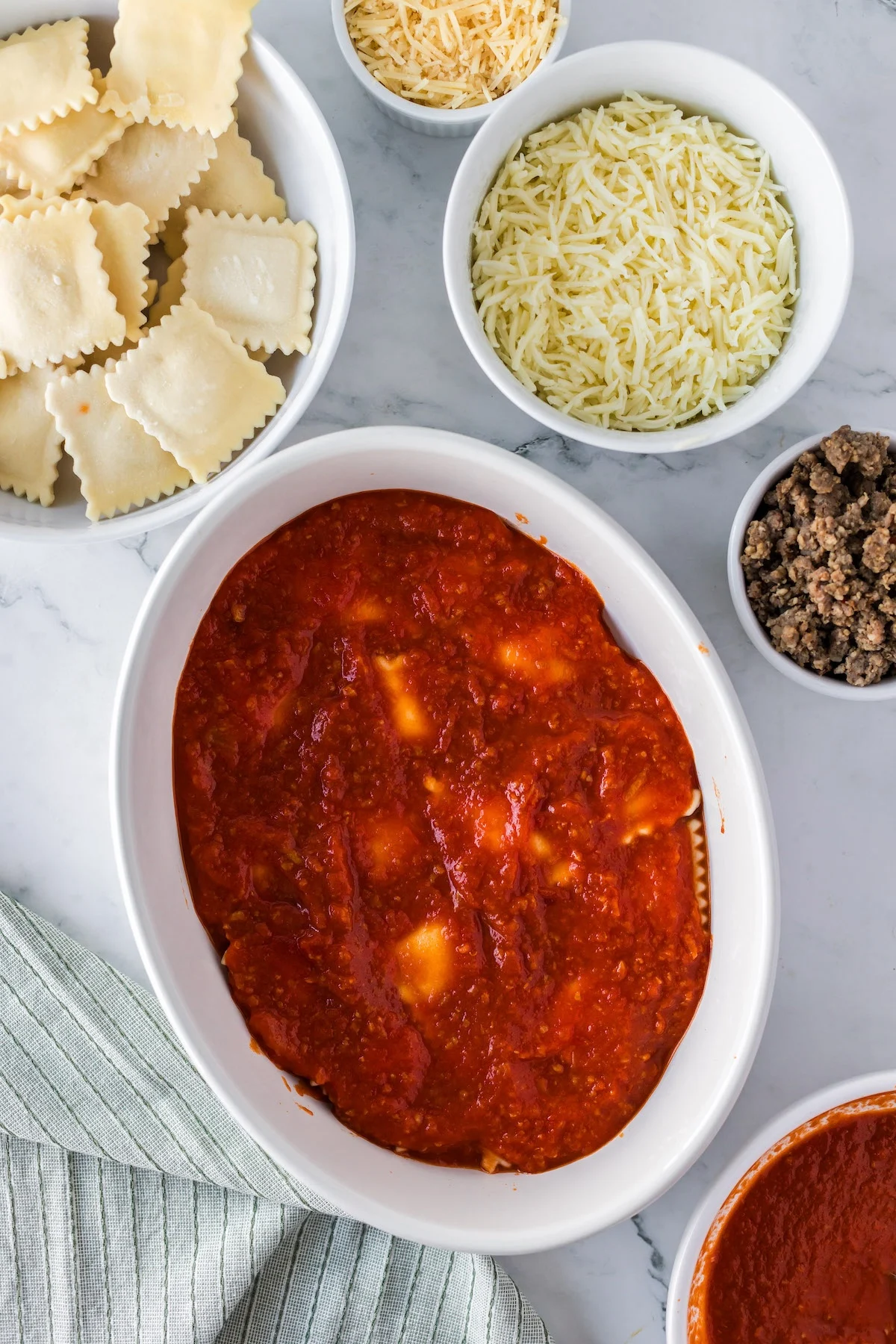 Step 3: Bake The Casserole
After your layers are stacked, garnish the top with Parmesan for a crispy, golden layer. Cover your ravioli casserole with foil and let it bake at 400F. After 30 minutes, uncover it and keep it in the oven until the top is lightly browned and bubbly.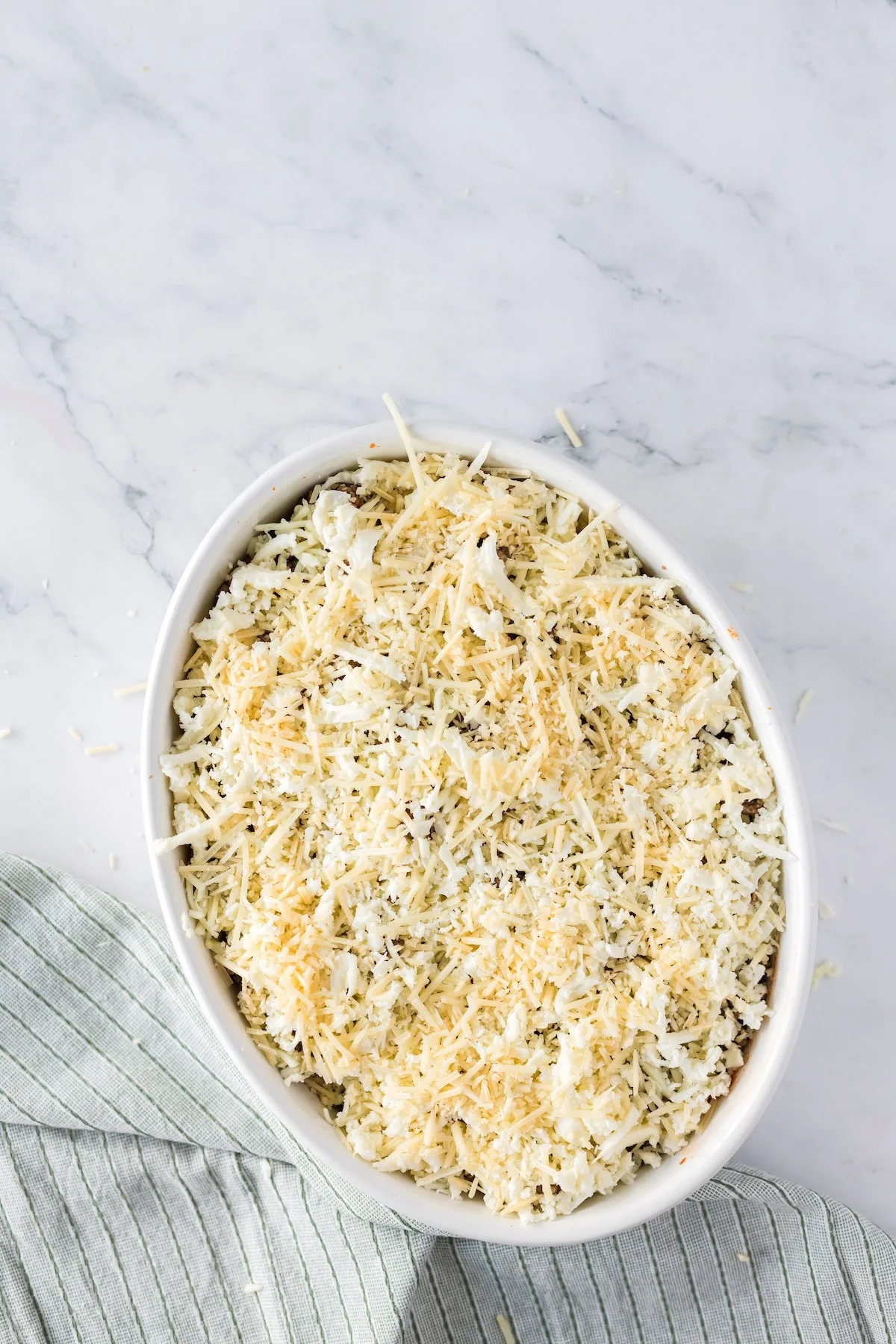 What To Serve With A Ravioli Casserole
This lazy lasagna with ravioli pairs well with virtually any Italian-style side dish. Try serving yours with some of these options:
Garlic bread
Italian chopped salad
Bruschetta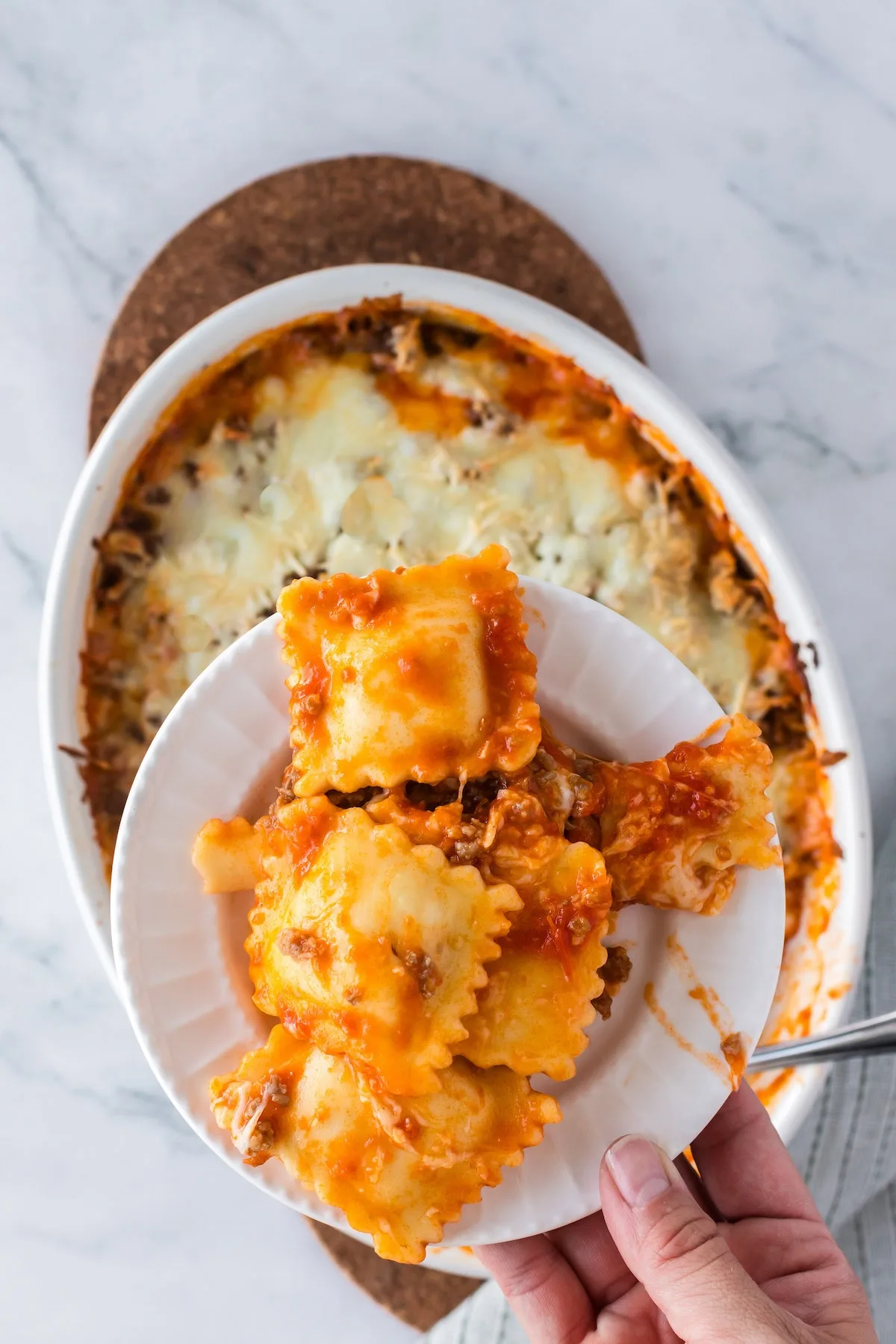 Recipe Variations
White sauce: Swap some or all of the marinara with bechamel sauce for a rich flavor.
Spicy: Mix in red pepper flakes and spicy Italian sausage.
Veggies: Add spinach, bell peppers, or mushrooms for extra nutritional value.
Four cheese: Add dollops of ricotta to create an ultra-cheesy version.
Seafood: Include shrimp or crab meat for a seafood-baked ravioli casserole.
Pesto: Replace some marinara with green pesto for an herbaceous take.
Meatballs: Add mini meatballs between layers instead of ground meat.
Tortellini: Instead of ravioli, swap in your favorite flavor and color of tortellini.
Tips For The Best Recipe
Even layering: Evenly disperse the tomato sauce, ravioli, and cheese for consistent baking and flavor.
Don't overfill the dish: Don't overfill the baking dish as it can quickly bubble over.
Check the dish: Check the dish frequently toward the end of baking. Since every oven is different, the cooking time may vary slightly.
Use quality ingredients: Whether store-bought or homemade, use a quality marinara sauce in this baked ravioli recipe. It makes a world of difference in the final product.
Grate your cheese: Use block cheese and grate it yourself for the best results.
Rest before serving: Let the ravioli casserole rest for 10 minutes before slicing it.
What To Do With Leftovers
When it comes to this lazy lasagna with ravioli, nothing is better than leftovers! Follow these simple steps to keep your dish fresh for longer:
Fridge: Once fully cooled, store any leftover ravioli casserole in an airtight container for up to 3-4 days in the refrigerator.
Freezer: For longer storage, you can freeze your baked ravioli recipe in an airtight container or freezer-safe bag for up to 3-4 months.
Reheating: You can microwave or oven-bake leftovers until hot and bubbly again. For the oven method, heat it at 350F for about 10-12 minutes until warmed through. Make sure you keep the dish covered with foil to ensure it doesn't dry out. In the microwave, heat it for 1-2 minutes on medium power until warmed through.
Prep ahead: To save time on the day of cooking, assemble the ravioli casserole the day before, refrigerate it, and bake it just before serving.
Additional Recipes
If you enjoyed this baked ravioli recipe, take a peek at some more comforting dishes like these:
Frequently Asked Questions
Can I use fresh ravioli?
If you're using fresh ravioli, that's absolutely fine! You'll just need to reduce the baking time a bit to avoid overcooking them.
Is it necessary to cover the casserole with foil?
Covering this ravioli casserole with foil is highly recommended. It ensures even cooking and prevents the top from burning or drying out too quickly.
How do I know when it's fully baked?
The best indicator for fully baked ravioli is a bubbly cheese top. The ravioli underneath should be tender to the bite.
Easy Baked Ravioli Casserole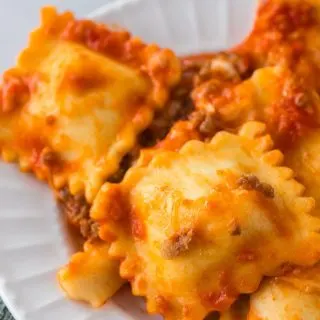 Easy Baked Ravioli Casserole
Baked ravioli is an absolute game-changer for busy nights! Dig into layers of cheesy pasta and juicy tomato sauce without the tedious layering work traditional lasagna requires. It's a quick and easy dish to make when you're not in the mood to spend hours in the kitchen!
Ingredients
24

ounces

Marinara or pasta sauce

(plug in homemade spaghetti sauce here)

24

ounces

cheese ravioli

(frozen)

2

cups

Mozzarella

(shredded)

½

cup

Parmesan

(shredded)

Optional: one pound of browned ground beef or sausage.
Instructions
Preheat your oven to 400 degrees and grease a 9×13 baking dish.

Add a thin layer (about ¼ cup) of the marinara sauce on to the bottom of the pan. (this prevents pasta from sticking)

Arrange half the frozen ravioli in a single layer on top of the sauce.

Top with half of the remaining sauce and about a cup of the mozzarella cheese.

Repeat the layers: ravioli, sauce, cheese. Add browned meat to the rotation as desired.

Finish with the remaining sauce and cheese. Sprinkle with shredded parmesan cheese.

Cover with aluminum foil and bake for 30 minutes. Remove the foil and bake for another 15 minutes or until the cheese has browned slightly.

Serve with a salad and bread as desired!
Nutrition
Calories:
3298
kcal
Carbohydrates:
328
g
Protein:
179
g
Fat:
141
g
Saturated Fat:
62
g
Polyunsaturated Fat:
3
g
Monounsaturated Fat:
15
g
Cholesterol:
548
mg
Sodium:
9804
mg
Potassium:
2329
mg
Fiber:
30
g
Sugar:
42
g
Calcium:
2390
mg
Iron:
78
mg