If you've ever wondered how much brisket to serve per person, you've come to the right place! In this detailed guide, I'll teach you everything you need to know about serving brisket, from planning ahead and guest list size to storage and ideas for leftovers.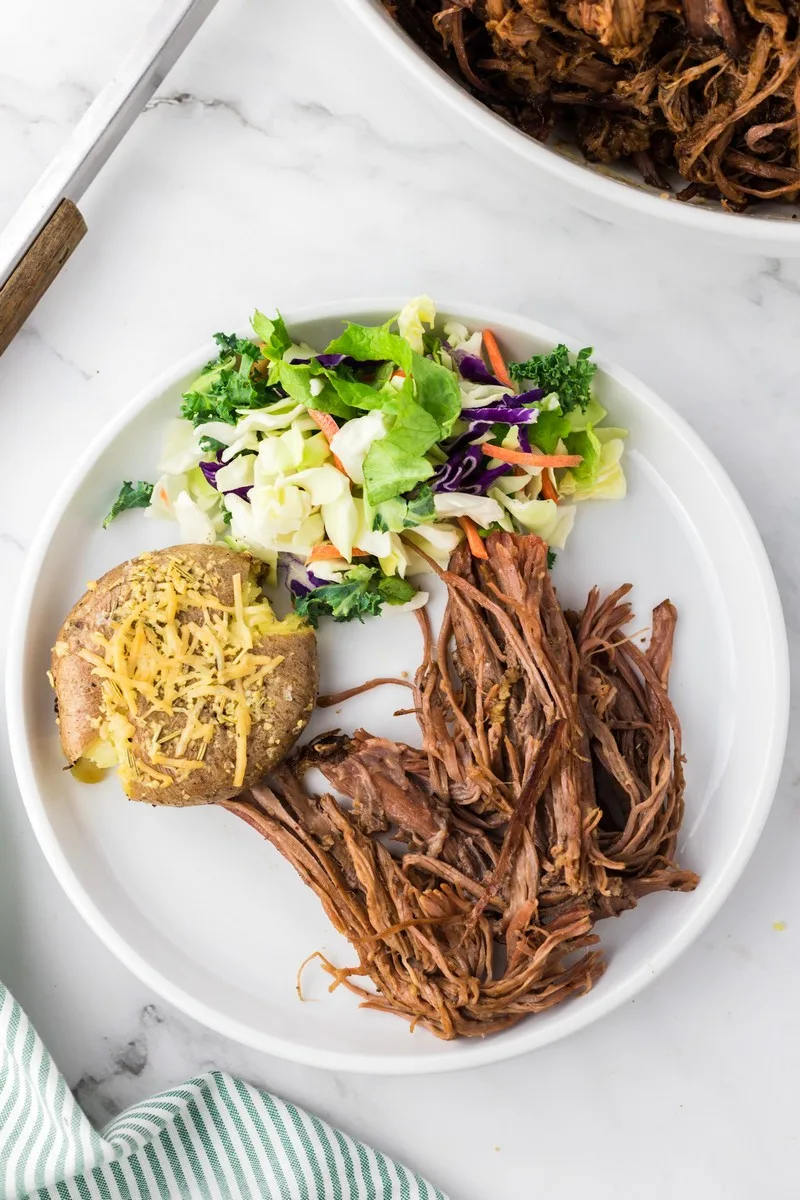 I've spent a lot of time wondering how many pounds of brisket per person to prepare, which is why I'm excited to share this easy-to-follow guide for anyone looking to save a bit more time in the kitchen and prevent waste in the process!
If it's your first family gathering or your turn to host a large BBQ cookout, it may be a little challenging to figure out just how much brisket you need. Don't worry though! After reading this post, you're going to become a brisket-serving pro!
How Much Brisket Per Person
Beef brisket is a tougher cut of meat, but if it's cooked properly, it turns out tender, juicy, and flavor-packed! However, it can be tough to gauge exactly how much you'll need, especially for a party or gathering.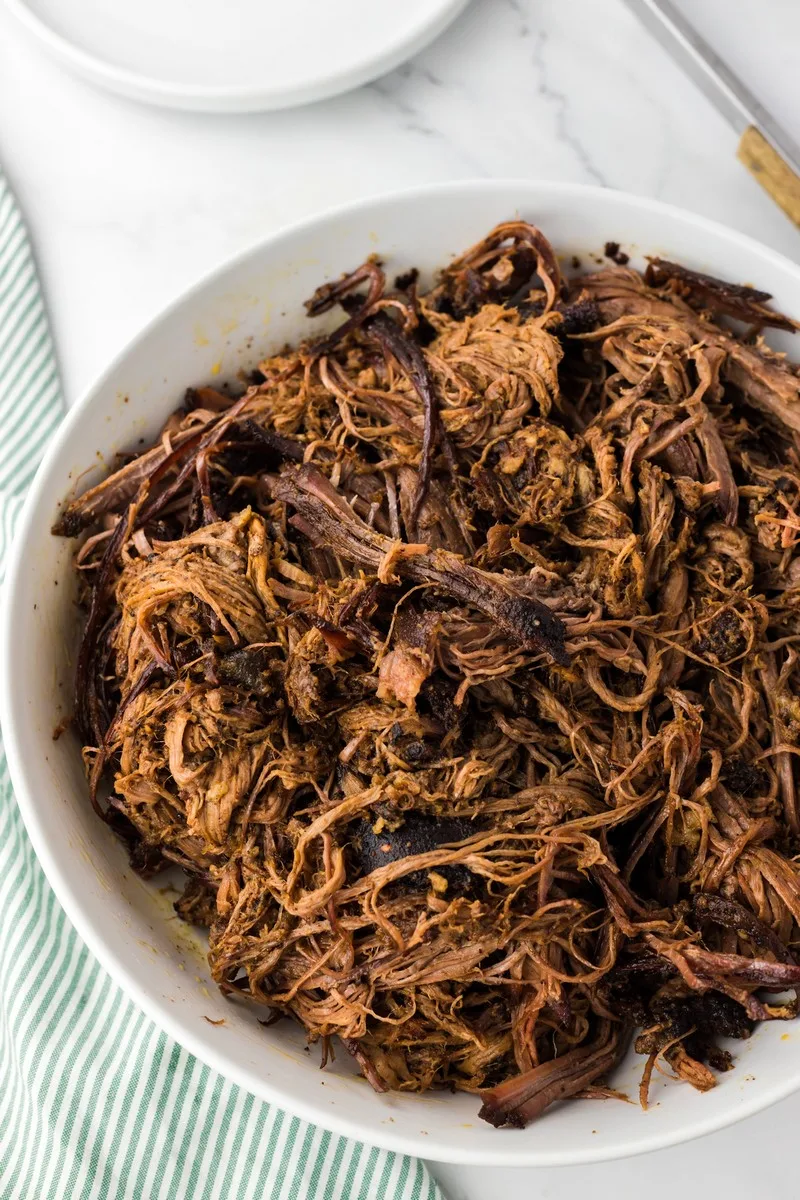 It's quite a large cut of beef, and it comes boneless. It also contains a lot of fat, so this needs to be taken into consideration when you're purchasing it raw from the store.
Basic Serving Guide
Typically, a good rule of thumb is to allot about a pound of raw brisket per person. This may seem like a lot, but remember that a raw brisket loses about half of its weight when cooked, leaving you with a perfect portion for each guest.
For example, a 10-pound brisket will yield about 5 pounds of brisket after cooking. A 20-pound brisket will yield about 10 pounds after it's done cooking, and so on.
Remembering this key bit of info will help ensure no one leaves your event hungry, but different circumstances can mean more or less brisket per person. Let's dig into the specifics!
The Art of Planning
When it comes to serving brisket, planning ahead is your best friend, trust me! Not only does this ensure you have enough brisket to go around, but it also gives you an opportunity to accommodate specific dietary preferences and restrictions.
Presentation Matters
You may be surprised to know this, but how you serve brisket can affect the amount of total meat you'll need to purchase.
Whole or chopped: If you're serving brisket whole or chopped, you'll most likely need to add a little more to the list. When eating it this way, guests tend to consume more than shredded or with sandwiches.
Shredded: If you're serving brisket shredded or as part of sandwiches, you can get away with a little less since it will be accompanied by bread, sauces, vegetables, and other sides.
Factors to Consider for Serving Brisket
There are a few factors to consider that will influence how much brisket per person you'll need. I recommend planning ahead for the following:
Guest List
First, take a good look at your guest list. Not only does the number of guests play a role, but you also need to know their dietary preferences. Some may be big eaters, while others may be vegetarian, pescetarian, etc. If you don't know beforehand, make sure to check!
Age and Appetite
The age of your guests is also something you need to think about. If you have a mix of children and adults, take note of this so you can reduce portion sizes for kids and increase portions for the number of grownups with a larger appetite.
Sides and Extras
Don't underestimate the power of sides! Sides are used to complement the brisket, but they can also help fill up your guests. If you'll be preparing lots of sides, keep this in mind!
Time of Day
The time of the day can affect the amount of brisket you need to prepare. Most people eat less for lunch than they do for dinner, so plan accordingly for this. Or, just be aware that you'll end up with more leftovers.
Type of Event
The type of event you're hosting can also affect the amount of brisket you'll need to purchase. For example, casual BBQs might have people eating and drinking more than usual. On the flip side, you can likely get away with serving less brisket per person at a smaller dinner party.
How to Store Leftover Brisket
It's always better to have too much brisket than too little if you love leftovers like me! Just follow these storage tips and you'll be full for days:
Fridge: Once the brisket cools to room temperature, wrap it tightly in aluminum foil and place it in an airtight container. You can keep it in the refrigerator for up to 3-4 days.
Freezer: You can slice or cut the brisket into single-serving portions for later. Wrap them individually in aluminum foil, then freeze them for up to 3 months in an airtight container or freezer-safe bag.
Leftover Brisket Recipe Ideas
If you have leftovers, there's an unlimited amount of recipes to make with brisket! Here are some ideas to spark your creativity:
Brisket quesadilla: Transform your leftover brisket into a Tex-Mex snack by filling a tortilla with brisket and cheese, then grilling it until crispy and melty. Pair it with some fresh salsa, sour cream, or guacamole for an easy-to-make dinner.
Brisket Shepherd's pie: Leftover brisket makes a great variation to traditional lamb or beef in Shepherd's pie. Mashed potatoes work perfectly with the smoky flavor of the brisket. If you love comfort food, definitely give this one a try!
Brisket nachos: Instead of loaded nachos with pulled pork, top them with savory shredded brisket for the perfect gameday snack!
Brisket mac and cheese: Elevate your favorite mac and cheese recipe by adding in some leftover brisket. The smoky flavor of the brisket balances the creamy, cheesy pasta, creating a high-protein dish with a nostalgic taste.
FAQ
Can I prepare brisket in advance for a large gathering?
Yes, you can prepare brisket in advance for a gathering or party. You can cook the brisket a day or two in advance and store it in the fridge. Before serving, reheat it in the oven or a slow cooker to prevent moisture loss.
What's the best way to cook brisket?
Cooking brisket depends on personal preference, but oven roasting and smoking are two of the most popular choices. If you're smoking, go low and slow around 225-250 F. Roasting is the next best option, and you can cook it at 275 F in the oven for the best results.