The best baked mac and cheese recipe I've ever made is right here! Made with three different kinds of cheese, this recipe is made completely from scratch and baked in the oven for the ultimate, homemade comfort food. This recipe is so easy to make and without Velveeta! You will never reach for the boxed stuff again!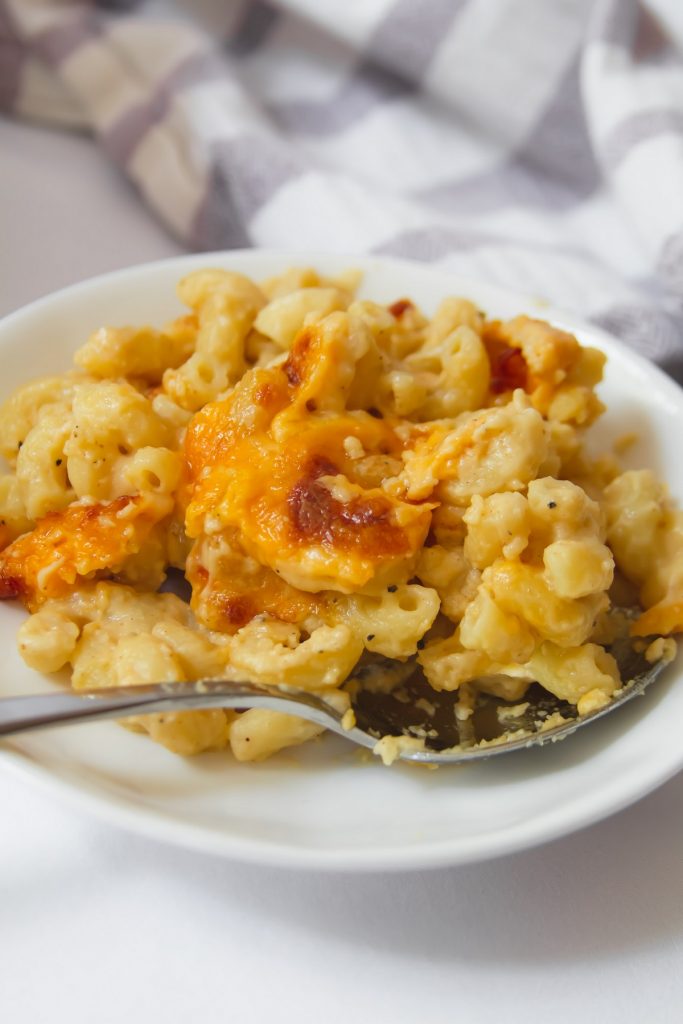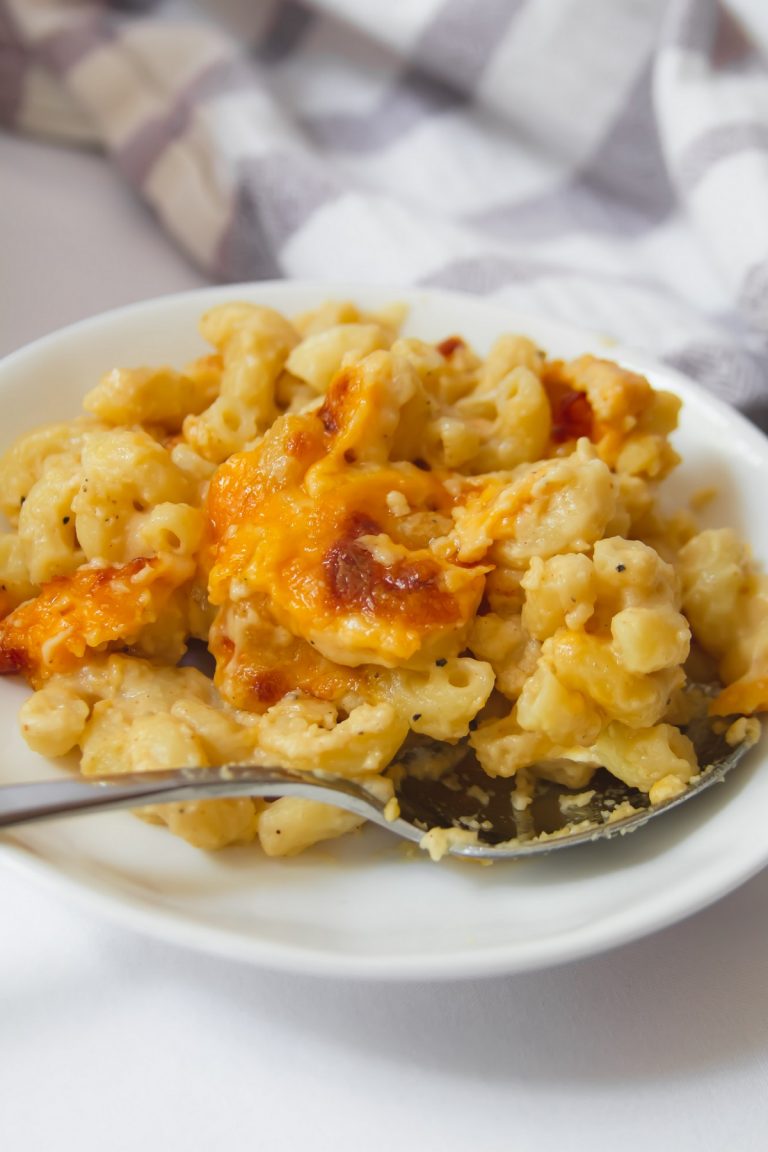 Mac and cheese is one of those recipes that comes in many different forms. Some prefer drier versions, some like the extra sauce… I've been toying with this recipe for years to figure out the perfect combo of cheese and noodles that was creamy but not overly saturated with cheese sauce.
Y'all, I have finally cracked the code for the ideal ratio of creamy cheesiness to perfectly cooked pasta with this recipe!
Even better than homemade, this recipe only takes about 30 minutes to put together, so it's totally doable for a weeknight meal. In fact, you can make this recipe ahead of time and then toss in the oven when you get home from work!
Also, this would be a great side dish to put together for Friendsgiving or the holiday season. Easy peasy!
How to Make Oven-Baked Mac and Cheese
Here are a few kitchen tools I recommend to make this recipe easier:
KitchenAid Mixer with shredder attachment – this will shred the blocks of cheese in a fraction of the time.
If the KitchenAid and attachments are outside of your budget, this Hamilton Beach food processor is a great option!
Enameled Cast Iron Dutch Oven – Any heavy-bottomed pot will do, but I love my Tramontina dutch oven set. It's a budget-friendly option that really stands up against the test of time. We've used ours for years!
3 Quart Casserole Dish – must be oven safe!
Much like my Chicken Divan Casserole, this recipe has a creamy cheese sauce as the base, which means you need to make a roux!
Step 1: Make a roux for mac and cheese
Making a roux is as easy as combining flour, butter, and then adding cream or milk to make the sauce.
Check out this article on how to get started making a roux. Then, follow the instructions below and in the recipe card and you'll be all set!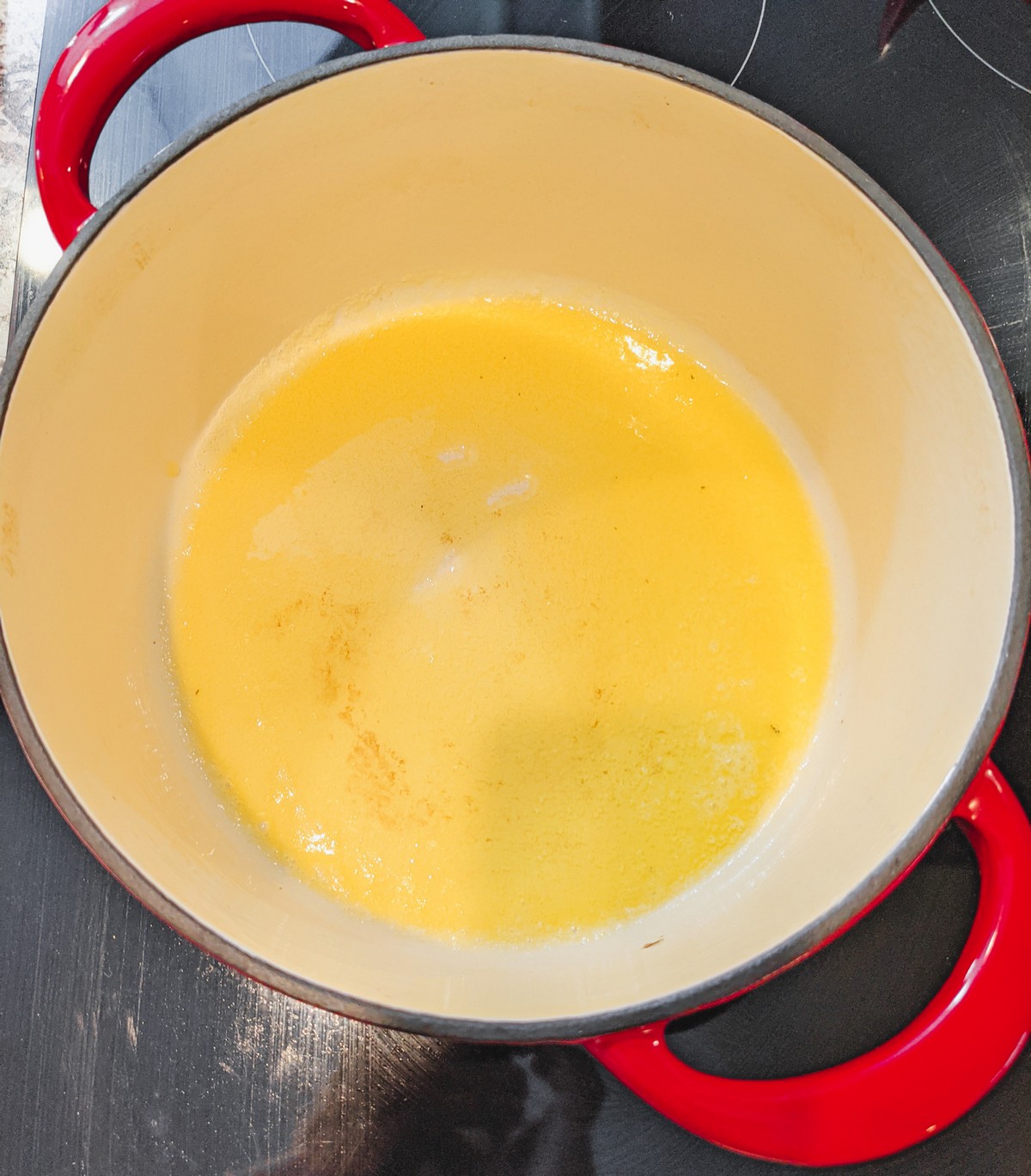 Step 2: Add the cheese.
When the roux is nice and thickened, add in the cheese and stir until everything is melted and silky smooth.
Step 3: Add the pasta and sauce to a dish.
After the cheese has melted, add the cooked pasta to the sauce and stir until all the noodles are well-coated.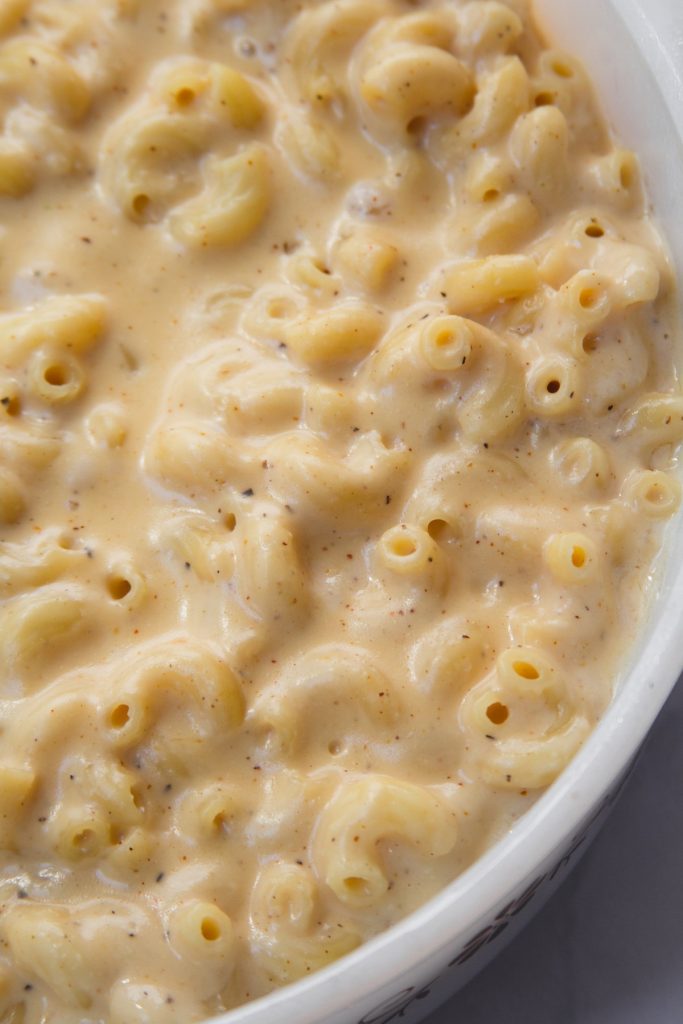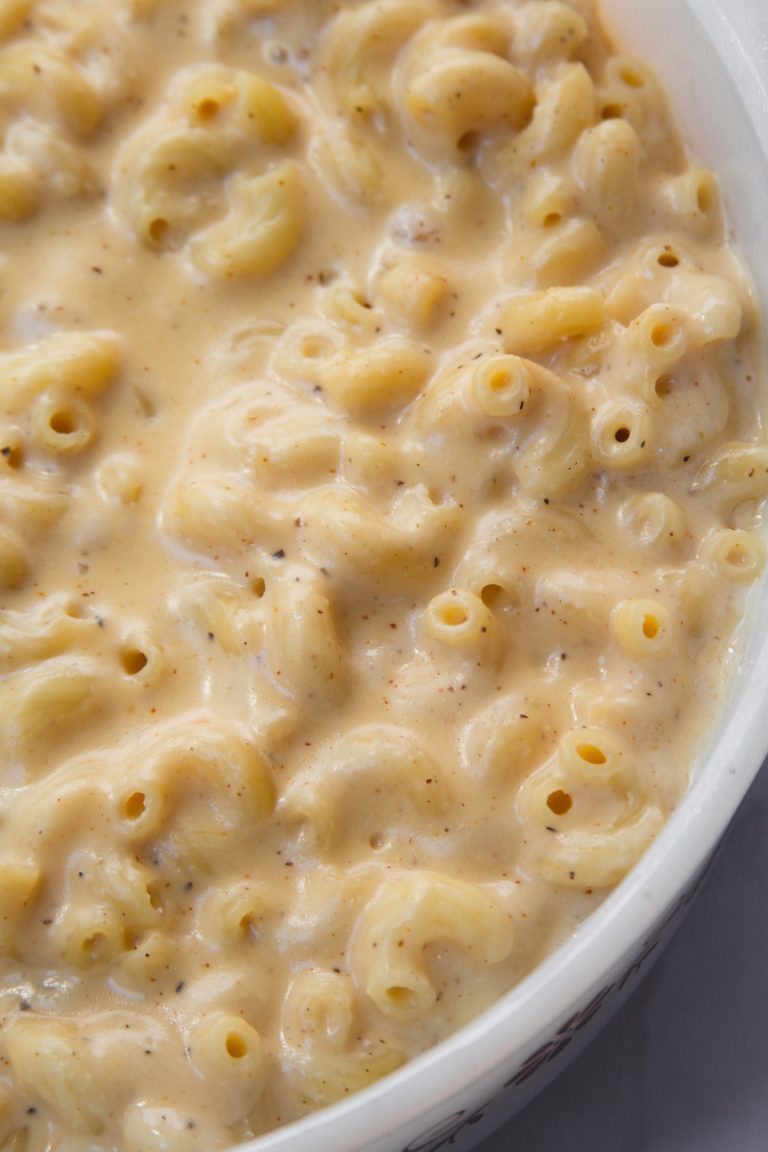 Then, add the mixture to a greased 3-quart baking dish. Top with more cheese…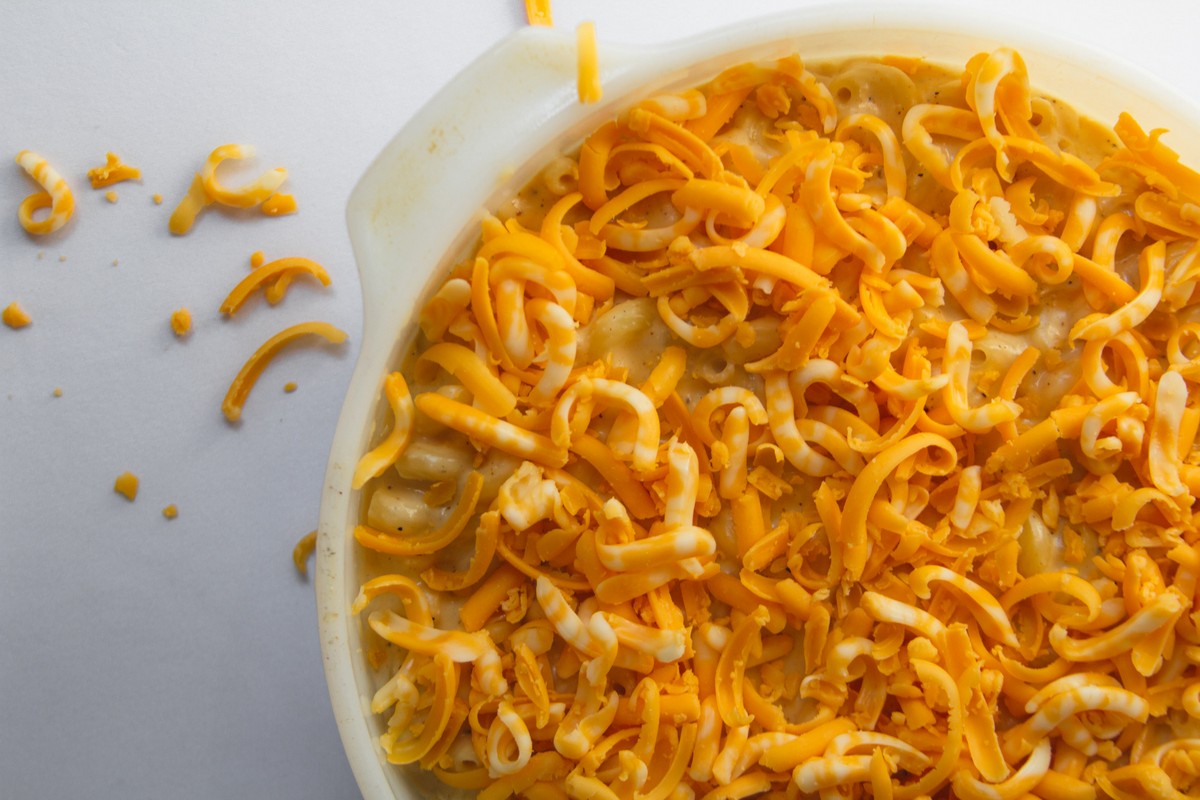 Then, bake! I like to broil for a few minutes at the end of the cooking time to give it a little color and extra crisp around the edges.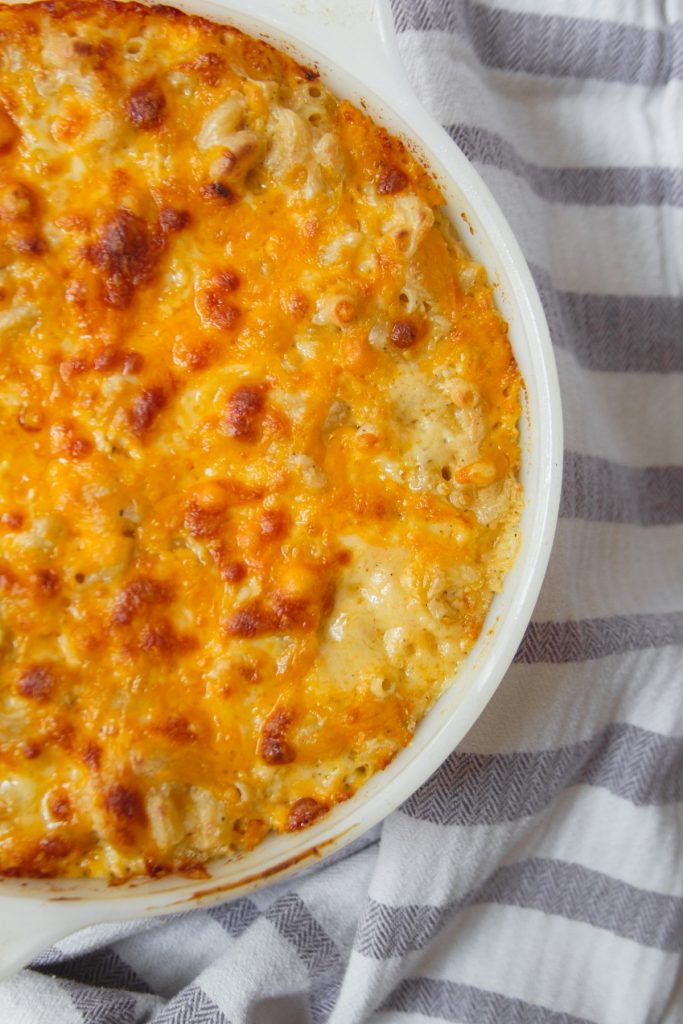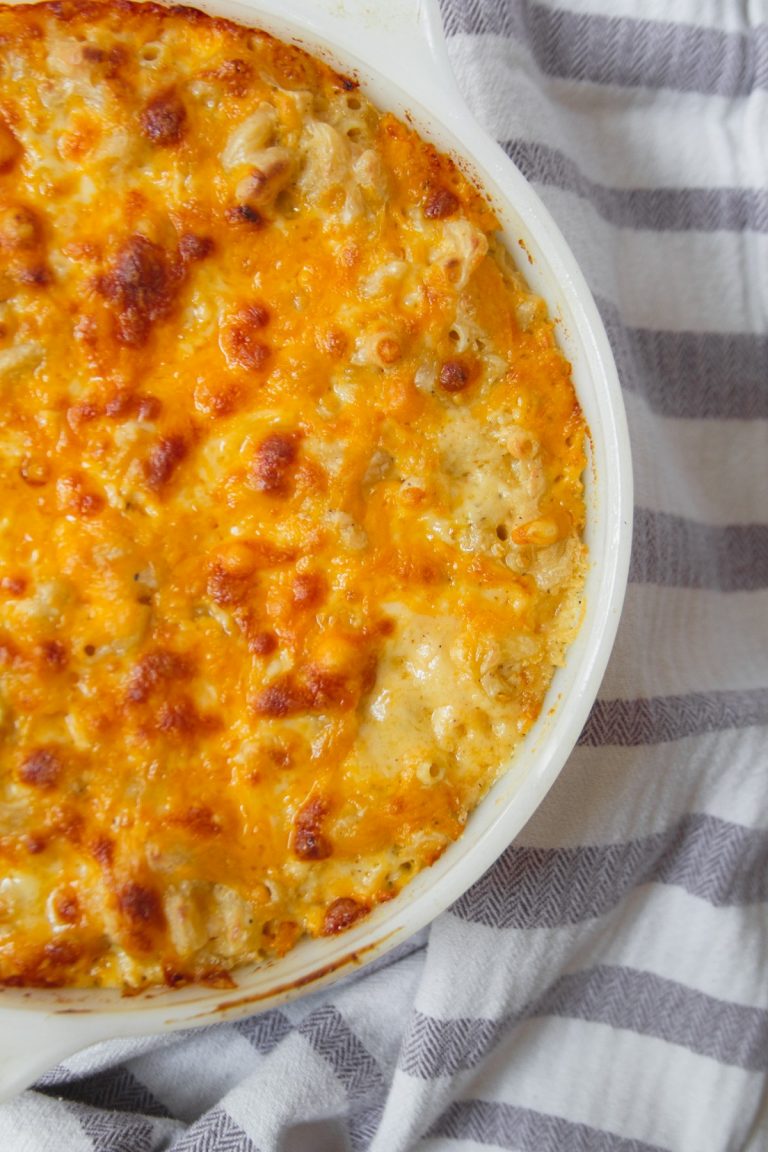 Tips for creamy baked mac and cheese
Use freshly grated cheese
Shredding cheese by hand is a pain, but it's really the only way to get the cheese melted and smooth. Pre-shredded cheese from the store is coated with a chemical that prevents the cheese from sticking together and well…melting.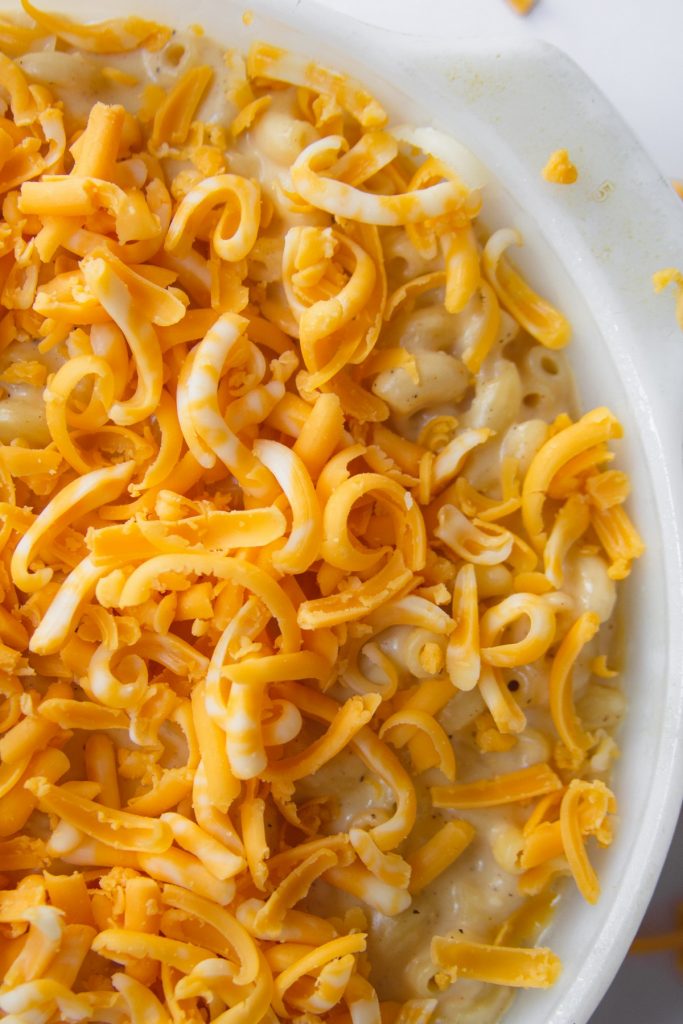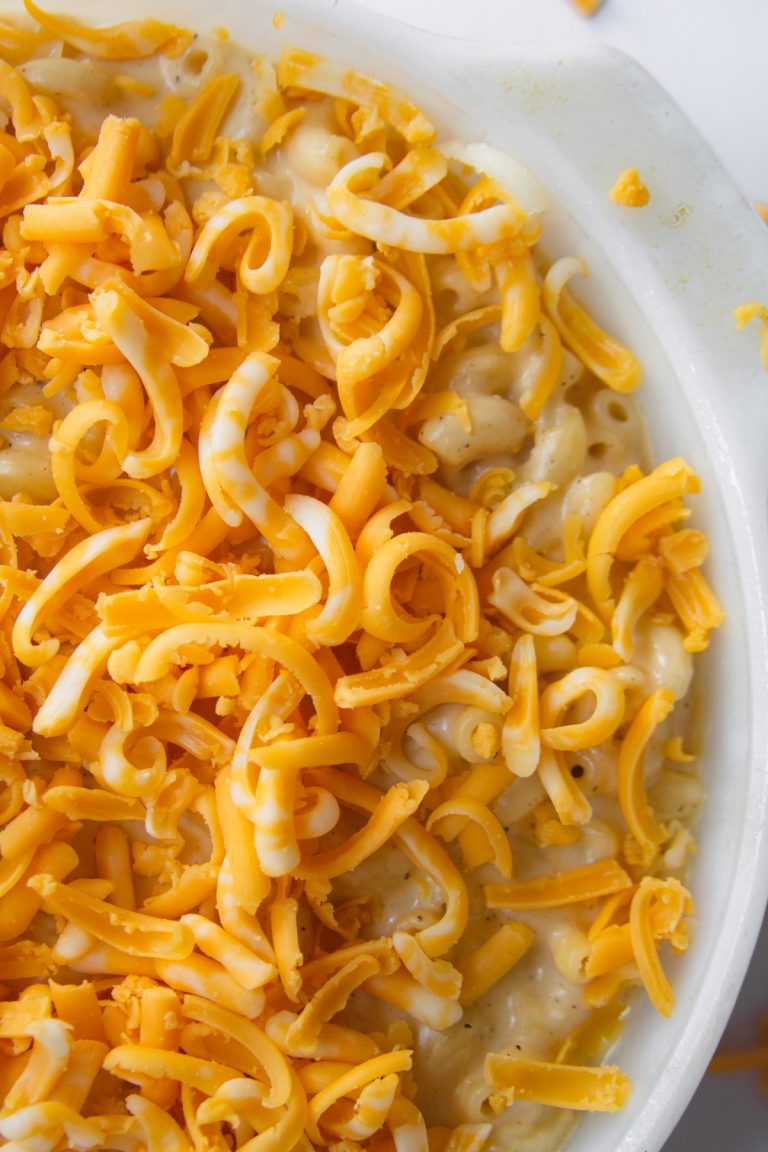 The best kind of cheese for mac and cheese
I used a combination of mozzarella, colby jack, and sharp cheddar cheeses. Sharp cheddar is one of the more popular cheeses for this dish, but you could also use pepper jack, parmesan, medium cheddar, or any other combination of cheese for your tastes.
I do recommend including at least a little bit of sharp cheddar for that flavor punch!
Don't overcook pasta
The pasta should be cooked to "al dente", meaning that it's just ever-so-slightly undercooked. For this recipe, cook your pasta about 2 minutes shorter than the instructions recommend.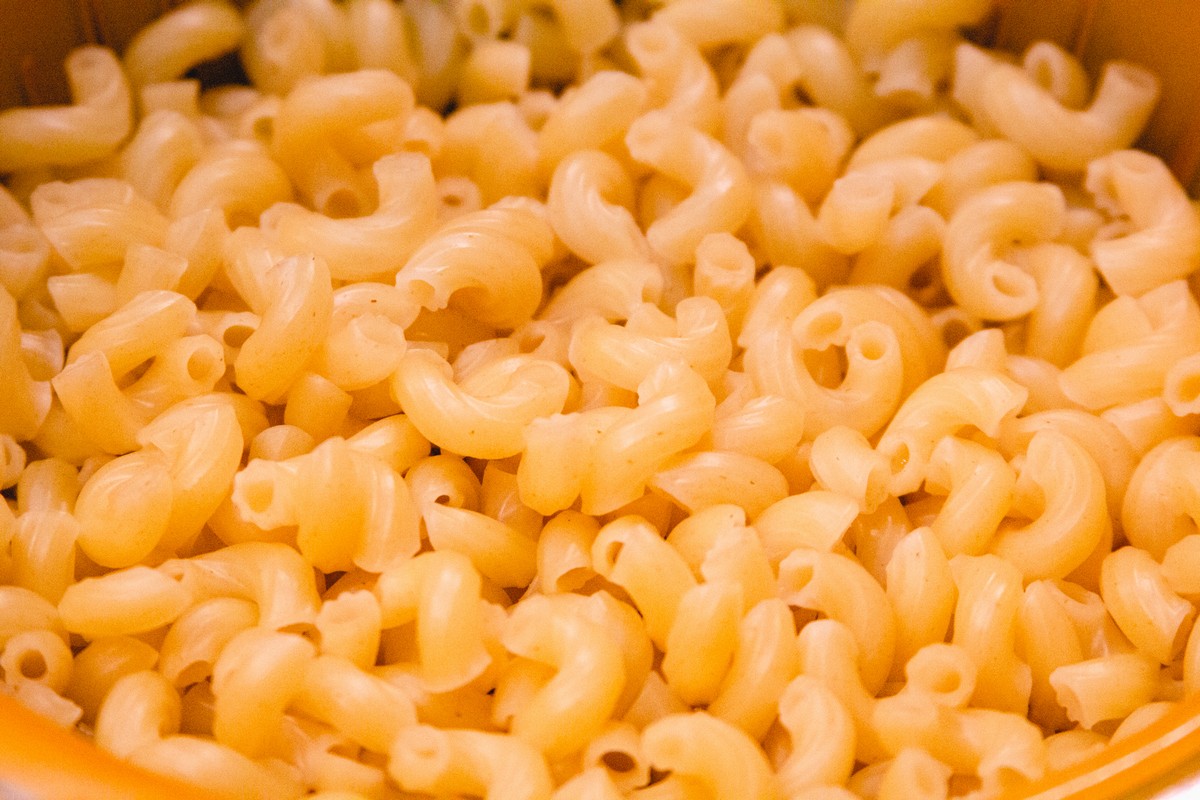 For example, if the instructions say "cook for 7-10 minutes", cook the pasta for 5 minutes. Then, drain and set aside. The pasta will continue cooking as it's added to the melted sauce and then in the oven.
Otherwise, you could end up with bloated, soggy pasta… and that texture is not a good one!
Stir constantly
This recipe calls for making a blonde roux (don't worry, it's easy!), which means a lot of stirring is involved.
As you are creating the roux, you want to be sure:
Your flour and butter don't burn
As you are adding in the evaporated milk and heavy cream, you are continuously whisking to avoid a lumpy, separated cheese sauce.
Plenty of sauce
Plenty of sauce is key to creamy mac and cheese!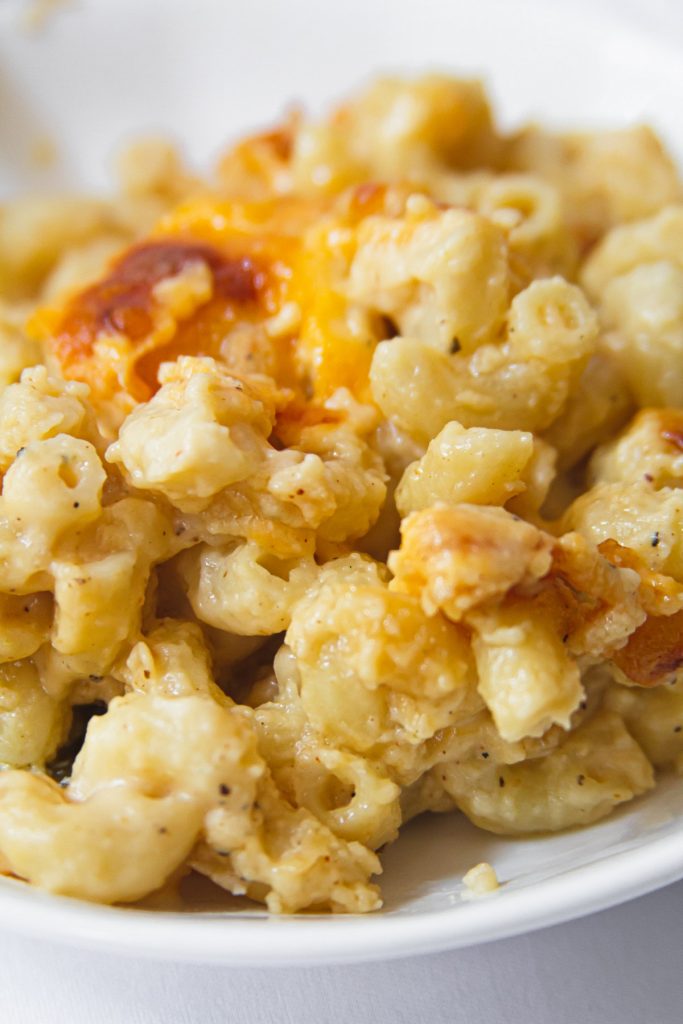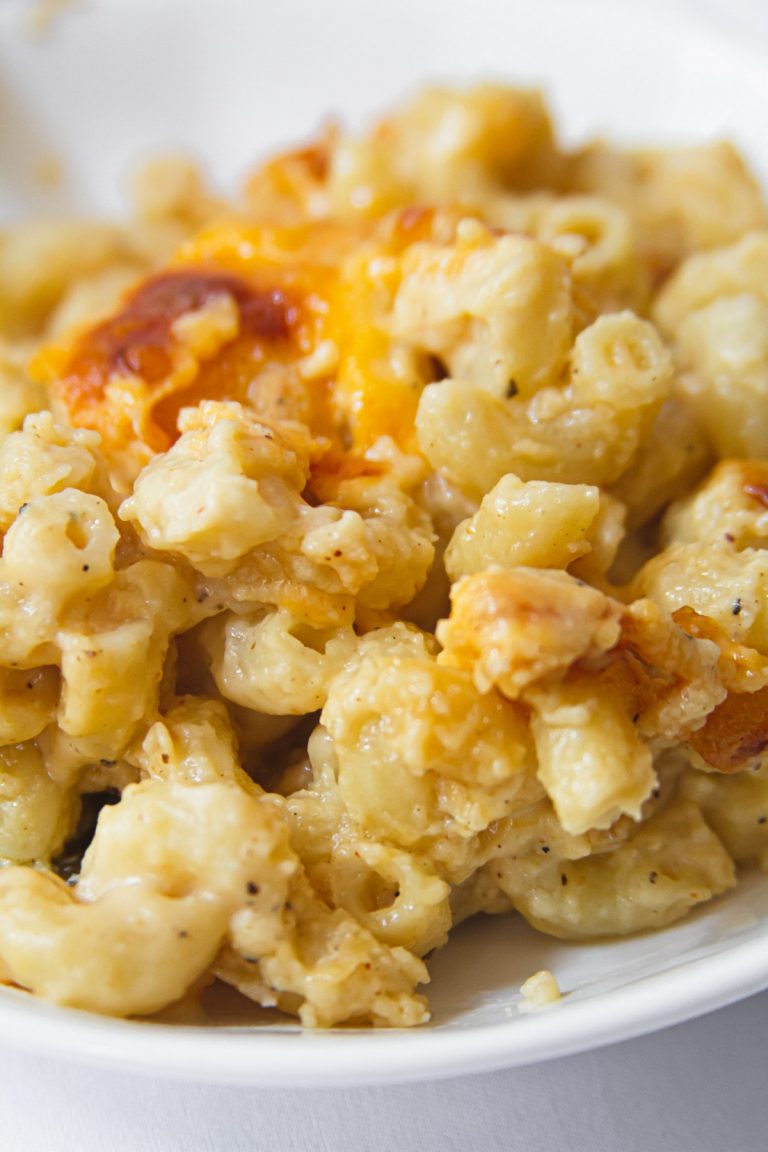 If you choose to use another type of pasta, instead of elbow noodles, you might need to reduce the amount of pasta added to the cheese. Also, make sure you are choosing a noodle that will "grip" onto the cheese sauce. I've got plenty of pasta info right here!
The best way to do this would be to prepare the same amount of noodles as the recipe below instructs, then add the pasta until you are satisfied with the sauce to noodle ratio.
What to serve with mac and cheese
Mac and cheese has an excellent reputation for being a meal in itself, but if you are serving this as a side dish, consider these as the main course:
Add-ins for mac and cheese
This recipe is great as is, but you could always add fried onions on top, mix in pulled chicken or pork, lobster, crawfish, shrimp, crab meat…anything that sounds good to you!
Making mac and cheese ahead of time
You can make this ahead of time, but skip the baking. Follow the instructions up to the oven baking, then, cover with plastic wrap and fridge for up to three days.
When you are ready to bake, remove from the oven and allow to rest on the counter for 30 minutes. Place in the oven (uncovered) and bake.
Storage tips
This can be stored for up to 3 days in an airtight container or in the casserole dish it was cooked in.
FAQ: Baked Mac and Cheese
What can I add to macaroni and cheese?
This recipe is great as is, but you could always add fried onions on top, mix in pulled chicken or pork, lobster, crawfish, shrimp, crab meat…anything that sounds good to you!
What is the most popular cheese used in mac and cheese recipe?
Sharp cheddar cheese is best and the most popular for mac and cheese.
What can you put in macaroni and cheese instead of milk?
You can use evaporated milk, heavy cream, or half and half.
What is the best pasta for mac and cheese?
Use elbow macaroni noodles for the best results. Any noodle with grooves and ridges will also work.
How to avoid lumps in mac and cheese?
Pour the milk in slowly while whisking constantly.
Yield: 8 servings
Best Baked Mac and Cheese Recipe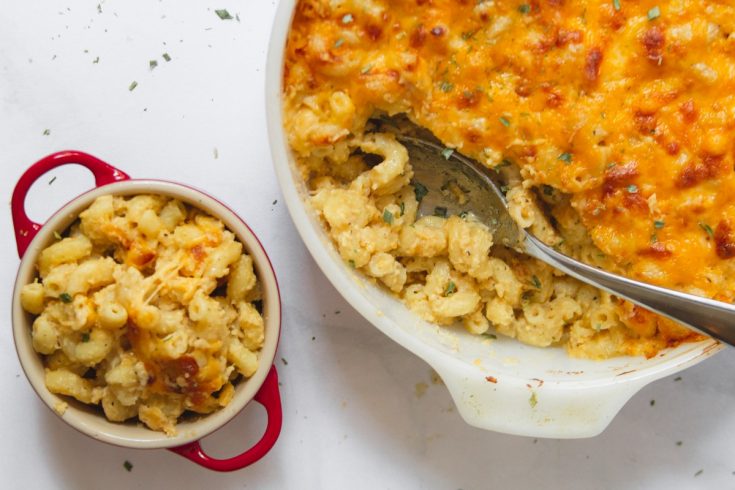 The best baked mac and cheese recipe I've ever made is right here! Made with three different kinds of cheese and completely from scratch, this is the ultimate, homemade comfort food. Made without Velveeta, this macaroni and cheese is rich, creamy, and seasoned with punchy creole spices (not spicy!).
Ingredients
16 ounces Elbow Macaroni, uncooked
4 tbsp. Butter
2 tbsp. Flour
1 12 oz. Canned Evaporated Milk
1 cup Half and Half
½ tbsp. Onion Powder
½ tbsp. Garlic Powder
½ tbsp. Creole Seasoning
¼ tsp. Cayenne Pepper
½ cup Mozzarella Cheese, grated (about half of an 8-ounce block of cheese)
1 cup Sharp Cheddar Cheese, grated (about half of an 8-ounce block of cheese)
1 cup Colby Jack Cheese, grated (about half of an 8-ounce block of cheese)
½ tsp. Ground black pepper
1 cup Mozzarella and Coby Jack cheese, shredded (for topping)
Instructions
Cook pasta "al dente". Drain. Set aside.
Over medium heat, add the butter to a heavy-bottomed pot or Dutch oven and melt.
When the butter has melted, whisk in the flour about a tablespoon at a time - whisking constantly! You may need to reduce the heat slightly to prevent the flour and butter from burning. Continue cooking for about 1 minute, constantly whisking.
To the pot, slowly add in the evaporated milk in a steady stream, constantly whisking. Follow with the half and half, still whisking all the while. Gently simmer until the mixture begins to thicken.
Add in the seasonings (onion powder, garlic powder, creole seasoning, and cayenne), and stir to combine.
Stir in the cheeses (reserving the 1 cup for topping) and stir until well-combined and melted. The mixture should be silky smooth.
Then, add the cooked pasta to the pot. Stir to combine.
Transfer the mixture to a lightly greased 3-quart baking dish, and top with the remaining cheese.
Bake at 375 degrees Fahrenheit for 20 minutes uncovered or until gold and bubbly.
If desired, broil on low for 1-3 minutes for additional color and crispiness on top.
Notes
*Please read the entire post for details, tips, and more!*
Serve this with:
Nutrition Information:
Yield:
8
Serving Size:
1 grams
Amount Per Serving:
Calories:

446
Total Fat:

28g
Saturated Fat:

17g
Trans Fat:

1g
Unsaturated Fat:

9g
Cholesterol:

88mg
Sodium:

659mg
Carbohydrates:

27g
Fiber:

1g
Sugar:

7g
Protein:

20g