This Chicken Divan Casserole is made with tender chicken and broccoli in a rich and creamy sauce. This is our go-to for weeknight dinners, served over rice or noodles. Makes great leftovers and NO "cream of…" soup!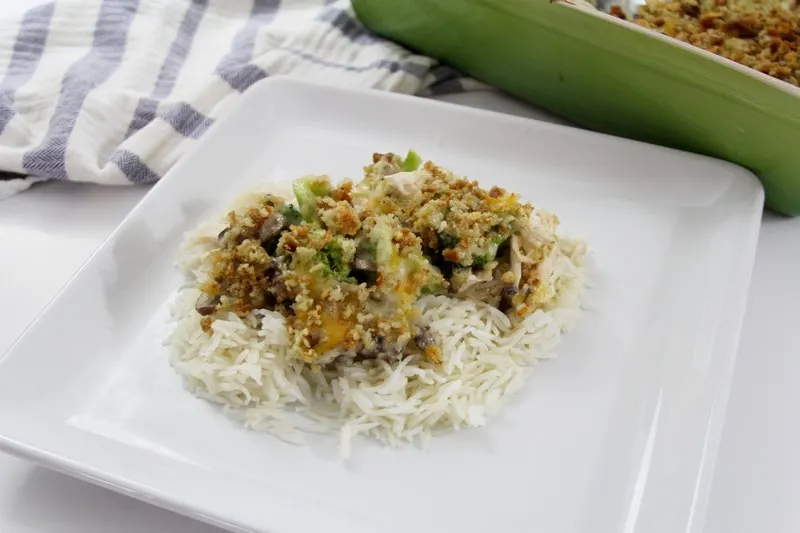 There's something about the goopy "cream of…" canned soup that just irks me. BUT! I've included a simple tutorial to make your own condensed cream of mushroom soup, instead.
This recipe isn't exactly for the calorie counters: It does include cheese, butter and milk to make the sauce, but it's worth the extra calories for sure!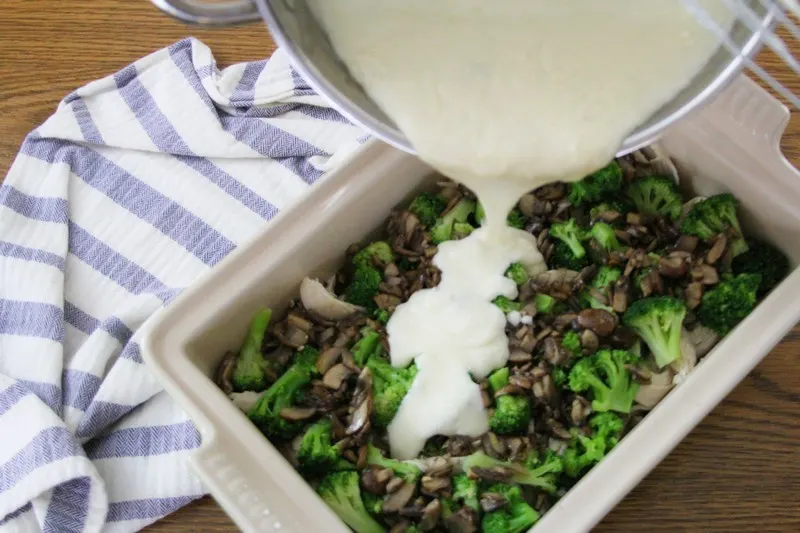 Ingredients for Chicken Divan:
Chicken: You can use leftover chicken from my oven roasted chicken recipe, pick up a pre-made rotisserie chicken from the deli, or poached chicken. You can use chopped or shredded. It's a matter of preference.
Broccoli: This recipe uses steamed, frozen broccoli. Make sure to drain well and allow to dry after steaming.

Frozen broccoli does release some water, but the casserole will not be watery or affect the taste.

If preferred, you can use fresh, steamed broccoli.
Sauce: It's basically a Mornay sauce, which is a roux, with milk, broth and white cheddar cheese. It's thick, rich and is the base for many casseroles.
Mushrooms: Since the traditional recipes call for cream of mushroom soup, I chop up fresh mushrooms and add them in separately from the sauce. It all gets mixed in anyway!
Cheese: You can use yellow cheddar or white cheddar. The taste is about the same. This recipe uses white cheddar, with a mix sprinkled of yellow and white cheddar sprinkled on top.
Topping: I use Pepperidge Farm Stuffing mix for the breadcrumbs. While we don't use this product for making stuffing or dressing, this is great for breadcrumbs! If you have homemade breadcrumbs, you can use those too.
How to Make Chicken Divan Casserole
First, shred or chop your precooked chicken and place in the bottom of a greased 9 x 13 inch casserole dish.
Top the chicken with broccoli and sauteed mushrooms.
Make the roux, add in cheese and simmer until it becomes a thick cheese sauce.
Pour over the chicken, broccoli and mushrooms.
Top with cheese, then breadcrumbs.
Bake and enjoy!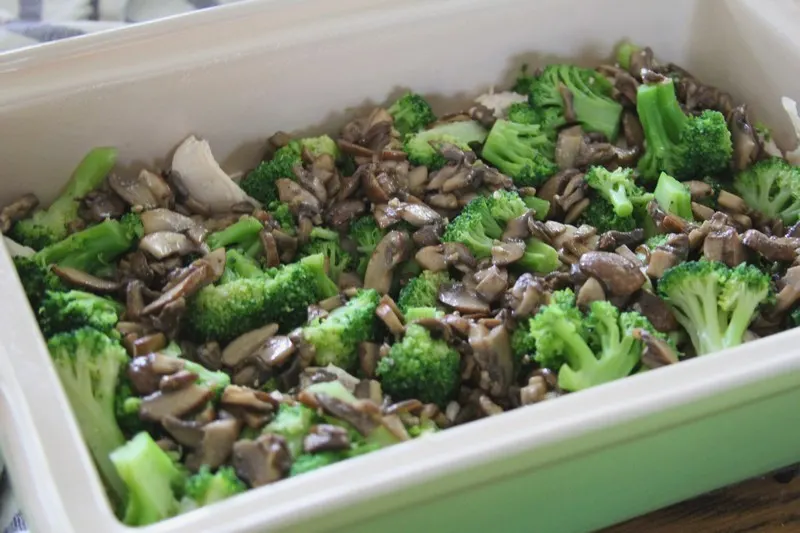 Make Ahead Instructions:
This is a great recipe to make ahead of time. Just assemble all the way up to the breadcrumb topping, then cover and refrigerate.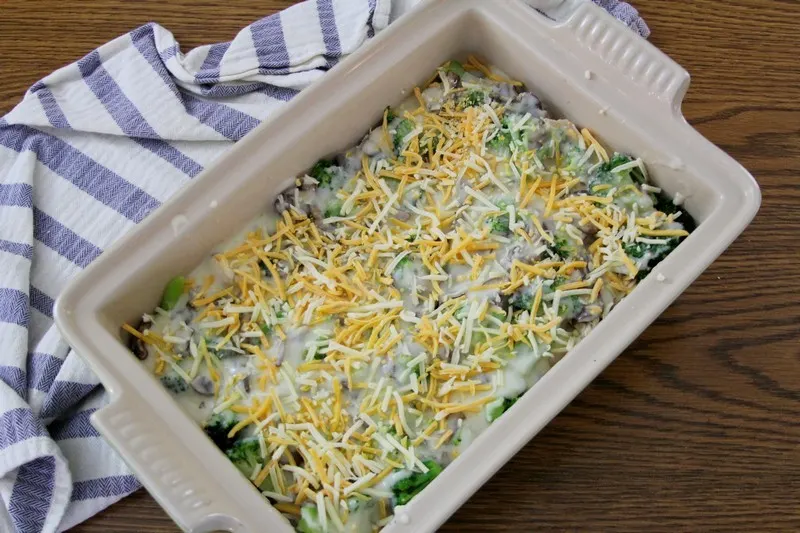 About 30 minutes before you are ready to bake, set the casserole out to come to room temperature. Add the breadcrumbs, then bake per the recipe.
What does Chicken Divan mean?
This recipe was named after the Divan Parisien Restaurant in the New York City Chatham Hotel where it was the signature dish almost 100 years ago!
How do you reheat Chicken Divan?
I love a good recipe that reheats easily! The topping won't be as crisp, but all of the flavors will still be just as delicious!
Preheat your oven to 350F degrees and bake the leftovers in the casserole dish, uncovered, for about 30 minutes or until warmed through.
This is also great stuffed inside a crispy baked potato, or served over mashed potatoes.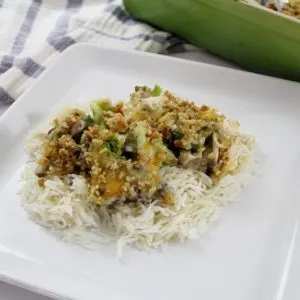 Chicken Divan Casserole with Homemade Sauce
This Chicken Divan Casserole is made with tender chicken and broccoli in a rich and creamy sauce. This is our go-to for weeknight dinners, served over rice or noodles. Makes great leftovers and NO "cream of…" soup!
Ingredients
For the Sauce:
1

tablespoon

butter

3

tablespoons

all-purpose flour

½

cup

milk

½

cup

chicken broth

2

cups

freshly grated cheddar cheese

(white or yellow)

Salt and pepper to taste
For the Casserole:
3

cups

precooked chicken

(cubed or shredded (about 2 breasts))

2

cups

frozen broccoli florets

(thawed and chopped bite-sized)

12

ounces

baby bella mushrooms

(chopped)

1

clove

(minced garlic)

1

tablespoon

butter

Plus more cheese for topping
For the Breadcrumb Topping:
1

tablespoon

of butter

(melted)

½

cup

Pepperidge Farm Stuffing Mix
Instructions
Preheat the oven to 375°F. Coat a 9×13 baking dish with nonstick spray and set aside.
Prep the casserole ingredients:
Place chicken and broccoli into the prepared dish.

In a skillet over medium-high heat, melt 1 tablespoon of butter and add mushrooms. Saute until tender and soft. Add on top of the chicken and broccoli.
Make the sauce:
In the same skillet, add another tablespoon of butter and melt over medium heat. Then, add in 1 tablespoon of flour at a time, whisking constantly so the butter and flour does not burn.

As the butter and flour becomes a paste, stir in milk. As it begins to thicken, add in chicken broth and continue stirring.

Add in 2 cups of cheddar cheese. Continue to stir until the cheese has melted and the sauce is smooth.
Assemble the casserole:
Pour the sauce mixture evenly on top of the chicken, broccoli and mushrooms.

Sprinkle the cheese evenly on top.

Melt the remaining 1 tablespoon of butter and stir in the breadcrumbs. Evenly sprinkle the breadcrumbs on top of the cheese layer.

Bake for 35 minutes, uncovered, until golden on top. Serve warm over rice or pasta.
Notes
Please read the entire post for details, tips, and more!
Nutrition
Serving:
1
Calories:
348
kcal
Carbohydrates:
12
g
Protein:
23
g
Fat:
24
g
Saturated Fat:
11
g
Polyunsaturated Fat:
10
g
Trans Fat:
1
g
Cholesterol:
92
mg
Sodium:
456
mg
Fiber:
2
g
Sugar:
3
g