The ultimate loaded nachos platter is layered with pulled pork, kettle-style chips, and other nacho toppings of your choice. This great appetizer will be a huge hit game day, Super Bowl Sunday, Cinco de Mayo, or even an easy dinner. It's the best party food.
Plus, it's made in under 30 minutes and served right from the sheet pan!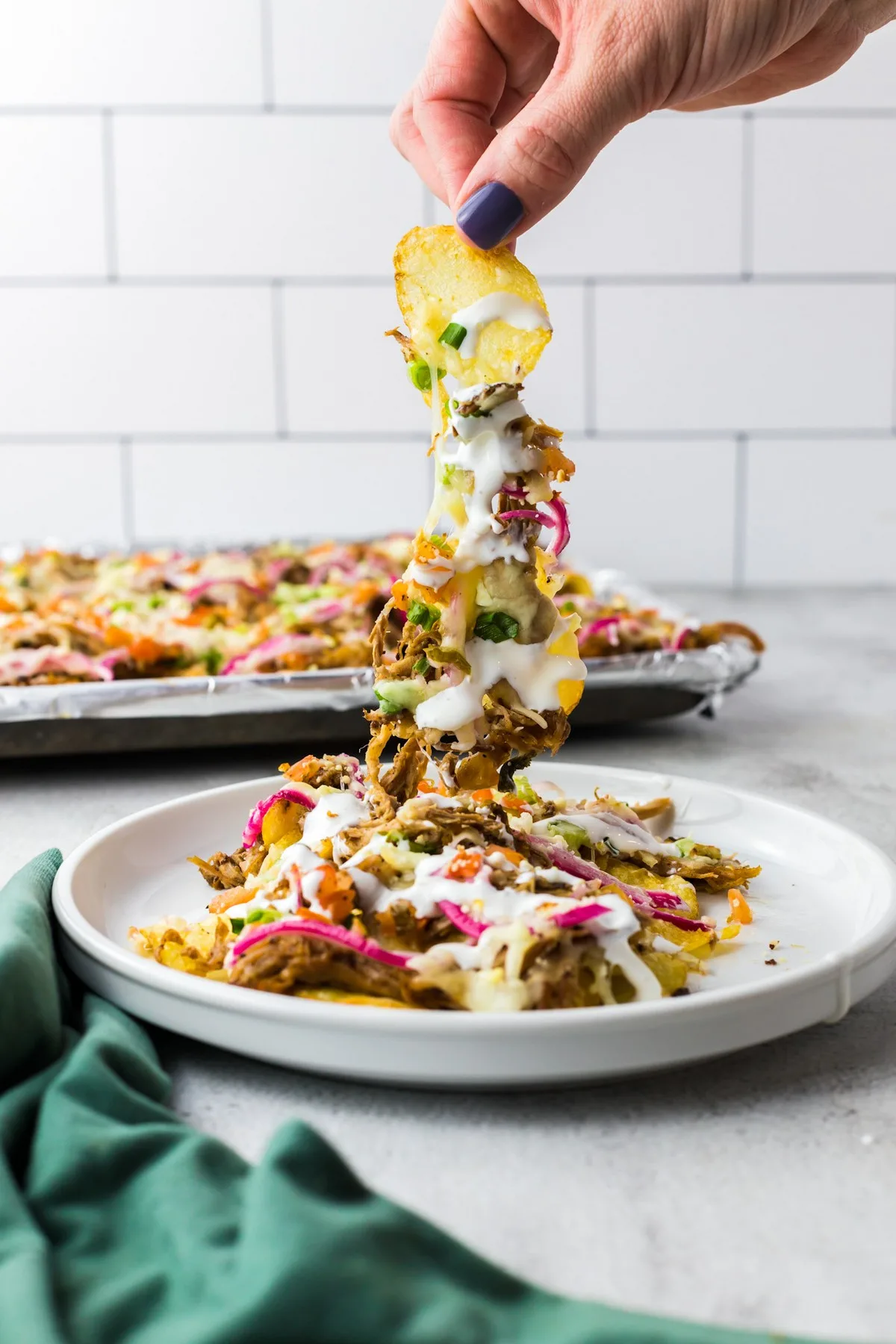 This recipe uses leftover pulled pork, but you can use any taco meat of your choice. Or, leave the meat off for a vegetarian style nacho platter. This recipe is incredibly versatile and all of the ingredients are easily swapped for toppings you love the most!
Next Level Loaded Nachos
Most nacho recipes call for corn chips or other tortilla chips, but this version uses crispy kettle chips.
This easy recipe was inspired by a local restaurant that used giant kettle chips as the base. We fell in love the moment we chowed down. Plus, I found that the chips stay crispier than the corn chips.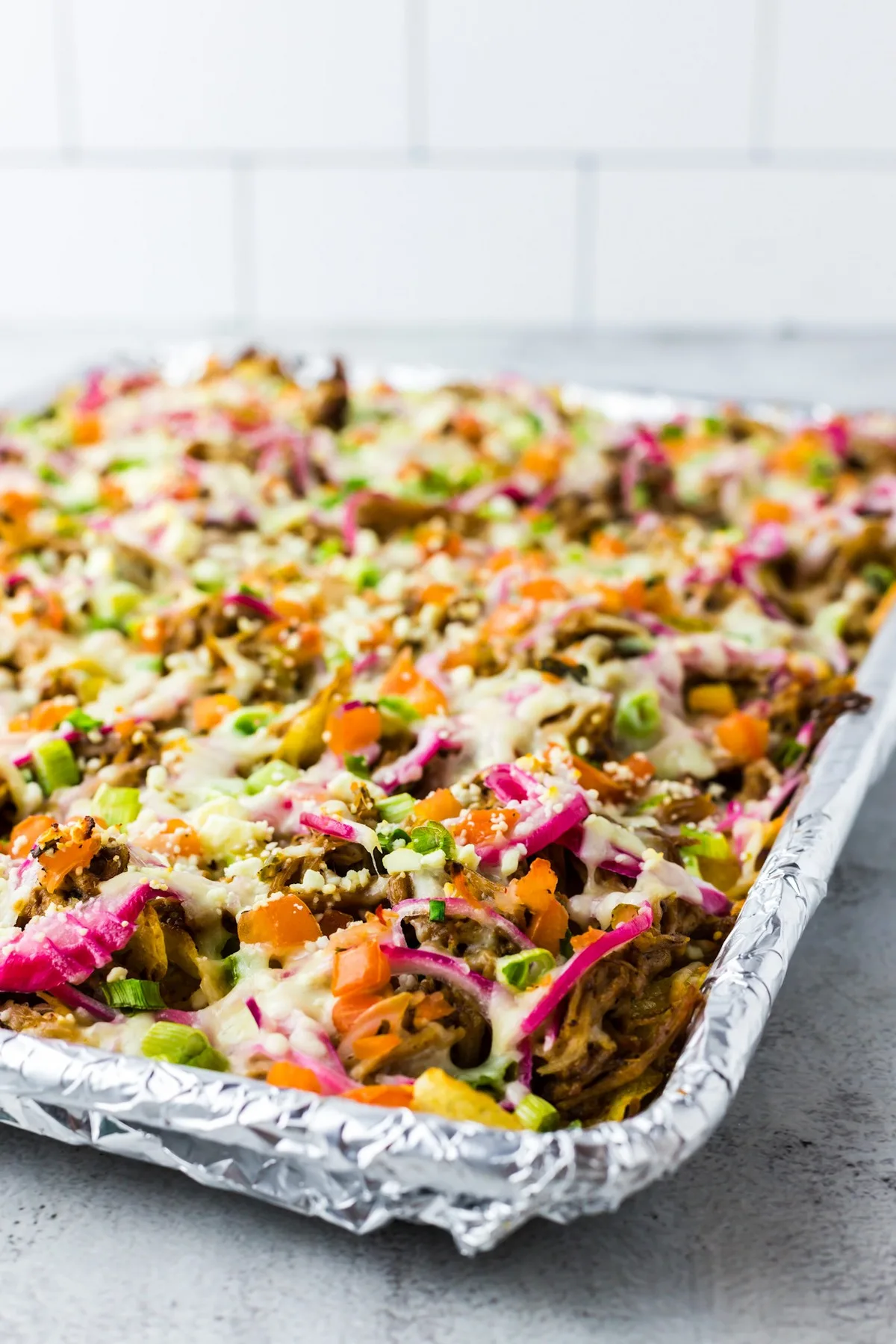 Here are a few kitchen tools I recommend to make this recipe easier:
Sheet Pan: Use a large, sturdy baking sheet with a rimmed edge. This will hold the whole platter of nachos together.
Heavy Duty Aluminum Foil: Lining the baking sheet with aluminum foil will make clean up much easier. Plus, you can form "sections" using the foil to bake different variations of the nachos at one time. Let's say, vegetarian and beef, or shredded chicken and pulled pork.
Ingredients: What toppings do you put on nachos?
Meats: Use leftover taco meat, shredded carnitas, ground beef, shredded chicken, pulled pork, shredded leftover beef brisket… whatever meat you prefer to top nachos.
Cheeses: Any taco blend or Mexican blend shredded cheese is the easiest. Other suggestions are a blend of cheddar cheese, Monterey jack, and pepper jack cheese.
Sauces: Just before serving, drizzle with white alabama bbq sauce. Or, add toppings like guacamole, salsa, pico de gallo, sour cream, nacho cheese sauce, etc.
Other toppings: Add black beans, chopped tomatoes, pickled red onion, green onions, black olives, green chili, jalapeno pepper, canned corn, onion, etc.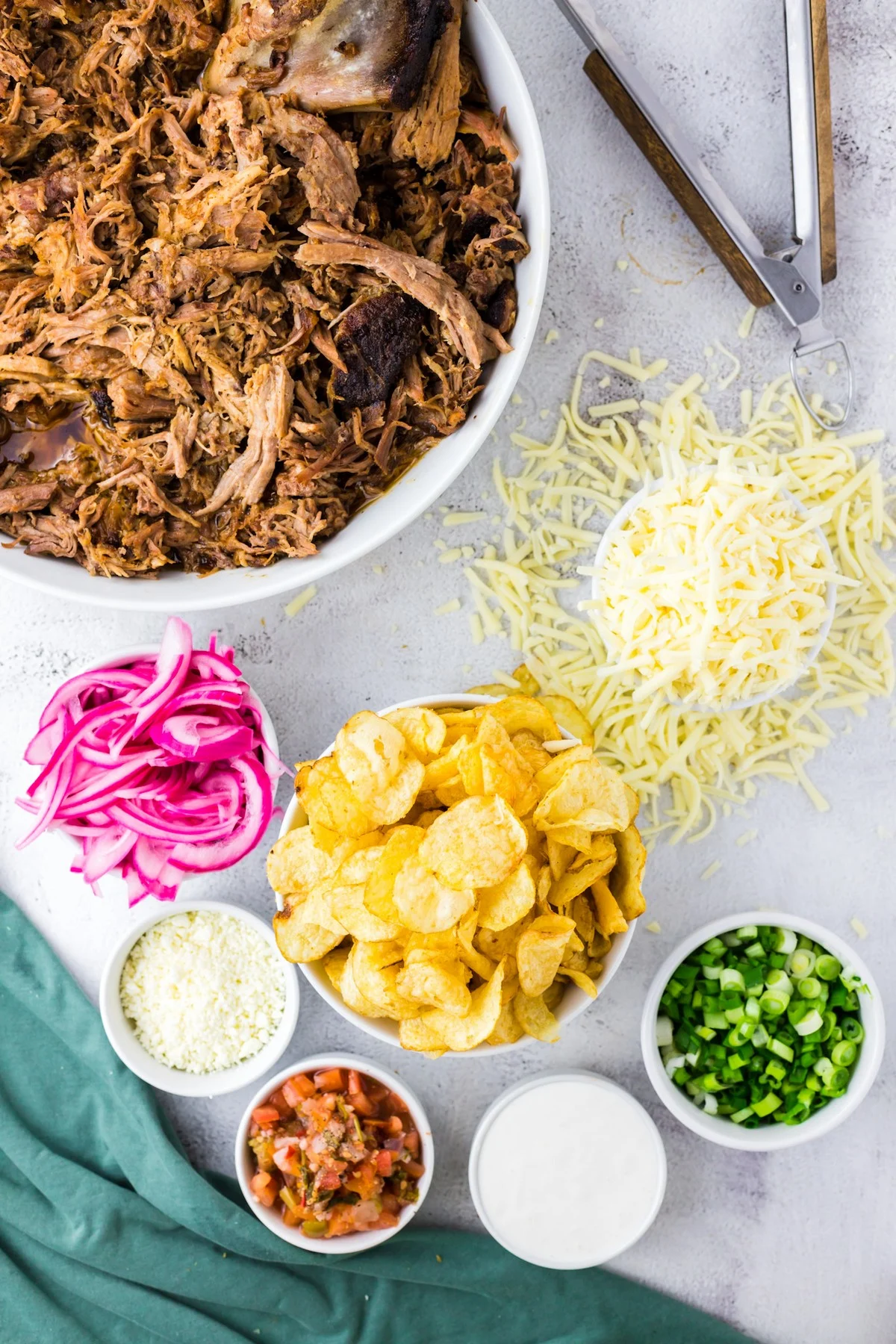 How to Make the Ultimate Nachos Platter
Step 1: Toast the chips.
The secret to crispy chips – not soggy ones – is pre-toasting the chips. Spread the chips on the foil lined baking sheet. Overlapping will help hold the toppings together so they don't fall to the bottom of the pan.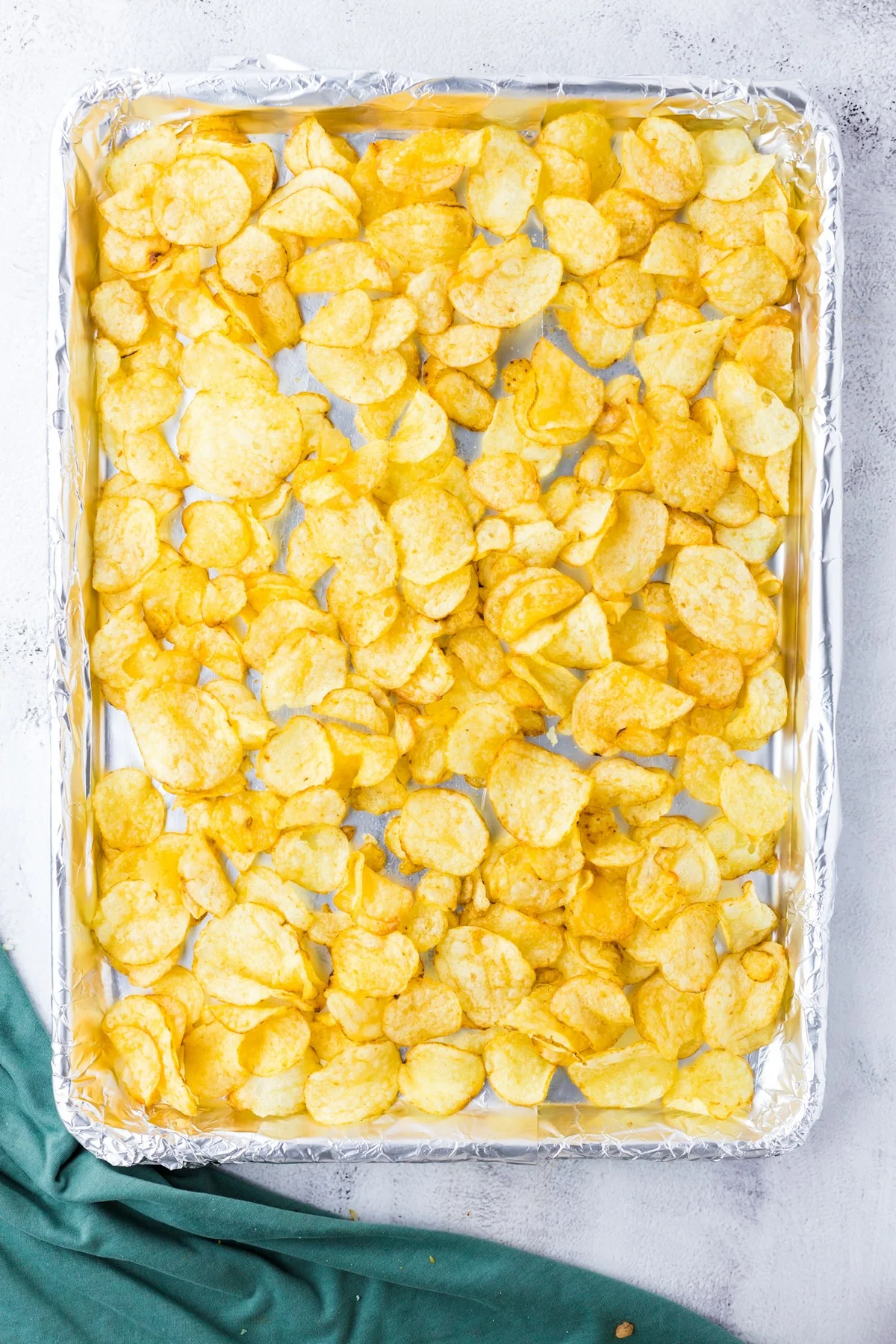 Bake the chips for about 5-10 minutes to toughen them a little. Then, top with a layer of cheese. The cheese will act as a barrier between the toppings and the chips, keeping the chips crunchier longer!
Step 2: Layer nacho toppings
Begin by spreading the meat onto the chips, making sure to cover each chip. No one likes a topping-less nacho chip!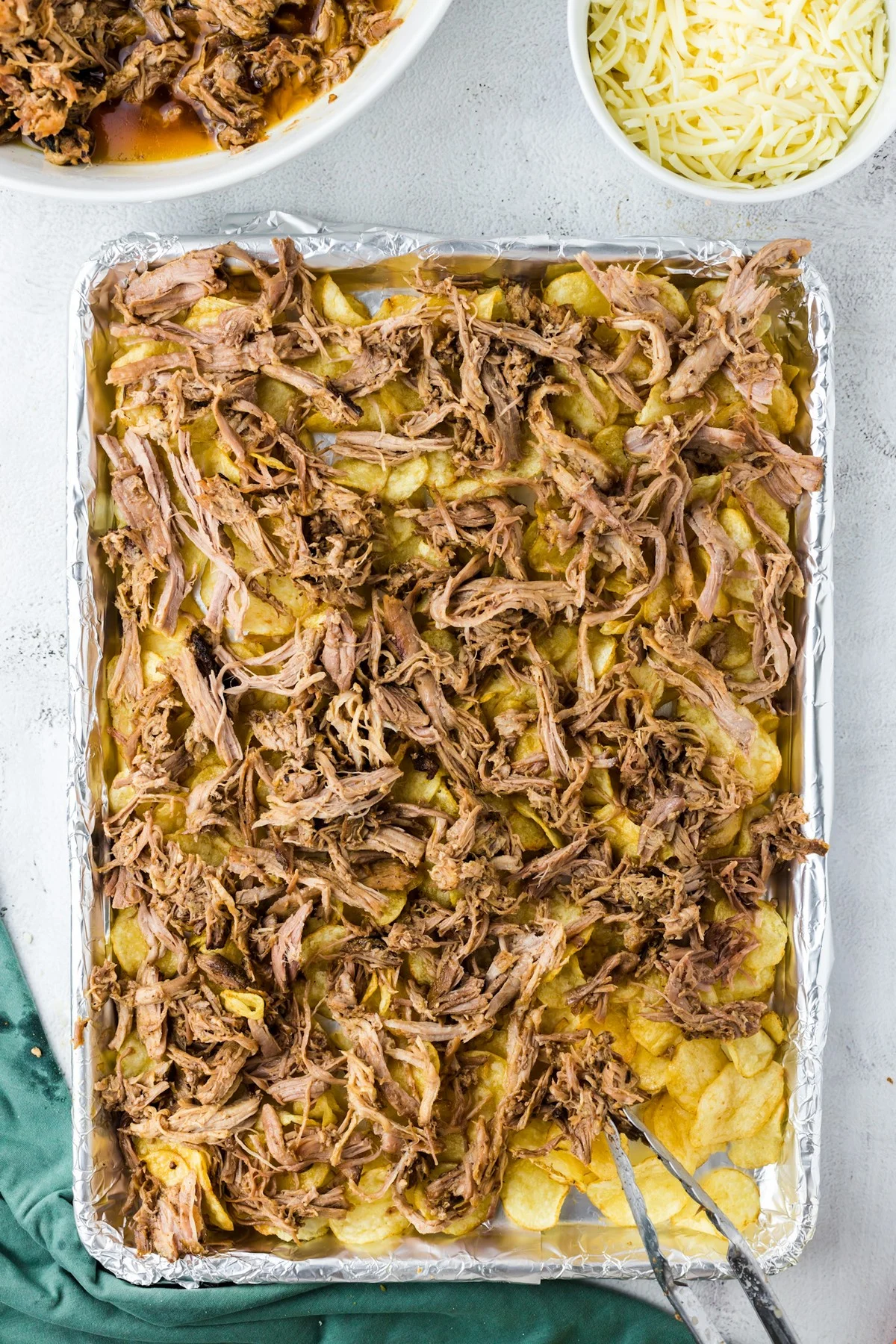 After the meat, layer on the other toppings. We love to use pickled red onion for a little tanginess to every bite!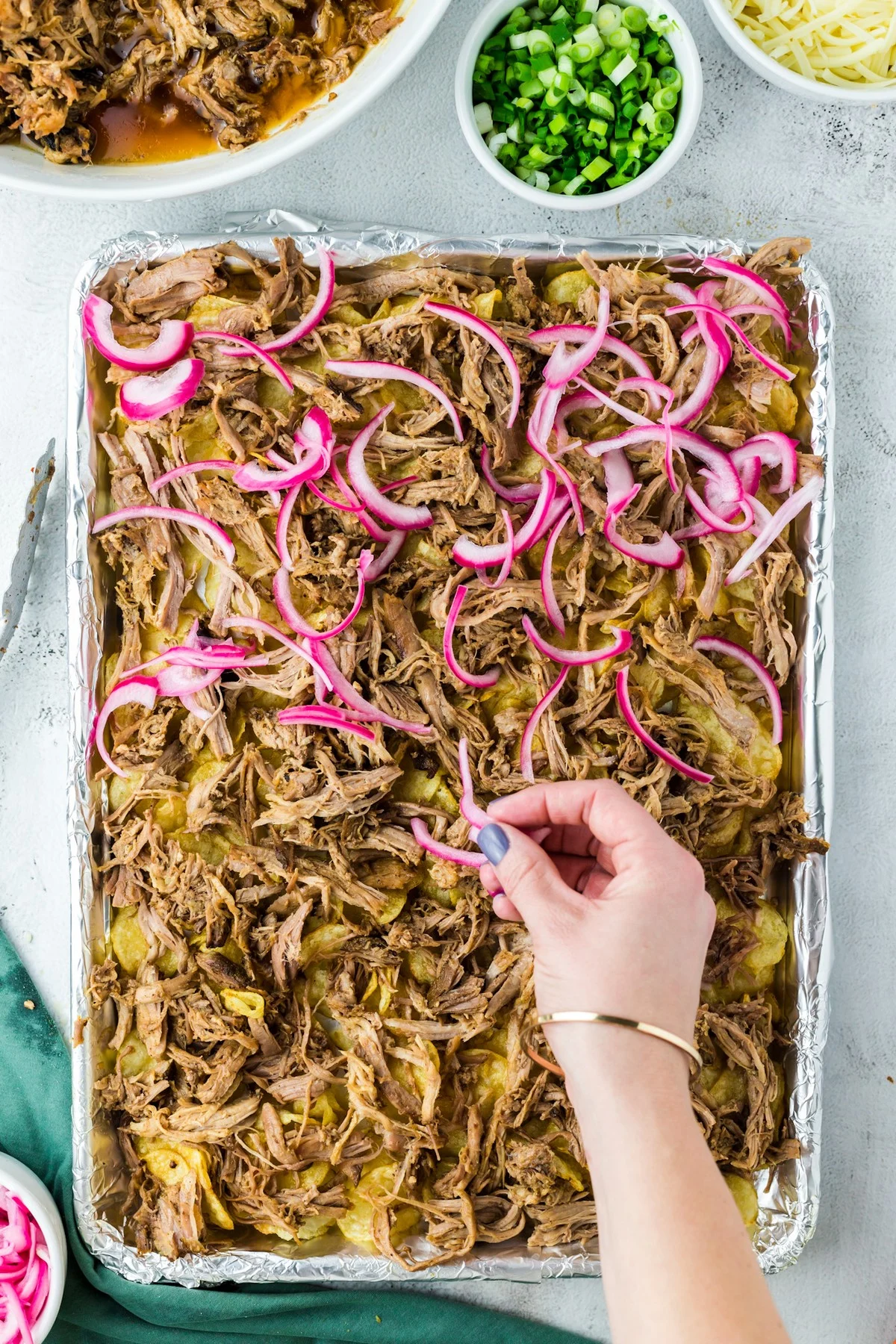 You could also spread beans on this layer…sliced jalapeno pepper, red pepper, other vegetables, and different types of cheese.
Step 3: Bake and finish.
When you are satisfied with your nacho platter, place the baking sheet in the oven and bake until the cheese is melted and the ingredients are warmed through.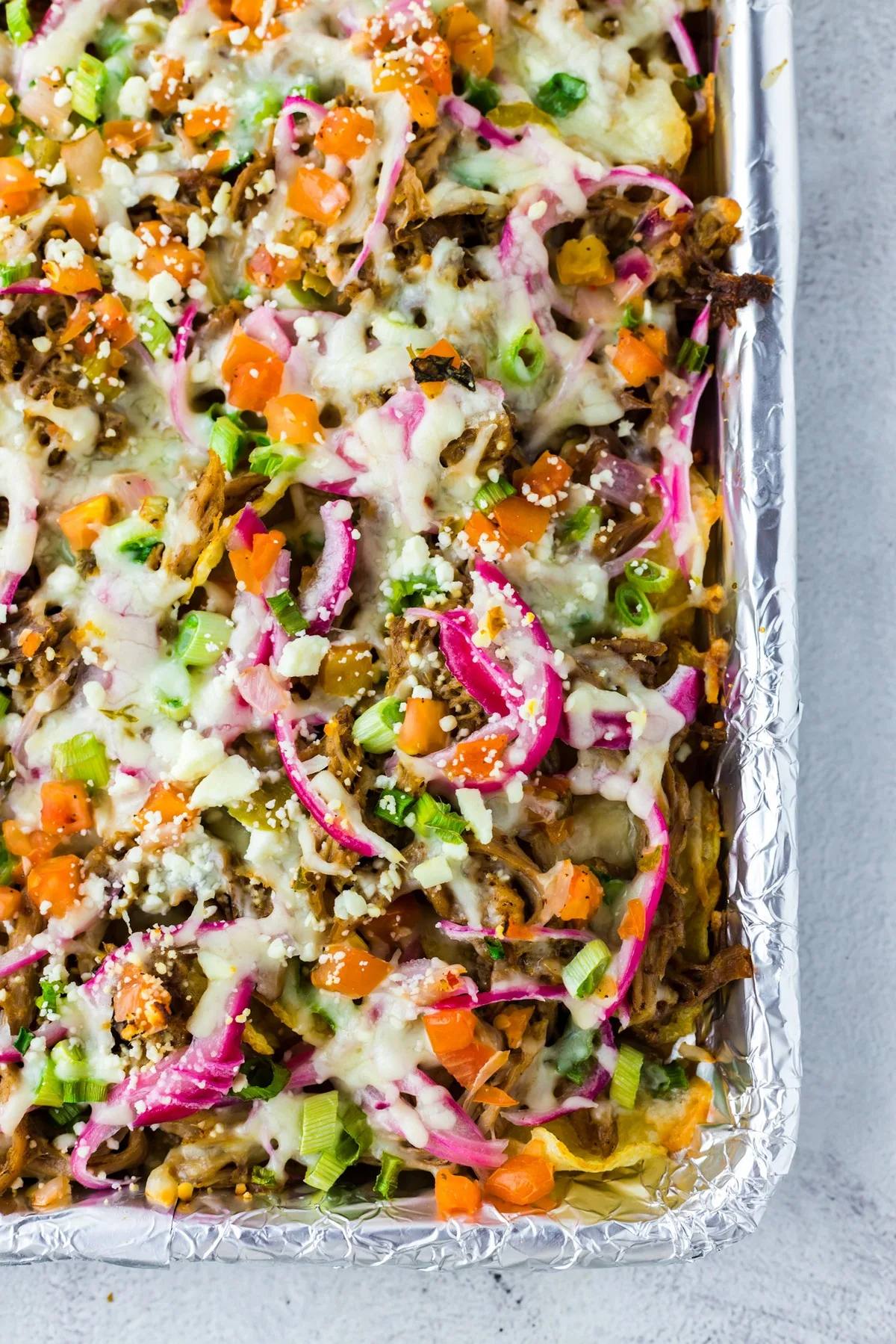 I recommend waiting until after baking to add fresh salsas, guacamole and other sauces. You can even finish with a squeeze of fresh lime juice!
Other appetizers to serve with nachos
Take your spread to the next level with these other great appetizers:
Tips for the Ultimate Nacho Platter
Best chips for nachos
This recipe uses kettle-style potato chips. If preferred, you can use tortilla chips, blue chips, or other corn chips.
I do not recommend using scoops or regular potato chips. You need a sturdy chip to hold up all of those nacho toppings.
Best cheese for nachos
Mexican Blend or Taco Blend shredded cheeses are excellent choices to stick with the cuisine's theme.But, really any shredded cheese will work for this recipe.
For better melting, shred a block of cheese at home using a food processor or cheese grater.
Broiling vs baking
Baking a platter of nachos is preferred to broiling. If you only broil the nachos, you could end up with portions of burned, over-crisped toppings while the underneath portions are cold or undercooked. Baking circulates the heat throughout the nachos so everything is cooked evenly.
If desired, broil at the end to crisp up exposed edges of the chips.
Avoid soggy nachos
Leave the sauces, salsas, and other moisture-heavy ingredients until after baking.
Also, pre-bake the chips then top with cheese to create a barrier between the chips and the toppings, keeping the chips as crispy as possible.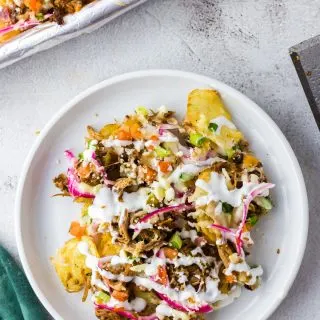 Pulled Pork Nachos Recipe
Pulled Pork Nachos are layered with delicious pulled pork, potato chips, crisp onion and cheese! It's an awesome addition to a game day menu, a quick appetizer or a casual weeknight meal.
Ingredients
Leftover Pulled Pork

(Beef or Chicken)

Kettle Style Potato Chips

1

bunch of green onion

(roughly chopped)

½

purple onion

(roughly diced)

1

container of crumbled blue cheese

Nonstick cooking spray
Instructions
Preheat oven to 375F degrees. Line a baking sheet with heavy-duty foil. Lightly spray with nonstick cooking spray.

Add single layer of potato chips to the baking sheet. It's ok to overlap.

Layer with pulled pork, onion and cheese. You can also add any additional vegetables desired.

Bake uncovered for 15-20 minutes or until warmed through and cheese is melted.
Nutrition
Serving:
1
grams
Calories:
188
kcal
Carbohydrates:
11
g
Protein:
14
g
Fat:
9
g
Saturated Fat:
3
g
Polyunsaturated Fat:
5
g
Cholesterol:
44
mg
Sodium:
375
mg
Fiber:
1
g
Sugar:
7
g