Make the best Bisquick sausage balls in no time! These bite-sized beauties feature sharp cheddar cheese, ground sausage, and Bisquick. Serve them at holiday parties or on game day for a quick, easy, crowd-pleasing appetizer.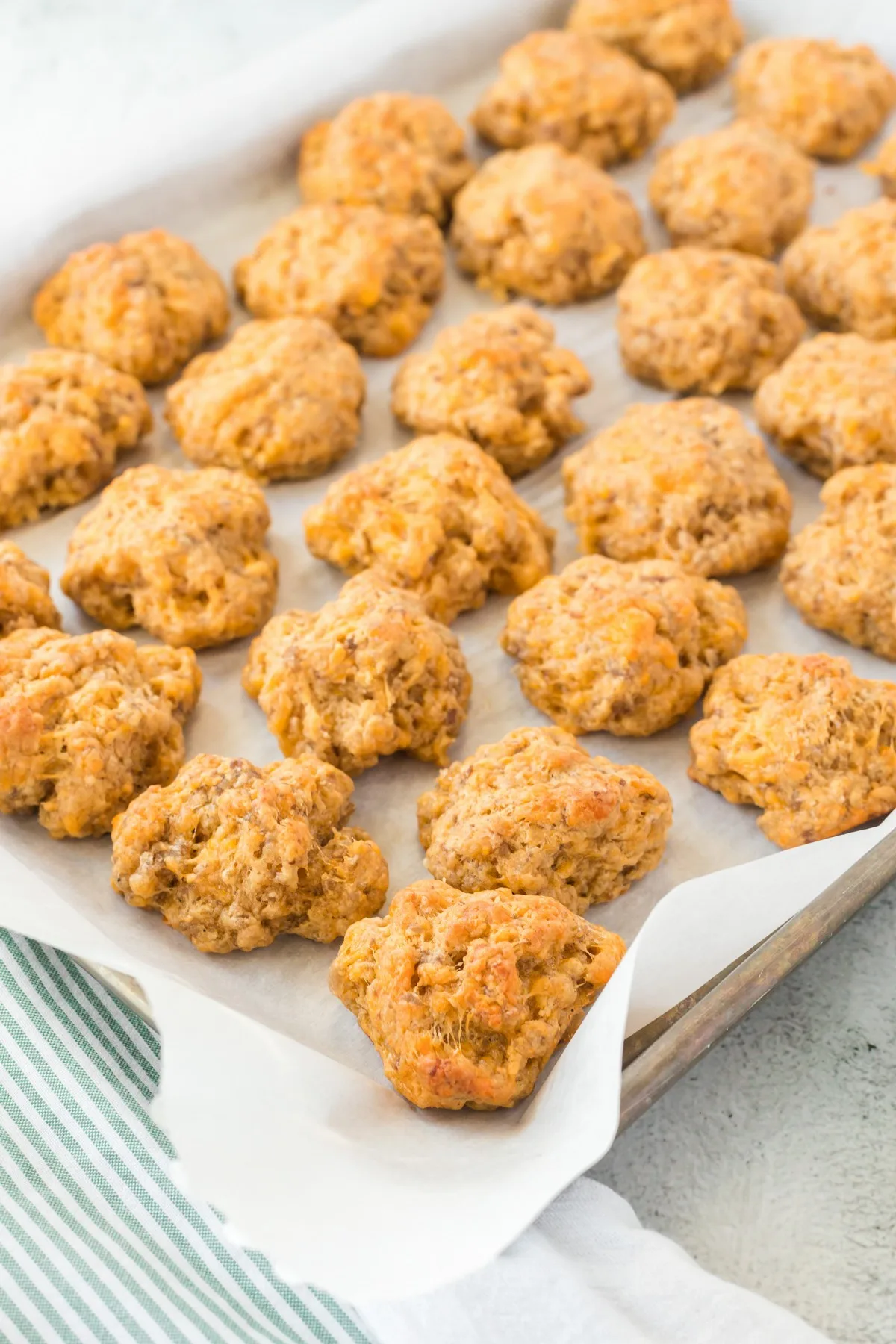 When a recipe requires just three ingredients, it's always worth testing out! Thanks to the convenience of Bisquick, this simple sausage ball recipe will save you so much time in the kitchen.
It's the perfect appetizer to make ahead of time and freeze. When you're ready to serve it, just pop a batch in the oven and wait for your house to fill up with cheesy and delicious aromas.
Why I Love This Recipe
Quick & easy: All you need is 3 ingredients and 25 minutes to make this recipe.
Crowd-pleaser: I always get compliments on just how good these Bisquick sausage balls taste. I'm constantly giving out the recipe to friends and family!
Finger food: Bisquick sausage balls are ideal for busy holiday preparations or last-minute gatherings because they're so easy to serve and eat.
Versatility: You can easily adapt this recipe to your taste preferences. Feel free to spice these Bisquick sausage balls up and pair them with your favorite dips.
What Are Bisquick Sausage Balls?
Bisquick sausage balls are one of my favorite recipes because you only need three simple ingredients — sausage, shredded cheddar, and Bisquick. Think meatball meets cheese biscuit. Is your mouth watering yet?!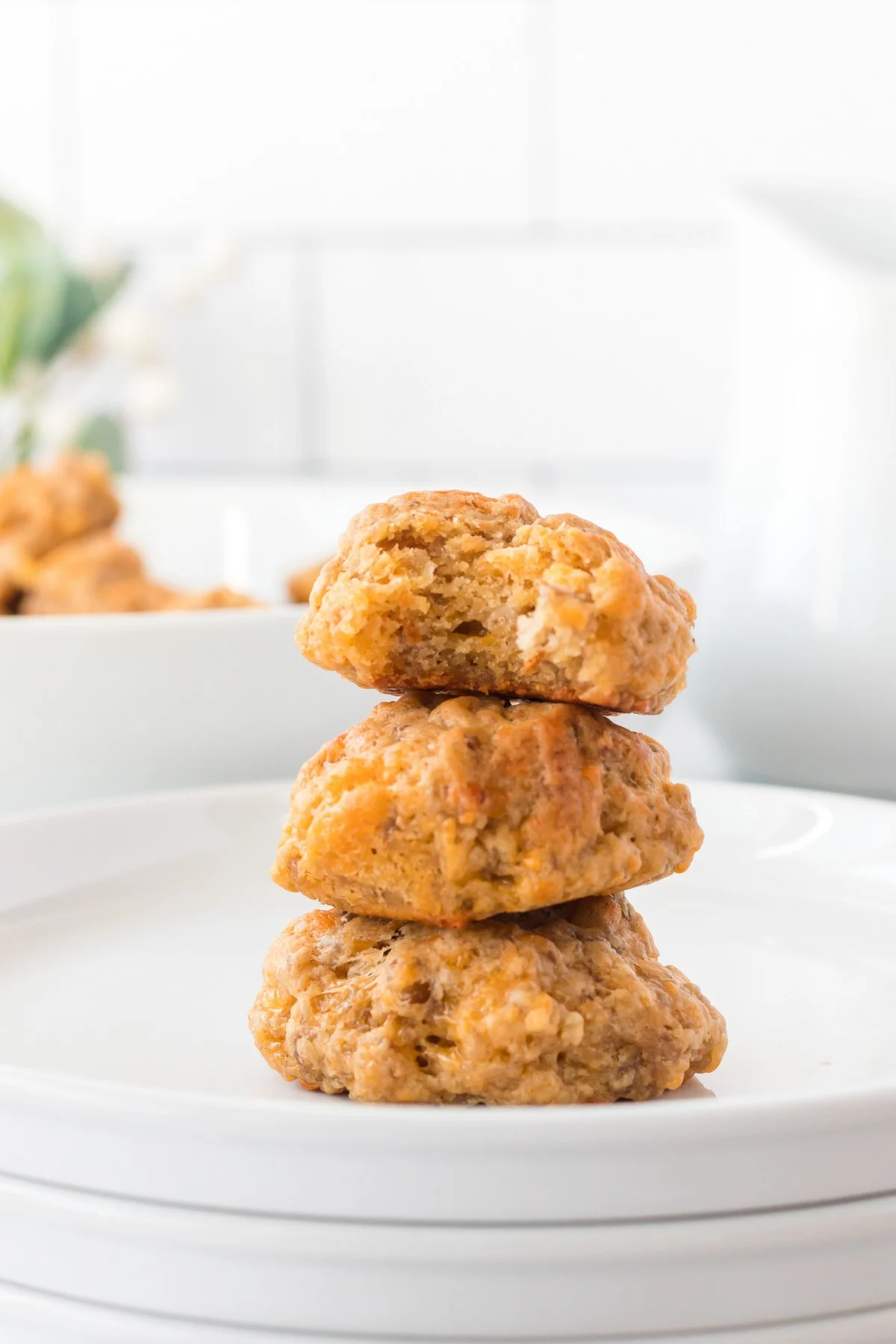 If you're unfamiliar with Bisquick, it's a mixture of flour, baking powder, sugar, salt, and shortening. It was invented back in the 30s to make recipes like this more convenient and time-efficient.
All you need to do is mix the ingredients in a bowl, roll them into balls, and bake them in the oven for about 20 minutes. Talk about an easy way to impress your guests!
What is the best pork sausage to use?
When it comes to Bisquick sausage balls, your choice of pork plays an important role. You want them to be moist and tender, yet sturdy enough to hold up for dipping.
Raw, ground pork is the best choice. Typically, pork bought at the supermarket contains around 15% fat. If you prefer more flavor, sausage-grade pork is a great option. Extra-lean sausage can be used as well, but you may have a harder time getting the mixture to stay together.
Ingredients For Bisquick Sausage Balls
Bisquick: I'm using the original Bisquick from Betty Crocker, but there are other brands like Jiffy baking mix. If you don't have any on hand, make your own with 2 cups of flour, 1 tablespoon of baking powder, 2 tablespoons of butter or shortening, and ½ teaspoon of salt.
Sharp cheddar cheese: For the most flavor, use aged cheddar cheese. It adds just the right amount of savory and umami elements to these Bisquick sausage balls. Try to stay away from pre-grated cheese as it can lead to a dry, crumbly mixture.
Ground pork sausage: This can be mild or spicy depending on your taste preferences. For a lighter version, try turkey or chicken sausage.
Milk: If the mixture seems dry, add milk little by little until it reaches a moist consistency that is easy to roll. You can use any type of milk you prefer here.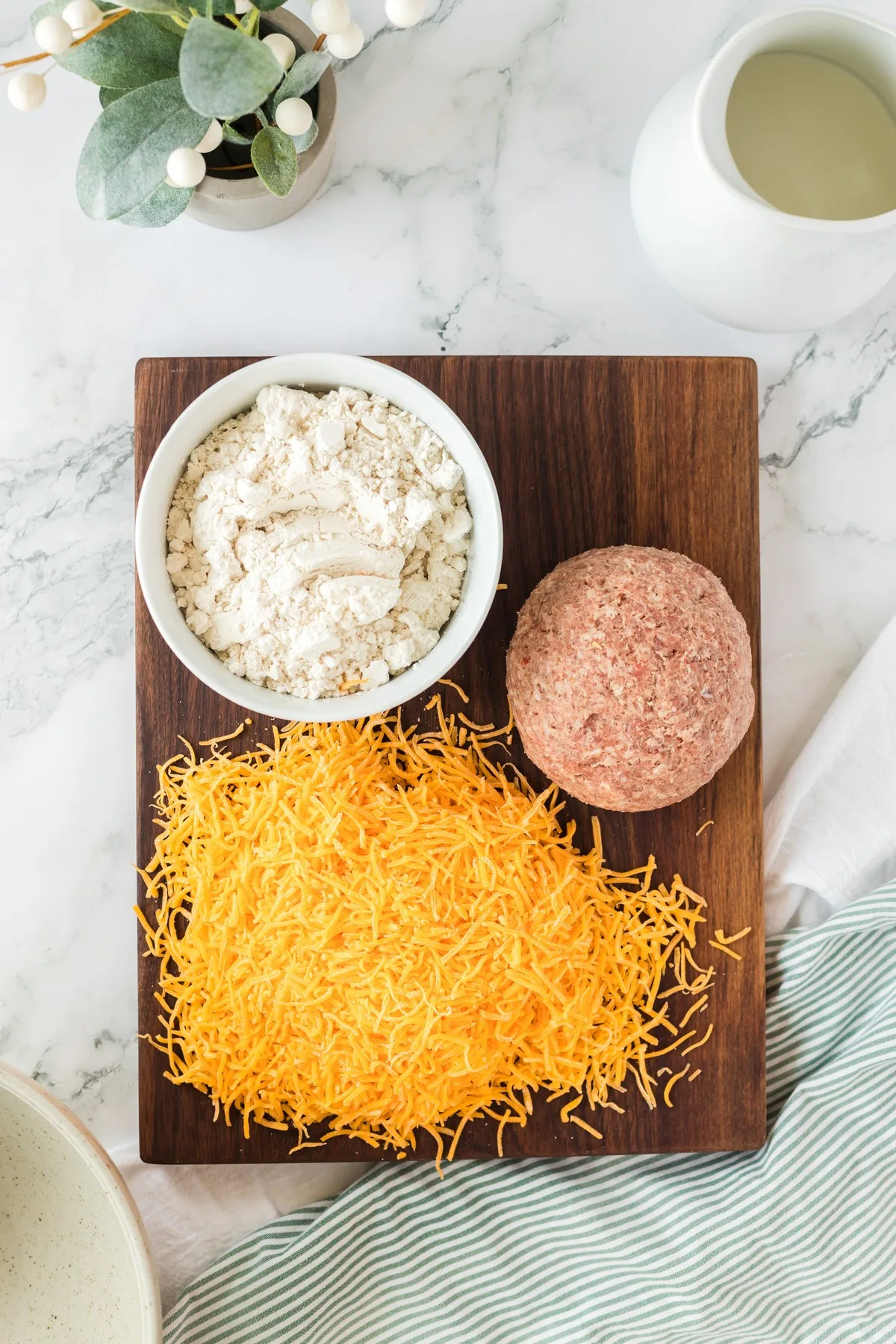 How To Make Bisquick Sausage Balls
Step 1: Mix the ingredients
While your oven is preheating to 350 degrees F, combine the ground sausage, Bisquick, and shredded cheddar cheese in a large mixing bowl.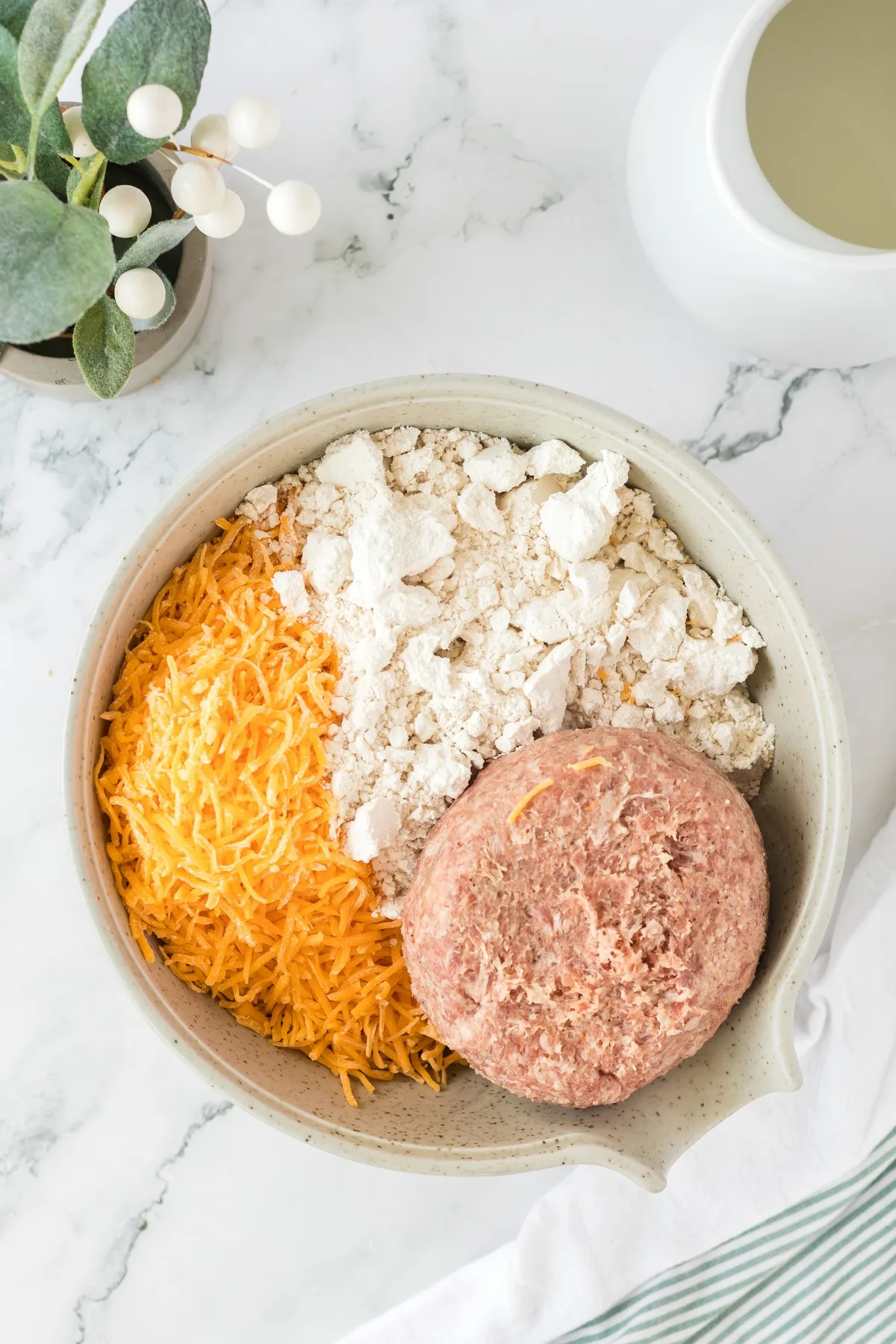 If the mixture is too dry or crumbly, add a little milk at this point until it sticks together.
Step 2: Shape The Balls
Shape the mixture into bite-size balls, then spread them out evenly on a few baking sheets. You should get about 24 sausage balls from this recipe, but it depends on the exact size of your scoop.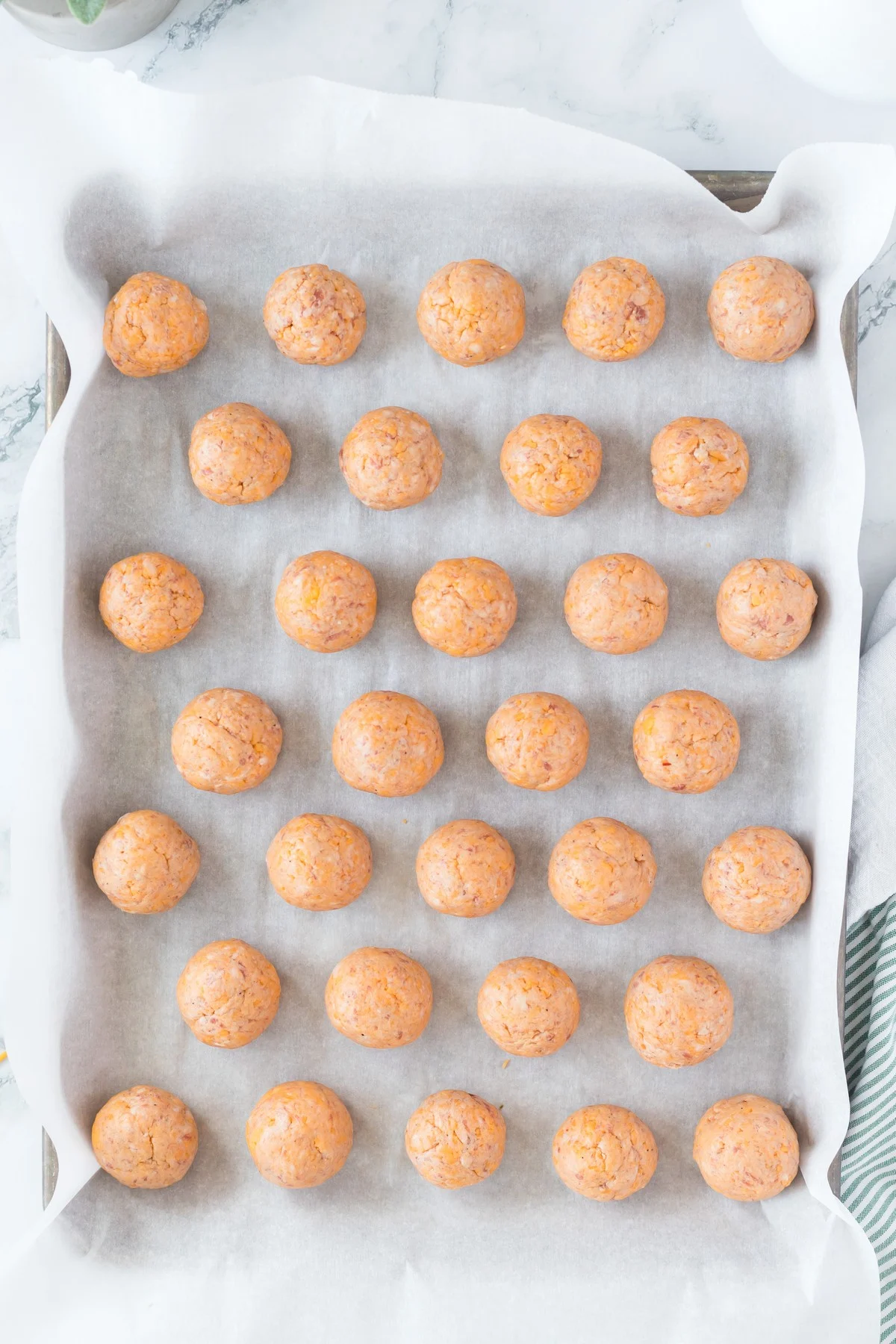 If you have a cookie scoop, I highly recommend using it for even sizing and cooking time.
Step 3: Bake
Bake the sausage balls for about 20 to 25 minutes, or until they appear golden brown and the sausage is cooked. Serve them immediately while warm!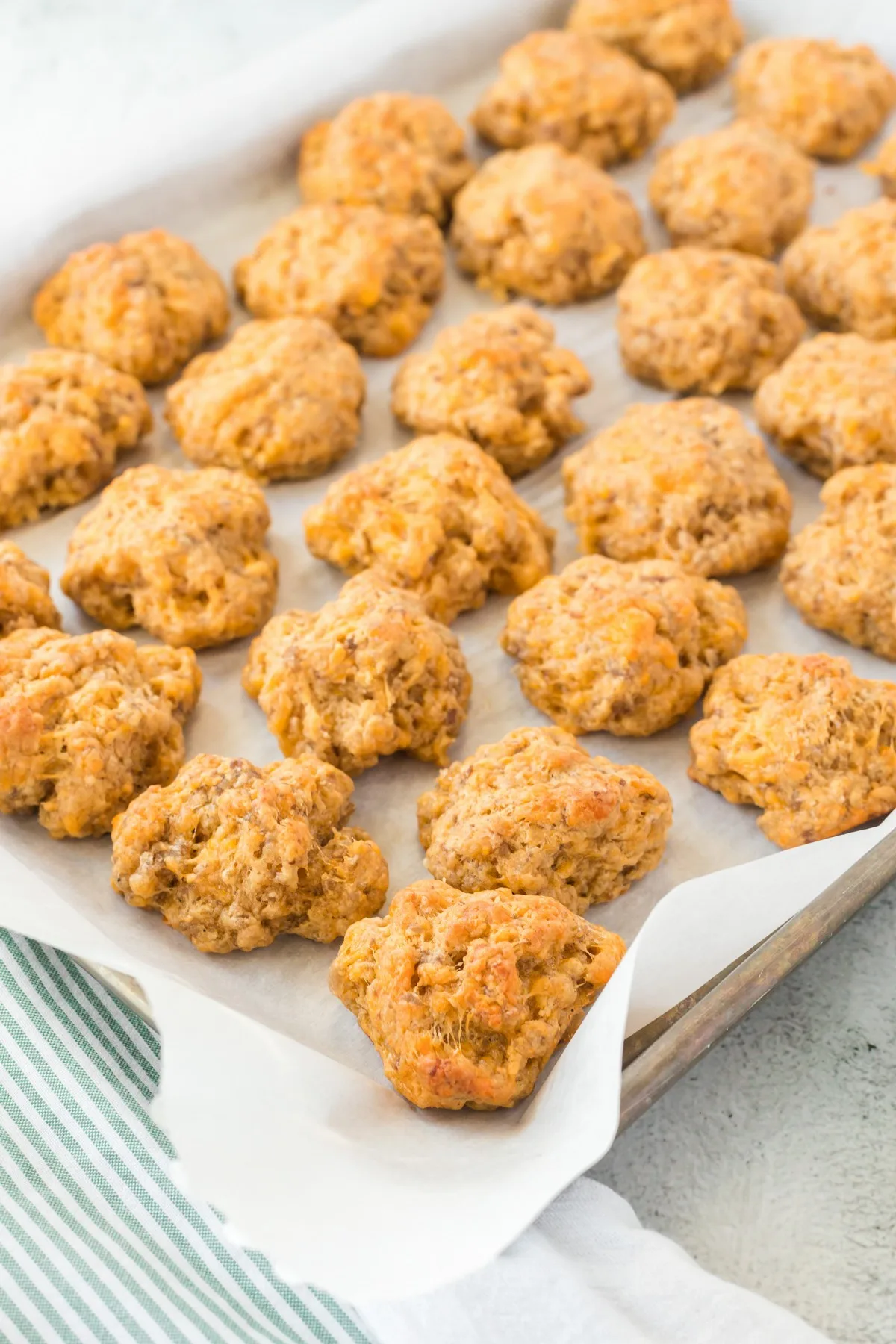 What To Serve With Bisquick Sausage Balls
While I do think Bisquick sausage balls are scrumptious on their own, you can turn them into an absolute show-stopper with some dips and sauces like the following:
Ketchup
Regular BBQ sauce
Chili sauce
Honey-mustard or hot mustard
Garlic aioli
Ranch dressing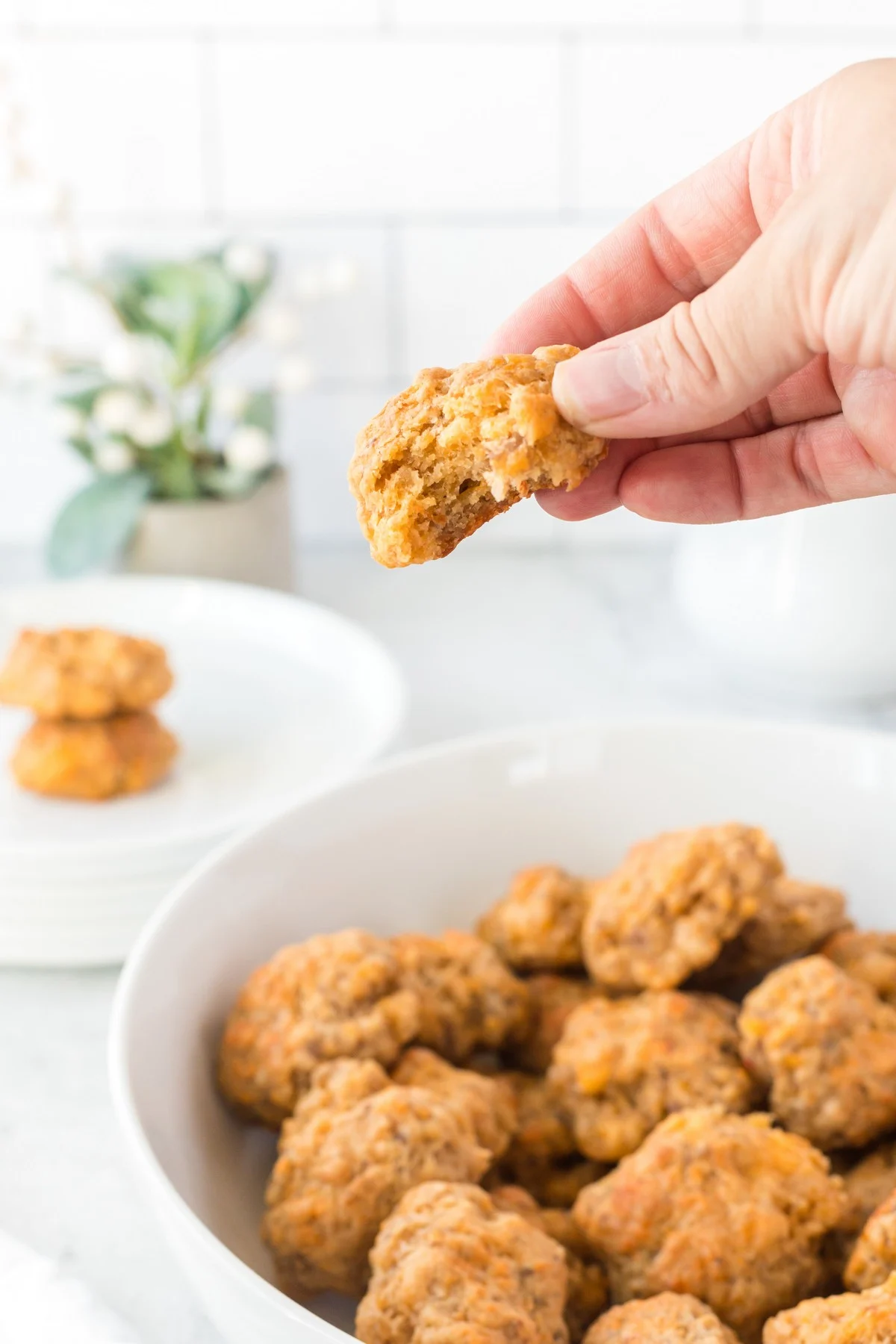 Recipe Variations
Gluten-free: If you need to make a gluten-free or low-carb version, Betty Crocker has options available for these as well.
Spices: Shake things up with different seasonings like Italian seasoning, paprika, cayenne, chives, Creole seasoning, or taco seasoning.
Cheese: While I prefer the taste of sharp cheddar in this recipe, test out other varieties like Gouda, Manchego, Colby, or even mozzarella for a more mild flavor.
Tips For The Best Recipe
Avoid pre-grated cheese: Freshly grated cheddar cheese will provide a lot more moisture to the Bisquick mixture than pre-grated cheese. Try to avoid it if possible.
Warm the sausage: Bring the ground sausage to room temperature before combining it with the Bisquick and cheese. This will release some of the grease and make mixing easier.
Wet your hands: To prevent the mixture from sticking to your hands, wet them with a little water before rolling the sausage balls.
Check the consistency: After mixing, make a test ball to see if it holds up. If not, add milk a tablespoon at a time until it sticks together.
Batch size matters: Keep your sausage balls uniform in size. This ensures even cooking and prevents some from being undercooked or overcooked.
Space them out: On the baking sheet, make sure the balls are spaced apart. This allows hot air to circulate around each ball, ensuring even browning.
Cook the pork safely: Use a meat thermometer to ensure the pork reaches a safe temperature. For ground meats, 160 degrees F is recommended by the USDA.
Chill before baking: If time allows, chill the formed balls in the refrigerator for about 30 minutes before baking. This helps them maintain their shape, resulting in a better texture.
How to Store Leftovers
If you have leftover Bisquick sausage balls, follow these simple storage tips:
Fridge: Transfer the baked sausage balls to an airtight container. They will keep for 3 to 4 days in the fridge this way.
Freezer: Once cooled, transfer the sausage balls to a freezer-safe bag or container. If stored properly, they will keep for up to 3-4 months.
Reheating: Cooked Bisquick sausage balls can be reheated again in the oven or microwave until warm. They won't turn out quite as moist and tender, but they are still delicious.
Can Bisquick Sausage Balls be Made in Advance?
To save time on the day of cooking, you can prep these Bisquick sausage balls beforehand. Mix and shape the balls, then freeze them on a parchment-lined pan until firm.
Transfer them to a freezer-safe bag or container, and keep them frozen for up to 1-2 months. If you'll be serving them within 1-2 days, you can store them in the fridge.
When you're ready to serve them, sausage balls can be baked straight from frozen. Just remember, you may need to tack on 5-10 minutes of bake time.
Additional Appetizer Recipes
Make an entire appetizer spread by serving these Bisquick sausage balls with other snacks and finger foods like these:
Frequently Asked Questions
Why are my Bisquick sausage balls dry?
Dry Bisquick sausage balls are commonly caused by a high ratio of Bisquick to sausage. Make sure you follow the measurements exactly as written. If you're still having issues, add a little milk or more sausage.
Why are my sausage balls greasy?
Using high-fat content sausage or overly oily cheese can make the balls greasy. Opt for a sausage with moderate fat content or balance it out with other ingredients.
Why are my sausage balls not sticking together?
If your sausage balls are crumbly or falling apart, it's likely because you used packaged shredded cheese or low-fat sausage. Add milk to make the mixture moist.
The mixture is too sticky to shape. What can I do?
If the mixture is overly sticky, you can refrigerate it for a bit to firm up or add a tad more Bisquick. But be careful not to add too much to avoid dry sausage balls.
How do I tell if the sausage balls are cooked?
The most accurate way to tell if the sausage balls are cooked is to use a meat thermometer, which should read 160F. Alternatively, you can break a sausage ball open around the 20-minute mark to ensure there is no longer pink in the middle.
My Bisquick sausage balls are hard. What went wrong?
Overbaking or setting the oven temperature too high can cause the balls to develop a hard crust. Always ensure your oven is calibrated correctly and watch the cooking time.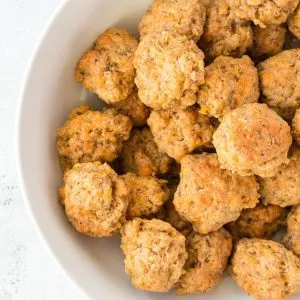 3-Ingredient Bisquick Sausage Balls
Make the best Bisquick sausage balls in no time! These bite-sized beauties feature sharp cheddar cheese, ground sausage, and Bisquick. Serve them at holiday parties or on game day for a quick, easy, crowd-pleasing appetizer.
Ingredients
2

cups

Bisquick

4

cups

sharp cheddar cheese

1

pound

ground pork sausage

(mild or spicy)

¼

cup

milk

(only if needed)
Instructions
Preheat your oven to 350°F degrees.

In a large bowl, combine the ground sausage, bisquick and shredded cheese.

Form into 24 golf ball sized balls and place on a baking sheet lined with parchment paper.

Bake in the preheated oven for 20 to 25 minutes, until golden brown and the sausage is cooked through entirely.

Remove and serve hot!
Nutrition
Serving:
6
ounces
Calories:
179
kcal
Carbohydrates:
7
g
Protein:
8
g
Fat:
13
g
Saturated Fat:
6
g
Polyunsaturated Fat:
1
g
Monounsaturated Fat:
5
g
Trans Fat:
0.04
g
Cholesterol:
33
mg
Sodium:
372
mg
Potassium:
81
mg
Fiber:
0.2
g
Sugar:
1
g
Calcium:
156
mg
Iron:
1
mg