Air fryer potatoes are the easiest side dish and perfect for a weeknight dinner! All you have to do is toss baby red potatoes with olive oil and seasonings, then pop them in the air fryer. You'll end up with crispy yet tender potatoes in under 20 minutes.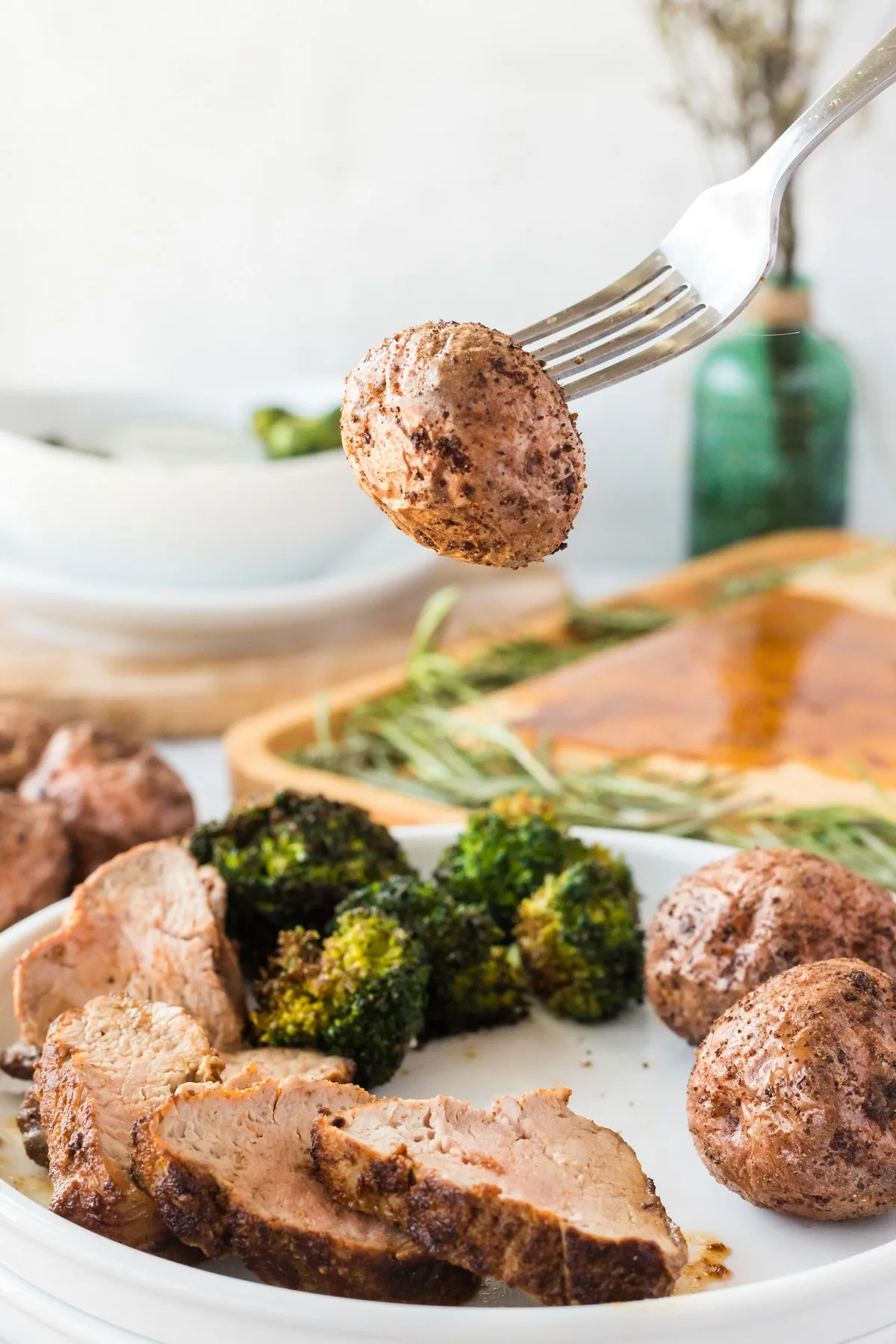 I don't know if it's just me, but the easiest recipes almost always end up tasting the best. There's just something about minimal prep work and cleanup that gets me every time!
Air fryer potatoes are the perfect side dish to serve alongside your favorite proteins and salads, making weeknight dinners a breeze. This side dish would be delicious served with a pot roast, roasted chicken, or other protein. You could even serve this side with a little garlic butter for dipping!
Why I Love this Recipe
Quick & easy: This simple recipe is ready in less than 30 minutes from start to finish.
Customizable: Add your favorite seasonings, choose different potatoes, or make it oil-free. The options are endless!
Affordable: The only required ingredients for this recipe are easily accessible and affordable in most places.
Healthy: Full of vitamins and minerals, air fryer potatoes can be part of a well-balanced and healthy diet.
Diet-friendly: This recipe is vegetarian/vegan-friendly and gluten-free.
What are the best potatoes for air frying?
You really can't go wrong with air frying most varieties of potatoes, but there are some that are better than others.
Baby potatoes, also known as new potatoes, are the young form of regular-sized potatoes. Since they are harvested early, they contain a higher sugar content, making them ideal for roasting and air frying. Here are a few of the top choices:
Baby gold: Due to the high sugar and low starch content, baby gold potatoes are among the best for air frying. They turn a beautiful golden brown, crisp up perfectly on the outsides, and stay creamy on the insides.
Baby red: Baby red potatoes contain more sugar and less starch than baby golds, meaning they crisp up even more! Similarly, the insides remain creamy and delicious.
Baby russet: Baby russet potatoes also work well for air frying. They turn fluffy and soft on the insides with similar crispiness on the outsides to baby red and gold. The flavor is milder, but they are still a great option!
Benefits of the air fryer
Saves time: No more long preheating times! Plus, the overall cook time is much less than in conventional ovens.
Crisps better: An air fryer will crisp up the outside of the potatoes perfectly while leaving the insides creamy, buttery, and soft.
Easy cleanup: Air fryers are simple to clean with a little soap, a sponge, and some water. Most models are non-stick and even dishwasher-safe!
Healthier than frying: Air frying is much healthier than deep frying. It reduces calories by almost 80% due to the limited amount of oil required in the cooking process.
My Favorite Air Fryer: Ninja Foodi Pressure Cooker, Slow Cooker, & Air Fryer
Ninja FD401 Foodi 12-in-1 Deluxe XL 8 qt. Pressure Cooker & Air Fryer that Steams, Slow Cooks, Sears, Sautés, Dehydrates & More, with 5 qt. Crisper Basket, Deluxe Reversible Rack & Recipe Book, Silver: Home & Kitchen
View Product on Amazon
Ingredients For Air Fryer Potatoes
See the full list of ingredients in the recipe card below.
Baby red potatoes: Sometimes labeled as "creamer" potatoes, baby red potatoes are my preferred choice. The next best options are baby gold potatoes, baby russet potatoes, or fingerling potatoes.
Olive oil: To toss the potatoes in, providing a crispy exterior. Opt for a high-quality extra-virgin olive oil whenever possible. If you don't have olive oil, use avocado oil or sunflower oil instead.
Salt & pepper: Potatoes require a generous level of salt, so don't worry about overseasoning them. Cracked black pepper adds just the right amount of bite.
Garlic & onion powder: I personally love the savory flavors of garlic and onion powder together. Feel free to mix up the seasonings to suit your taste. Try rosemary, thyme, or other dried herbs.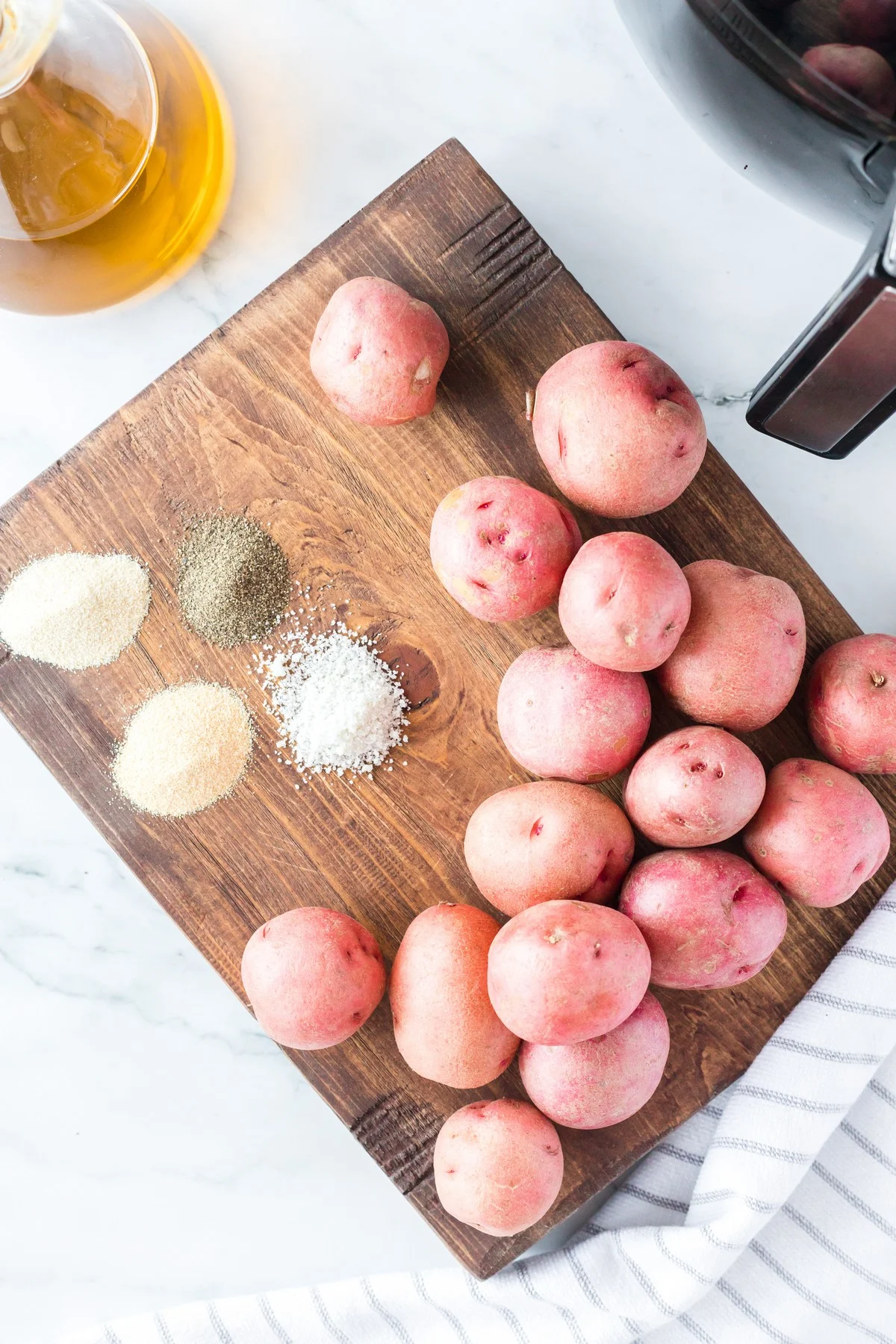 How to Make Air Fryer Potatoes
Step 1: Wash & season
Wash and dry the baby potatoes, then place them in a large mixing bowl. Drizzle them with olive oil, and sprinkle with salt, pepper, garlic powder, and onion powder.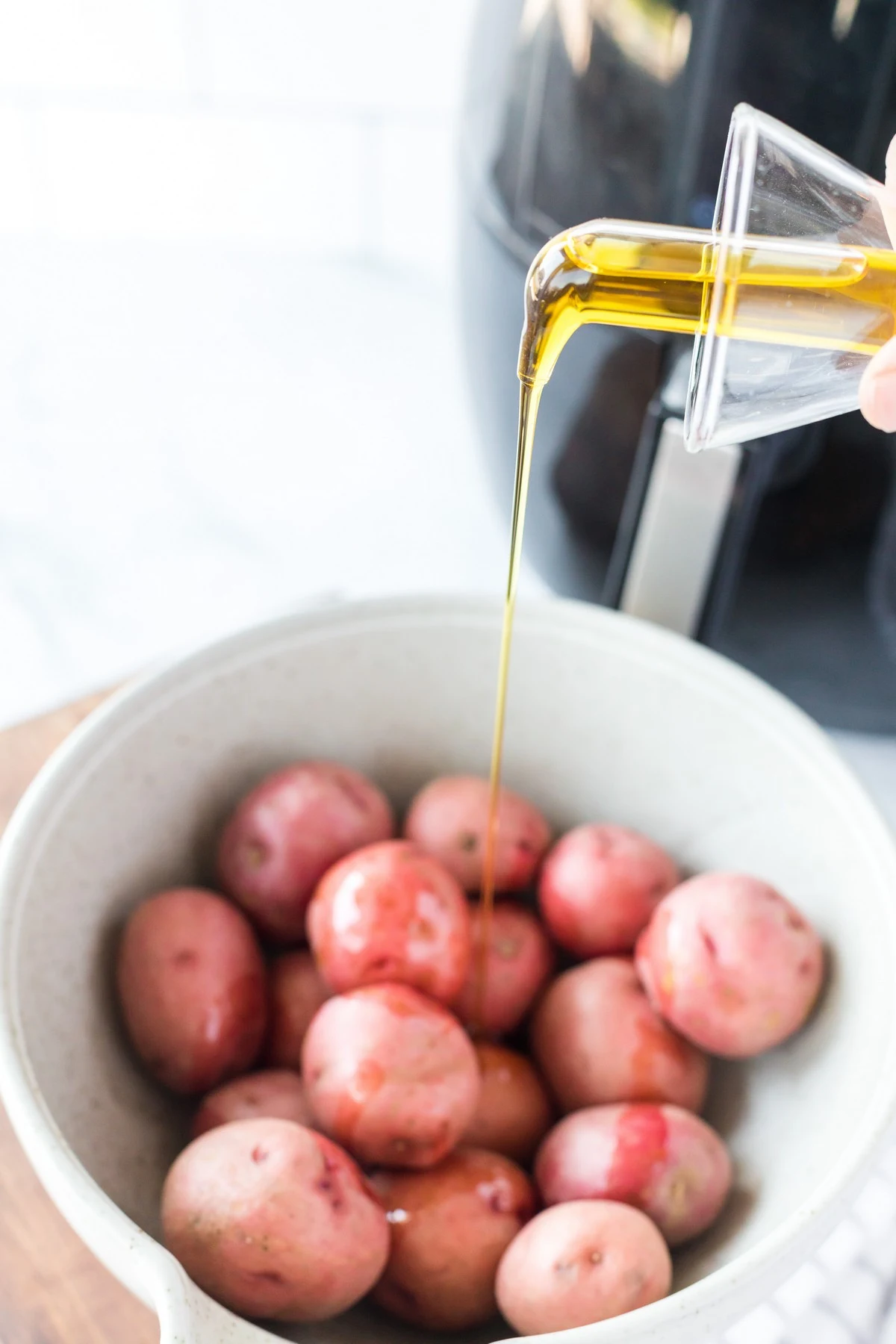 If you are using any other fresh herbs or spices, you can add them at this point as well.
Step 2: Air fry the potatoes
Set the temperature of your air fryer to 400°F, then add the potatoes to the air fryer basket in a single layer. Cook the potatoes for 20 minutes, making sure to remove the basket and shake it at the halfway point.
Continue air frying the potatoes for the remaining 10 minutes, or until they are fork-tender.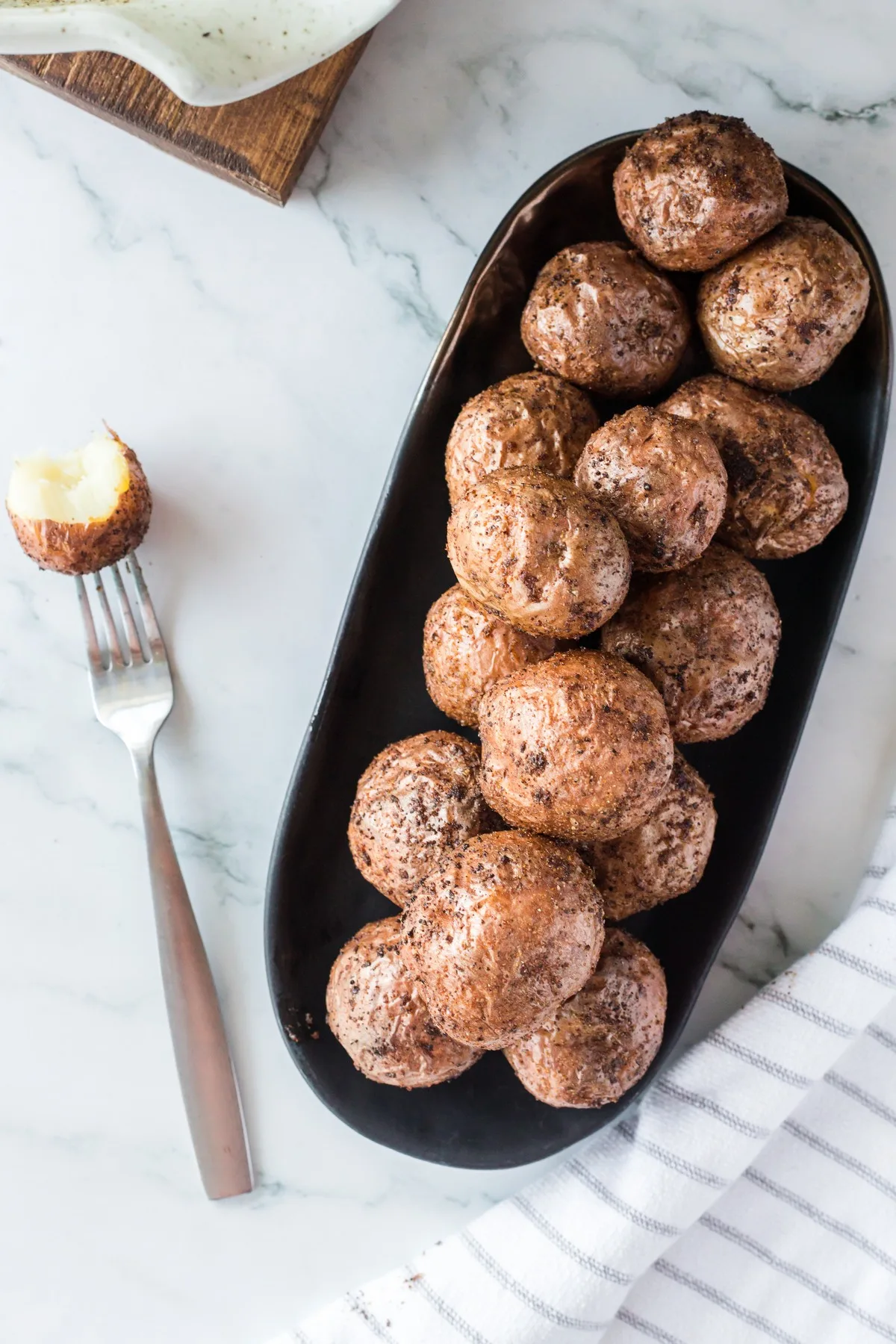 Step 3: Serve the potatoes
Immediately transfer the cooked potatoes to a serving bowl, and enjoy while warm!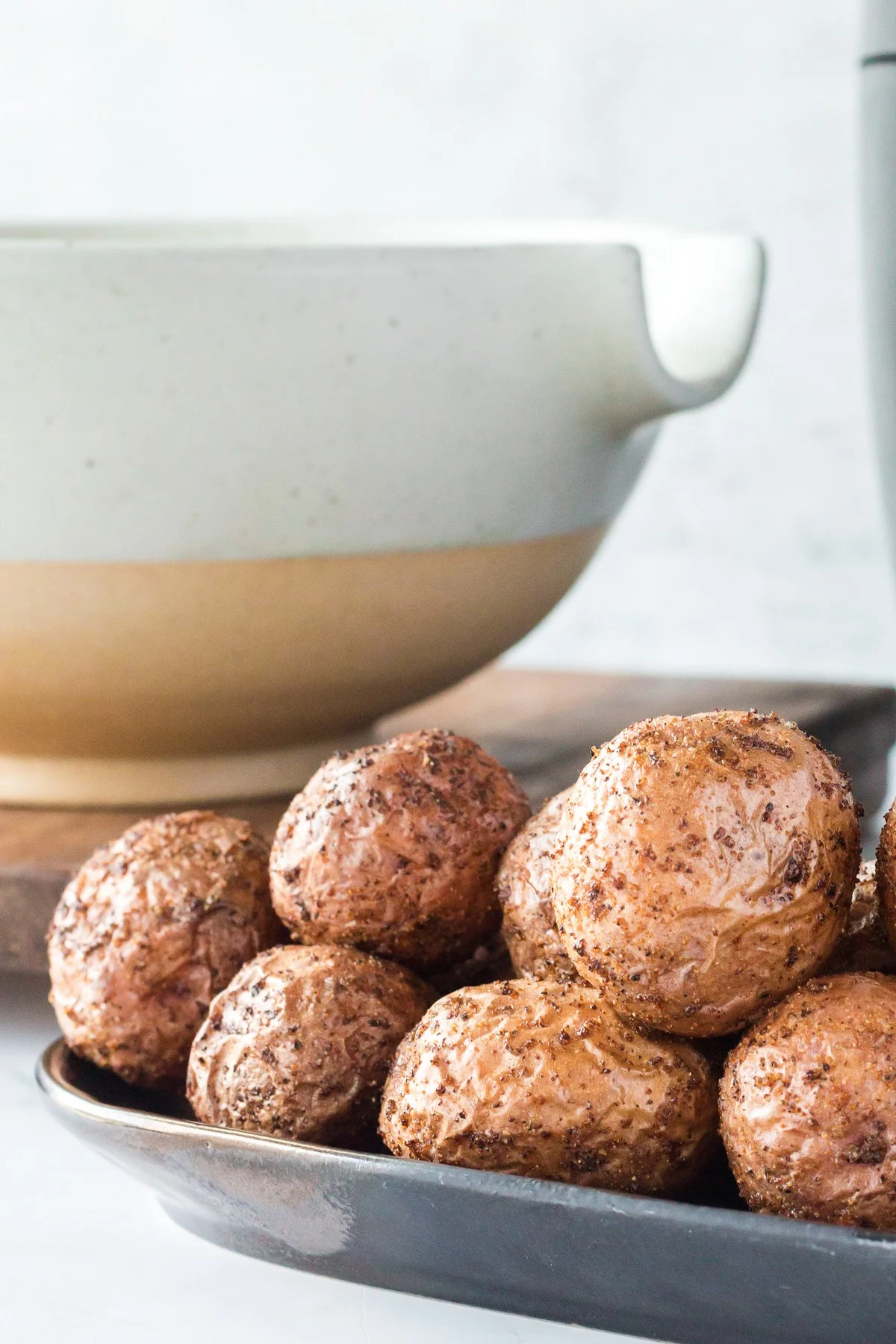 What To Serve With Air Fryer Potatoes
Air fryer potatoes make a delicious accompaniment alongside proteins like pork tenderloin, chicken breast, boneless prime rib, pulled pork, or dry rub ribs.
Serve them with a green bean casserole or salads like Caprese, Caesar, pasta salad, or spinach salad with warm bacon dressing for a complete meal.
Recipe Variations
Infused oil: Try using infused olive oil like rosemary, sage, garlic, or chili in place of regular olive oil.
Different herbs & spices: Switch up the flavors with seasonings like cumin, coriander, curry powder, turmeric, smoked paprika, cayenne, rosemary, sage, oregano, dill, chives, or thyme.
Potato varieties: Instead of baby red potatoes, try baby sweet potatoes. The total cook time may be slightly longer.
Tips For The Best Recipe
Cook in a single layer. Although this largely depends on the model of your air fryer, but for the crispiest results, make sure the potatoes are air fried in a single layer. Cook them in batches if need be.
Preheat the air fryer. Preheat the air fryer for a few minutes while you're washing and seasoning the potatoes. Although not entirely necessary, it helps reduce overall cooking time for most air fryers.
Coat the potatoes evenly. Toss the potatoes thoroughly with olive oil in a mixing bowl. This will ensure the skins turn out evenly crisped and seasoned.
What To Do With Leftovers
Fridge: Keep cooked potatoes in the fridge for up to 5 days in an airtight container.
Freezer: Cooked potatoes can be stored in the freezer for up to 6 months. Make sure they have completely cooled, then transfer them to a freezer-safe bag or container.
Reheat: You can air fry potatoes again at 400 degrees F for 10 minutes, checking to see if they have heated all the way through at the 8-minute mark.
More Air Fryer Recipes
If you enjoyed these air fryer potatoes, you need to try some more of my flavor-packed recipes made in this wonder appliance:
Frequently Asked Questions
Do I have to preheat the air fryer?
For the most consistent cook time and evenly cooked potatoes, you can preheat the air fryer for about 3-5 minutes. If your particular air fryer heats up quickly, don't worry about preheating it.
Should I soak potatoes in water before air frying them?
No, it's not necessary to soak potatoes in water before air frying them.
Why aren't my potatoes crispy?
Your potatoes may not be crispy enough for one of two reasons. Firstly, you may need to cook them longer. Secondly, ensure the potatoes have time to dry prior to air frying, especially if you're using a watery variety.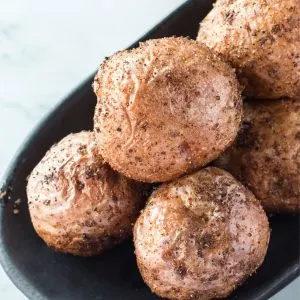 Crispy Air Fryer Potatoes
Air fryer potatoes are the easiest side dish and perfect for a weeknight dinner! All you have to do is toss baby red potatoes with olive oil and seasonings, then pop them in the air fryer. You'll end up with crispy yet tender potatoes in under 20 minutes.
Ingredients
1.5

pounds

baby red potatoes

(also labeled as "creamer" potatoes, these are about 1 inch in diameter.)

1

tablespoon

olive oil

1

teaspoon

kosher salt

½

teaspoon

fresh cracked pepper

1

teaspoon

garlic powder

1

teaspoon

onion powder
Instructions
Wash and dry potatoes. Place them in a large bowl and drizzle on olive oil and sprinkle with salt, pepper, garlic powder, and onion powder.

Add potatoes to the air fryer. Set temperature to 400 degrees. Set timer to 20 minutes. Press start. At 10 minute mark, halfway through cooking, remove the basket and shake. Place the basket back in air fryer and cook the remaining 10 minutes.

Place cooked potatoes in serving bowl. Serve immediately.
Nutrition
Serving:
4
ounces
Calories:
23
kcal
Carbohydrates:
1
g
Protein:
0.1
g
Fat:
2
g
Saturated Fat:
0.3
g
Polyunsaturated Fat:
0.2
g
Monounsaturated Fat:
2
g
Sodium:
388
mg
Potassium:
9
mg
Fiber:
0.1
g
Sugar:
0.03
g
Calcium:
2
mg
Iron:
0.1
mg