All you need is 4 ingredients and 20 minutes for beautiful pan-seared sea scallops. The savory crust from the cast iron gives the scallops a crispy texture on the outside while smooth and soft on the inside. This simple recipe is no fuss and a delicious accompaniment to a salad, pasta, risotto, or as an appetizer.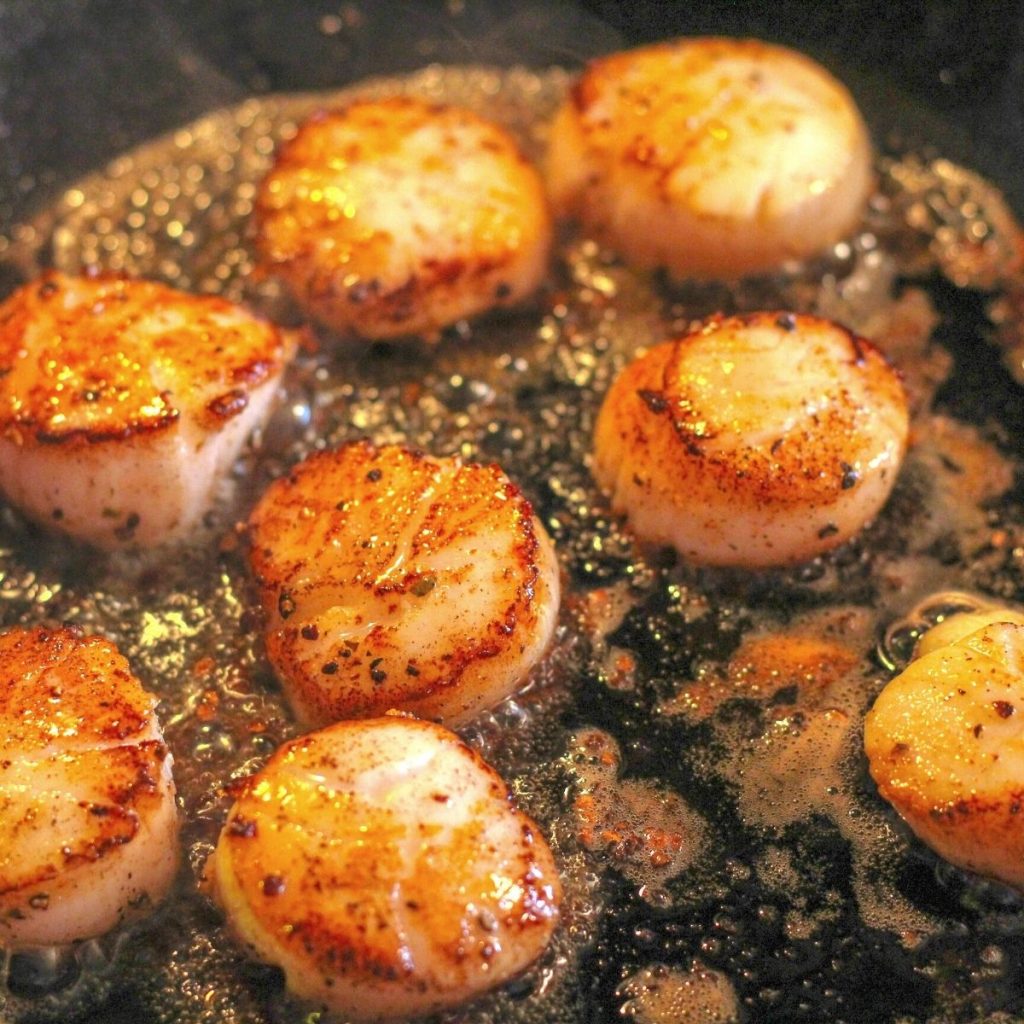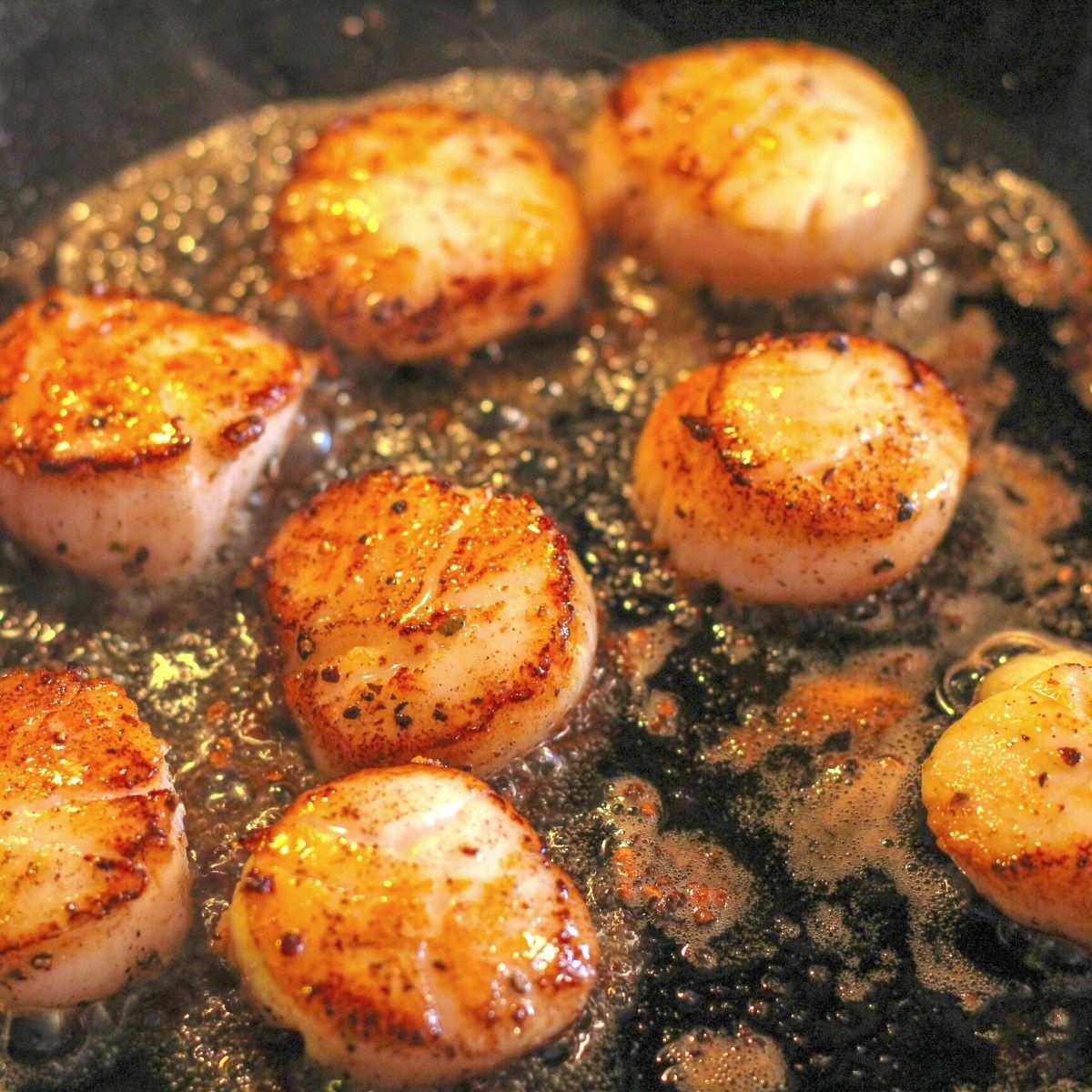 I've heard many times that preparing scallops is beyond a typical homecook's skill set. Well, this recipe will prove that wrong. There's really nothing to preparing this dish, just a little time to dry out the scallops, a few minutes in a pan, and then you are diving right into these beauties!
About Pan Seared Scallops
What are scallops?
Scallops are considered shellfish and are found in the ocean. There are two types of scallops: bay scallops and sea scallops.
Bay Scallops are typically found in bays or shallow waters on the East Coast. They enjoy hiding out in seagrass from predators.
Sea Scallops are found in much colder, deeper waters around the world. In the U.S. they are caught in the Northwest Atlantic Ocean, from the Newfoundland areas down to North Carolina.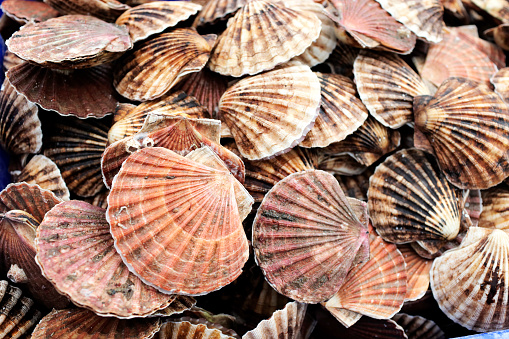 Both bay scallops and sea scallops are found inside of what we call sea shells. In fact, by clapping their shells together, they can really scurry across the ocean floor to escape larger predators.
Bay scallops vs. sea scallops
The most noticeable difference between the bay scallops and sea scallops is the size. Sea scallops are much larger (about 1 inch in diameter) than bay scallops, which are about the size of your thumbnail.
You can find scallops year-round, but scallop season peaks during the late fall and winter. If you want the freshest catch, the last few months of the year are best.
Big or small, scallops have a delicate, rich flavor and are full of protein! They have a slightly sweet flavor of saltwater "essence" but are not overly fishy.
Tips for Buying Scallops
When buying sea scallops, it's important to look at the location where they were harvested. Choose scallops that are wild-caught and harvested within the U.S.
Although a little more expensive, wild caught seafood is much more sustainable and higher-quality than farm-raised.
When you are buying seafood, always spring for the extra cost for better quality, taste, and nutritional value.
If you are in a land-locked state, fresh seafood is always more difficult to come by. Search around for a local butcher who can guide you to a place that sources fresh seafood, or invest in a sustainable seafood subscription box.
It's completely ok to purchase frozen scallops! In fact, unless you are buying them right off the East Coast, frozen will more than likely be your only option.
What you don't want to do, is purchase them from a supplier who caught them, then froze them, and shipped them to a store where they were then defrosted and put on ice for a few days.
Any kind of meat or seafood that endures this process is losing a lot of quality and nutritional value. I recommend this for all of your seafood purchases for recipes like a low country boil, crab cakes, or shrimp dishes.
Easy Pan Seared Scallop Recipe
This is an easy but elegant recipe that is a delicious upgrade to a weeknight dinner or for a special occasion. Just scallops, butter, and salt is all you need!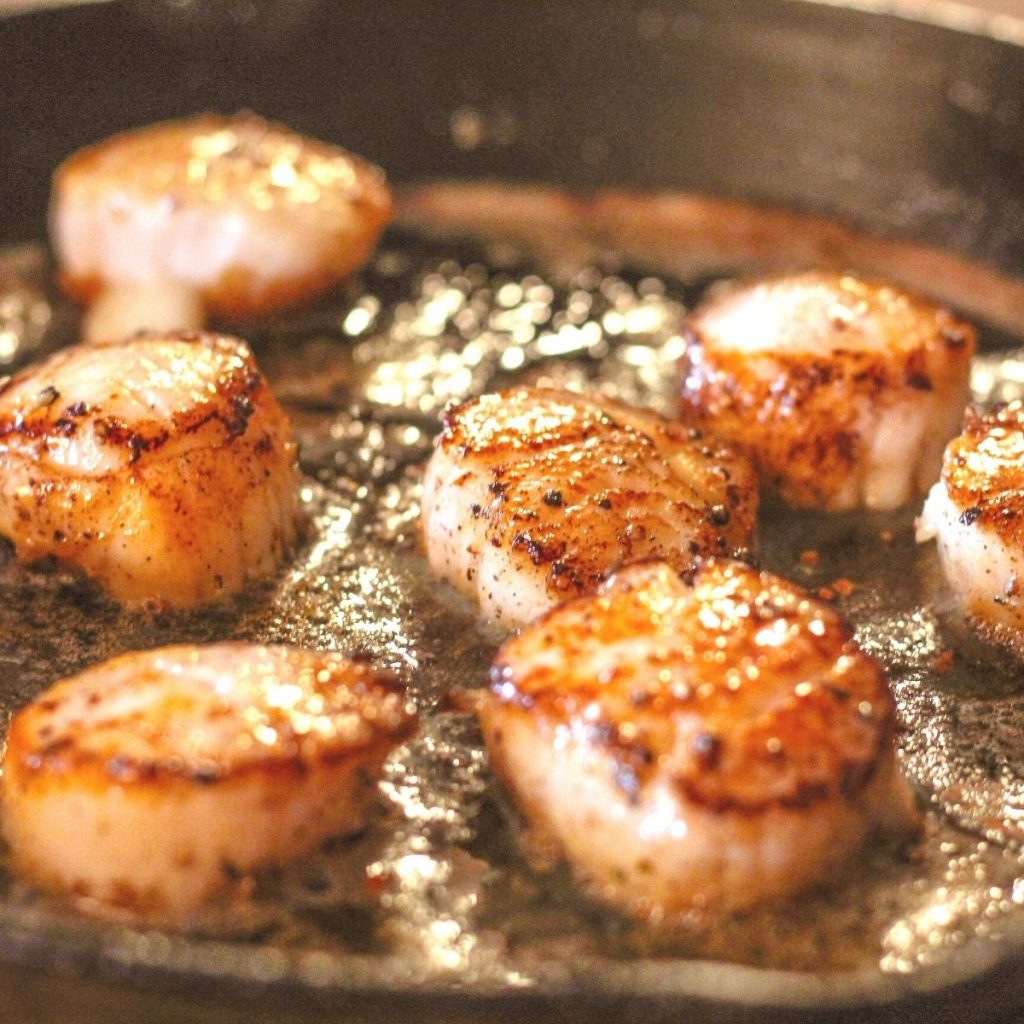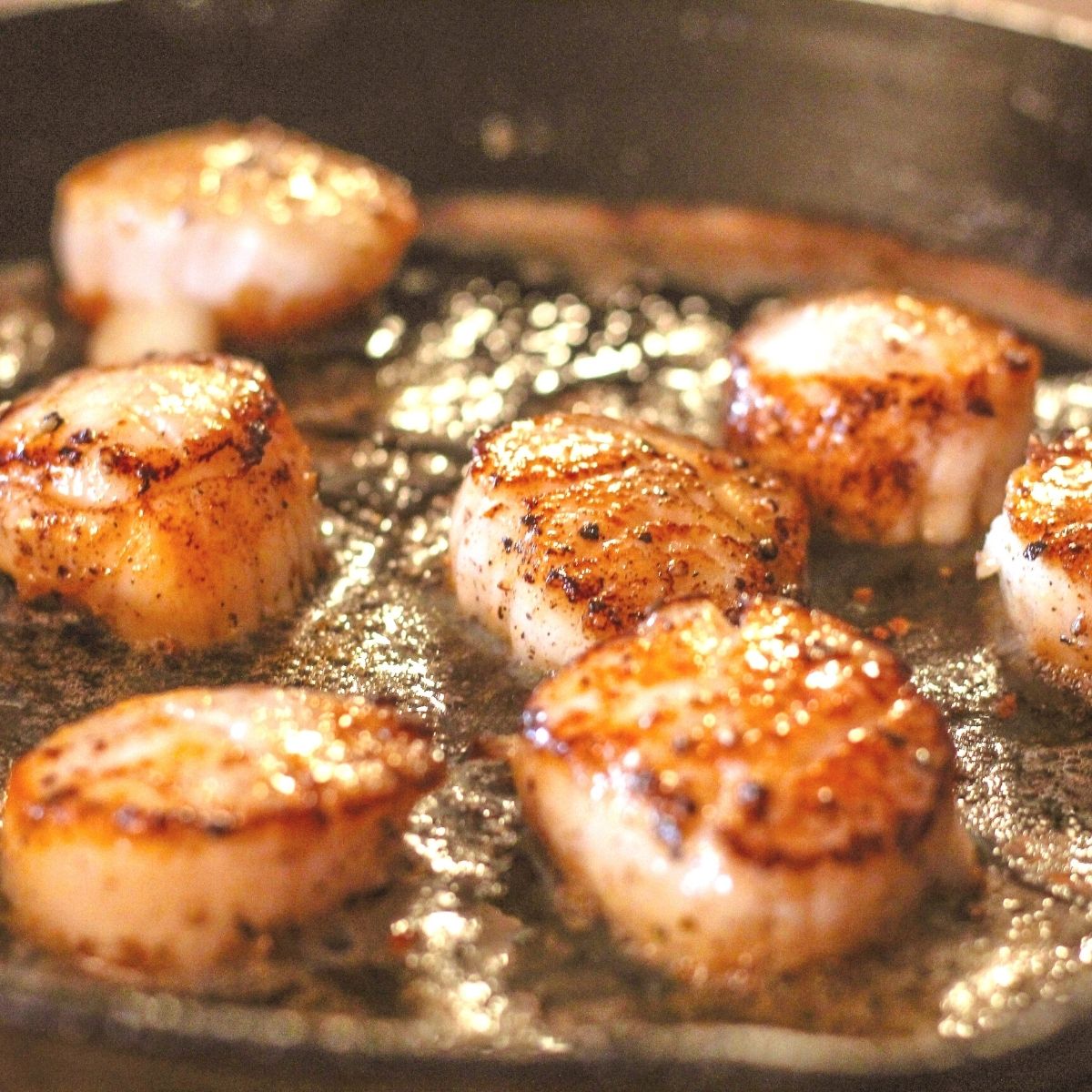 My favorite part about this recipe is that there's no extra fuss with lemon, garlic, breadcrumbs, or anything else. You really, really, don't need all of that with scallops. They do a superb job of the flavor speaking for themselves!
How to prepare scallops
There are a few really important things to know when cooking any scallop. Please, do not skip this step! If the scallops aren't completely dried, they will release moisture when they cook and will not give you that browned crust.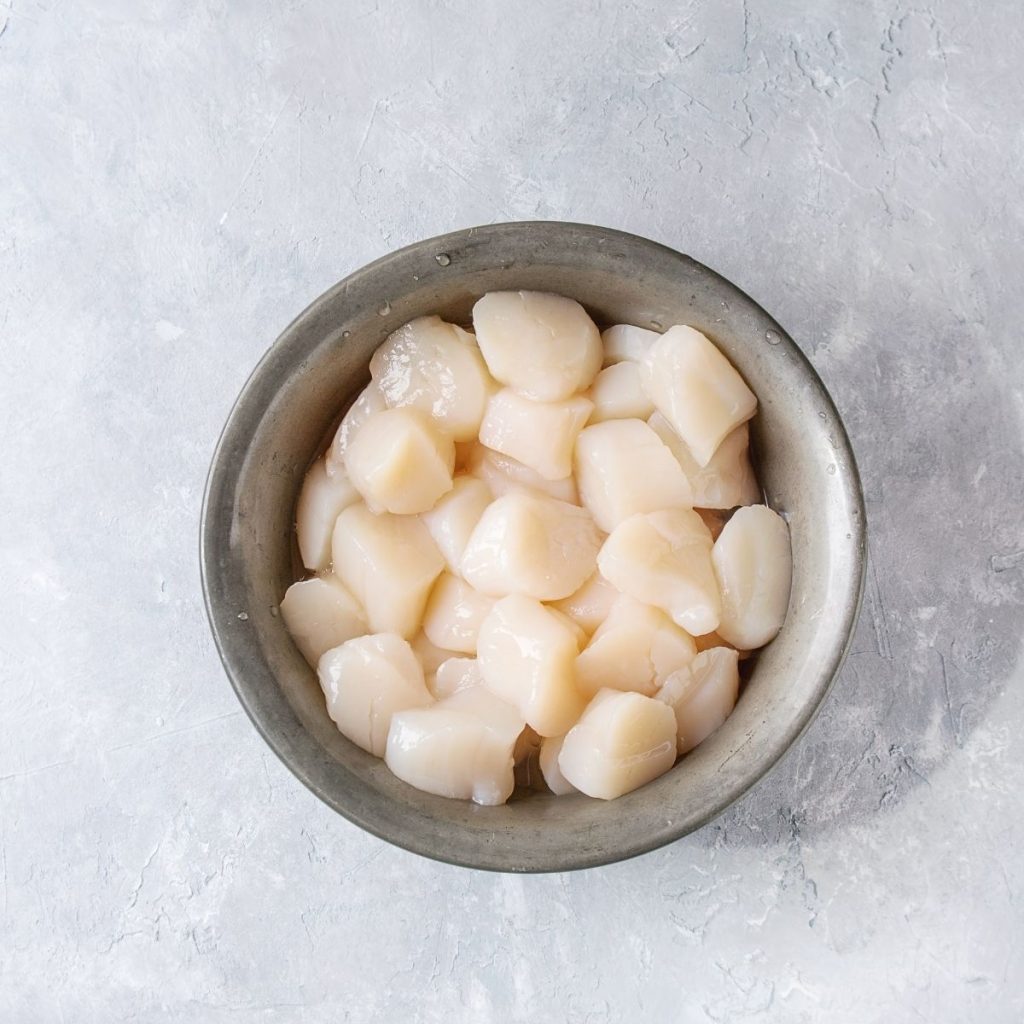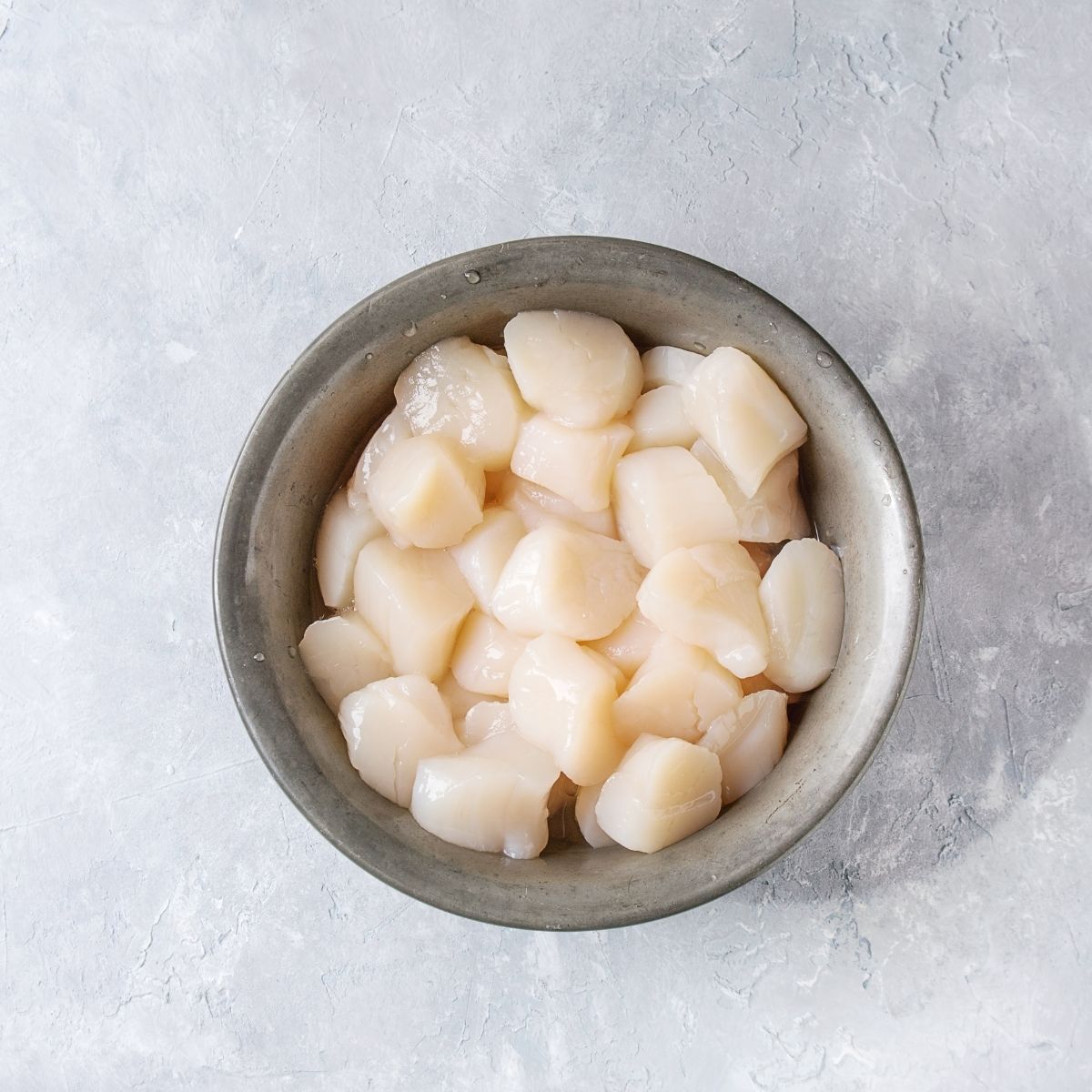 No matter if you are working with bay or sea scallops, they must be fully defrosted before you begin to prepare them. After the scallops are completely defrosted, lightly rinse them under cool water in a strainer.
To prepare scallops for searing, pat all sides of each scallop with a paper towel. You want to draw as much moisture out of them as possible to get that nice savory crust.
As I am patting them dry, I place them on a paper-towel lined baking sheet. Then, salt them generously with kosher salt, place another layer of paper towels on top. Then, place a baking sheet on the top to "sandwich" the scallops between the paper towels to continue to remove the moisture from the scallops.
How to cook sea scallops
After the scallops have "rested", you are ready to cook. Remove the layer of paper towel and baking sheet from the top of the scallops.
How to sear sea scallops
To sear scallops, I like to use a cast iron skillet. You can also use enameled cast iron, both will do just fine.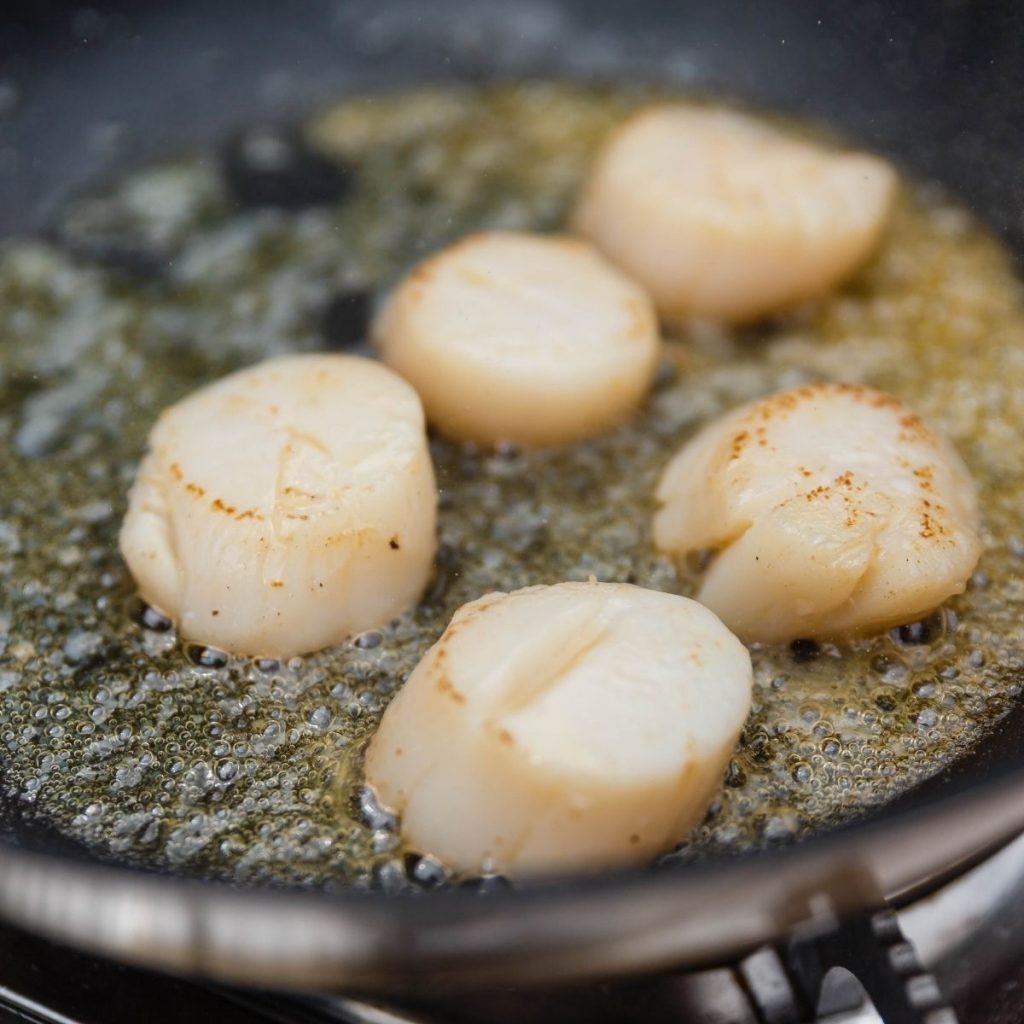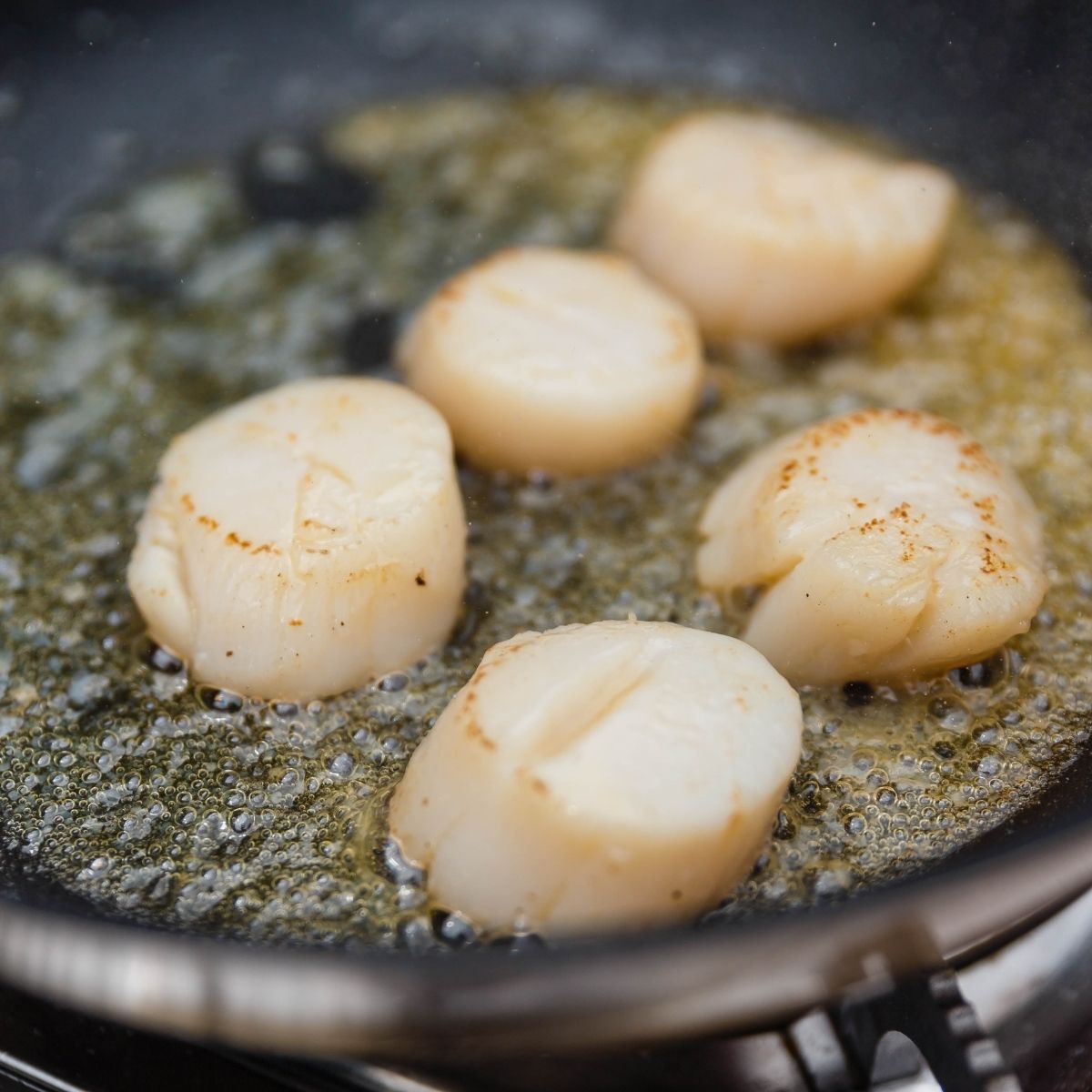 Cast iron holds heat more evenly than other skillets, which is why it's my choice for searing anything!
When you are searing, you want to be sure the skillet and butter are really good and hot. Because butter can burn easily, I like to use a little oil, too. This gives the butter a "buffer" and prevents it from burning in the pan.
Burned butter can ruin a dish, so be careful with this step.
As you place your scallops in the skillet, make sure you are leaving plenty of space between them for the maillard reaction – the browning process. Give them about 1 inch between each other to breathe.
When the scallops hit that piping hot skillet, you should be able to hear it and see it!
How long to cook sea scallops
Searing takes only about 5 minutes total and is really the best way to cook scallops. Place them in the skillet and wait 2-3 minutes, then turn them and do the other side for 2-3 minutes.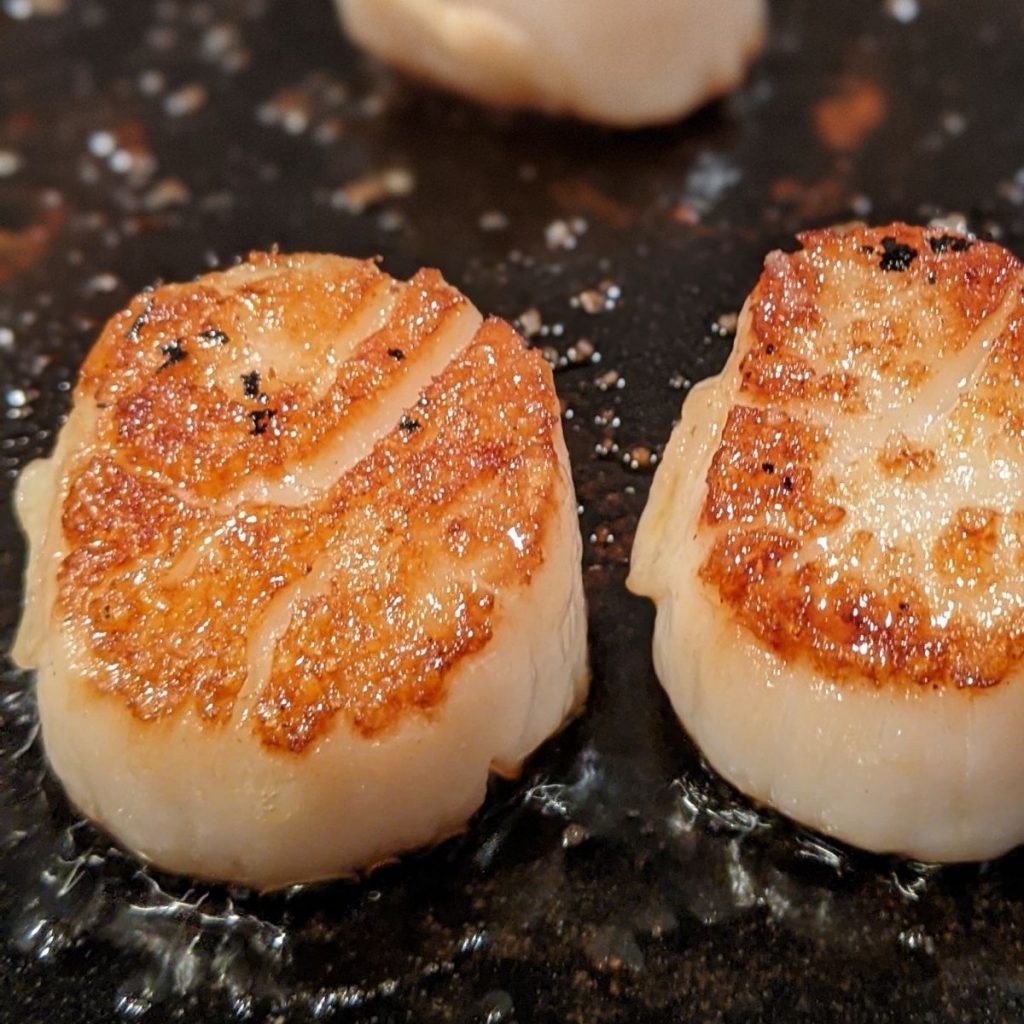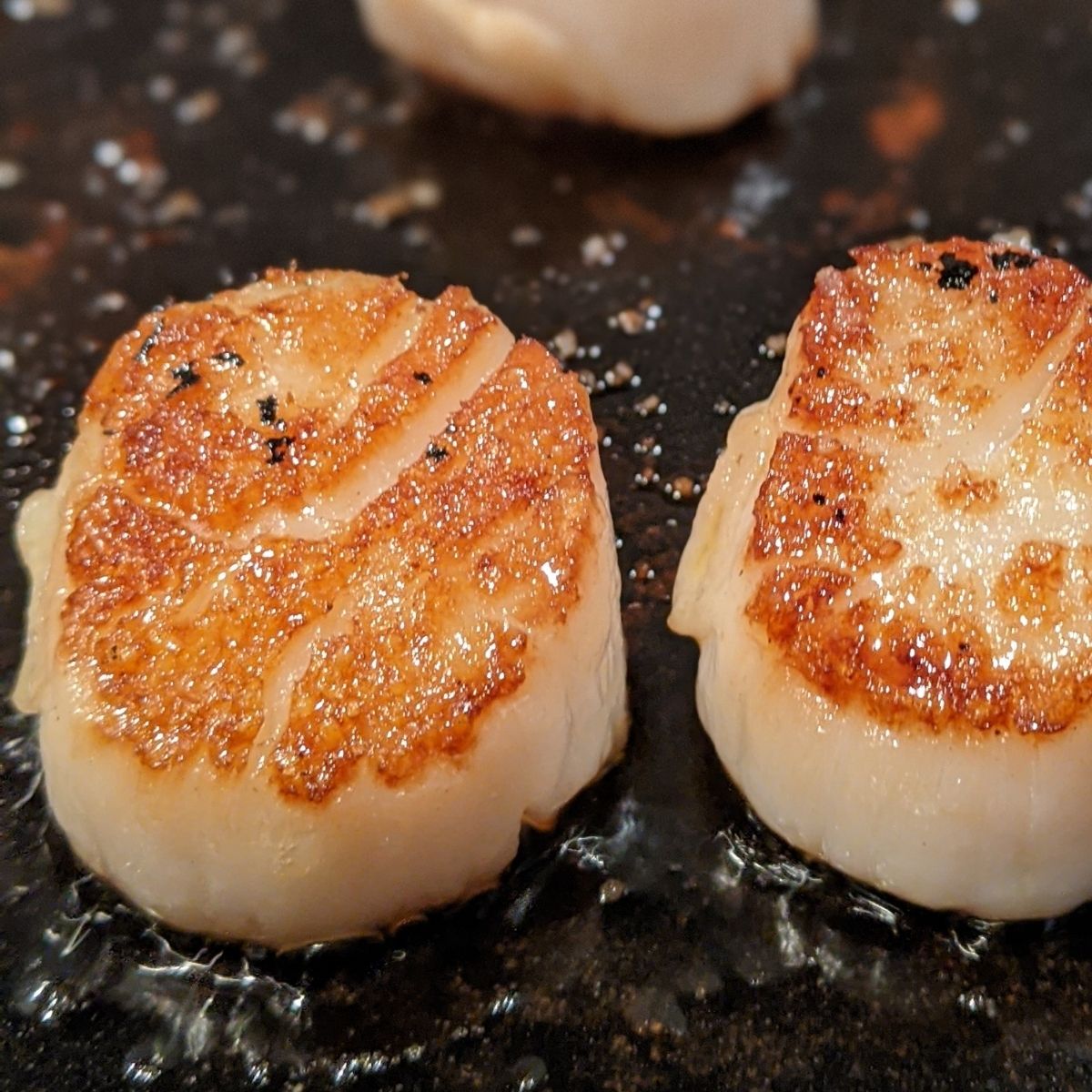 If the scallops stick when you are ready to flip the scallops to the opposite side, give them a few more seconds and try again. You might have to do a little twist motion with the tongs, but it should release easily.
If they do not release, it could be because your cast iron skillet isn't properly seasoned or it wasn't hot enough when you added the scallops.
If you need to, turn down the heat a notch or two, then try again but be patient or you'll leave behind that crust. It will release when it's ready and shouldn't burn doing this process.
After you flip them, add more butter to the pan and baste the tops of the scallops for added flavor and thorough cooking.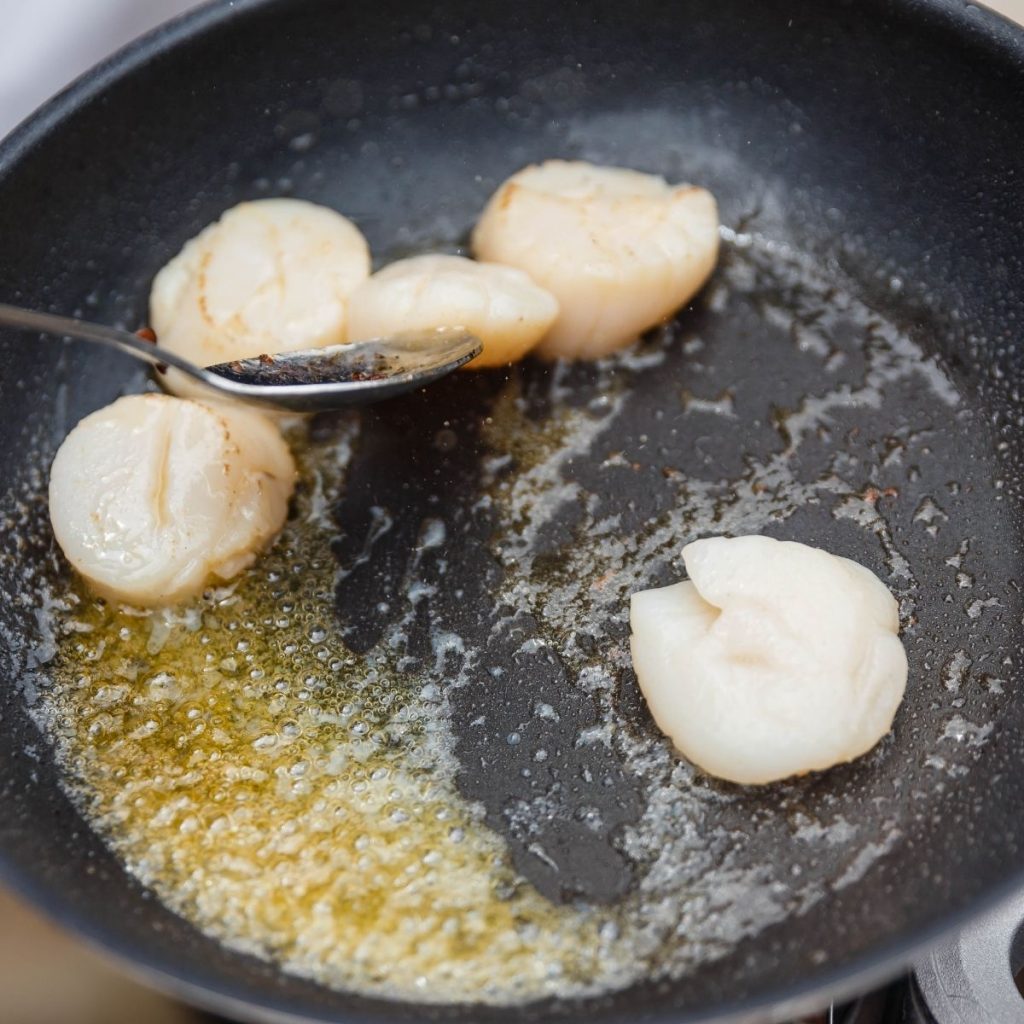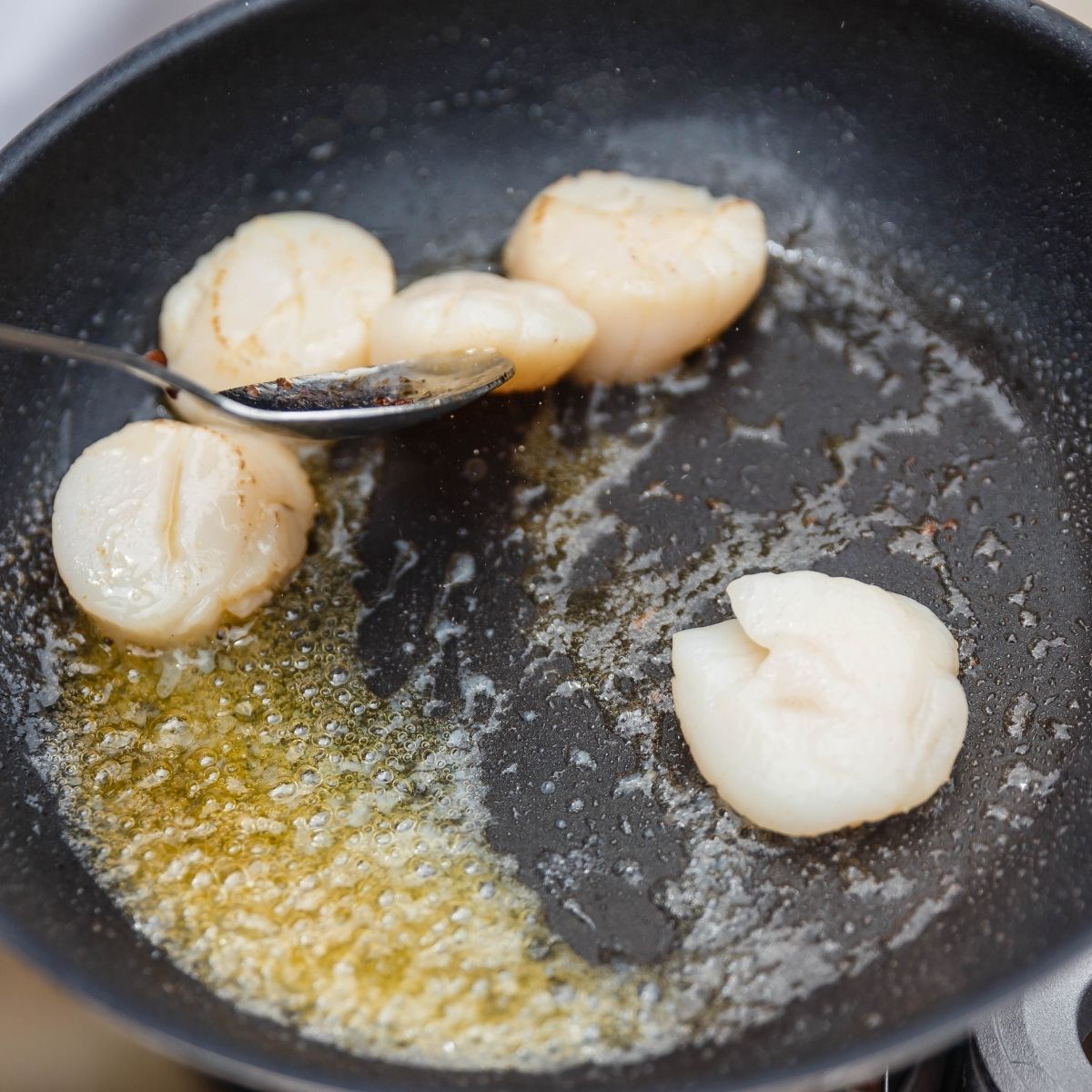 I like to use a set of tongs for turning instead of a spatula. Using a spatula can get tedious with the small pieces, and you could end up tearing the scallops.
What to serve with sea scallops
I love to use this scallop recipe as a main course, and pair with a green salad, risotto, or roasted vegetables as a side dish.
Make it a meal with these recipes:
Roasted asparagus
Sautéed green beans
You can also toss them with pasta – swirling cooked spaghetti in the pan with the scallops and remaining butter. Then, top with a little lemon and/or freshly grated parmesan.
More Seafood Recipes:
Seared Sea Scallops FAQ
Why won't my scallops sear?
If you're scallops aren't searing, it could because the scallops weren't patted dry enough. Scallops have a lot of moisture inside of them, which is why it's important to draw out that moisture with the paper towels and salt.

This is the case for other searing methods, too.

What is the best way to sear scallops?
In a hot cast iron skillet with butter and oil. It only takes 2-3 minutes on each side to get that perfectly seared crust on the outside.
What to pair with scallops?
Scallops are an excellent main course to pair with roasted vegetables, rice, salad, pasta, or risotto.

You can also toss them with cooked spaghetti or linguine in the same pan they were cooked in for a delicious pasta dish.
What is the best oil to cook scallops?
You can use olive oil, sunflower oil, or any other oil with a high smoke point.
Why do my scallops stick to the pan?
Your pan may not have been hot enough before you put the scallops in or your pan isn't seasoned properly.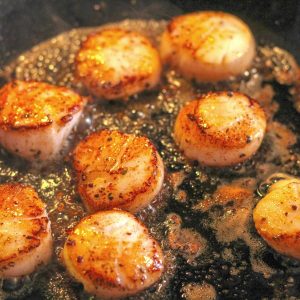 Seared Sea Scallops
All you need is 4 ingredients for beautiful pan-seared sea scallops. The savory crust from the cast iron gives the scallops a crispy texture on the outside while smooth and soft on the inside. This simple recipe is no fuss and a delicious accompaniment to a salad, pasta, risotto, or as an appetizer.
Ingredients
1 – 1 ¼

pounds

dry sea scallops

(approximately 16)

2

teaspoons

unsalted butter

2

teaspoons

olive oil

Kosher salt
Instructions
Prepare the Scallops:
Working with defrosted scallops, place them in a collander and rinse under cool water.

Remove the excess moisture by patting each scallop dry with paper towels. One-by-one, place on a paper towel-lined baking sheet. Season with kosher salt.

Then, place another layer of paper towels on top of the scallops, then follow with another baking sheet.

Set aside for 15 minutes.
Sear the Scallops:
Add 1 teaspoon of butter and the oil to a well-seasoned cast iron skillet (or enameled cast iron), over medium-high heat.

When the skillet is hot, gently add the scallops leaving 1-inch of space between each. You may need to do this in batches depending on how many scallops you are preparing.

Sear the scallops for 1 1/2 minutes. Then, flip to the other side.

After flipping, add the remaining teaspoon of butter to the skillet and baste the scallops with butter using a large spoon.

The scallops should have a 1/4-inch golden crust on each side while still being translucent in the center. Serve immediately.
Notes
Please read the entire post for details, tips, and more!
Nutrition
Serving:
4
Calories:
194
kcal
Carbohydrates:
8
g
Protein:
29
g
Fat:
5
g
Saturated Fat:
2
g
Polyunsaturated Fat:
3
g
Cholesterol:
63
mg
Sodium:
1024
mg