Low Country Shrimp Boil recipe is a hassle-free and affordable way to feed a crowd. Corn-on-the-cob, red potatoes, shrimp and kielbasa sausage are cooked in one pot, and poured out on the table for serving.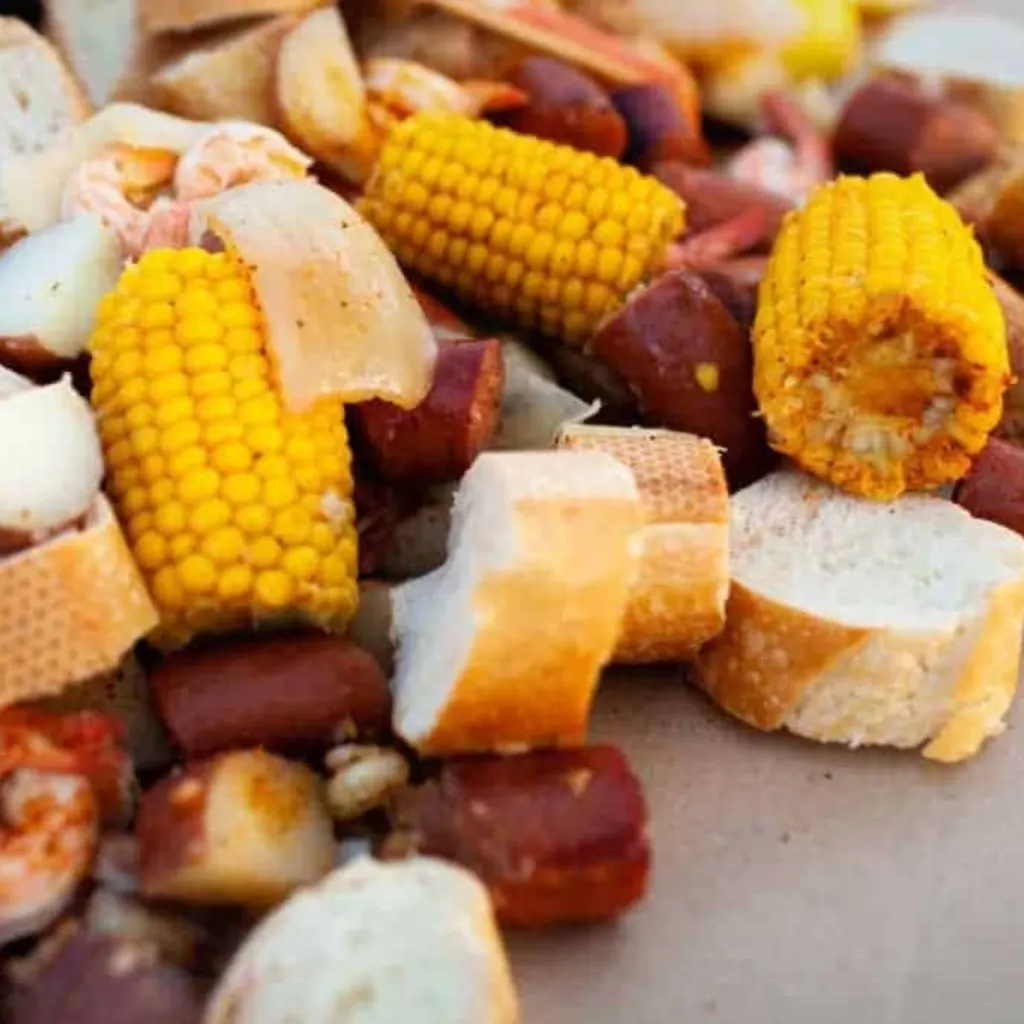 This is a great spread for spring and summer entertaining! When the weather is nice, we find ourselves hosting a lot more, so having this recipe in my back pocket has been key.
A Low Country Boil is super easy and it's an absolute one-pot meal. No need for sides or anything else to go with this dish. It's the meat and three all-in-one kinda deal. But you may consider tossing a few crusty baguettes out, and definitely lots of melted butter.
If you need an inside alternative, consider my sheet pan shrimp boil. Made all on one pan and indoors!
My mother has made this for many years and it stands tried and true without a single substitution or edit. From someone who never follows a recipe, that's really saying something!
What is a Low Country Boil?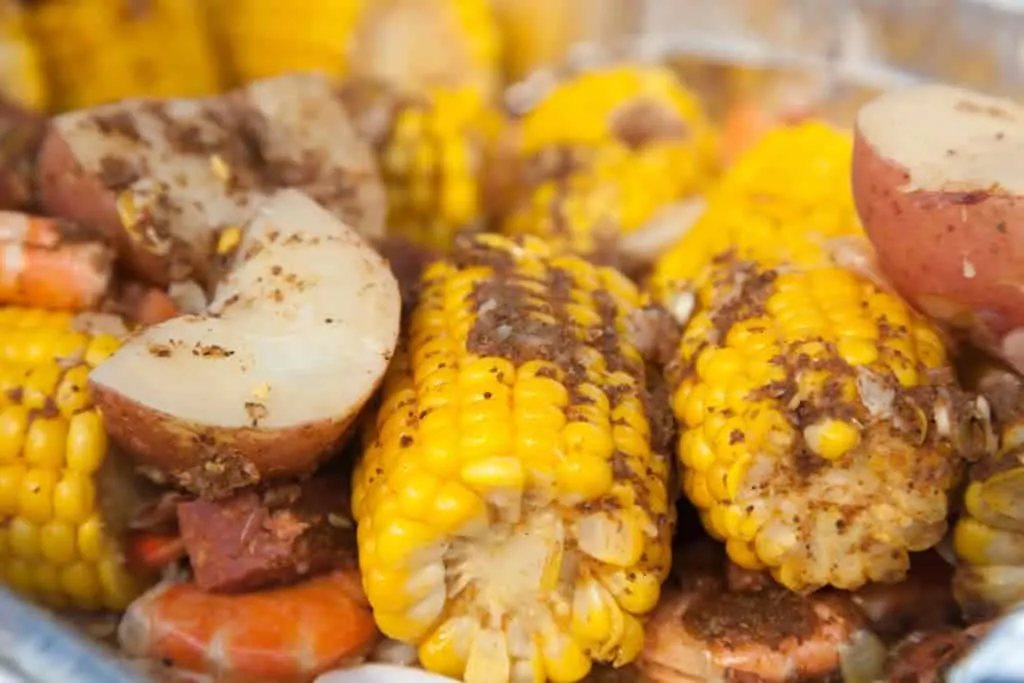 A Low Country Boil is basically a one-pot feast of deliciousness made with regional staples. Louisiana, South Carolina and New England all have their own variations. Since I grew up close to the Gulf Coast, we generally do this Cajun Style and with fresh shrimp.
I've always had this meal made with shrimp or crawfish. But traditionally, it includes in-season seafood, vegetables, spicy sausage and lots of flavorful seasonings, all tossed in a pot and boiled.
Once finished cooking, it's poured out onto newspaper or butcher paper and eaten by hand. It's best enjoyed outdoors with a few cold ones!
Finish with a slather of butter and douse in McCormick OLD BAY® Seasoning. It is so delicious you will certainly forget to take decent pictures throughout the process. It really doesn't get much better than this, y'all!
Serving a Shrimp Boil Inside and Outside
Low Country Boil can be served indoors or outdoors, but it is a little messy. Keeping this out on the deck or picnic table will make cleanup much simpler.
Serving Outdoors:
You will definitely want an outdoor table that can get a little dirty. Cover it with a tarp, then newspaper or butcher paper. The paper will absorb liquid after you dump the meal onto the table for serving, so this piece is key!
If you are planning on catching the game and chowing down, make check out my tailgating recipe round up.
Serving Indoors:
If you get rained out and need to serve indoors, no sweat! This can easily be made in a large stockpot on the stove. Serve in extra-deep, disposable 9 x 13 inch aluminum pans.
Making this inside? Try an Instant Pot Low Country Boil or a Lazy Low Country Boil (with peeled shrimp) on the stove top.
How to Prepare for a Shrimp Boil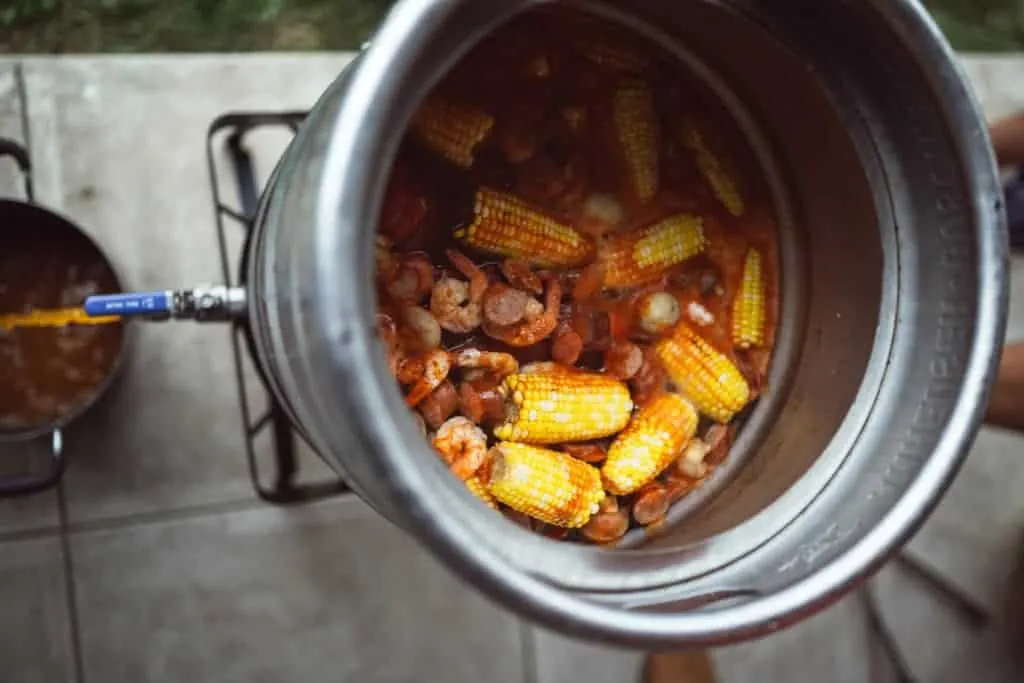 Organization is key! There are a few different cook times for each ingredient, so having everything prepped ahead of time will save you a lot of hassle. If your gatherings get a little chaotic, like our house, this will help the cook tremendously.
Your corn cobs and sausage should be cut accordingly, shrimp (or other sea-creature) should be rinsed, lemons and onion halved and potatoes should be scrubbed.
Figure out if you are cooking inside or outside. Then, prepare your ingredients and line them up in the order they are cooked.
Last but not least, make sure you have a pair of strong arms and water-proof pot holders to transfer the food onto whatever serving apparatus you may be using.
*Please be extremely careful when transferring the food from the boiling water to the table. Drain your boiler well! Be mindful of dripping, boiling water and little ones under your feet.*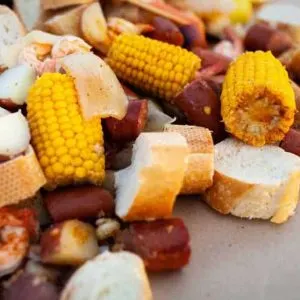 Low Country Shrimp Boil
Low Country Shrimp Boil recipe is a hassle-free and affordable way to feed a crowd. Corn-on-the-cob, red potatoes, shrimp and kielbasa sausage are cooked in one pot, and poured out on the table for serving. 
Ingredients
1

Box ZATARAIN'S® Crawfish

(Shrimp and Crab Boil in a bag, Use both bags!)

2

Lemons

(Halved)

2

Onions

(Halved)

5

pounds

New Potatoes

(Whole)

3 16

oz

Pkg Kielbasa Sausage

(Cut into 1 inch pieces)

8

Ears Corn

(Halved & Husked)

5

pounds

Raw Shrimp

(unpeeled!)

1

Can Beer

(optional)

1

Stick Butter
Instructions
Fill a 7-gallon stockpot halfway with water (or use 2 large pots and divide the ingredients between them). Add the seasoning bags (2), lemons and onions and bring to a rolling boil.

Add the whole potatoes to the pot. Allow the water to return to a boil and cook 5-8 minutes. Check the tenderness with a fork.

After 8 minutes, add the corn halves. Bring the water back to a boil and cook 5 minutes.

Add sausage to the pot. Cook for 5 minutes, or until the potatoes are easily pierced with a fork.

Turn off the heat. Add the shrimp, and cook until the shrimp turns pink, about 3 minutes. Be careful to not overcook the shrimp!

Carefully drain the boiler or stockpot. Add several pats of butter and sprinkle with Old Bay. Serve on newspaper or a platter.
Notes
Shrimp, Crab, Crawfish, Lobster can all be used in this recipe.
If your shrimp is peeled before cooking, carefully monitor during cooking process so to not overcook.
Nutrition
Serving:
1
Calories:
518
kcal
Carbohydrates:
39
g
Protein:
30
g
Fat:
27
g
Saturated Fat:
10
g
Polyunsaturated Fat:
15
g
Cholesterol:
216
mg
Sodium:
1553
mg
Fiber:
4
g
Sugar:
5
g