The Best Beef Stew Recipe! Made with tender pieces of beef, carrots, and potatoes, this thick and hearty beef stew is a classic, old fashioned recipe and the ultimate comfort food. With an Irish twist of Guinness, the ingredients work together to create their own savory broth, without flour or any thickening agents. This easy recipe can be adapted to the slow cooker or the stove top.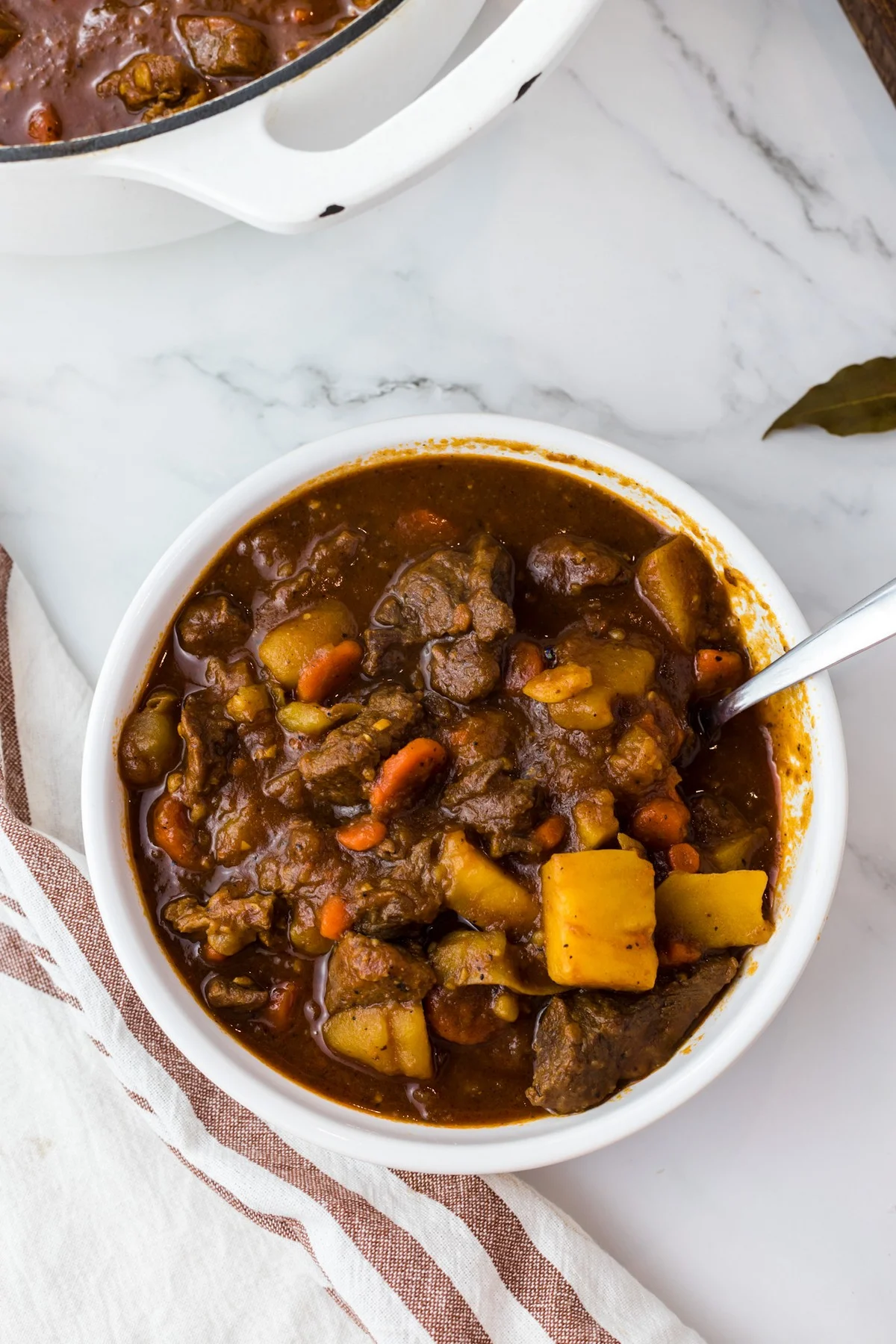 So many rich savory flavors pour into this one-pot meal! This is the perfect recipe to prepare on a cold night. With a few simple steps, you will have a delicious, tender beef stew!
If you haven't guessed by now, the Irish twist to this beef stew recipe is the added flavors of Guinness. With this addition, the Guinness works to thicken up the mixture of herbs and stock into a savory broth. The alcohol completely cooks out no matter what method you use.
If you are opposed to using Guinness, it can be left out and replaced with broth instead.
About Irish Beef Stew
Traditionally, Irish stew is made with the neckpieces of lamb or mutton. I know that's difficult for some readers to find, so we are keeping it simple by using beef instead of lamb.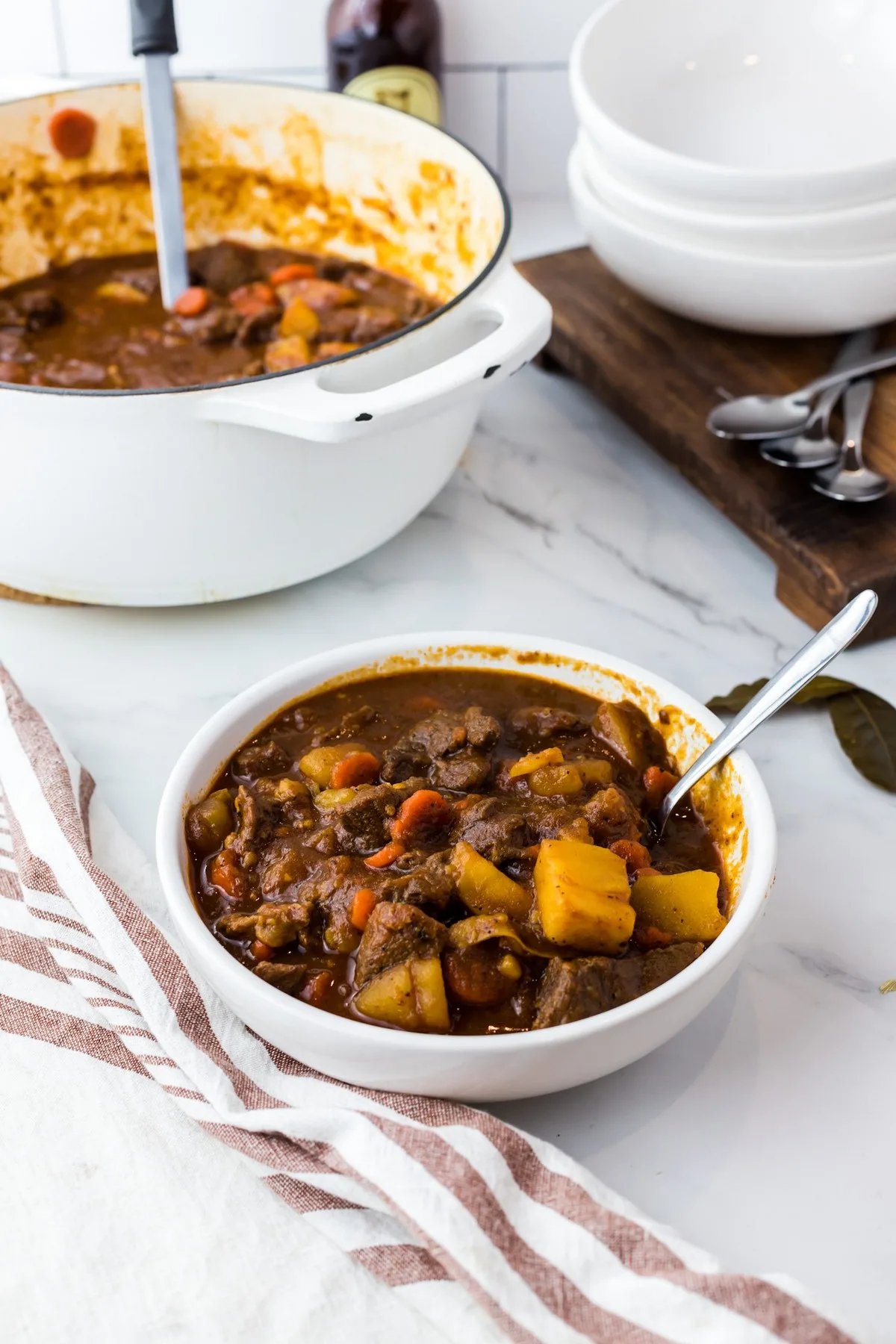 If you are an Irish stew purist, you can certainly use the same amount of lamb in place of beef for this recipe.
Ingredients for Irish Stew
Beef: This recipe calls for chuck roast, but you can also use stew meat or beef cubes instead. Chuck roast is a much more tender cut of beef which makes it perfect for roasting, stews, and soups.
Seasonings: This recipe calls for a variety of dried and fresh seasonings to create the delicious flavors. You can use dried and fresh ingredients interchangeably when needed. (garlic, dried thyme, bay leaves, Worcestershire sauce, parsley)
Natural thickening agents: The tomato paste, beer, and butter work together to create the rich, thick, and hearty broth that adds so much flavor to this savory stew! You will not need any cornstarch or flour for this recipe.
Vegetables: If needed, different types of potatoes can be used in this recipe in place of Yukon gold potatoes, like red potatoes or white potatoes.
Quarter-sized baby potatoes and baby carrots are a great way to save time during prep. You can also find pre-diced onion in your produce section, or give a halved onion a whirl in the food processor instead.
Beer: Using a heavy beer like Guinness, gives stews additional flavor and richness. Any heavy beer, like a porter or stout, will work with this recipe. The addition of beer may also be omitted and replaced with the same amount of beef broth.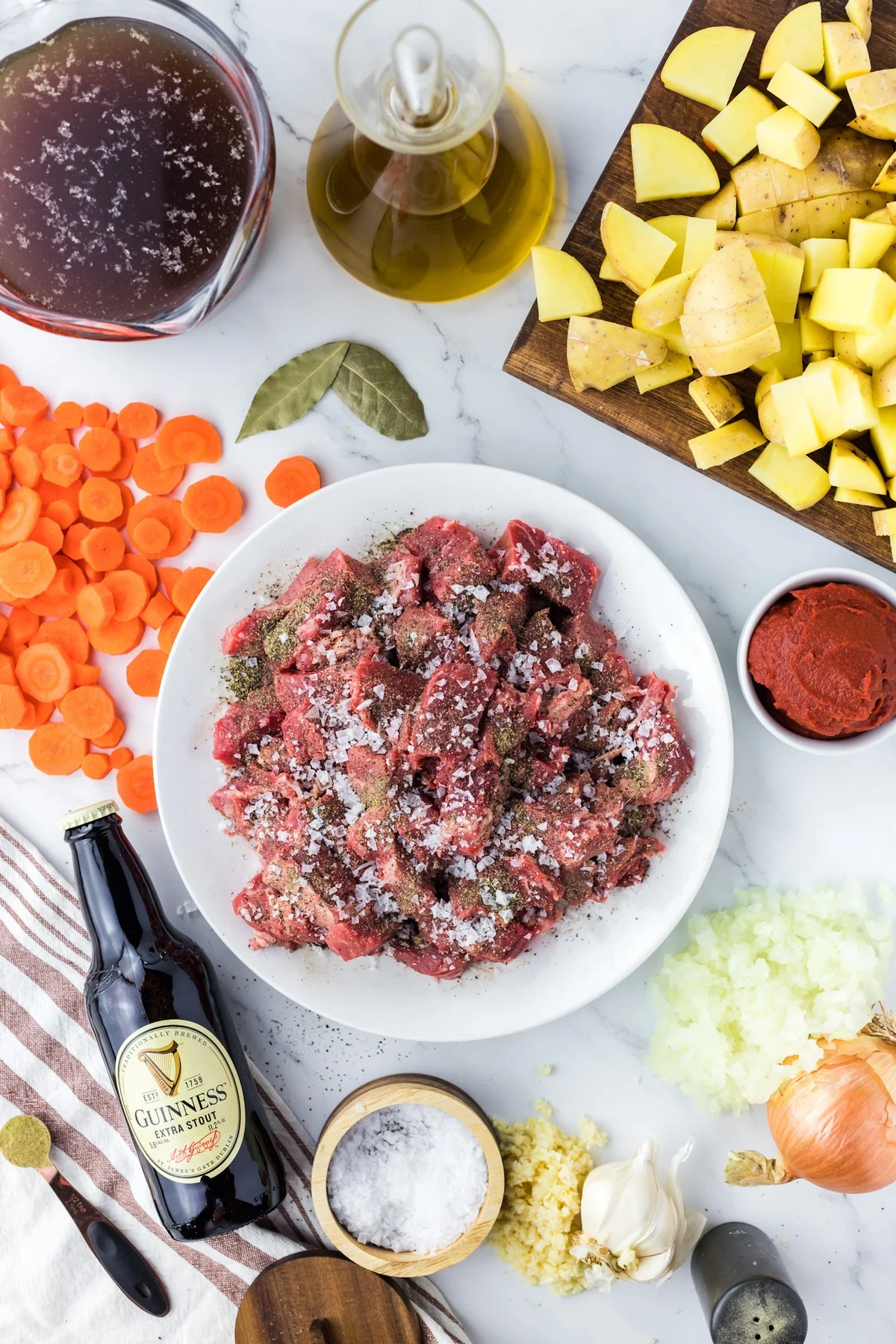 What to Serve with Guinness Beef Stew
Many people serve their stews over a pillow of mashed potatoes (pressure cooker mashed potatoes here!).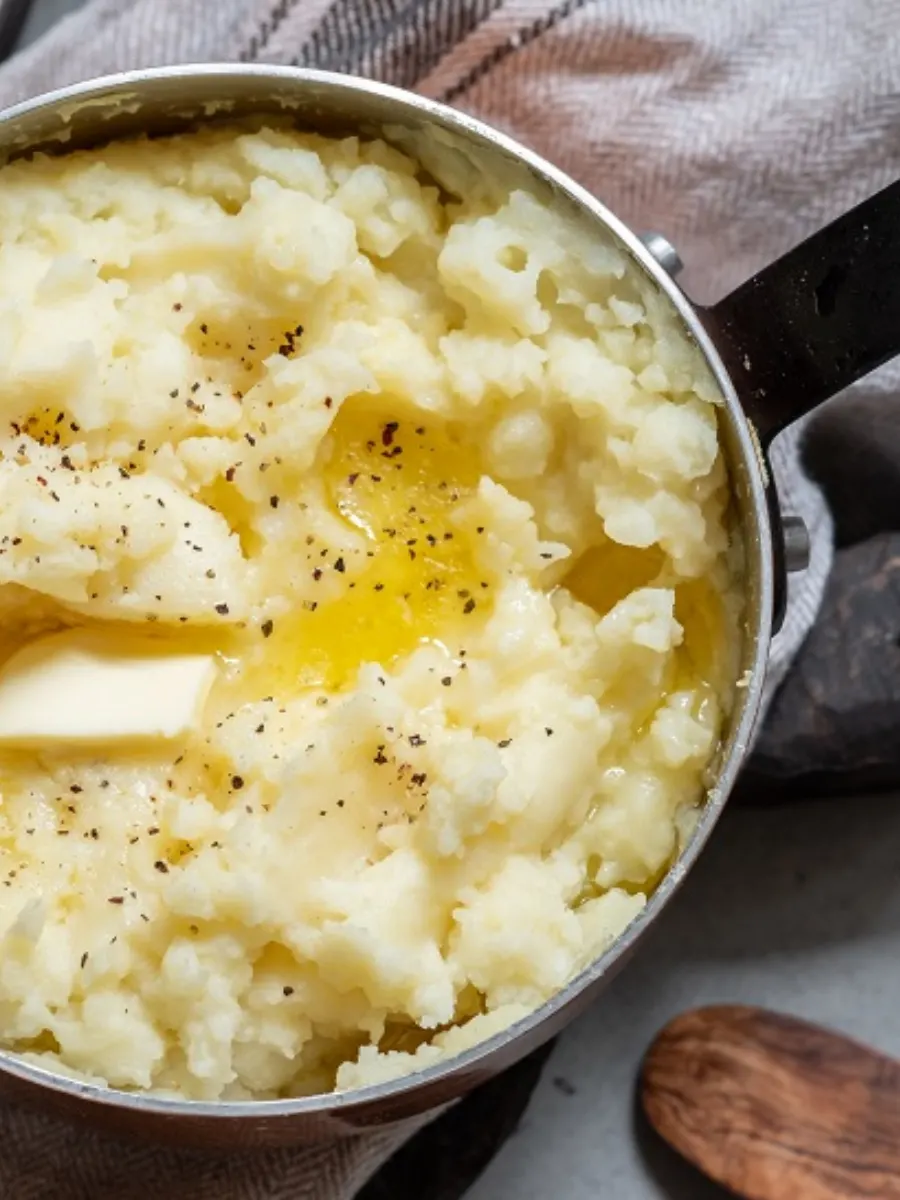 You could also serve this alone, with bread, salad, or over rice or egg noodles to stretch the leftovers.
How to Make Irish Beef Stew on the Stovetop
Most recipes will have you coat the beef in flour, then brown. This thickens the soup and (arguably) adds more flavor to the pot. However, I choose to skip this step and simply brown the meat with a little salt and pepper.
If you are using cubed meat, pat the cubes dry on all sides and season with salt and pepper.
If you are using roast meat or another "whole" cut of beef, either leave it whole to shred when the cooking is done, or you can cube the meat into half-inch pieces. Then, pat dry and season.
Patting meat dry before searing and seasoning, helps to draw the moisture out of the meat and helps it form a flavorful crust as it is browned.
To make this on the stove, I suggest using a large dutch oven or a heavy-bottomed pot – about 7 quarts or larger. If you do not have a dutch oven, a large soup pot or stock pot will work well for this recipe.
Enameled cast iron works really well for recipes like this because it retains heat for longer and distributes heat more evenly than a regular pot. Because it's enameled, it's easy to clean, too!
Instructions
To start, cut the chuck roast into cubes, pat dry, and season.
Working in batches, carefully add the beef to the pot. Don't crowd the beef as we want the meat to sear instead of steam.
After each batch is browned on all sides, remove the beef to a plate and set aside. Then, sauté the onion in butter until tender.
Quickly stir in the garlic being careful not to burn – just long enough to "wake up" the flavor and aroma of the minced garlic.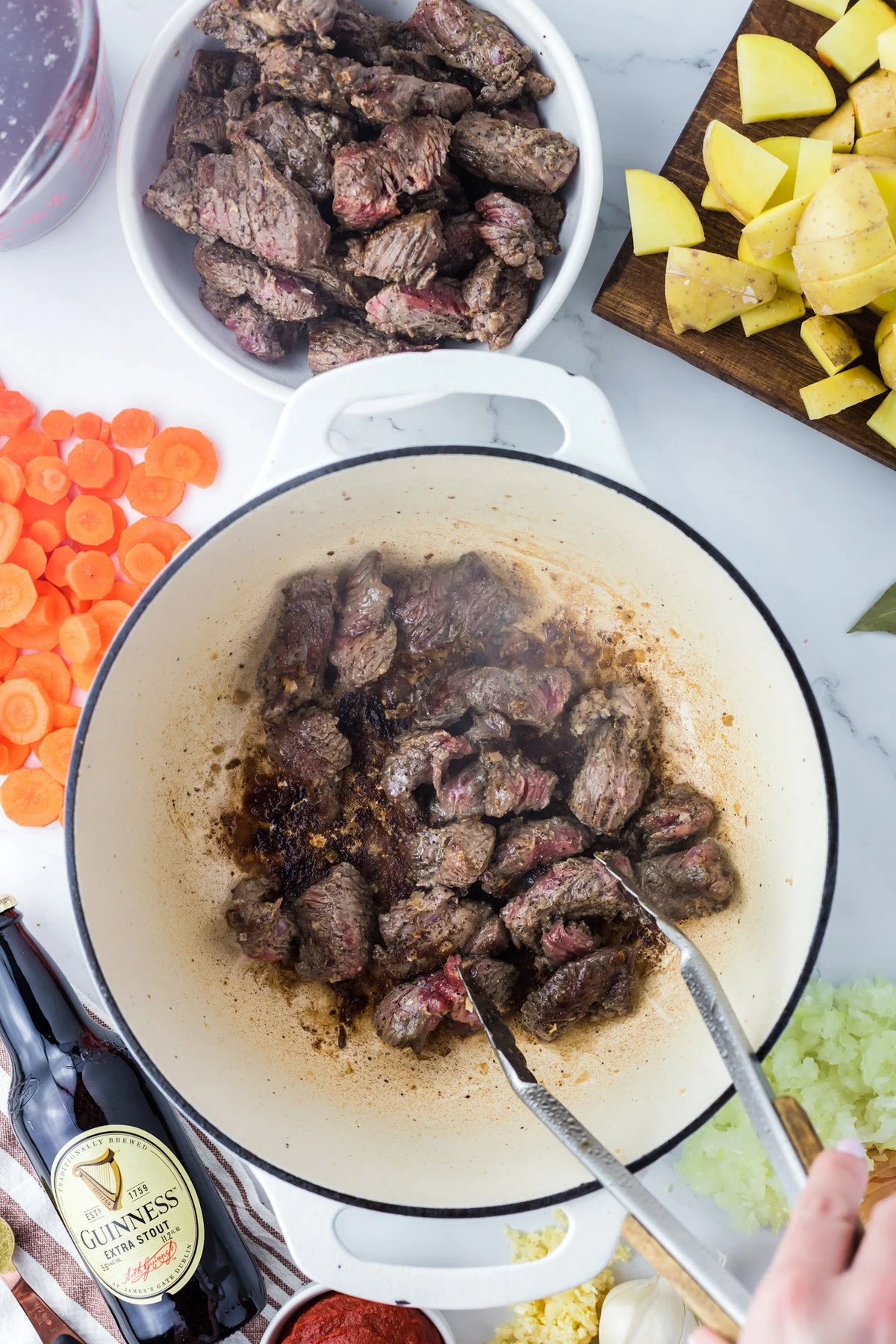 Reduce the heat and pour in the Guinness beer to deglaze the pot. Use a wooden spoon to scrape up all of the browned bits in the bottom of the pot.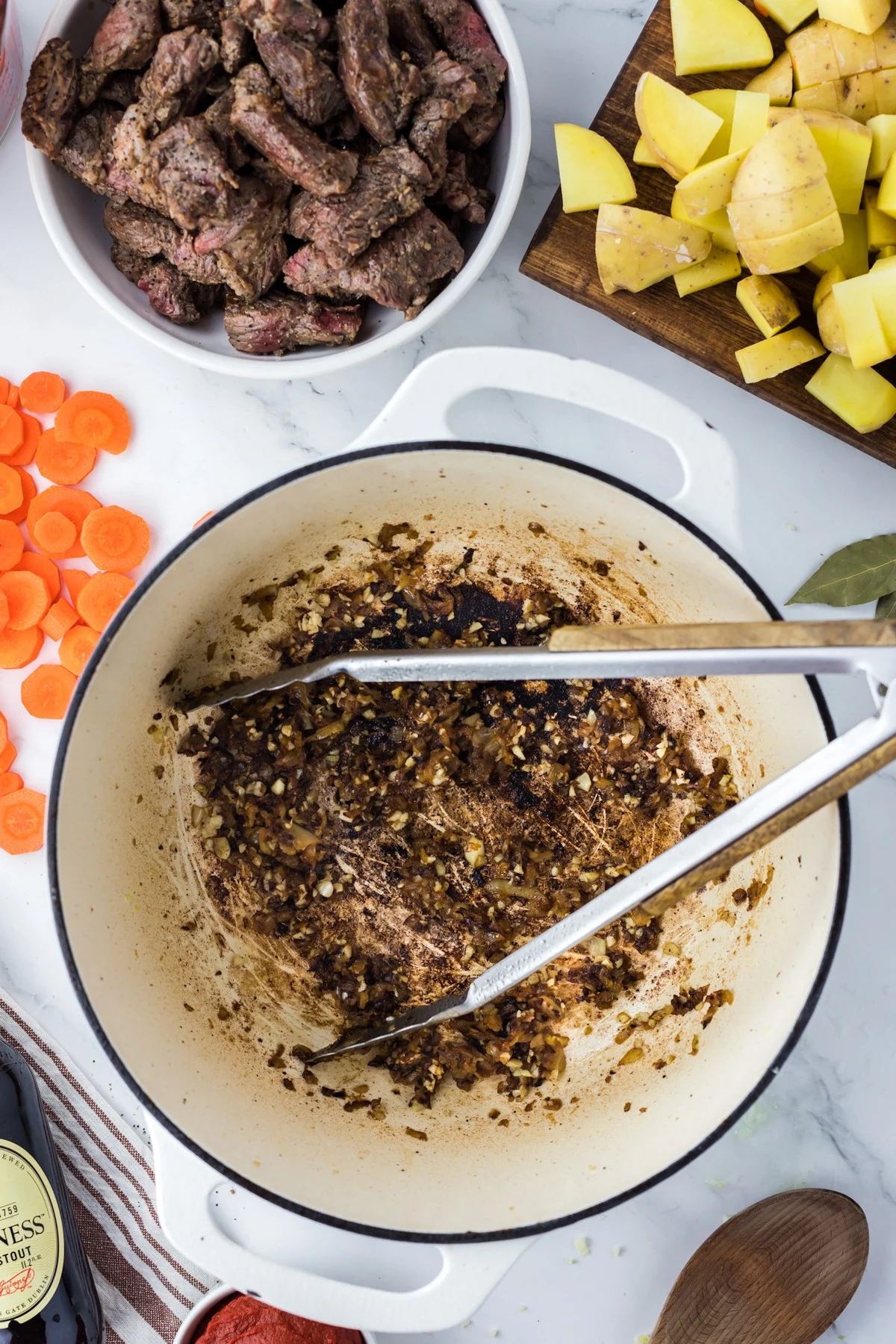 Add in the tomato paste, stock and remaining seasonings. Then, add the vegetables to the pot.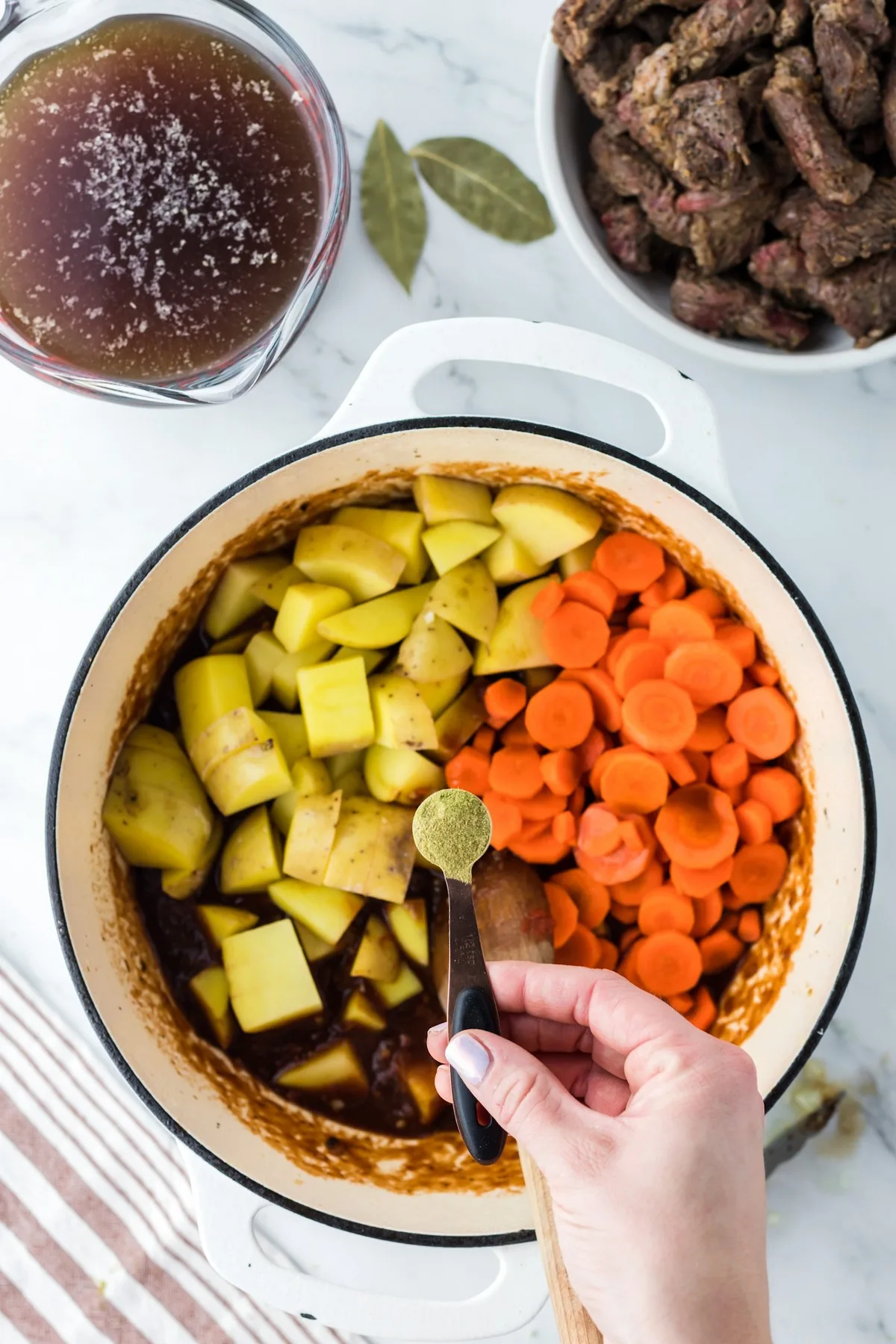 Return the beef to the pot along with any juices that accumulated with it, and stir well to combine all of the ingredients.
Reduce the heat to a simmer for about 2 hours or until the meat is tender.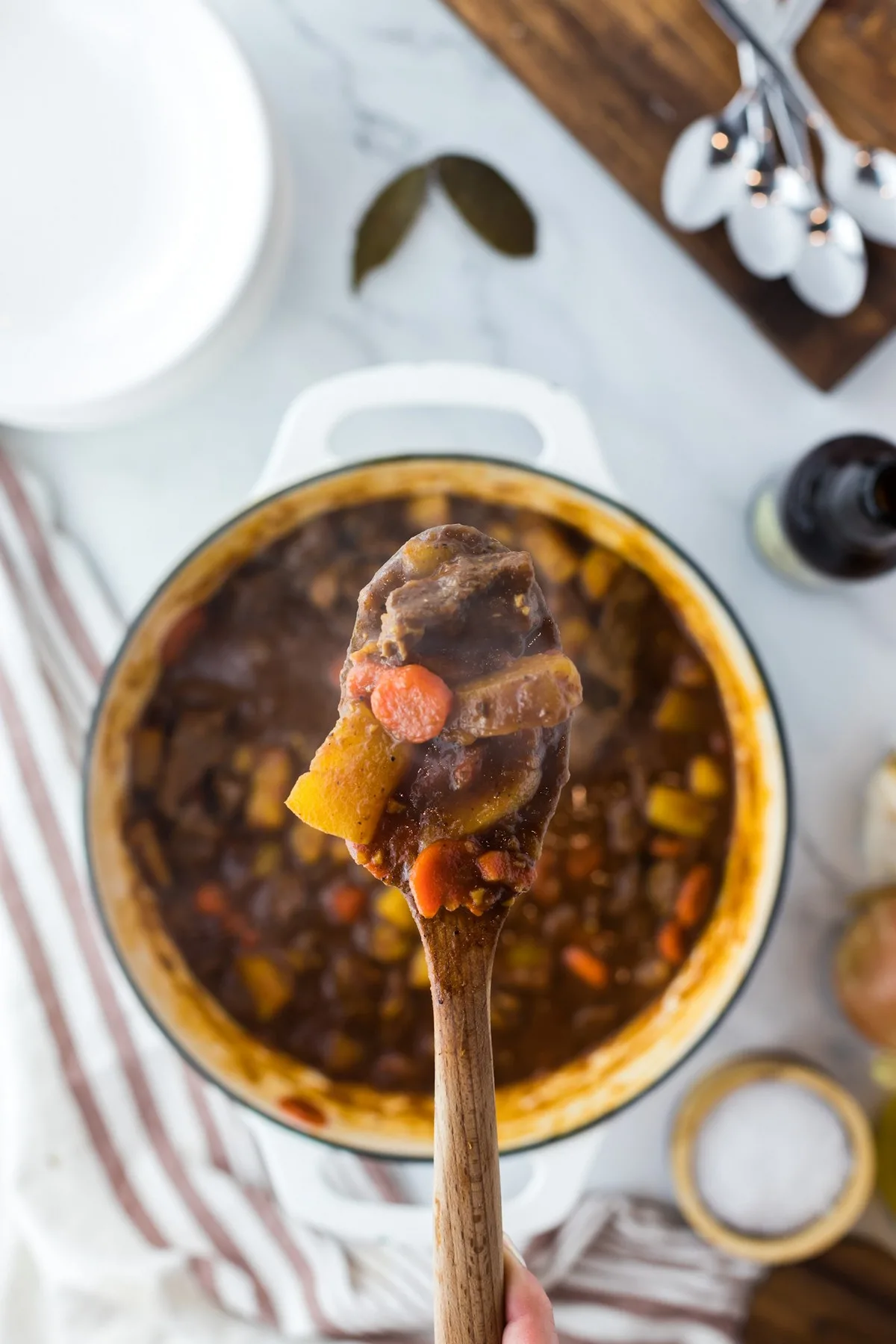 Making Beef Stew in the Crock-Pot or Slow Cooker
The steps are very similar when making this in the slow cooker or Crock-Pot.
Turn the slow cooker to low (9-10 hours), medium (7-8 hours), or high for (6-7 hours).
Brown the beef per the instructions in the recipe card below.
Add it to the slow cooker with the rest of the remaining ingredients.
Since the cook time is much longer than the stovetop version, give the stew plenty of time to cook and tenderize the meat.
Tips for Dutch Oven Beef Stew
This recipe is so easy to make, but I've also included a few tips readers have suggested and other things I've found along the way.
Making Ahead: This recipe can be made ahead of time and stored in the refrigerator for about 3 days before consuming. Prepare the stew completely, store, then reheat slowly on the stovetop until warmed through.
Freezing: If you have leftover soup, it can be frozen for up to 3 months. Before serving, defrost in the refrigerator and reheat slowly on the stove until warmed through.
Storing: Store leftovers in an airtight container in the refrigerator for up to 3 days.
FAQ for Irish Stew with Guinness
What is traditional Irish stew?
Traditional Irish stew is much different from the stews today. Irish stew purists say this recipe must be made with lamb or mutton, potatoes, onions, and water. That's all!

Because of the lack of resources available to many people, there weren't many herbs and ingredients available to everyone.

Today, traditional Irish stew is still made with lamb, potatoes, and onion, but other herbs like thyme, rosemary, garlic, and other vegetables are added to boost the flavors.
What is the difference between beef stew and Irish stew?
Irish stew has a paler broth than beef stew and is usually made with mutton and vegetables. The broth is much thinner than beef stew, with fewer vegetables.

Traditionally, beef stew is cubed and coated in flour, then browned in a pot or skillet before added to the rest of the ingredients.
What is the best beer for beef stew?
Guinness is usually the brew of choice for beef stew. You can also use any porter or stout in its place.
What can you substitute for Guinness stout?
You can use any stout, porter, or heavy lager in place of Guinness.
Should you brown meat before slow cooking?
While it's not completely necessary, browning meat adds more flavor to the beef and the recipe as a whole. If you proceed with the recipe without browning, your meat will have a grayish color but will still be safe to eat.
What can you use for stew meat?
I prefer chuck roast when making stew. Stew meat that's already cubed from the meat department can be rather tough if the meat is not cooked long enough for the connective tissues to break down.

That is why stews are cooked on low heat for long periods of time – to yield tender pieces of beef that is easily shredded or chewed.

Here are beef cuts you can use for stew meat and other names they could be called:
– Chuck, Chuck Shoulder, Chuck Roast, Chuck-Eye Roast, Top Chuck.
– Bottom Round Roast, Bottom Eye Roast, Rump Roast, Eye Round Roast, Top Round, Round Tip Roast.
– English Roast, Pot Roast.
What is the best way to make stew meat tender?
Not cooking the meat long enough (and slow enough) is the number one reason stew meat is so tough.
For the best results, cook the meat low and slow (for at least 2 hours) for a tender result.
What ingredients are often used in stew?
Traditional stew includes potatoes, carrots, onion, and other root vegetables.

Here are a few other ideas you can add to beef stew:
– Parsnips
– Mushrooms
– Green Beans
– Green Peas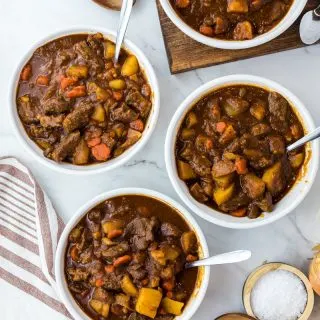 Irish Beef Stew with Guinness
Stew is the ultimate comfort food! Made with tender pieces of beef and flavorful cuts of carrots and potatoes, this beef stew is a classic with an Irish twist of Guinness. No flour or thickening agent used!
Ingredients
3

pounds

beef chuck roast

(well-marbled, cut into 1/2-inch pieces)

Kosher salt

¼

teaspoon

black pepper

2

tablespoons

olive oil

1

large yellow onion

(peeled and finely diced)

5

whole, medium carrots

(peeled and cut into 1/4-inch rounds (about 2 cups))

6

cloves garlic

(minced)

2

tablespoons

tomato paste

4

cups

beef stock

(homemade or store-bought)

12

ounce

Guinness beer

(1 bottle or 1 can)

2

bay leaves

½

teaspoon

dried thyme

1

tablespoon

Worcestershire sauce

1

pound

Yukon gold potatoes

(cut into 1/2-inch pieces)
Instructions
Season beef generously with salt and pepper.

To a large dutch oven, heat the olive oil over medium-high heat.

Working in batches, sear the beef on all sides and turning every minute or so until all sides are browned. Remove from the pot and set aside.

To the same pot, melt the butter and sauté the onion until tender (about 5 minutes). Add extra oil if needed.

Add garlic; cook 1 minute longer.

Add the Guinness and use a wooden spoon to scrape up the browned bits from the bottom of the pot.

Stir in tomato paste until blended.

Stir in the stock, carrots, potatoes, tomato paste, bay leaves, thyme, and Worcestershire to the pot. Stir to combine.

Return beef to pot and bring to a boil. Reduce heat, cover and simmer on medium-low or until beef is tender, about 2 hours.

After 2 hours, check the potatoes for doneness and the beef for tenderness. Discard the bay leaves before serving.
Notes
Please read the entire post for details, tips, and more!
You can also use chuck shoulder or any roast meat.
Broth can be used in place of stock, but stock adds more flavor to the stew.
Guinness can be replaced with any porter, stout, or dark beer. The alcohol completely cooks out of the recipe no matter which method you use. The Guinness flavor does not come through, but it does add a subtle richness to the stew.
Nutrition
Serving:
1
Calories:
423
kcal
Carbohydrates:
29
g
Protein:
39
g
Fat:
15
g
Saturated Fat:
6
g
Polyunsaturated Fat:
9
g
Trans Fat:
1
g
Cholesterol:
104
mg
Sodium:
700
mg
Fiber:
4
g
Sugar:
6
g