Try this Southern pear salad for a nostalgic delicacy, made with canned pears, mayonnaise, shredded cheese, and maraschino cherries. It might seem crazy, but the balance of sweet, tangy, and savory flavors work incredibly well together. Let's take a trip down memory lane!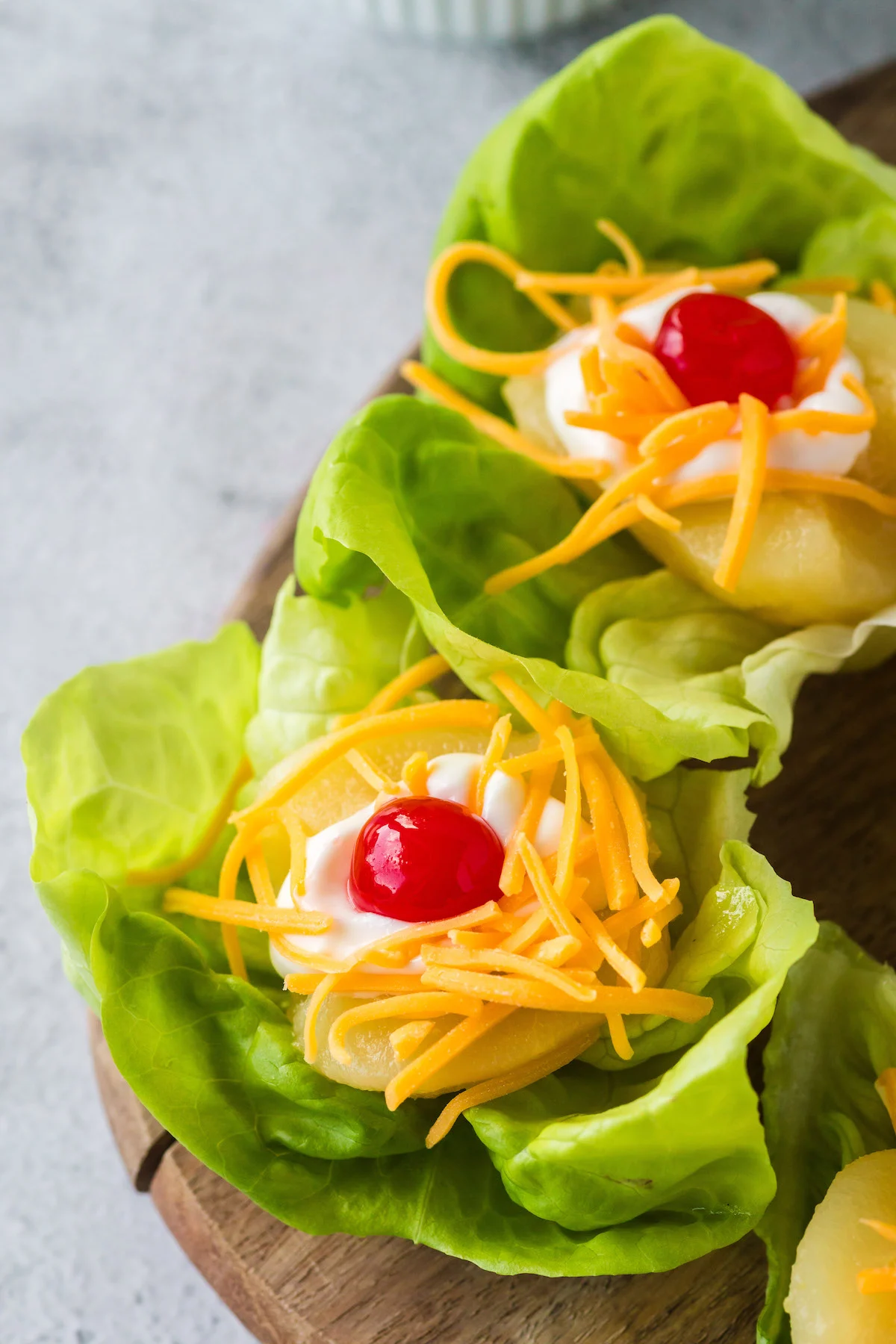 Growing up, pear salad was a staple in my Southern household, so it's always held a special place in my heart. You might be thinking I've lost my marbles, but ask anyone from the South what a pear salad is, and they'll pull up a picture of this recipe.
As with most salads in the South, like ambrosia, pear salad very loosely qualifies as an actual salad, but it's definitely a Southern delicacy. Don't worry, once you try your first bite, you'll completely understand what I'm talking about!
Why I Love This Recipe
Simplicity: Just assemble the five layers on a plate. Does it get much easier?
Versatile: Pear salad makes a great side dish or even a light main course.
Unique: The unexpected combination of ingredients never fails to impress.
Nostalgic: Southern pear salad brings back so many fond childhood memories!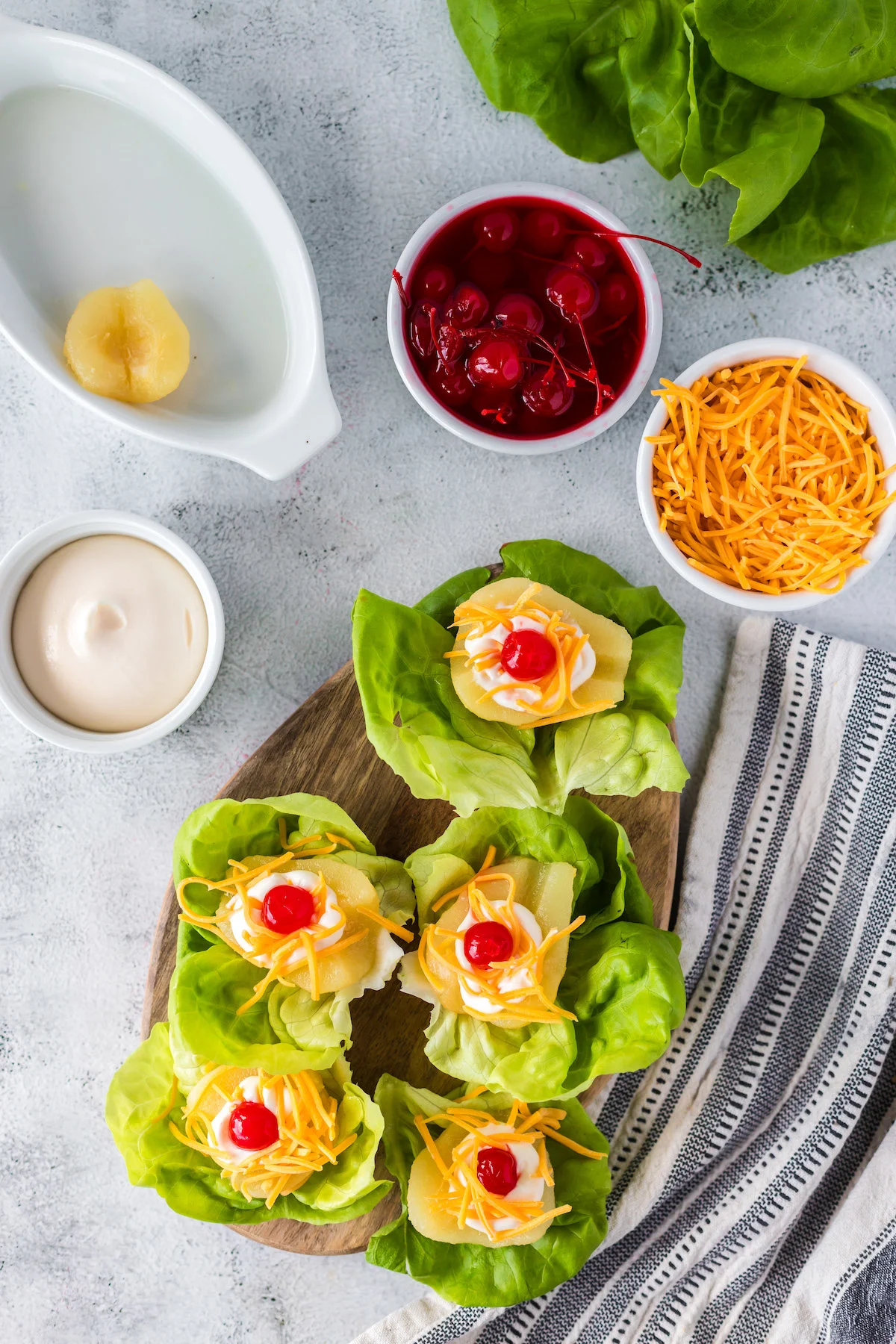 What Exactly Is A Southern Pear Salad?
Southern pear salad is an old-school classic that has graced many American dinner tables over the years. Its origin isn't quite clear, but it's rumored to have stemmed from an 1899 cookbook — The American Salad Cookbook.
It combines the sweet, juicy flavor of canned pear halves with the creamy tang of mayonnaise, both staples in the South. The sharp bite of cheddar cheese and a sweet pop of maraschino cherries add another element of color and flavor. And to make this an official "salad," everything is served atop crispy pieces of lettuce.
This dish is typically served chilled, which enhances its refreshing qualities. Try making one for your next family gathering and your guests will love you! If not, at least it will get everyone talking, right?
Ingredients For Southern Pear Salad
Pear halves: This salad is traditionally made with canned pears for a sweet taste and soft texture, but fresh pears can also be used. I recommend peeling and roasting or poaching them.
Lettuce: Adds a refreshing crunch to contrast the soft pear halves. Any type of lettuce can be used, but iceberg, romaine, or butter lettuce work best.
Mayonnaise: The creamy tang of mayo complements the sweetness of the pear. If you prefer, you can substitute mayo with Greek yogurt for a healthier option.
Cheddar cheese: Provides a sharp savory note to the dish. If you don't have cheddar, try other types of cheese like Jack, Gouda, or Swiss.
Maraschino cherries: Add a burst of sweetness and a pop of color. Fresh cherries can also be used, but maraschino cherries add that classic finishing touch.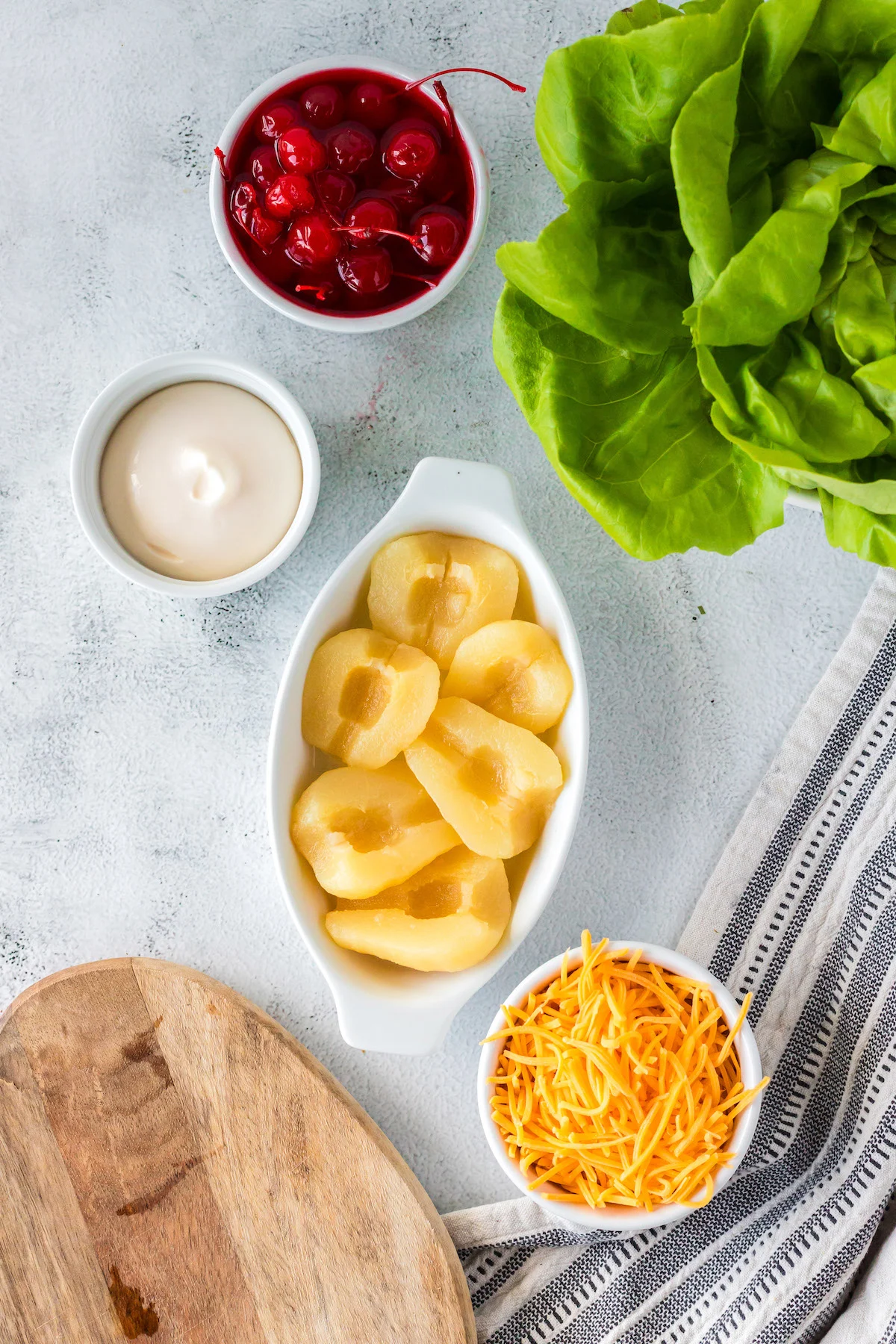 How To Make A Southern Pear Salad
Step 1: Arrange Your Base
Start off by arranging the lettuce leaves on a serving platter or plate.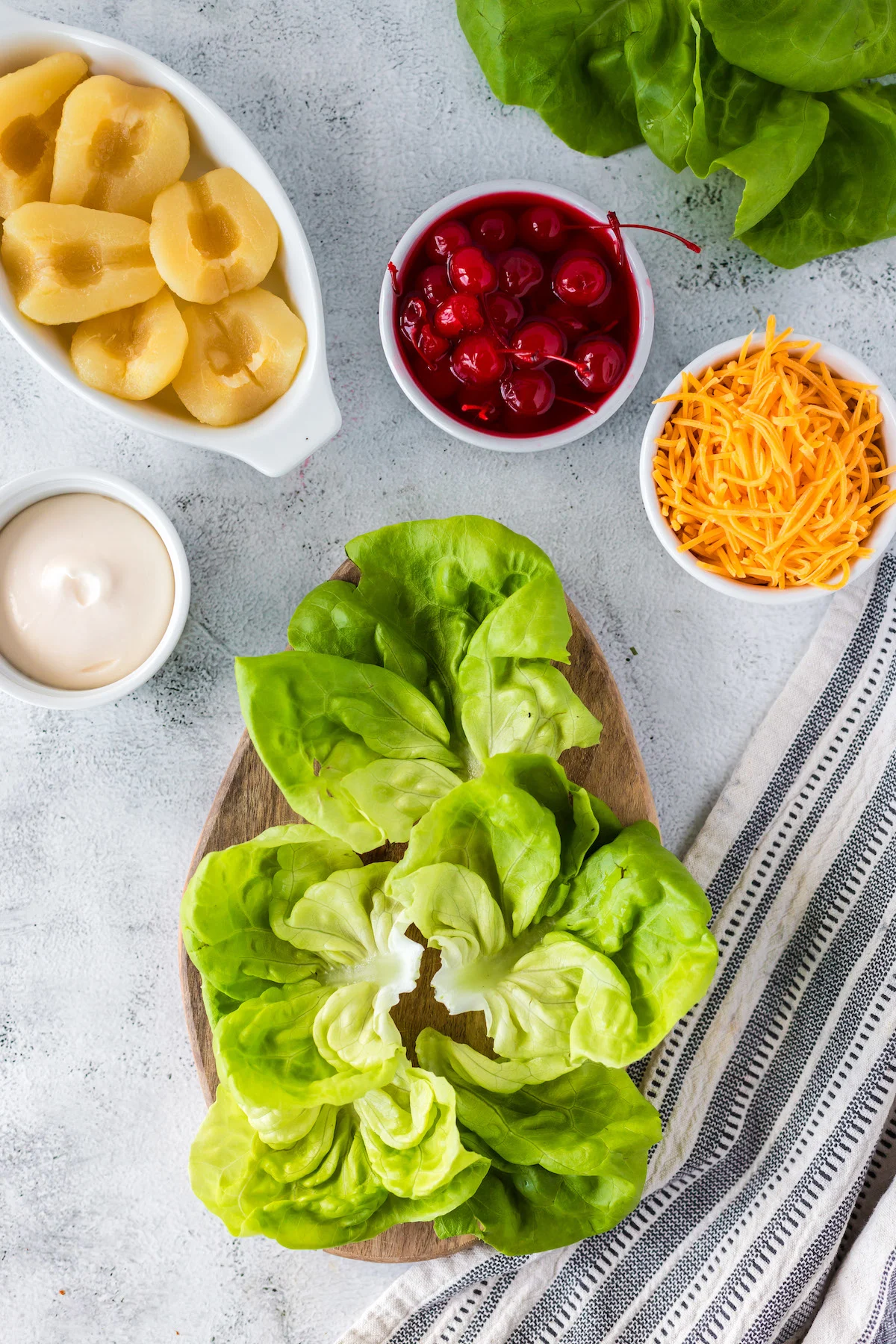 Step 2: Position The Pears
Place a pear half on each lettuce leaf, making sure there is just one half per piece.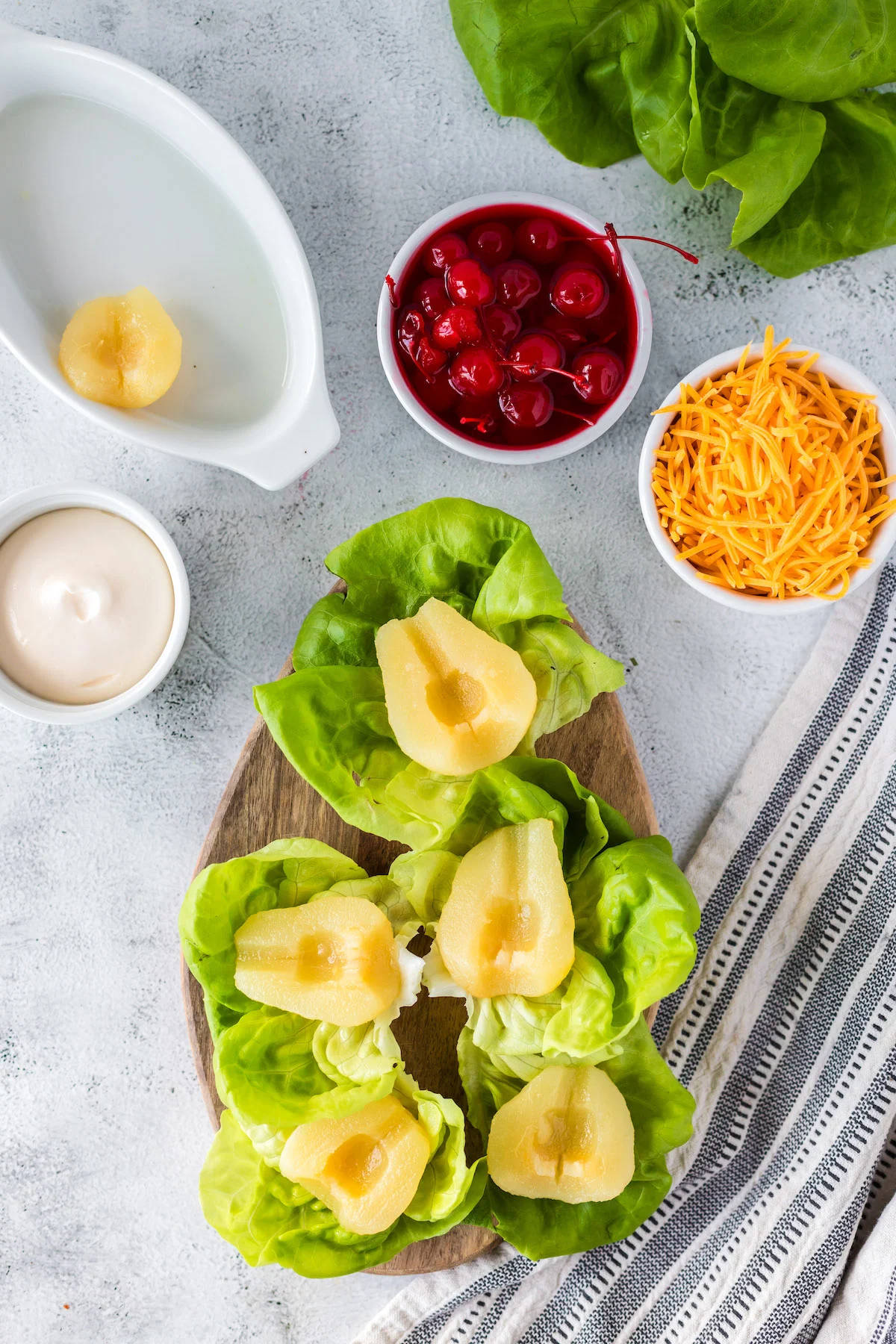 Step 3: Add Mayo
Next, top each pear with a generous dollop of mayo. Trust me, this adds a creamy texture and tangy taste that complements the sweet pear perfectly.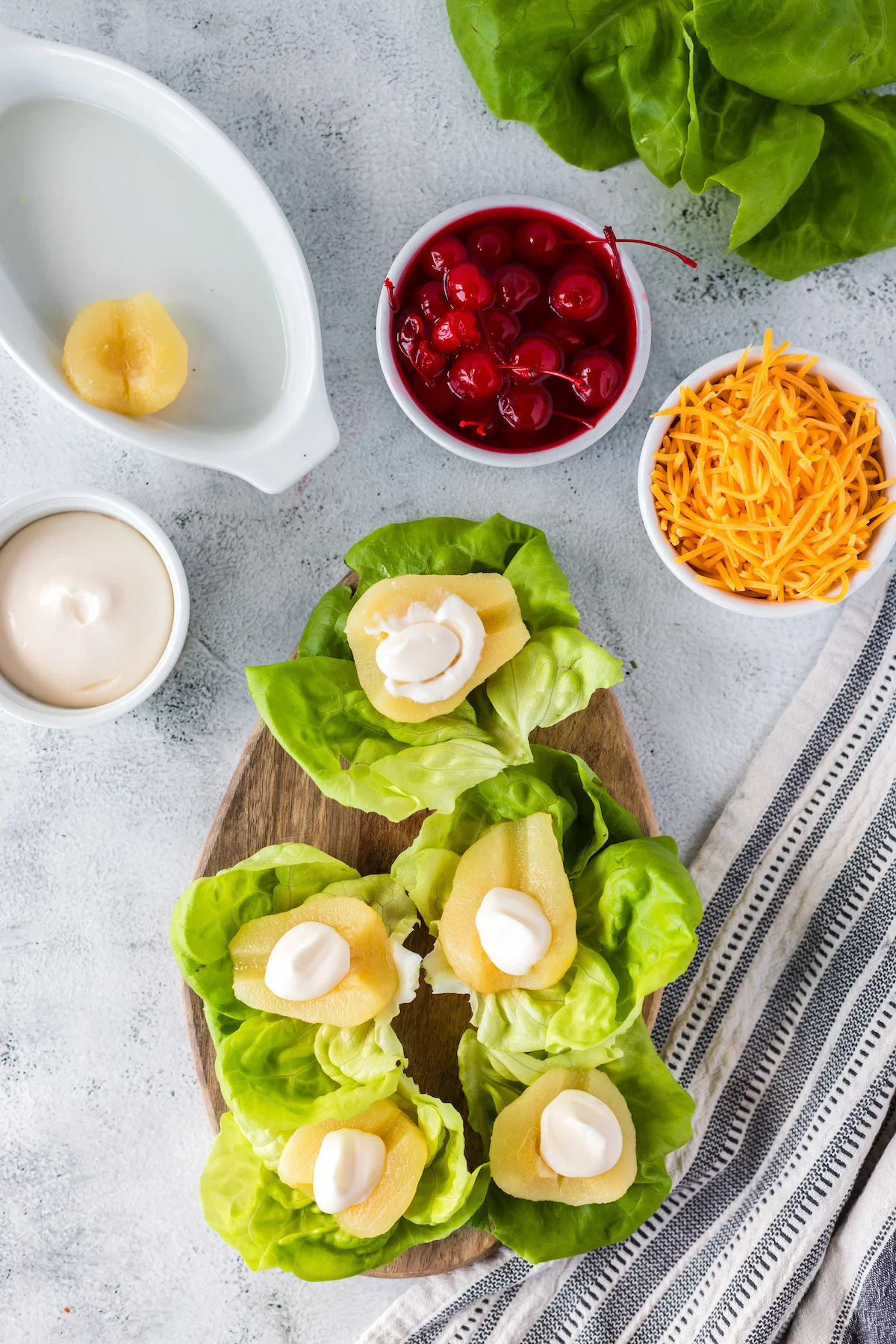 Step 4: Sprinkle The Cheese
Now it's time for cheese! Sprinkle shredded cheddar over the mayo to bring in the umami element.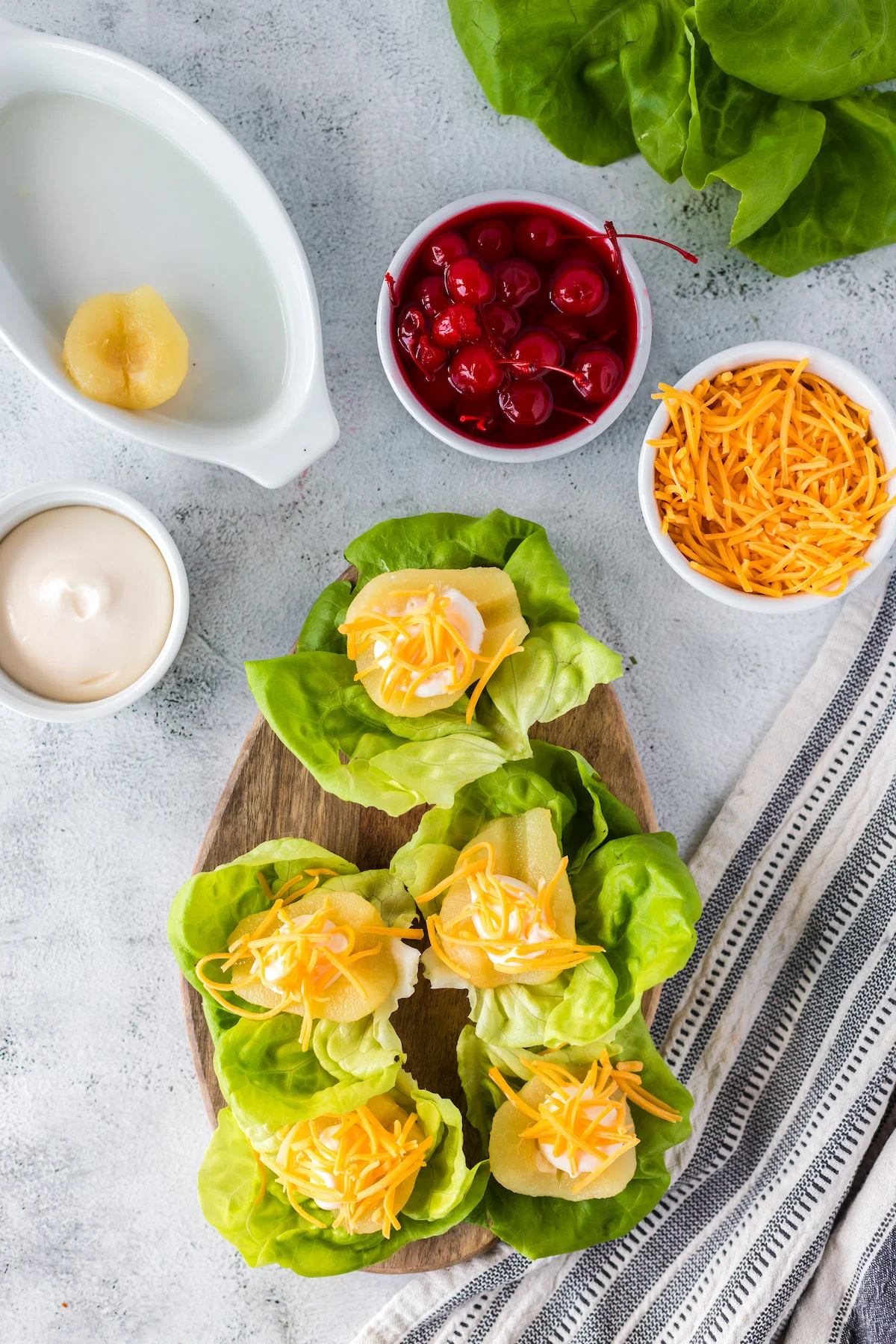 Step 5: Cherry On Top
Finally, place a maraschino cherry on top of each pear. This adds a sweet finish and a pop of color. Then, chill and serve!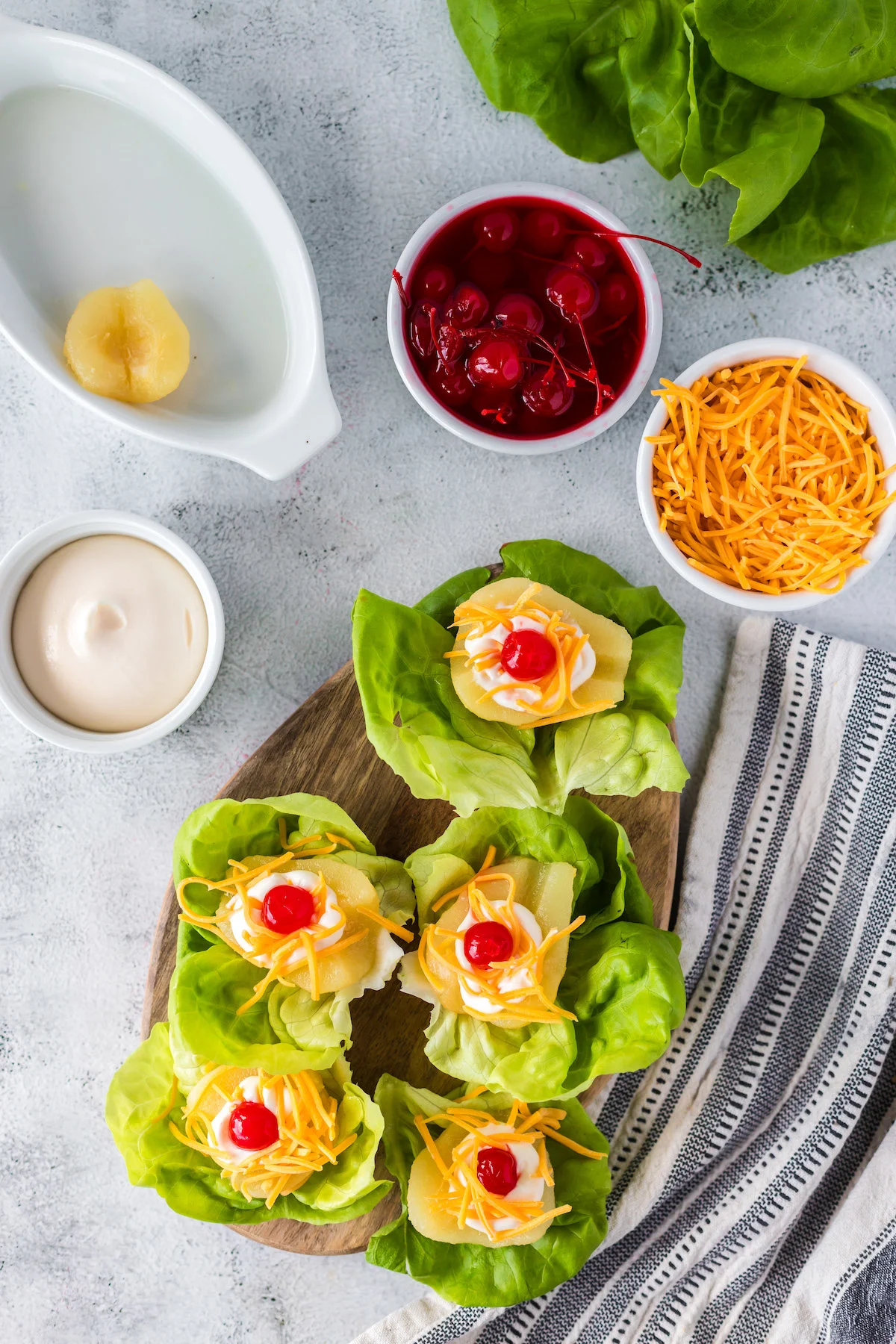 What To Serve With Southern Pear Salad
This salad works well as a side dish or appetizer, especially with mains pork tenderloin or dry ribs. You can also garnish it with a sprinkle of crushed nuts or a drizzle of honey for added texture and sweetness.
Recipe Variations
Cinnamon: Add a sprinkle of cinnamon for a touch of warmth.
Cream cheese: Use cream cheese in place of mayo for a sweeter flavor.
Nuts: Mix in a handful of toasted walnuts or pecans for crunch.
Fresh pairs: Replace canned pears with fresh pears, and add a drizzle of honey.
Bacon: Add crumbled bacon for a smoky twist.
Tips For The Best Recipe
Drain: Use well-drained pears to prevent the salad from turning soggy.
Shred at home: Shred the cheddar cheese yourself for the freshest flavor.
Use ripe pears: If you're using fresh pears, choose ripe ones for the best texture.
Chill: Chill the salad before serving to allow the flavors to meld together.
What To Do With Leftovers
If you have any leftover Southern pear salad, follow these quick and easy instructions:
Fridge: Keep any leftovers in the fridge for up to 2-3 days. Make sure you keep everything in airtight containers to keep it as fresh as possible.
Freezer: I don't recommend freezing this pear salad recipe since the lettuce and mayo will turn soggy once thawed.
Prep ahead: You can portion the mayo into the pears and shred the cheese in advance. Assemble the pears on top of the lettuce and add the cherries just before serving.
Additional Salad Recipes
If you enjoyed this Southern pear salad, check out a few more of my favorite salad recipes like these:
Frequently Asked Questions
Can I use fresh pears instead of canned ones?
Of course! I recommend using in-season pears and making sure they're ripe. For an even softer texture, poach them beforehand.
Can I replace the mayo with something else?
Absolutely! If you don't like mayo or would prefer something different, you can use Greek yogurt, sour cream, or even mashed avocado.
What can I use instead of maraschino cherries?
If you don't like maraschino cherries or don't have access to them, you can use fresh cherries or pomegranate arils instead.
Why is it important to assemble just before serving?
Assembling the salad just before serving prevents the lettuce from becoming wilted and soggy. This ensures your recipe maintains its fresh, crisp texture.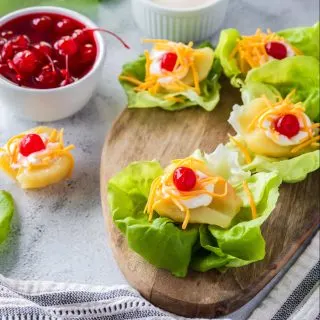 Vintage Southern Pear Salad
Try this Southern pear salad for a nostalgic delicacy, made with canned pears, mayonnaise, shredded cheese, and maraschino cherries. It might seem crazy, but the balance of sweet, tangy, and savory flavors work incredibly well together.
Ingredients
15

ounces

canned pear halves

(drained)

5

butter lettuce leaves

½

cup

mayonnaise

½

cup

shredded cheddar cheese

5

maraschino cherries
Instructions
Arrange the lettuce leaves on a large serving platter or plate. Top each leaf with a pear half. Add a heaping tablespoon of mayo on top of each pear. Sprinkle the shredded cheese over the mayo. Add a cherry to the top of each pear. Serve chilled.
Nutrition
Calories:
321
kcal
Carbohydrates:
20
g
Protein:
4
g
Fat:
26
g
Saturated Fat:
6
g
Polyunsaturated Fat:
13
g
Monounsaturated Fat:
6
g
Trans Fat:
0.1
g
Cholesterol:
26
mg
Sodium:
272
mg
Potassium:
186
mg
Fiber:
4
g
Sugar:
13
g
Calcium:
122
mg
Iron:
1
mg