This sherbet punch recipe is an old-school Southern classic, perfect for the special occasions in your life. Filled with fizzy lemon-lime soda and creamy sherbet, it's sweet, tangy, and creamy. I promise it will have everyone coming back for seconds and thirds!
If you're not familiar with Southern recipes, like Southern pear salad and pineapple casserole, the ingredients might seem unusual, but just trust me here. This recipe has stood the test of time!
It's simple, fun, and oddly addicting. Just grab your two ingredients and a punch bowl, and you're set for a great night with friends and family!
Why You'll Love This Recipe
Simple: Lime punch with sherbet comes together in less than 5 minutes, making it an easy last-minute addition to any dinner party menu or event.
Versatile: From birthdays to holidays, this recipe can be enjoyed anywhere. Plus, with the ability to add alcohol, it's sure to be a hit with both kids and adults!
Refreshing: The combination of zesty lemon-lime soda and smooth sherbet creates a cool, rejuvenating drink perfect for hot days.
Budget-friendly: Using just two main ingredients, this punch doesn't break the bank yet it still delivers big on flavor and festivity.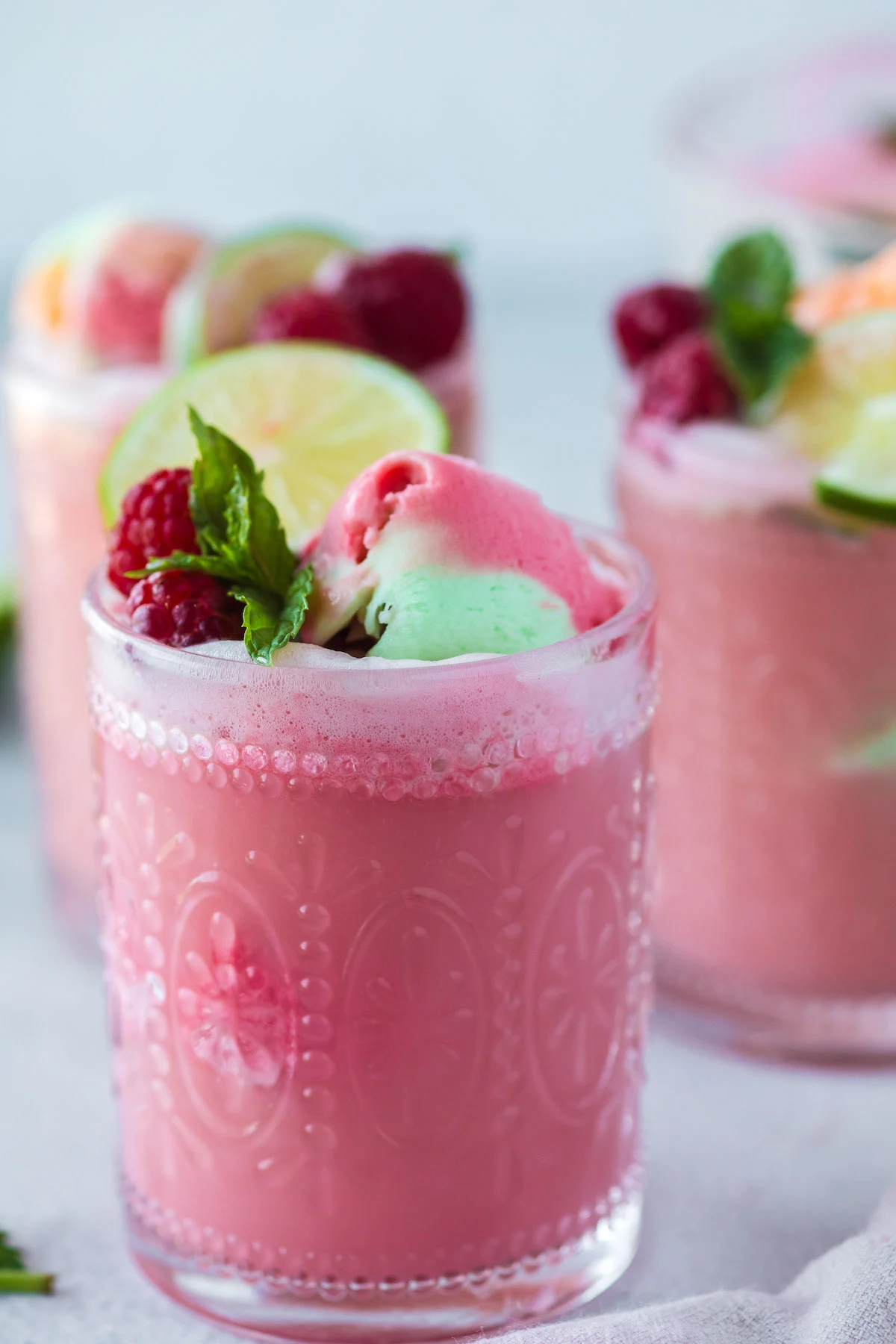 Southern Sherbet Punch Recipe
This sherbet punch recipe isn't just a drink, it's a nostalgic walk down memory lane for many folks in the South. Made with zesty lemon-lime soda and swirled with creamy lime sherbet, it's both tangy and sweet.
Once you mix the two together, something magic happens — a frothy, bubbly treat that's guaranteed to be the life of the party! And let's be real, it's so simple to make.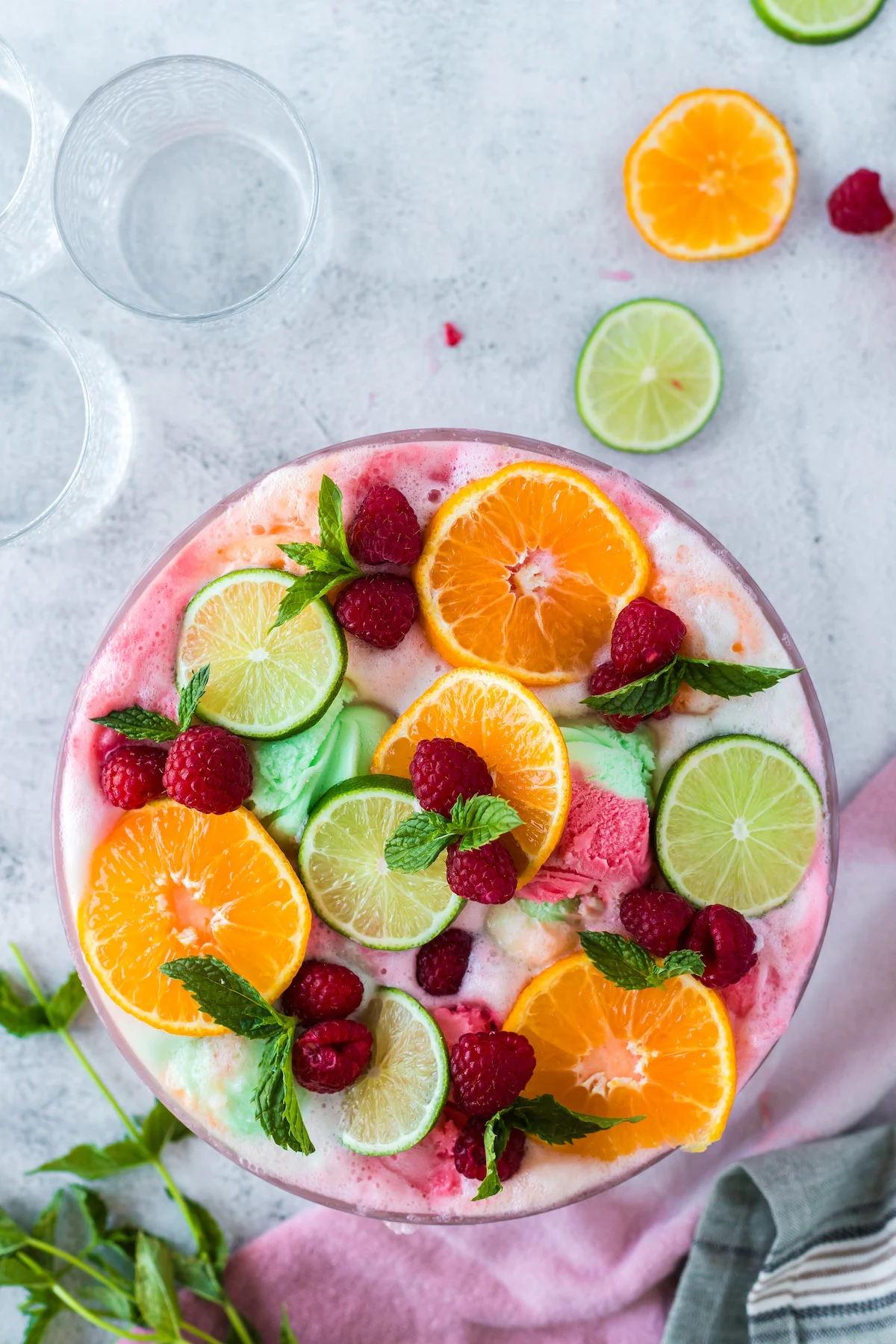 All you have to do is toss two ingredients in a bowl and you're done! Whether it's for a wedding, baby shower, tea party, or holiday gathering, this punch fits in at any event.
Ingredients For Lime Punch With Sherbet
Sprite: Adds the necessary fizz and citrusy sweetness. If Sprite isn't available, any lemon-lime soda will work.
Lime sherbet: Provides a creamy texture and tangy-sweet flavor. If lime isn't your thing, try raspberry or orange sherbet for a twist. Or, experiment with rainbow sherbert!
How To Make This Sherbet Punch Recipe
Step 1: Find The Right Bowl
First, find a suitable punch bowl that will comfortably accommodate your mixture. Most punch bowls on the market can fit at least a gallon of liquid, which equates to about 12 servings. Also, keep in mind that garnishes will take up space if you're using them.
Step 2: Make The Punch
Begin by spooning scoops of lime sherbet into the selected punch bowl. Carefully pour the Sprite over the sherbet, ensuring it covers it evenly. Thoroughly stir to combine the two, but don't be too aggressive to prevent the soda from turning flat.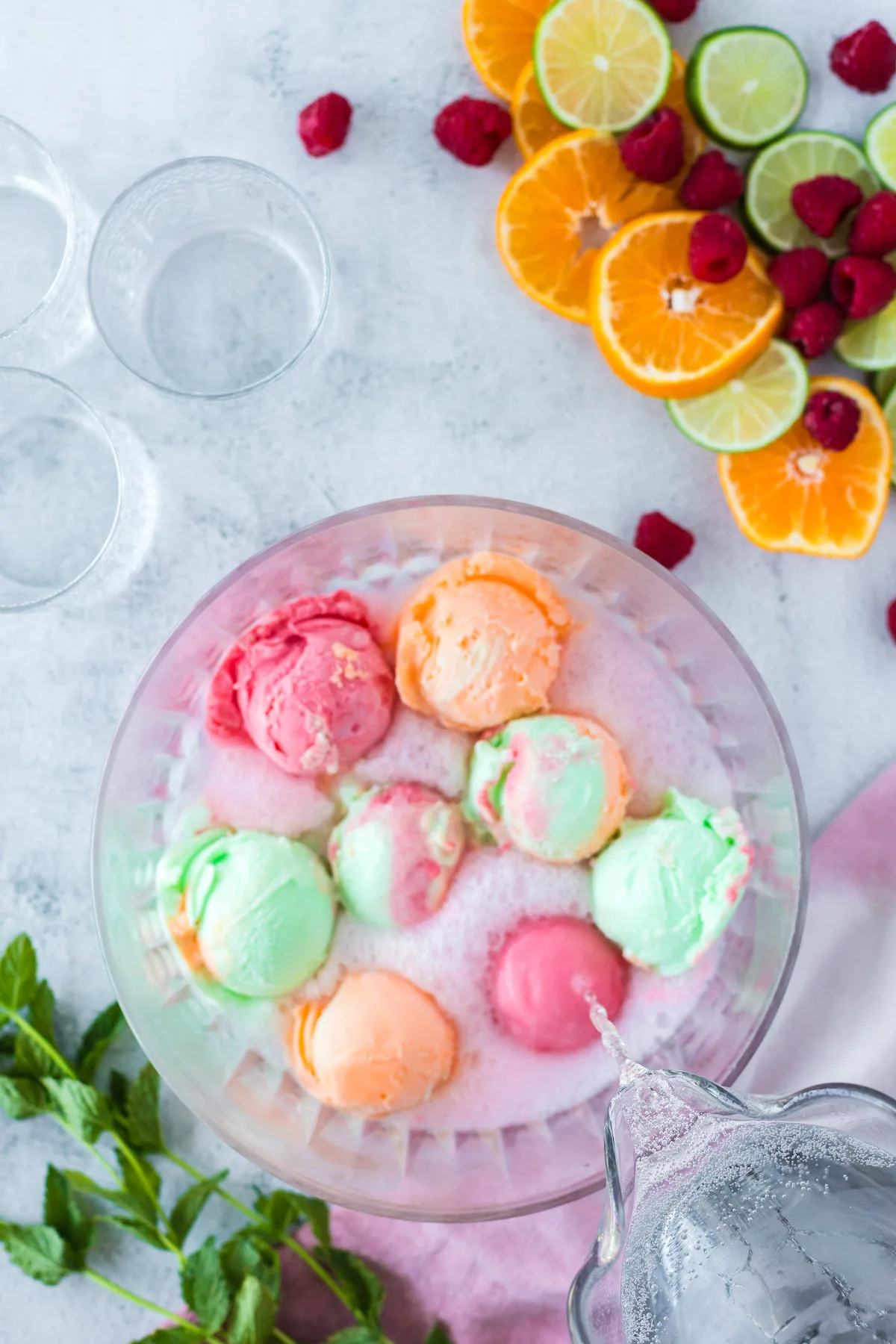 Step 3: Chill The Punch
For optimal taste, place the punch bowl in your refrigerator for a brief cooling period. Once it's adequately chilled, your sherbet punch recipe is ready for serving!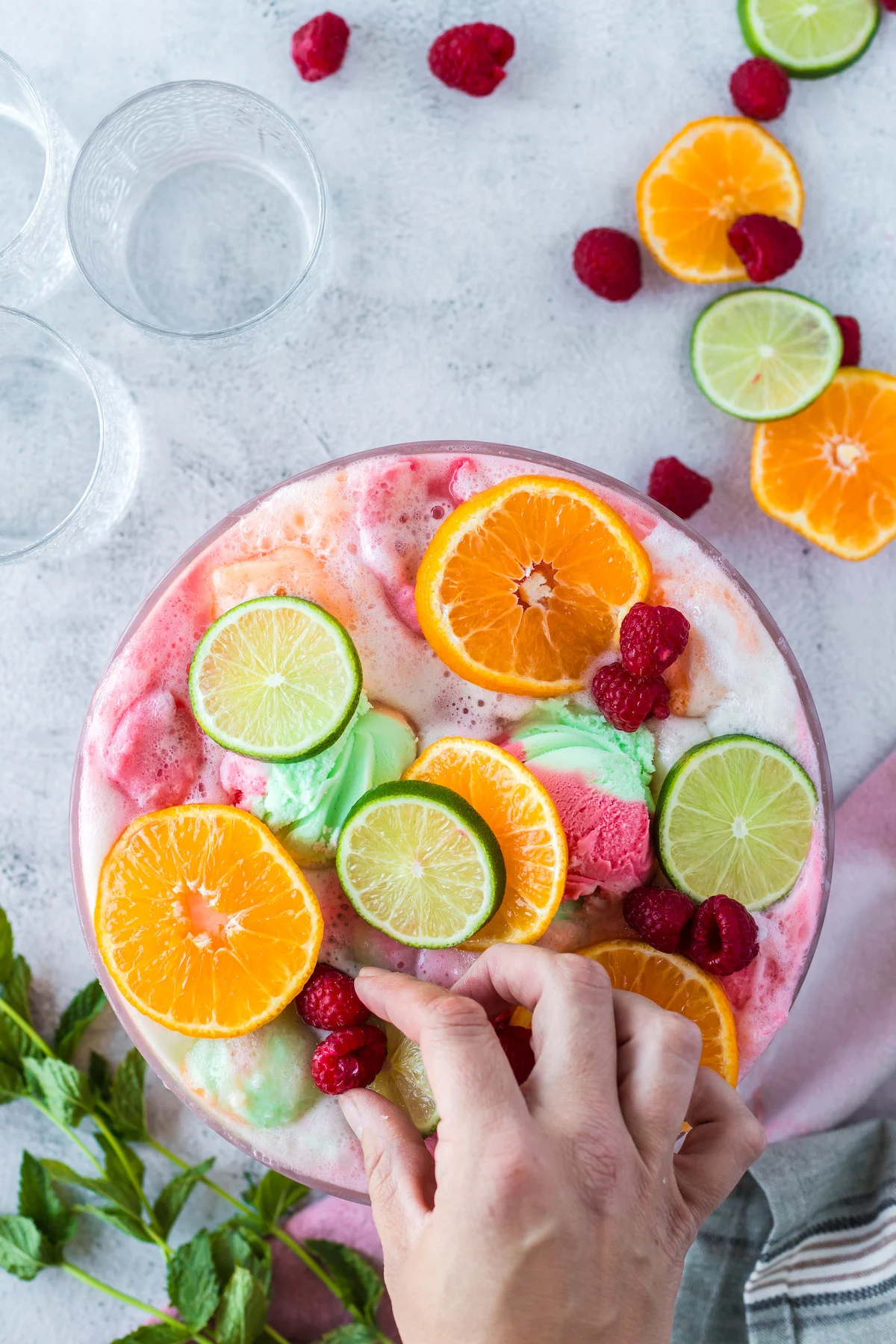 What To Serve With Sherbet Punch
Here are some delicious additions to make this sherbet punch recipe stand out for guests of all ages:
Fresh fruit: Sliced oranges, strawberries, or even pineapple can be added to the punch or served on the side.
Juice: To give your punch more complexity, try adding a splash of cranberry, orange, or pineapple juice. It can help balance the sweetness and impart a new flavor.
Alcohol: If your gathering includes adults, consider offering an option for a spirited punch by adding a splash of gin or vodka.
Garnishes: Mix fresh mint leaves, grated lime zest, or a cinnamon stick into the punch for a festive touch.
Accompanying snacks: Serve your punch with light, savory snacks like cheese, crackers, or pretzels. You can even make up a simple charcuterie board to really impress your guests.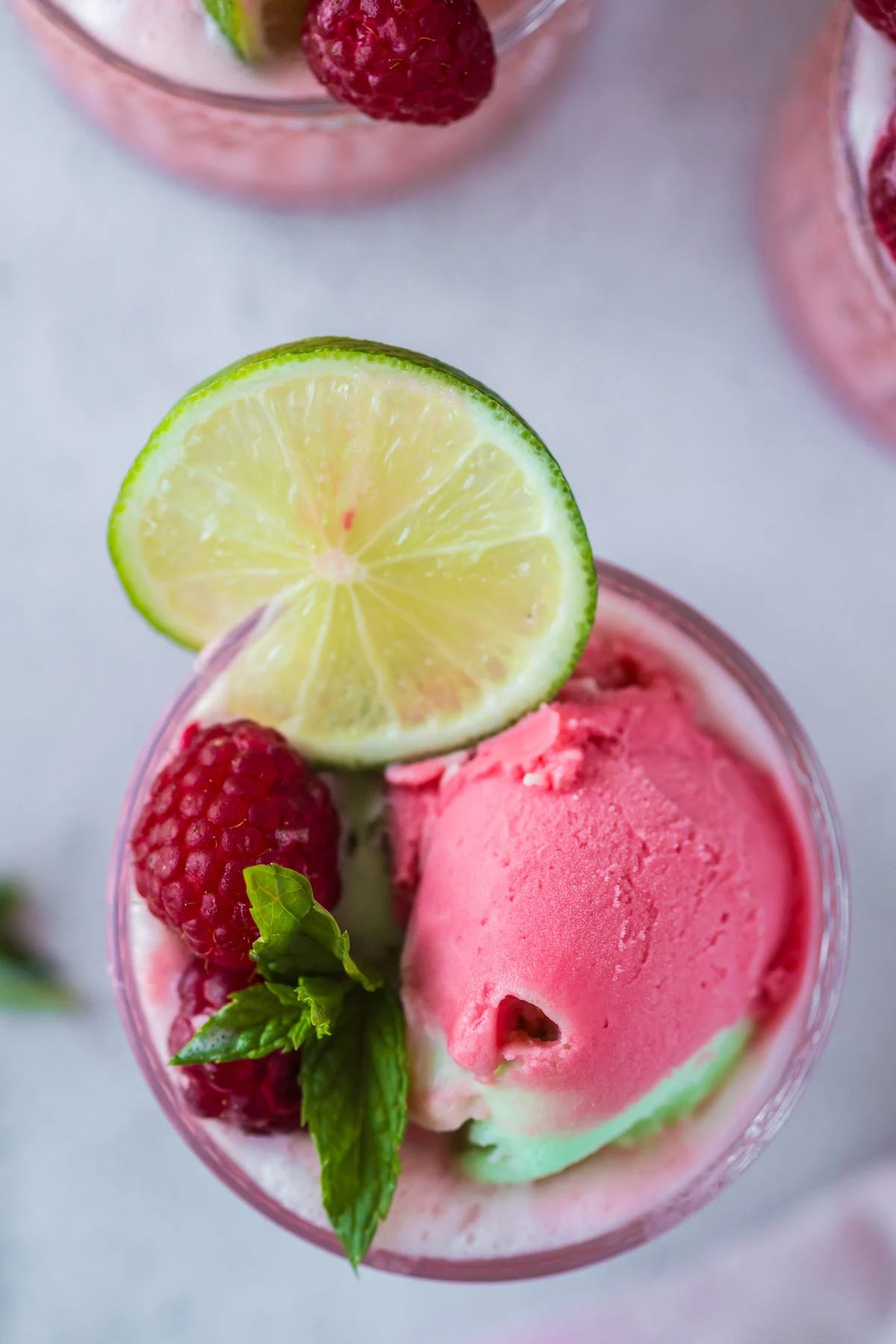 Recipe Variations
Tropical: Replace Sprite with tropical soda, and use pineapple or mango sherbet.
Wintery: For holiday festivities, use cranberry juice with raspberry sherbet and sprinkle in some pomegranate seeds.
Mojito: Add fresh mint leaves and use lemon sherbet for a sherbet punch recipe with a hint of mojito flavors.
Tea infused: Replace half of the Sprite with brewed and cooled green or black tea for a subtle depth.
Tips For The Best Recipe
Stir gently: Avoid vigorous stirring as it can cause the soda to lose its fizz. Gentle folds will ensure this sherbet punch recipe remains bubbly.
Chill the ingredients: Make sure both your Sprite and sherbet are cold before preparing the punch, then chill it for an additional period after mixing.
Add ice sparingly: If you decide to add ice, use larger blocks or an ice ring. This prevents rapid melting and diluting of the punch.
Be mindful of portions: It's easy to overdo portions when making a punch. Be sure to measure according to your guest count to avoid wasting anything.
Freshness first: Always aim to serve the punch as fresh as possible.
What To Do With Leftovers
Although lime punch with sherbet is a drink best consumed fresh, here are a few creative ways to repurpose and enjoy it if you end up with leftovers:
Popsicles: Pour the leftover punch into popsicle molds and freeze them.
Smoothie base: Use the punch as a base for morning smoothies. Add in some fresh fruits, yogurt, or berries for a nutritious kick.
Gelatin desserts: Combine the punch with unflavored gelatin to create a jiggly dessert.
Ice cubes: Freeze the punch in ice cube trays. These punch-infused ice cubes can be added to future drinks to give them a cool burst of flavor without watering them down.
Sorbet: If you have an ice cream maker, churn the punch to create a sorbet.
Cooking syrup: Reduce your sherbet punch over low heat until it thickens into a syrup. This can then be drizzled over desserts, pancakes, or waffles.
Re-fizz and serve: If you're planning on drinking the punch within a day, try adding a splash of fresh soda before serving again to rejuvenate some of its fizz.
Additional Drink Recipes
If you enjoyed this sherbet punch recipe and are in the mood for more drinks, take a look at some festive options like these: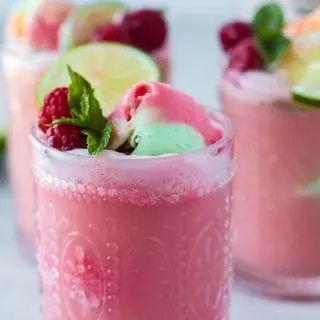 Southern Sherbet Punch
This sherbet punch recipe is an old-school Southern classic, perfect for the special occasions in your life. Filled with fizzy lemon-lime soda and creamy sherbet, it's sweet, tangy, and creamy.
Ingredients
2

liters

Sprite

(or other lemon-lime soda)

48

ounces

Lime sherbet

(about one container)
Instructions
Spoon sherbet into punch bowl.

Pour sprite over sherbet. Stir.

Garnish and serve chilled.
Nutrition
Serving:
1
cup
Calories:
2777
kcal
Carbohydrates:
622
g
Protein:
17
g
Fat:
27
g
Saturated Fat:
16
g
Polyunsaturated Fat:
1
g
Monounsaturated Fat:
7
g
Cholesterol:
14
mg
Sodium:
825
mg
Potassium:
1326
mg
Fiber:
18
g
Sugar:
534
g
Calcium:
775
mg
Iron:
2
mg