Learn how to make the best mashed potatoes with creamy, smooth results every time! This recipe is easy to make a holiday dinner or a weeknight side dish. Variations, make-ahead tips, and the complete recipe (with steps!) are listed below.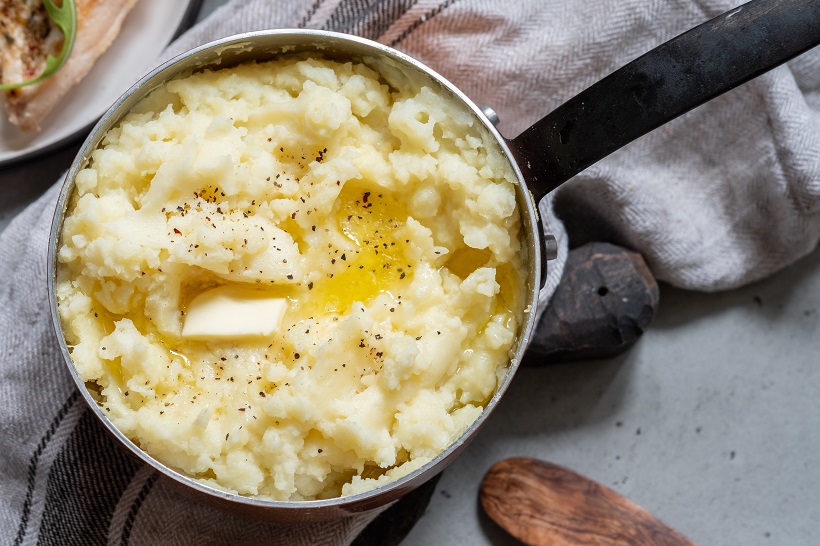 From a humble baked potato to twice-baked potatoes, to smashed potatoes with herby seasoning, potatoes are great served any way you can dream up, especially homemade.
If you are looking for a sweet potato recipe, try out these simple baked sweet potatoes, twice baked sweet potatoes, and creamy savory mashed sweet potatoes!
These are considered essential for a complete holiday dinner and great as a side dish with a pot roast or beef stew.
How to Make Creamy Mashed Potatoes
These are a breeze to make can easily be made ahead of time and kept warm in a slow cooker. You can also make these in a pressure cooker for a lot of mashed potatoes fast!
Ingredients for Mashed Potatoes
Potatoes – The best potatoes for mashed potatoes are Russet or Yukon gold.
Milk – Make sure you have full-fat milk! It provides creamier flavors than its counterparts.
Butter – Full fat is best here for maximum flavor. I prefer stick butter to margarine or spreads.
Sour Cream – Max out the creaminess of this recipe. And I love the bite that comes with the sour cream.
Mayonnaise – Mayo gives it another layer of tang. You can leave this out of the recipe if you prefer, but you will never know it's in there!
Garlic – I love the flavor garlic gives to the potatoes. It's delicious and gives it a subtle flavor boost!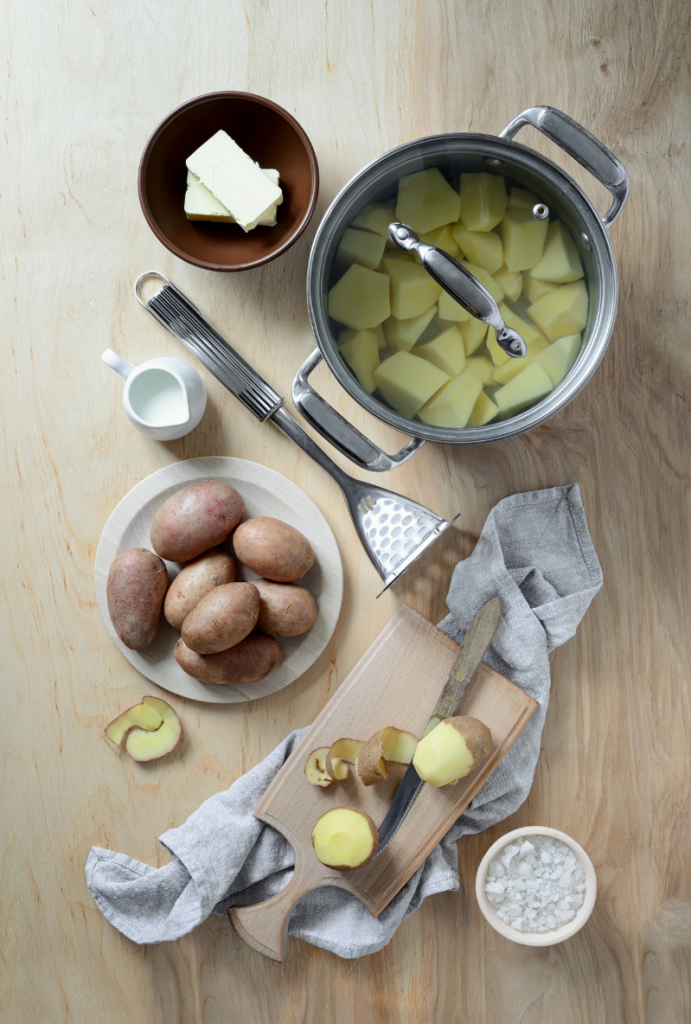 Instructions
Mashed potatoes are super simple to make, even if you are not an expert in the kitchen. You can make these quickly in a pressure cooker (or Instant Pot) if you are in a pinch for time and stovetop space, or you can make them the old fashioned way:
Boil the potatoes until they are fork-tender. Make sure to drain them well so they don't turn soupy!
Mash them with a potato masher or potato ricer. If you choose to use a stand mixer or hand-held mixer, be careful not to overmix. This can cause a gluey texture.
Don't skimp on the butter and sour cream. Texture is key to excellent consistency, so make sure to use the same amounts called for in this recipe.
Add in the rest of the ingredients. Taste layer by layer to adjust to your liking.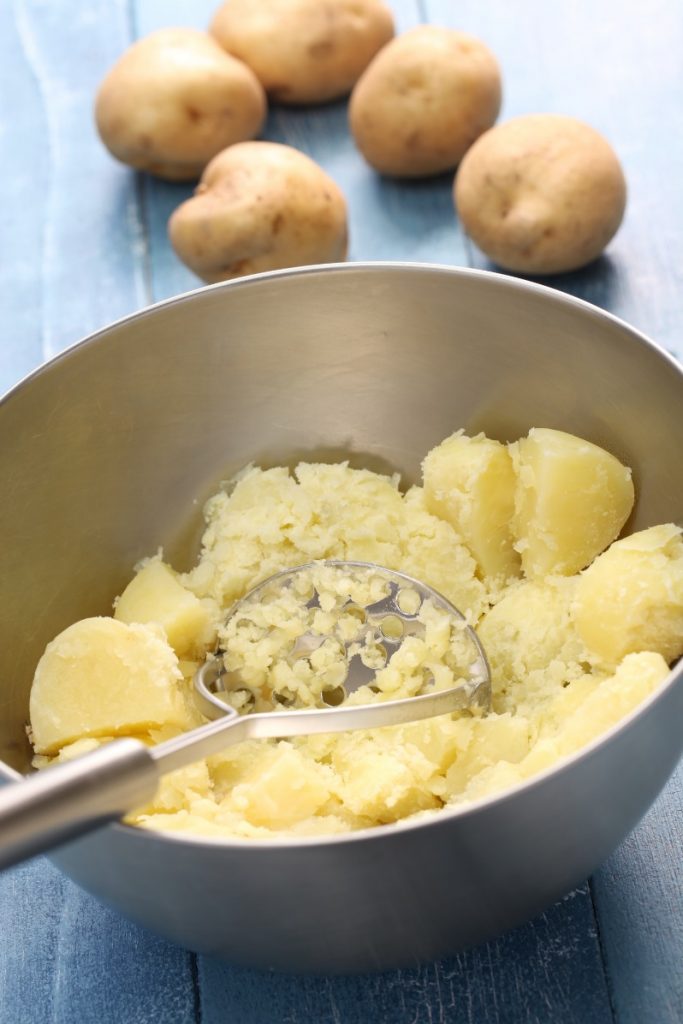 What can I add to mashed potatoes?
Garlic Mashed Potatoes – Increase the garlic by doubling or tripling the measurement for extra garlicky flavor.
Loaded Mashed Potatoes – Top with cheese, bacon bits, and chives for super flavors!
Mashed Sweet Potatoes – Swap baking potatoes for sweet potatoes and omit the sour cream and mayo for a healthier take on mashed potatoes!
Mashed Red Potatoes – If you prefer red potatoes, this recipe would be delicious with all red new potatoes.
Leave the skins on for added texture.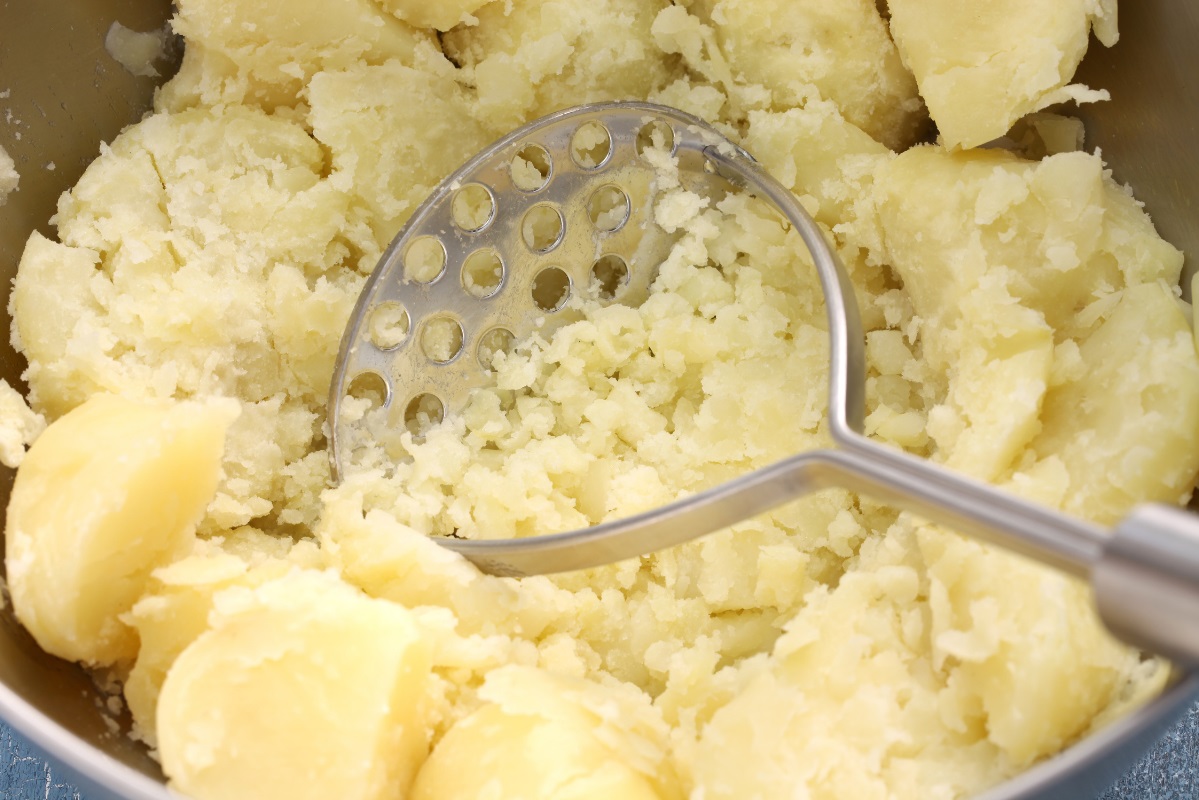 Tips: Make-Ahead, Storing, and Reheating Mashed Potatoes
If you are making these ahead of time, follow the recipe, then transfer the potatoes to a slow cooker. Place on warm until you are ready to serve. Occasionally, you will need to give them a stir and add a splash of milk to keep them from sticking to the bottom and sides of the slow cooker insert.
Store cooked mashed potatoes in an airtight container in the refrigerator for up to 3-5 days. Repurpose leftovers for tasty new options!
To reheat, microwave in one-minute increments until warm.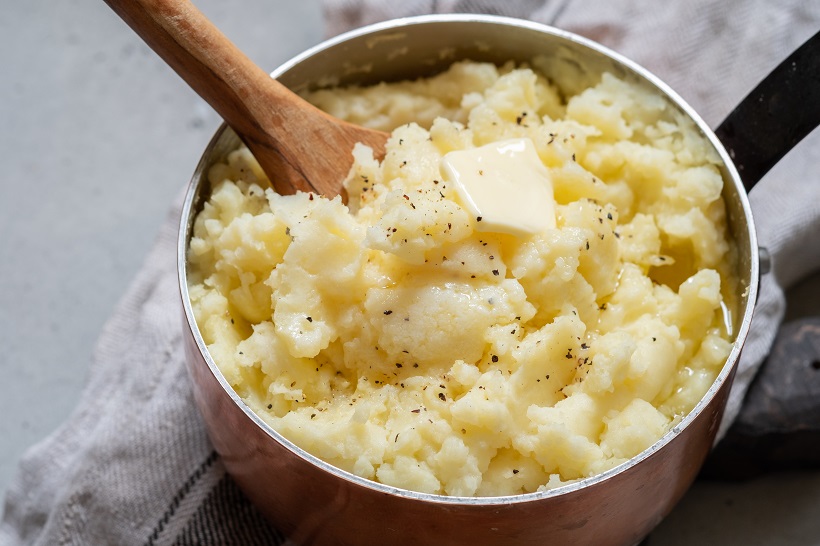 FAQ
How Many Mashed Potatoes Per Person?
For a large holiday dinner with other side dishes, take the number of guests and divide in half to see how many potatoes you will need for this recipe.
What can I add to mashed potatoes?
Create variations of the original recipe by adding onions, cheese, different seasonings and more. See the tips above.
What can I substitute for milk in mashed potatoes?
Use half and half, whipping cream, or heavy cream in place of milk.
Why are my mashed potatoes gluey?
Overmixing using a stand mixer or hand-held mixer can result in gluey mashed potatoes. Use a hand masher for best results.
Can I make mashed potatoes ahead of time and keep in crockpot?
Making these up to 3 days ahead of time and place them on the warm setting in a slow cooker is the best way to free up stove space.
How long can mashed potatoes sit in the fridge?
Store cooked mashed potatoes in the fridge for 3-5 days in an airtight container.
What are the best potatoes for mashed potatoes?
Russet potatoes or Yukon Gold potatoes are best for mashing.
Recipe
Yield: 10
Homemade Mashed Potatoes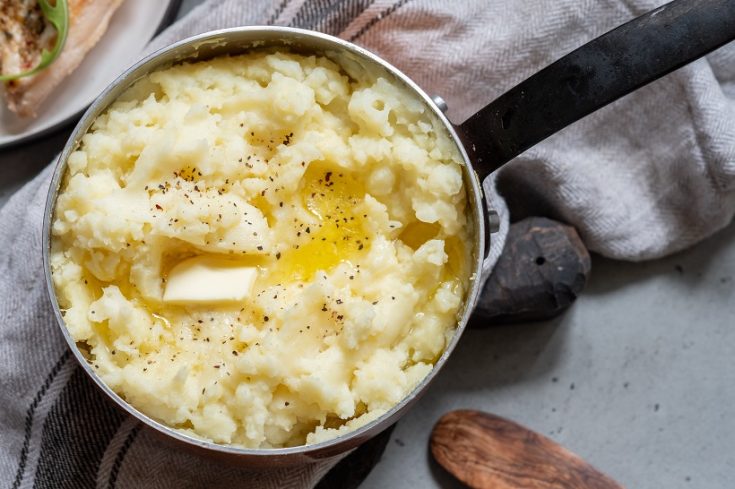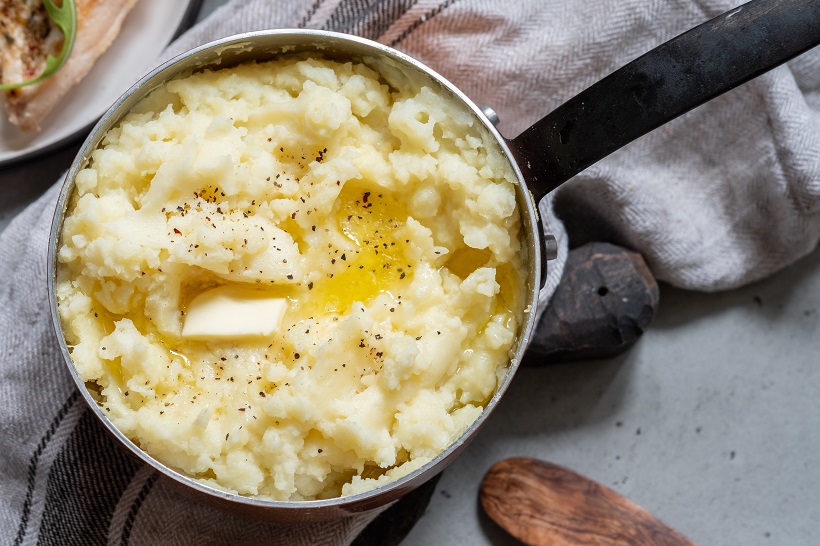 There's nothing more American than homemade mashed potatoes! Rich and creamy, this recipe is easy to make and perfect for your holiday table or smothered by a stew or pot roast.
Ingredients
5 lbs. Baking Potatoes
3 tbsp Butter
¼ cup Milk
½ cup Mayonnaise
½ cup Sour Cream
3 cloves Garlic, minced
Salt and Pepper, to taste
Instructions
Wash, peel and quarter potatoes.
Place the potatoes in a large pot with room for the water. Then, fill the pot with water until all of the potatoes are covered.
Place on the stove on high heat until boiling, then turn down to medium and cover for 30 minutes or until easily pierced with a fork.
When the potatoes are done cooking, carefully strain them into a colander. Then, add them to a large bowl and mash with a potato masher, handheld beater, or stand mixer.
Then, add in the butter, milk, sour cream, mayo, and garlic cloves. Mix well to combine.
Notes
If you are preparing these potatoes for a crowd, save your arm strength and use a stand mixer to whip these up a little quicker.
If you are opposed to mayo, you can leave it out. But the mayo makes the mashed potatoes light and fluffy on the taste buds!
If you are making these ahead of time, follow the recipe, then transfer them to a slow cooker. Place on warm until you are ready to serve. Occasionally, you will need to give them a stir (to avoid sticking to the sides). Add a little milk if they begin to look dry.
Nutrition Information:
Yield:
10
Serving Size:
1 grams
Amount Per Serving:
Calories:

342
Total Fat:

14g
Saturated Fat:

5g
Unsaturated Fat:

9g
Cholesterol:

21mg
Sodium:

156mg
Carbohydrates:

49g
Fiber:

5g
Sugar:

3g
Protein:

6g