Ahi tuna, also known as yellow-fin tuna, is marinated in soy sauce, lemon juice, and sesame oil, then seared to perfection! Served rare, don't let this sushi-style dish intimidate you. With a few simple ingredients, you can prepare this elegant meal in less than 30 minutes.
I'm sure you've had this dish many times in restaurants. It's usually coated in a sesame seed crust with a slightly "tanned" edge and a bright reddish-pink center and served with a savory dipping sauce.
This is the quintessential seafood luxury and is a family favorite right along with pan seared scallops, crab cakes, and a shrimp boil!
This recipe is very similar to what you might find in a restaurant, but it is just as easy to make at home. Serve this sliced over a bed of white rice and roasted vegetables or alongside a fresh salad.
Ahi tuna steak
Ahi tuna is also known as yellow-fin tuna. There are related species of tuna that can be found on the East and West coasts of the U.S. – typically, all found in warmer waters. These are massive fish, coming in at about 400 pounds or more!
What to look for when buying fresh tuna
Many people don't think twice about ordering sushi from their local sushi restaurant, but when it comes to preparing sushi-style foods at home, cooks are quickly intimidated.
While a certain amount of concern over preparing raw fish at home is expected, this recipe can be prepared safely and deliciously with a few guidelines to follow.
When purchasing fish, fresh is best. With proper handling and preparation, no matter the recipe, you will be rewarded with a delicious meal with all of the best flavors of the fish in every bite.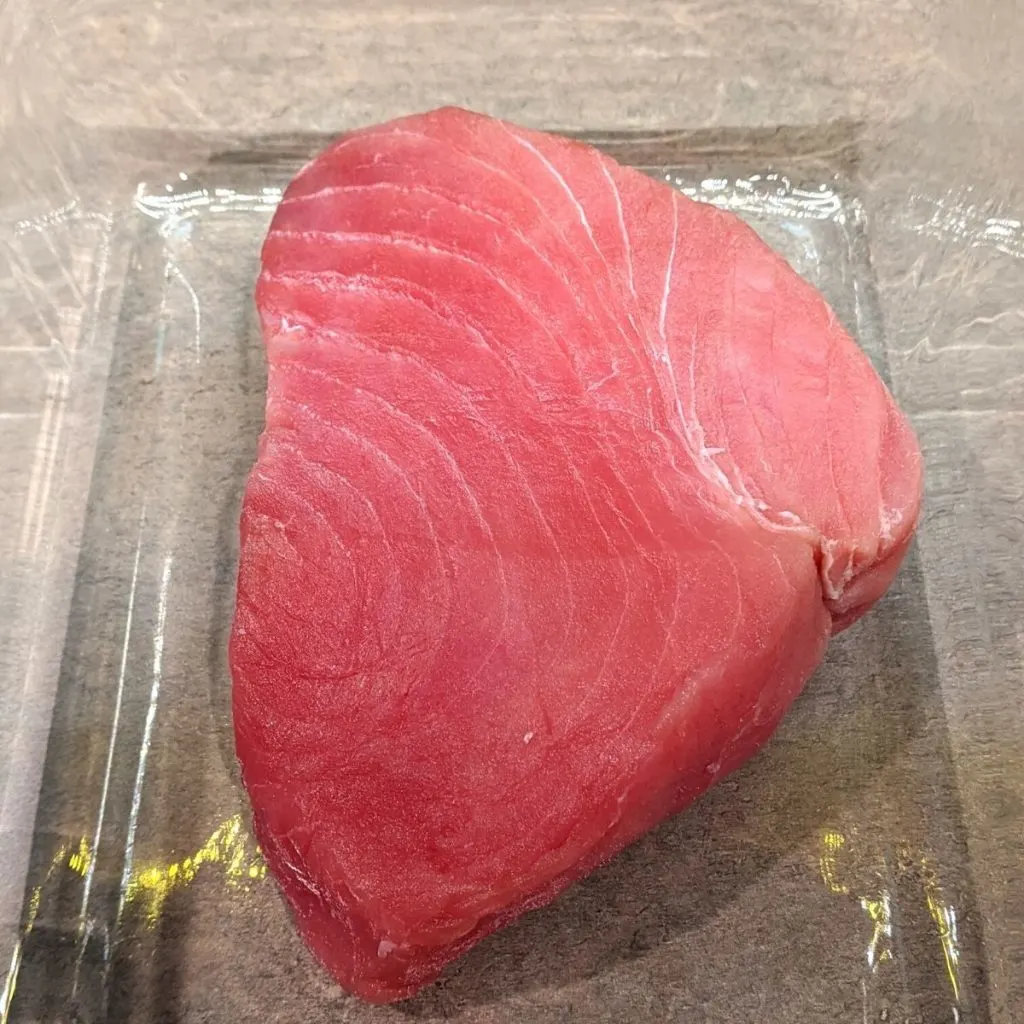 Here are some things to look for when buying tuna:
Purchase fish from a trusted source, like a local fish market. If you are visiting the area, choose a store that does its own harvesting to be sure you are selecting the best, highest-quality fish available. Reliable stores will be happy to share this information with you as they are focused on providing the very best for their customers.
Don't purchase fish you cannot see with your own eyes! Also, the store/facility should be clean and sanitary, and have a visible health department rating.
Always buy fresh ahi tuna steaks – never frozen. Frozen fish has less flavor and will not yield as delicious results.
Bright, red steaks are the freshest. As the meat is exposed to oxygen, the meat will oxidize and turn brown fairly quickly.
The true test of freshness: the smell. Even though tuna is a fish, this raw fish should never smell overly fishy. If you are taken back by the odor, skip the fish and move on.
Never buy farm-raised fish, especially when serving raw. Wild-caught fish from the U.S. will be fresher, humanely treated, and handled with better hygiene practices than any "fish farm".
Is ahi tuna safe to eat raw?
Ahi tuna is safe to eat as prepared in this recipe. If you have health concerns or existing immune deficiencies, check with your doctor before consuming.
As with any animal, there are risks when consuming raw or undercooked meats, so it is incumbent on the cook and consumer to be aware of these risks and take necessary steps to prevent infections.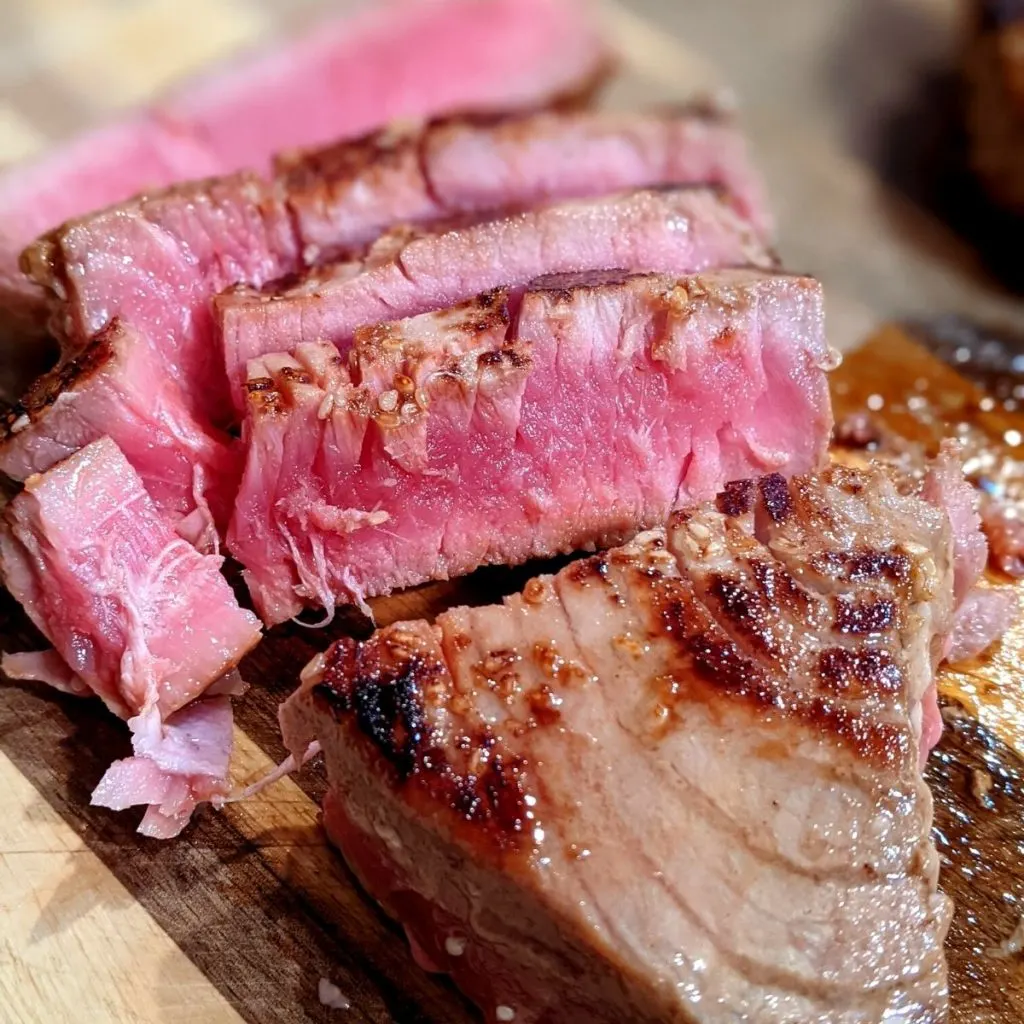 The best advice is properly handling the fish and following the tips and guidelines as listed in this article.
According to an article on Serious Eats (with reference to FDA), the only real way to avoid parasites and bacterial growth is to properly freeze or cook the fish in question.
According to experts (cited in the article), bacterial growth is far more concerning than parasites in raw fish, which is typically brought on by "temperature abuse".
Parasites can be rid by freezing the fish, but "temperature abuse" creates the perfect environment for bacterial growth through storage, preparation, or handling the fish at unsafe temperatures. Fish must be kept below 40°F (4°C) to inhibit bacterial growth.
For example, if you drive 8 hours with unchilled tuna steaks (obviously much higher than 40°F), and then prepare them following this recipe, the bacterial count on that piece of fish, could be dangerously high.
Additionally, the terms "sushi-grade" and sashimi-grade" are simply marketing terms and do not denote safety specifications or guarantees. These terms are not used or vetted by the FDA or any official regulations.
How to cook tuna steaks
Enough of all that safety info! Let's get to the fun part. Cooking tuna steaks is the easiest part – it's a quick sear for a few minutes on each side, then you're ready to eat.
Ahi tuna steak marinade
The key to bringing out the natural flavors of the fish is a great marinade. This umami-textured combination of soy sauce, lemon juice, and toasted sesame oil gives this delicate fish the most delicious flavor.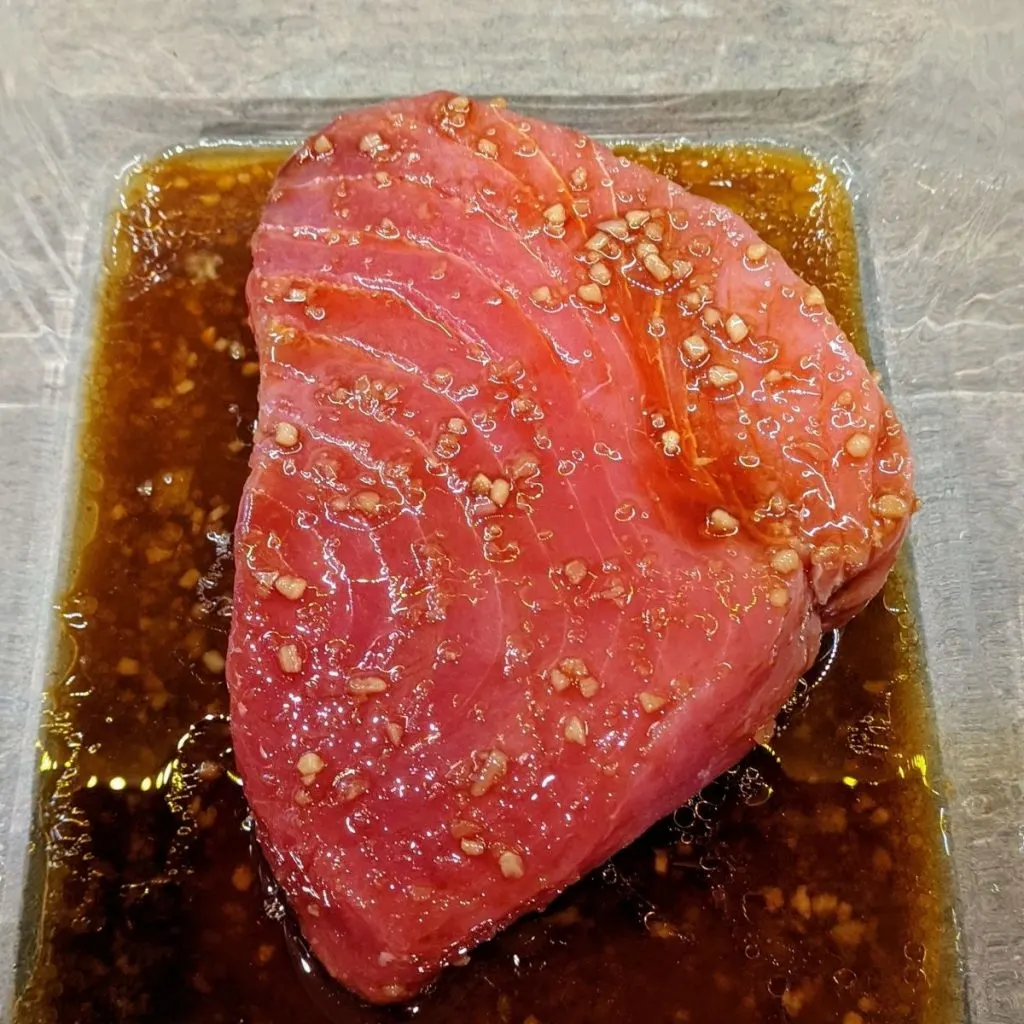 Here's what you need for the marinade:
Soy sauce
Lemon juice
Toasted sesame oil
Garlic
Sugar
Kosher salt and freshly cracked black pepper
Because this recipe calls for lemon juice, you only need to marinate the steaks for 15 minutes total. For any significant time longer, the lemon juice will begin to "cook" the outside of the fish, which will result in tough meat as an end result.
How to sear ahi tuna
A cast-iron skillet does a great job of searing the steaks. Since you don't want any sticking with this recipe, make sure your cast iron is well seasoned.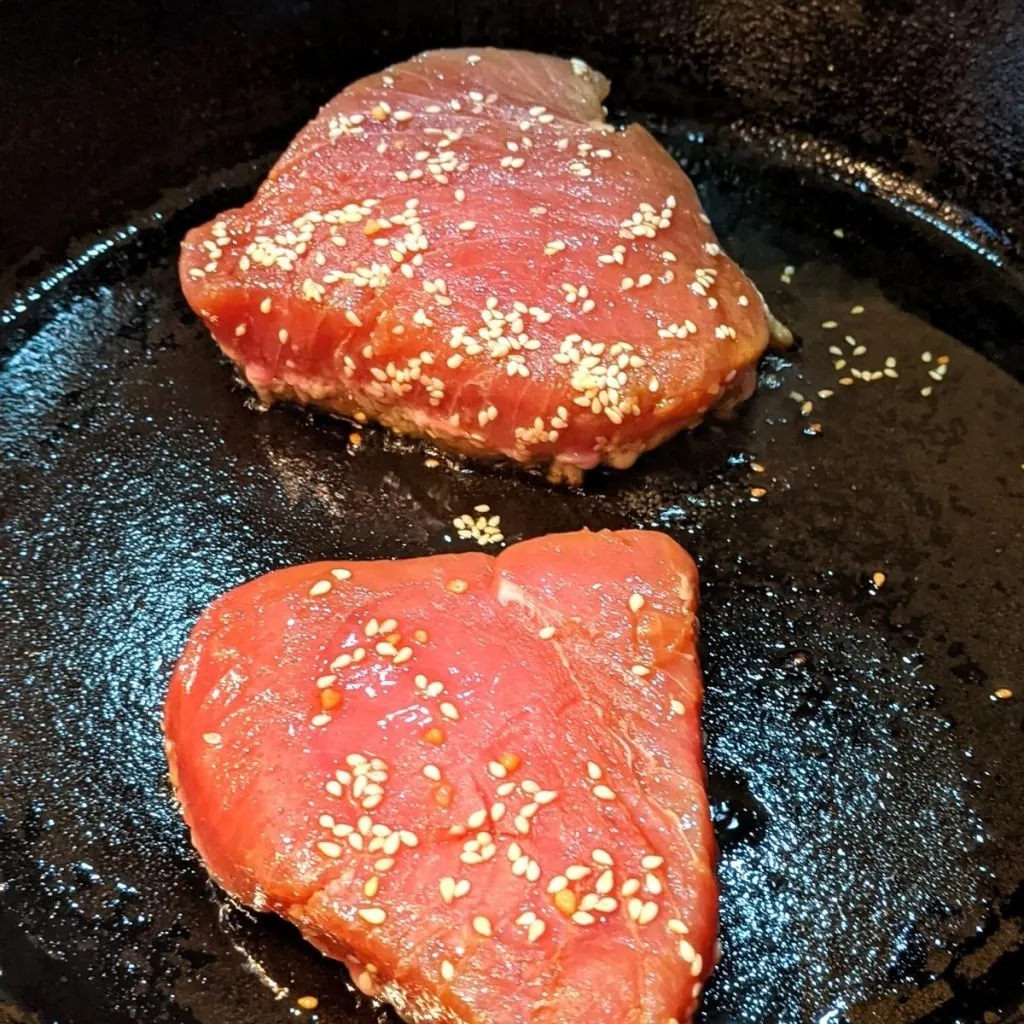 Avoid using non-stick cookware for this recipe as it doesn't give the fish that perfect crust on the outside.
It's tempting to "check" the underside of the fish while searing, but resist the urge and let the Maillard reaction do its job. Moving the fish too much will cause uneven cooking and flaking.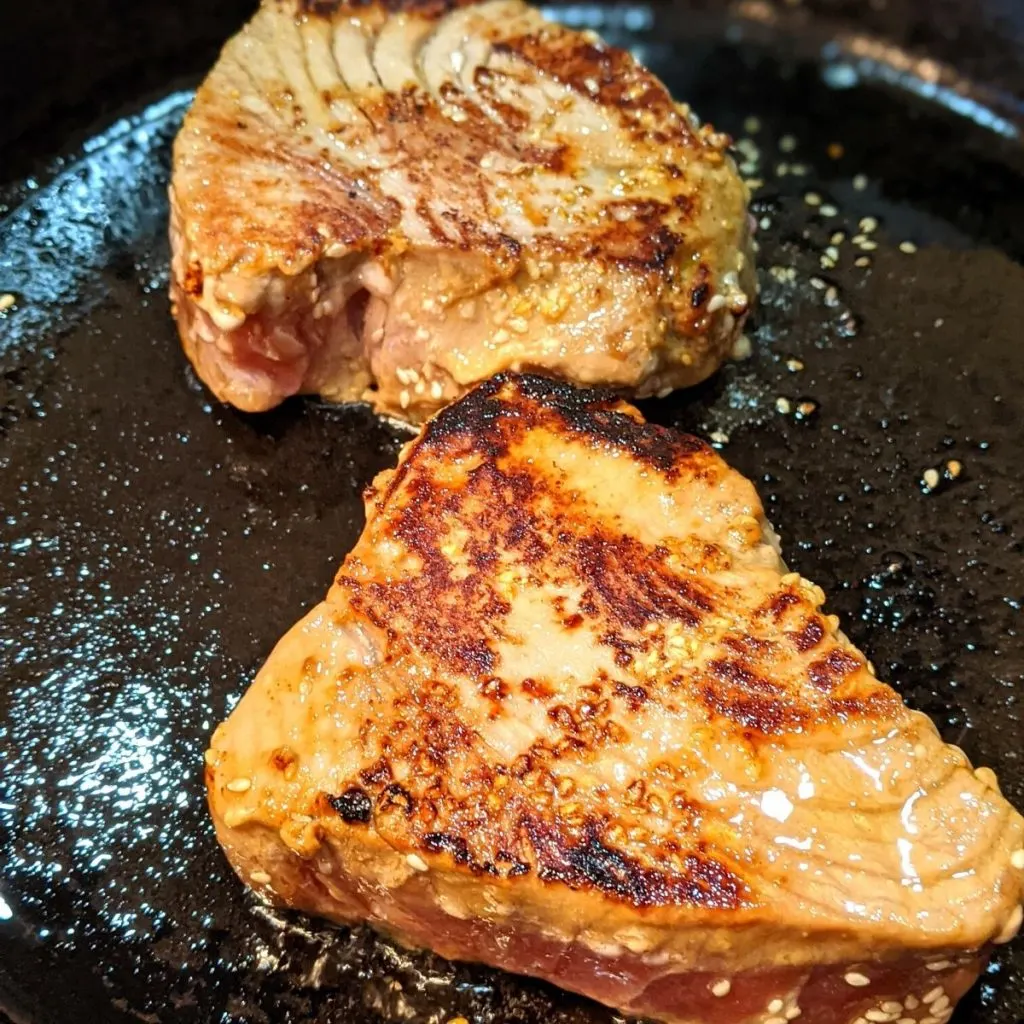 After searing, allow the fish to rest on a cutting board or plate for 10 minutes. This allows the juices to redistribute for a perfectly tender bite.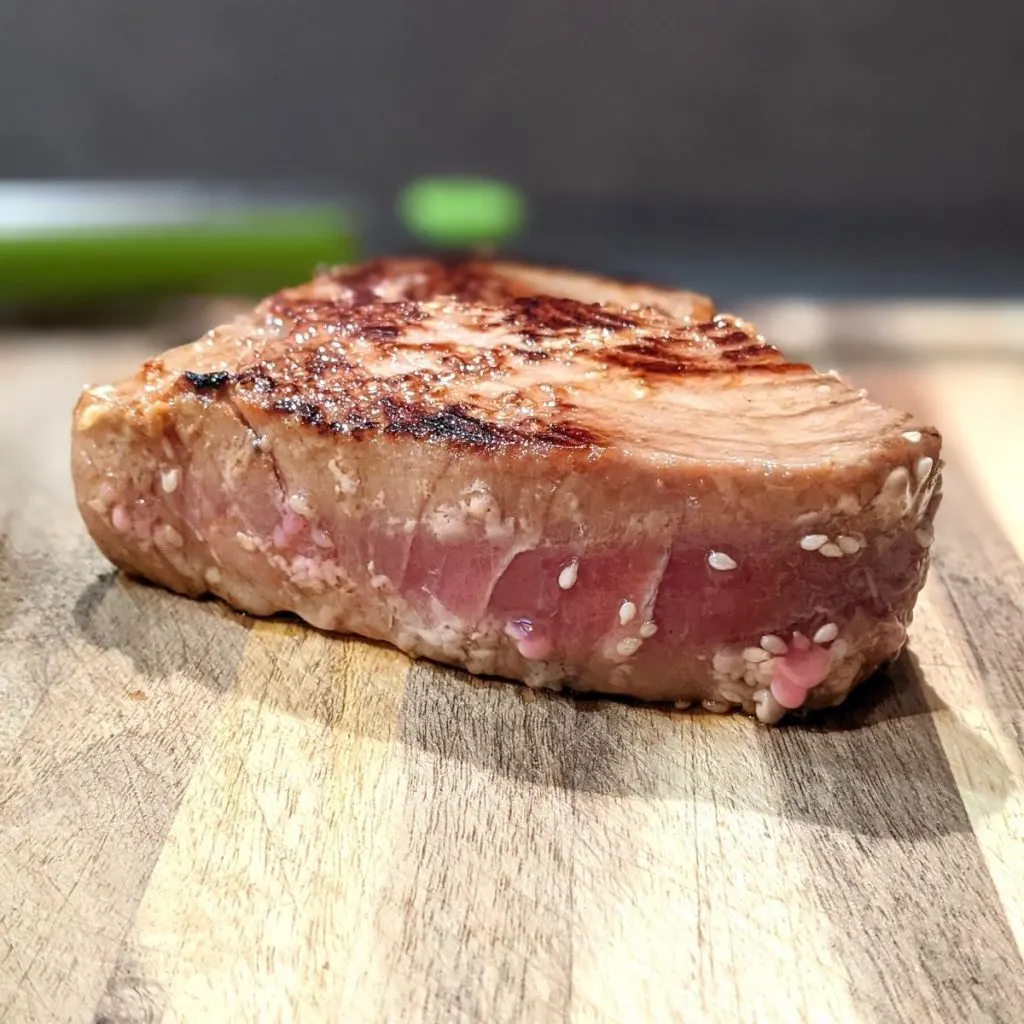 Then, slice across the grain with a serrated knife and serve chilled or at room temperature.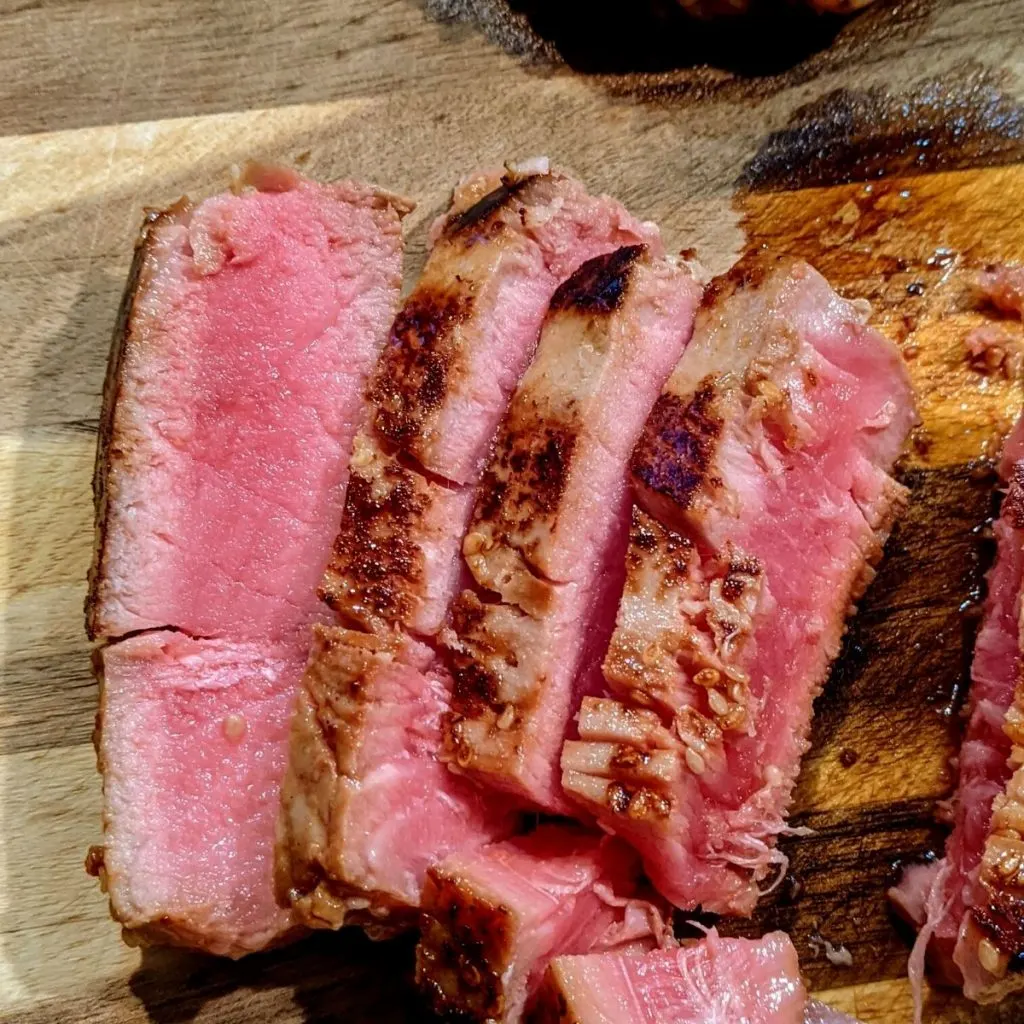 Seared tuna should be bright pink in the center when serving.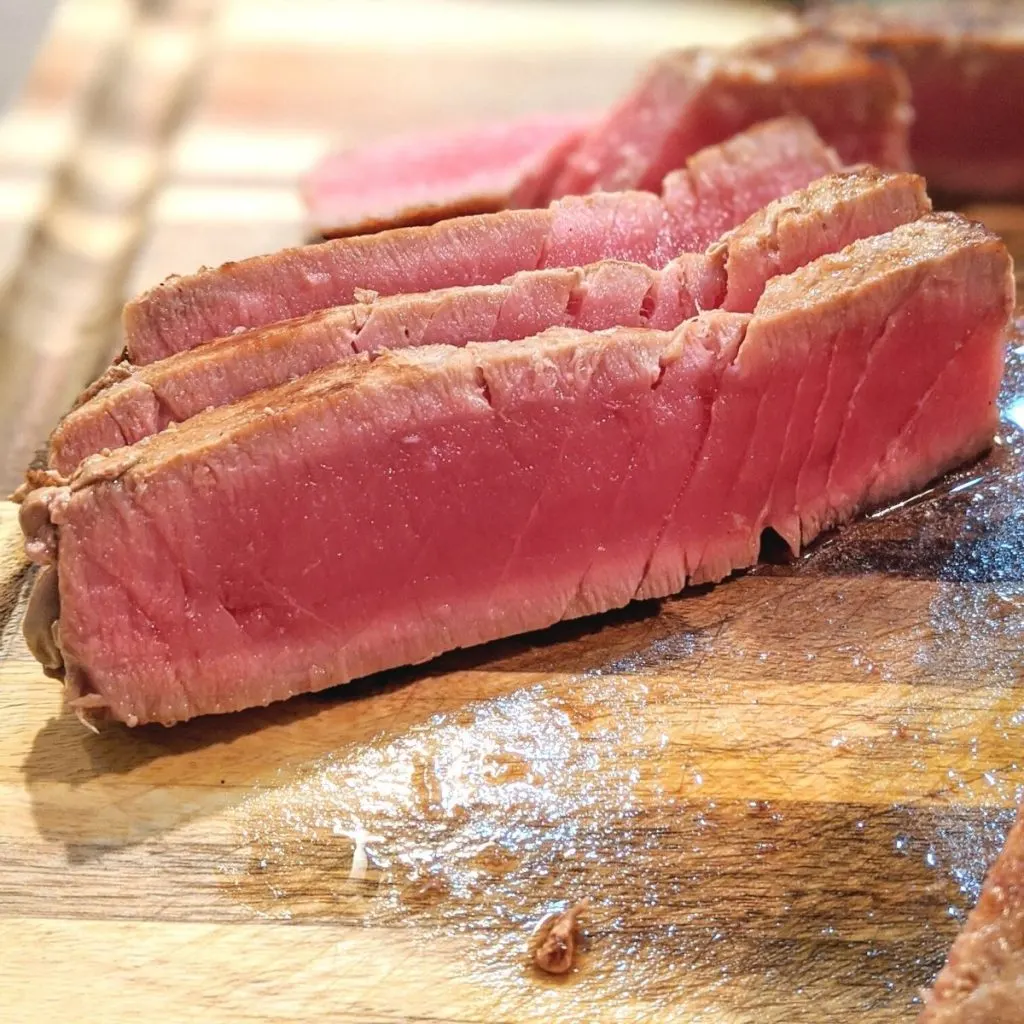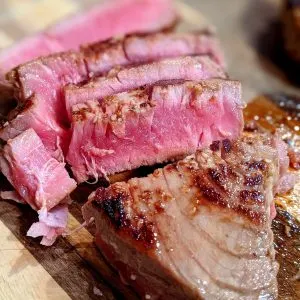 Seared Ahi Tuna Recipe
Ahi tuna, also known as yellow-fin tuna, is marinated in soy sauce, lemon juice, and sesame oil, then seared to perfection! Served rare, don't let this sushi-style dish intimidate you. With a few simple ingredients, you can prepare this elegant meal in less than 30 minutes.
Ingredients
¼

cup

of soy sauce

1

tablespoon

of freshly squeezed lemon juice

2

tablespoons

of toasted sesame oil

3

garlic cloves

(minced)

2

teaspoons

of granulated sugar

1

teaspoon

kosher salt

1

teaspoon

freshly cracked black pepper

2

tablespoons

of sesame seeds

2

fresh ahi tuna steaks

(about 1 1/2-2 inches thick)

Oil for cooking

Optional: Additional marinade for dipping
Instructions
In a mixing bowl, whisk the first 8 ingredients (everything but oil and tuna steaks) for the marinade.

Place the tuna steaks on a rimmed pan or casserole dish, and pour marinade over the fish.

Marinate for 15 minutes, turning once halfway through the marinating process. Pour off the marinade from the fish.

Heat a few tablespoons of oil in a cast-iron skillet over medium-high heat, until shimmering.

Carefully place tuna steaks in the skillet with plenty of room between them. *

Sear 3 minutes per side. Carefully flip with tongs or a spatula.

Transfer fish to a large cutting board or plate, cover with foil, and allow to rest for 10 minutes.

Using a sharp knife (serrated is best), slice thinly across the grain (perpendicular to the natural lines across the fish).

Garnish with green onion and sesame seeds if desired. Serve chilled or at room temperature.
Notes
Please read the entire post for details, tips, and more!
Note: Be sure to give the individual steaks plenty of space between them to allow for optimal searing.
What to serve with Ahi Tuna Steaks:
White rice
Asparagus
Green beans
Nutrition
Serving:
1
grams
Calories:
744
kcal
Carbohydrates:
24
g
Protein:
50
g
Fat:
50
g
Saturated Fat:
7
g
Polyunsaturated Fat:
41
g
Cholesterol:
67
mg
Sodium:
5376
mg
Fiber:
2
g
Sugar:
12
g