Whip up a batch of air fryer tater tots and bring back childhood memories with every crispy, crunchy bite. Forget soggy, half-baked tots from your oven! With the air fryer, they turn out deliciously golden every time. This speedy and straightforward method guarantees crowd-pleasing results.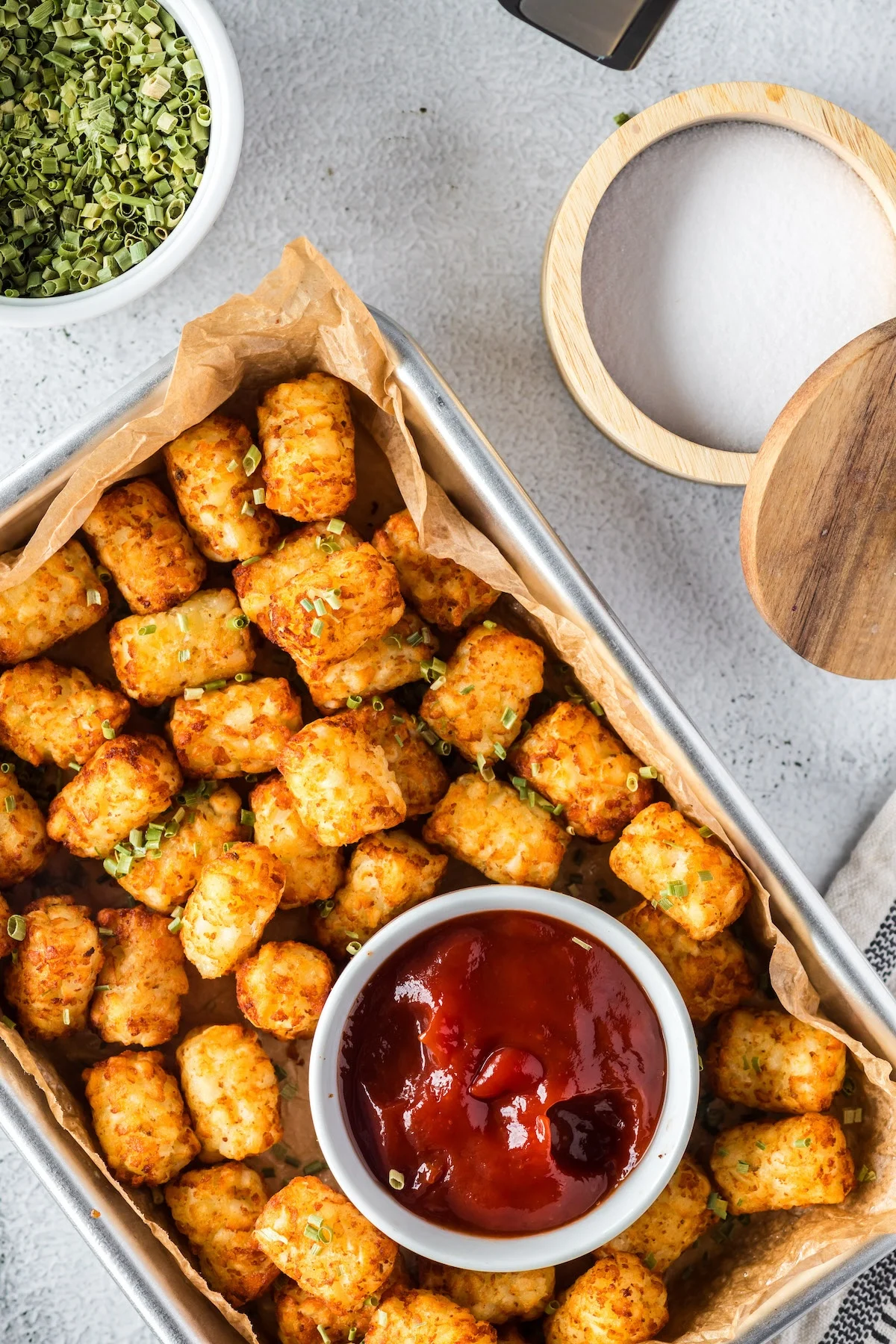 It's no secret that I use my air fryer for virtually everything these days. From air fryer frozen broccoli to air fryer buffalo wings, this versatile appliance has revolutionized my cooking routine.
Tater tots have always been one of my favorite comfort foods. With the air fryer, I can have them ready in no time at all. I don't know how I didn't think of this sooner!
Why I Love This Recipe
Quick: Air fryer tater tots are ready in less than 20 minutes, making this recipe something you can always have on hand when you're running short on time or creativity.
Crispy: The air fryer creates an irresistibly crunchy and perfectly golden crust. It really doesn't compare to baking them in the oven.
Easy: Open a bag and pop the frozen tots into the preheated air fryer. It doesn't get much easier than that!
Crispy Air Fryer Tater Tots
Tater tots are a classic American food item. If you haven't heard of them, you've likely been living under a rock! Originally created in the 1950s by the Ore-Ida company as a way to utilize leftover bits of cut-up potatoes, they've since become a beloved side dish nationwide.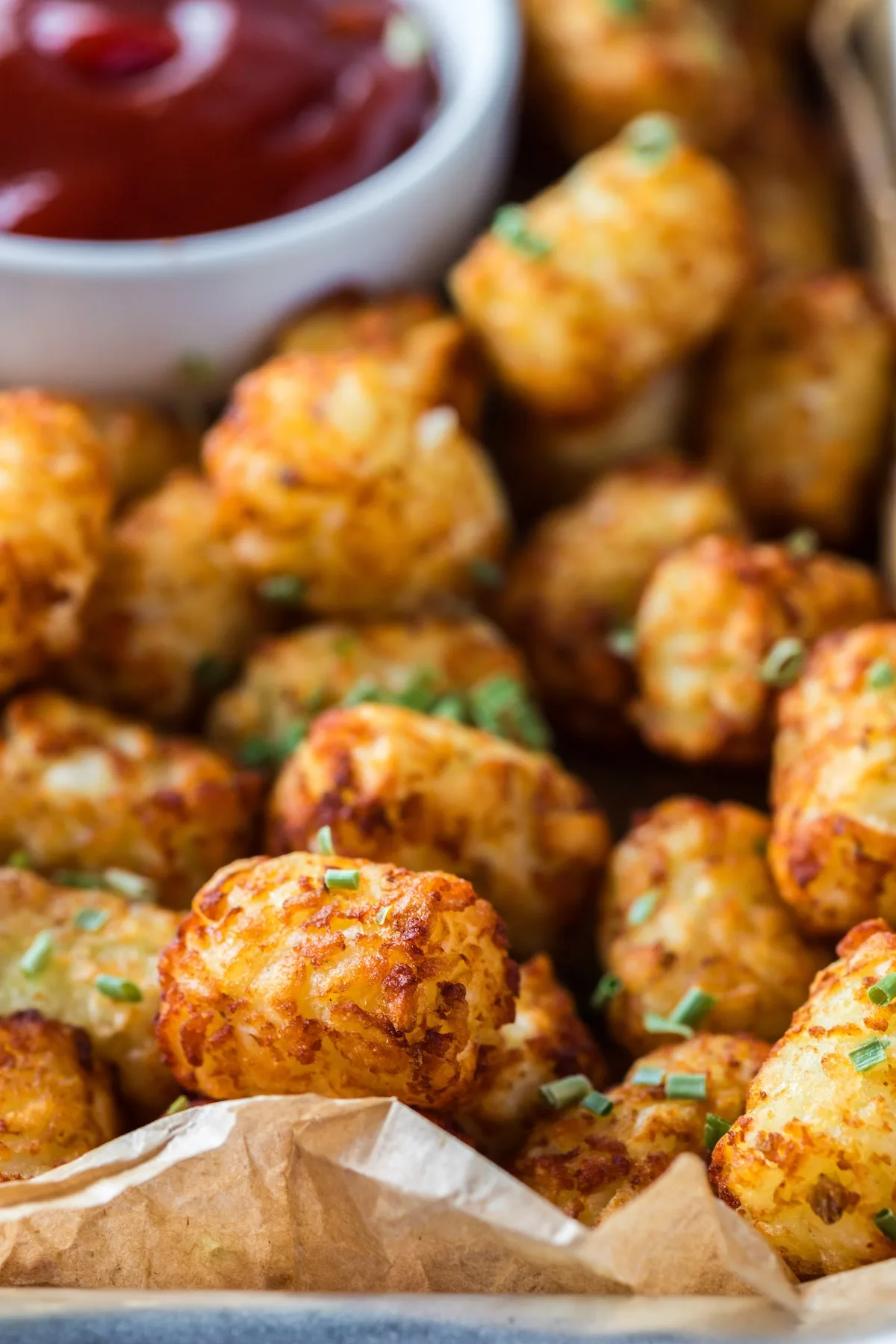 These tiny nuggets of potato are perfectly crispy on the outside with a fluffy, tender interior. The air frying technique results in a superior crunch that oven-baking simply can't match.
While they're excellent on their own, they also pair well with a variety of seasonings, like garlic, paprika, or Italian herbs, for added flavor. Serve them hot out of the air fryer with ketchup or your favorite dipping sauce!
Ingredients For Air Fryer Tater Tots
Frozen tater tots: Use your favorite brand, but I usually opt for Ore-Ida or McCain. If you can't find frozen tots, you could also use frozen hash browns or potato croquettes.
Cooking spray: I prefer avocado oil for air-frying, but any neutral vegetable oil with a high smoke point, like canola or peanut, will work.
Salt: Helps to bring out the natural flavors of the potatoes. You can also use seasoned salt for a spin on the classic tater tots flavor profile.
Other seasonings: This is where you can get creative! Try garlic powder, onion powder, taco seasoning, cracked black pepper, dried herbs, or even some chili powder for a kick.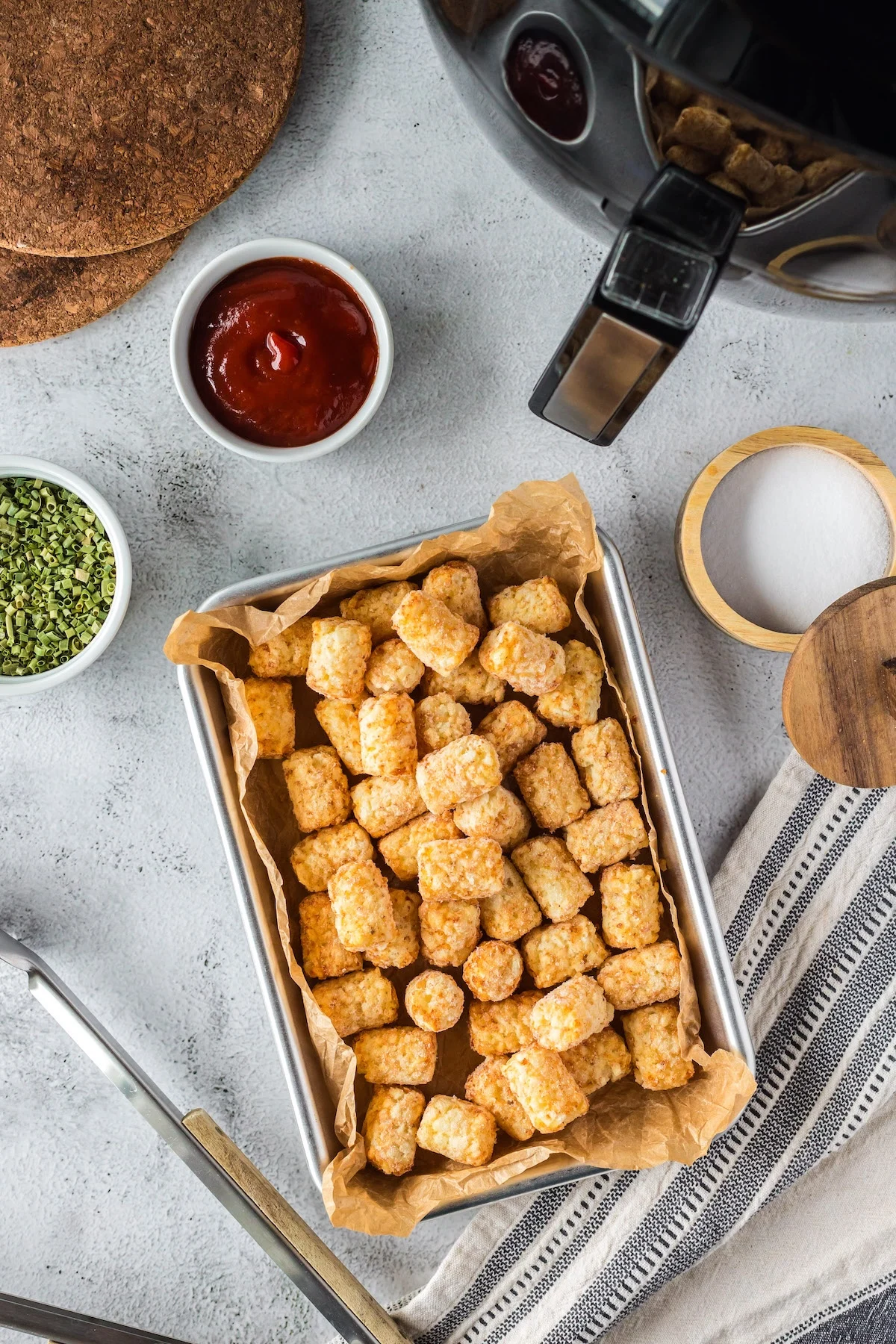 How to Make Air Fryer Tater Tots
Step 1: Preheat And Prep
Start by preheating your air fryer to 400ºF. While it's heating, add your tater tots and coat them with some avocado oil cooking spray.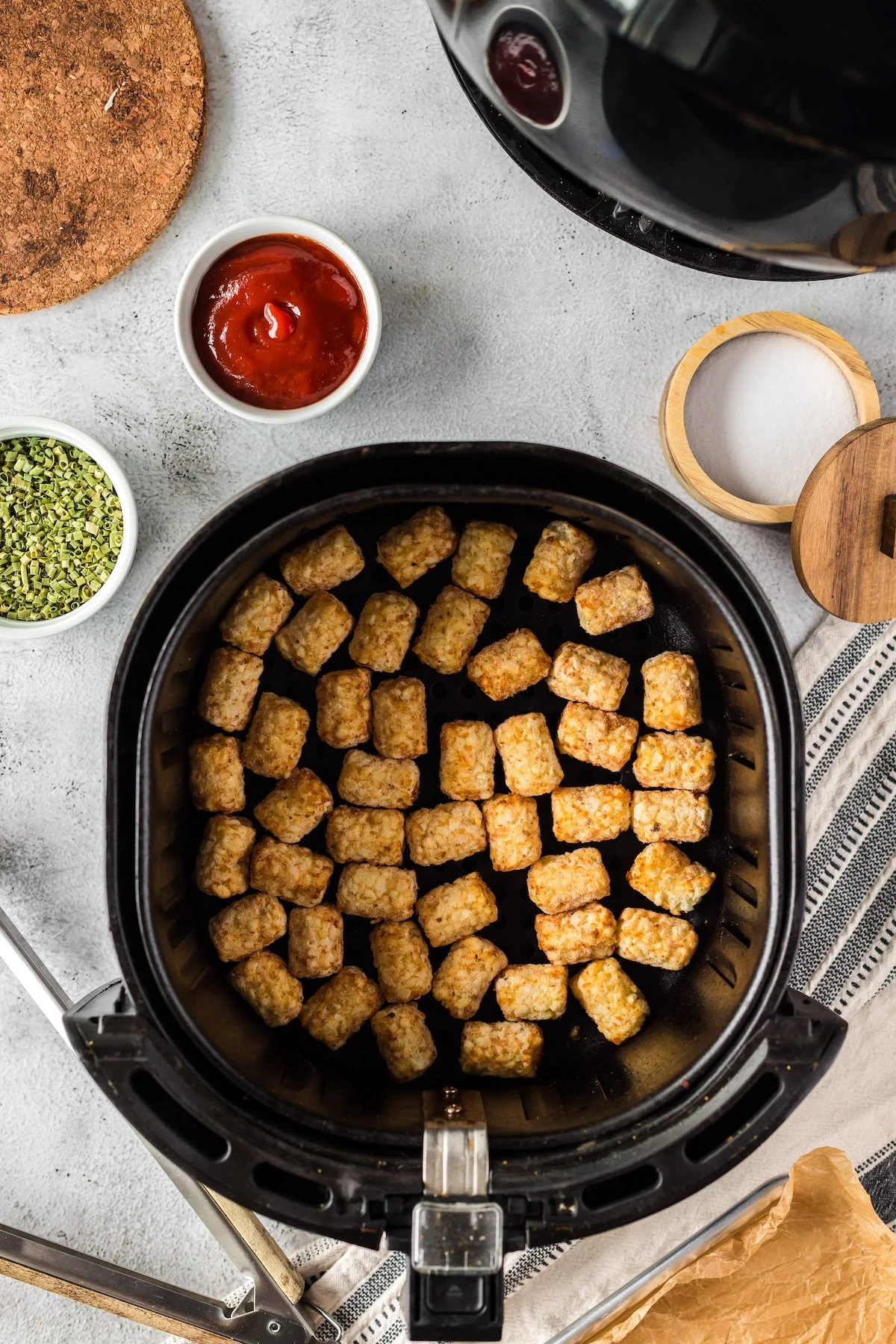 Step 2: Season The Tots
Next, season your tots as desired and toss them to ensure they're evenly coated. The beauty of this step is that you can tailor the flavor to your own preferences.
Step 3: Air Fry The Tater Tots
Finally, let your tater tots cook for 15 minutes, tossing every 5-8 minutes to ensure they brown evenly on each side. If you prefer extra crispy tots, feel free to leave them in the air fryer for a bit longer.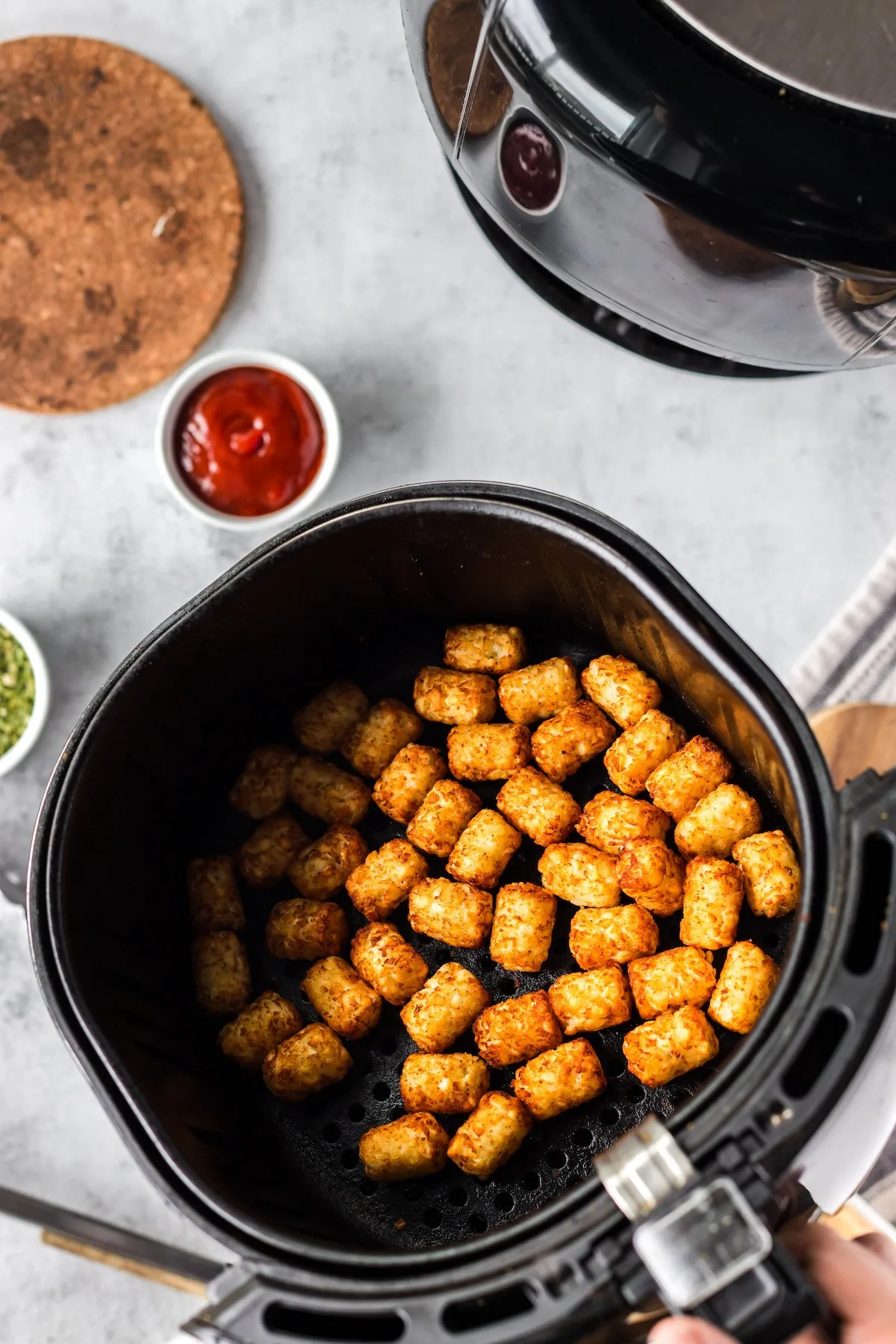 How To Serve Tater Tots
Tater tots in the air fryer are a versatile side dish that pairs well with burgers, hot dogs, or even chicken breasts. They're also the perfect size for skewering, making them a fun addition to a party spread.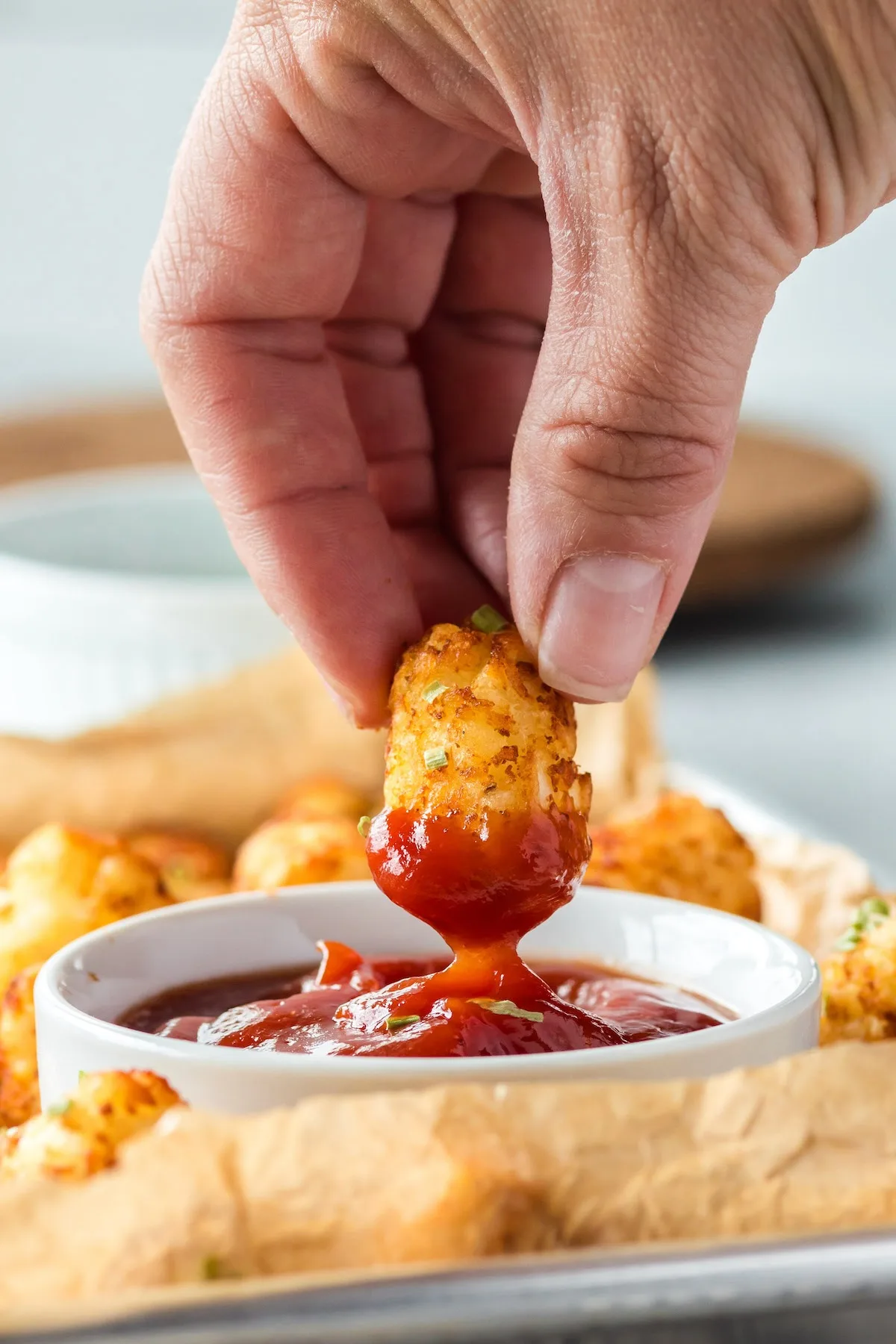 And if you're a dip person like me, serve them alongside ketchup, or change things up with homemade aioli or Alabama white BBQ sauce. You can even experiment with some fun recipes, like tater tots nachos or a tater tots casserole.
Recipe Variations
Cheesy: Toss in Parmesan and garlic powder before cooking for a garlicky and cheesy twist.
Spicy: Add some Cajun or cayenne powder for a spicy kick.
Mexican: Sprinkle with ancho chile powder and a squeeze of lime for a Mexican-inspired flavor.
Indian-inspired: Toss your tater tots in some curry powder, then serve them with a side of chutney for dipping.
Tips For The Best Recipe
Preheat: Preheat your air fryer before adding the tater tots for the crispiest results.
Don't overcrowd: Don't overload the air fryer. If you need, cook the tots in batches so they air fry in a single layer.
Flip the tots: Flip the tater tots throughout to ensure they cook evenly on all sides.
Oil: Make sure to coat the tots well with cooking spray for the best crunch. If you don't have spray, you can toss them in oil instead.
What To Do With Leftovers
If you find yourself with leftover tater tots, follow these simple storage and reheating tips:
Fridge: Once your tater tots have cooled, store any leftovers in a sealed container in the fridge for up to 3 days.
Freezer: You can actually refreeze your tater tots if you're not going to eat them within a few days. Just add them back into a freezer-safe bag and store them for up to a month.
Reheating: Reheat leftovers in the air fryer at 400F for a few minutes until hot and crispy. Remember to toss them a few times throughout.
Additional Recipes
If you enjoy air fryer recipes as much as I do, then you'll love making these recipes:
Frequently Asked Questions
Can I use any type of frozen potato product for this recipe?
Absolutely! Instead of tater tots, you can cook fries, wedges, croquettes, or hash browns in the air fryer. Just keep in mind that each of these may take a different amount of time to cook, so always refer to the package instructions.
Do tater tots need to be thawed before cooking them in the air fryer?
No! The best part about tater tots is that you can just pop them in the air fryer right out of the bag. The cold ensures they retain their shape while achieving an ultra-crispy crust and fluffy interior.
Can I make tater tots in the oven if I don't have an air fryer?
Of course! If you don't have an air fryer you can still achieve a similar level of crispiness. Just cook them at a higher temperature in the oven. I suggest 425F for about 20 minutes, flipping halfway. Just keep a close eye on them to avoid burning.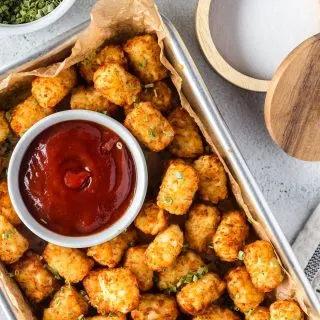 Crispy Air Fryer Tater Tots
Whip up a batch of air fryer tater tots and bring back childhood memories with every crispy, crunchy bite. Forget soggy, half-baked tots from your oven! With the air fryer, they turn out deliciously golden every time. This speedy and straightforward method guarantees crowd-pleasing results.
Ingredients
16

ounces

frozen tater tots

cooking spray

(I use avocado oil bc of high smoke point)

salt to taste

Other seasoning as desired
Instructions
Preheat air fryer to 400ºF. Add the tots to the air fryer, and coat with cooking spray.

Season as desired and toss to coat.

Cook for 15 minutes on 400ºF, tossing every 5-8 minutes so the tots brown evenly. Continue cooking for longer for crispier tots.
Nutrition
Calories:
141
kcal
Carbohydrates:
20
g
Protein:
2
g
Fat:
7
g
Saturated Fat:
1
g
Polyunsaturated Fat:
2
g
Monounsaturated Fat:
3
g
Sodium:
341
mg
Potassium:
197
mg
Fiber:
2
g
Sugar:
0.2
g
Calcium:
11
mg
Iron:
0.4
mg