The best pulled pork recipe! Making pulled pork in the oven is the key to the most tender, juicy, shredded pork. This oven roasted pork shoulder is cooked low and slow and makes the perfect BBQ pork for sandwiches, potlucks, and great leftovers! No smoker or grill needed.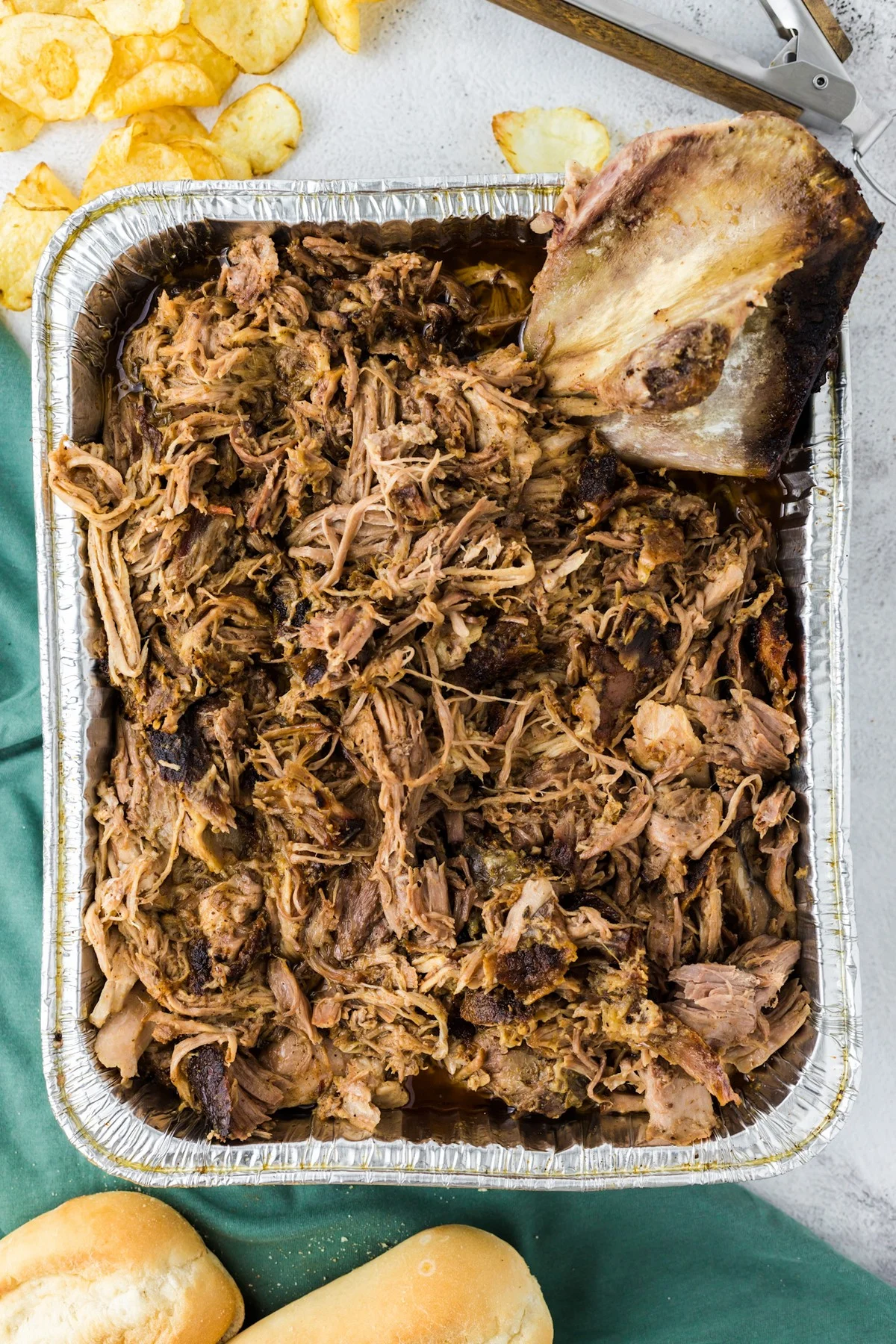 Pulled Pork in the Oven
For the easiest pulled pork, make it in the oven! This oven roasted pork shoulder recipe starts cooking at a high temperature to get that crispy bark that everyone loves, then slowly cooked until it melts away from the bone!
I do not add BBQ sauce to this recipe, but be sure to put out plenty of different types for guests to help themselves. Toast some buns and bust out the pickles – you've got yourself a simple meal that tastes like hard work!
Best Cut for Pulled Pork
Whether you are making sandwiches or anything else, the best cut of meat for pulled pork is a pork shoulder. Boneless pork shoulders or bone-in will work for this recipe.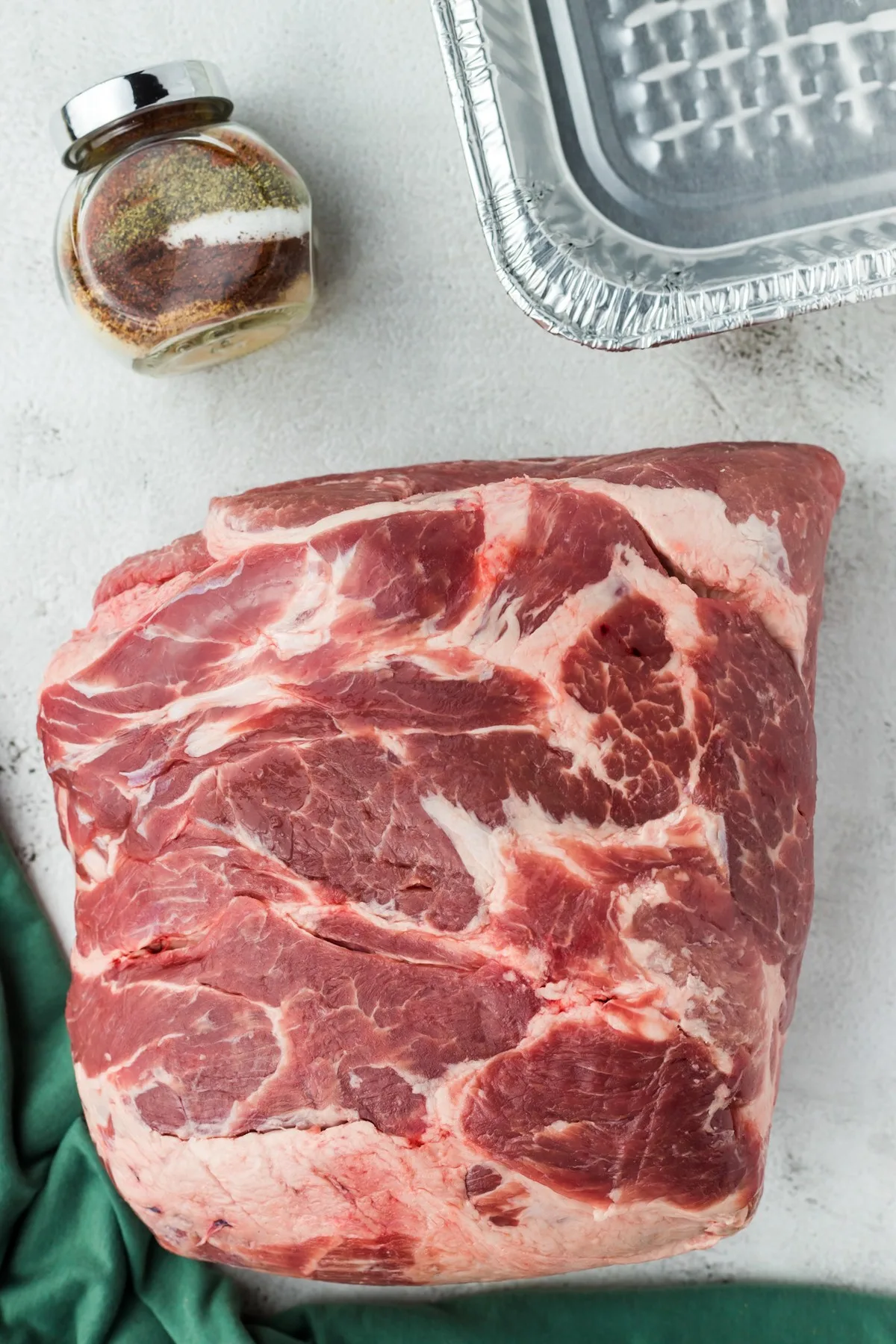 Pork shoulder roasts are ideal for pulling (or shredding) because of its fat content. It's also essential to let the meat cook low and slow to allow the protein to break down for meat that is easily shredded.
Boston Butt or a Picnic Roast are also great options for pulled pork.
Pork Rub Recipe for Pulled Pork
The seasonings you choose for an oven pork shoulder may vary from the ones you use when smoking or grilling.
I prefer using a blend of my own homemade dry rub. The recipe is equal parts of basic pantry seasonings. It's gives the meat a great flavor that you can easily build upon. Feel free to add or remove spices to adjust to the flavors you desire as needed.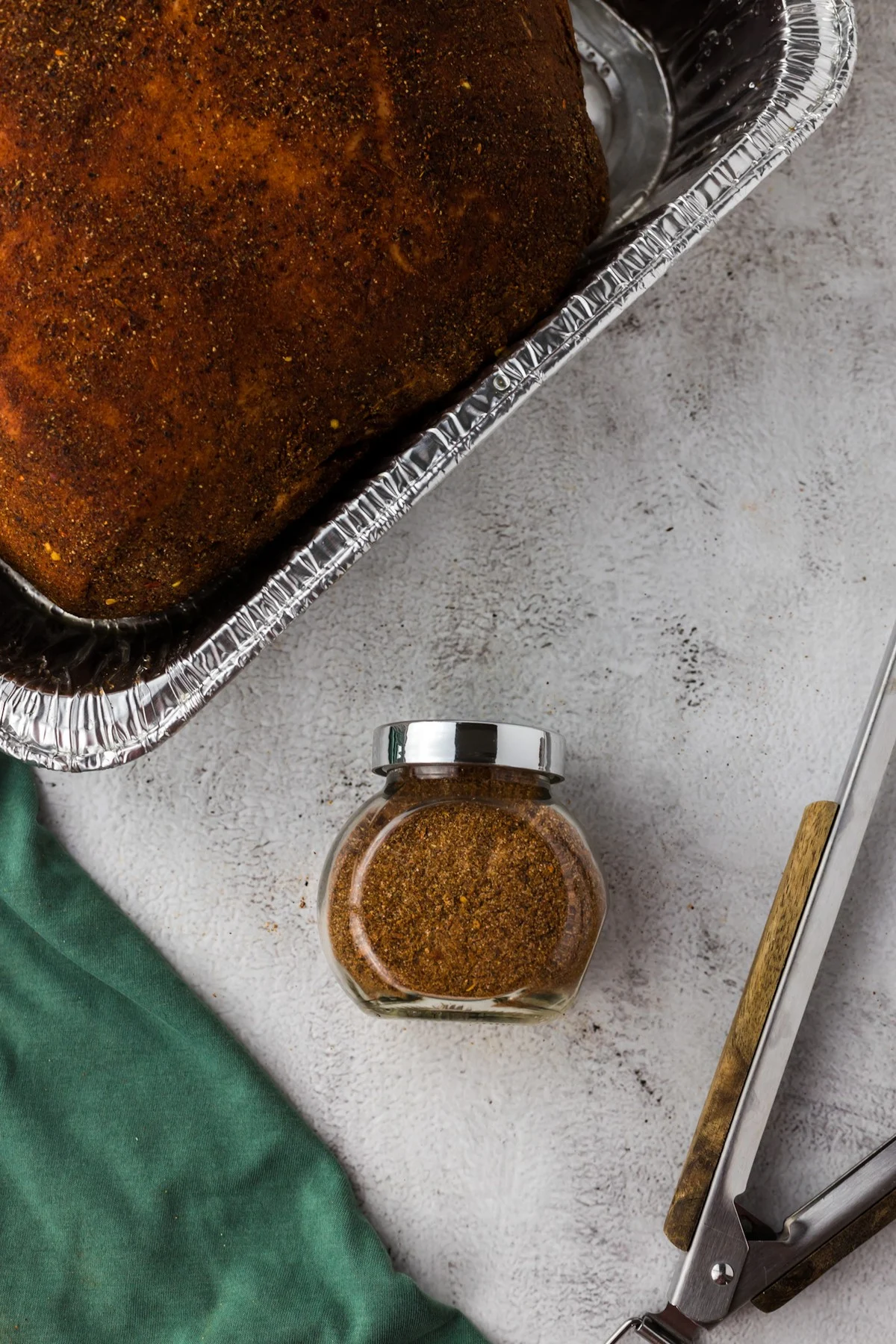 Alternatively, you can also use any of your favorite store-bought seasonings as a short cut.
Allow plenty of time for the pork to marinate after you apply the rub. I recommend at least 12 hours, preferably overnight.
Some people prefer using mustard as a binder. This is applied to the meat before adding the dry rub. It tenderizes the meat further and helps the seasoning bind to the meat.
How to Make the Perfect Oven Roasted Pork Shoulder
Tools Needed for this Recipe:
In-oven meat thermometer: I highly recommend using a tool like this for any large cut of meat. This takes the guesswork and prevents constantly "checking" on the meat during cooking.
Roasting Pan: I love my Nordic Ware Roasting Pan. We also grab the disposable roasting pans when we are making this for a large crowd, transporting the meat, or just for easy clean-up.
BBQ Shredding Claws: Using claws is the easiest way to shred the pork after it's ready. If you don't use shredding claws, you can use regular dinner forks or serving forks to shred the meat.
BBQ Grill Gloves: These are super handy for pulling the meat out of the oven. They give you a little extra grip and more coverage for handling heavy, large pans.
Step 1: Rub and Marinate the Pork Shoulder
Whether you are using a store-bought seasoning or making your own, go ahead and assemble that so you can rub down the pork roast.
Place your defrosted pork shoulder on a clean workspace. I recommend rubbing, marinating, and cooking in the same container. Try a disposable aluminum pan for easy clean up.
Generously rub down the meat with the rub on all sides. The meat should be coated completely.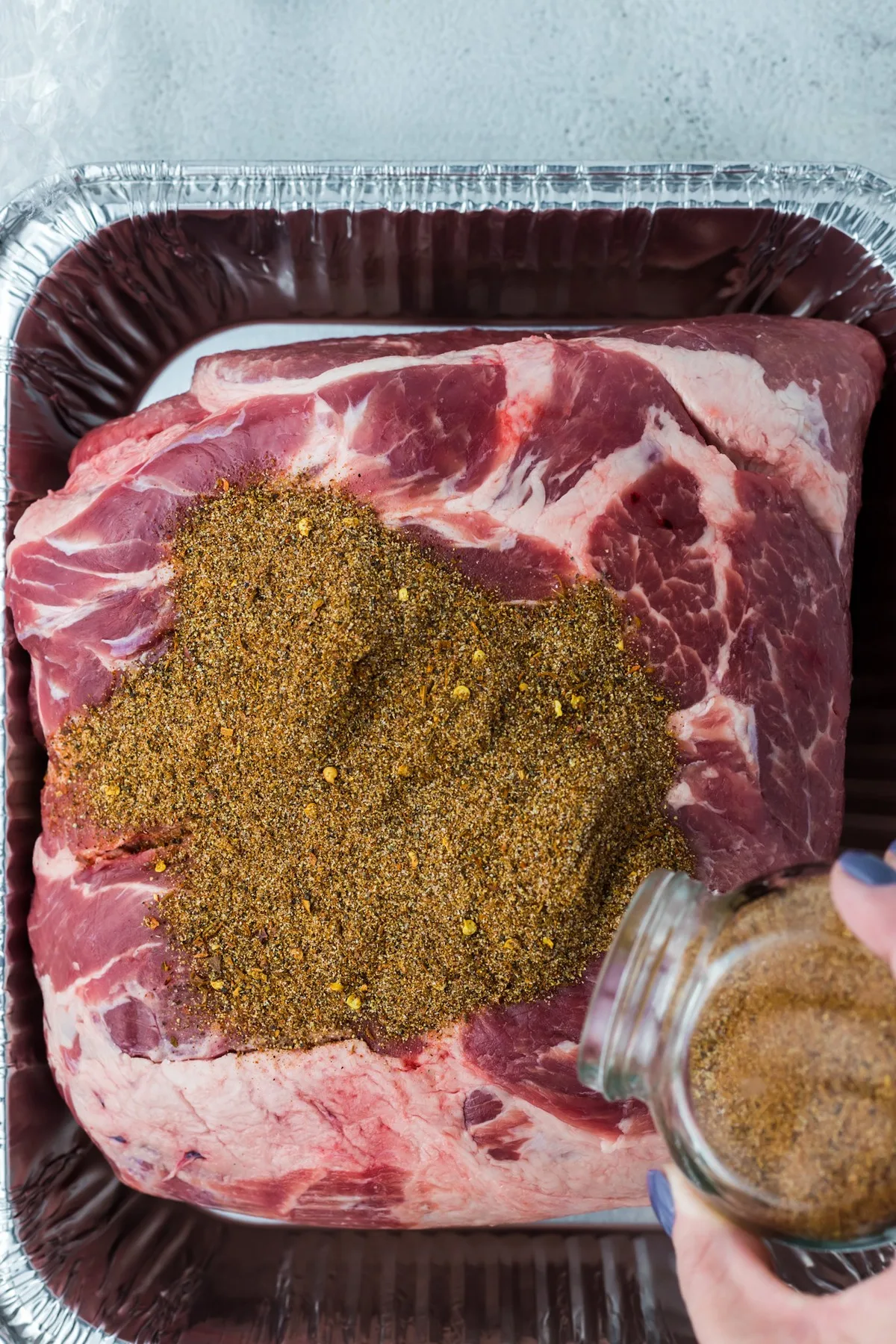 Then, wrap in plastic wrap and place inside a leak-proof container. Marinate in the fridge for at least 12 hours or overnight.
If you are marinating and cooking in the same pan, you can skip the plastic wrap and cover the pan with foil.
Step 2: Cook Pork Shoulder in the Oven
Unwrap the pork shoulder and place in the roasting pan. Insert the in-oven thermometer into the center of the roast. Be careful that the thermometer isn't touching the bone.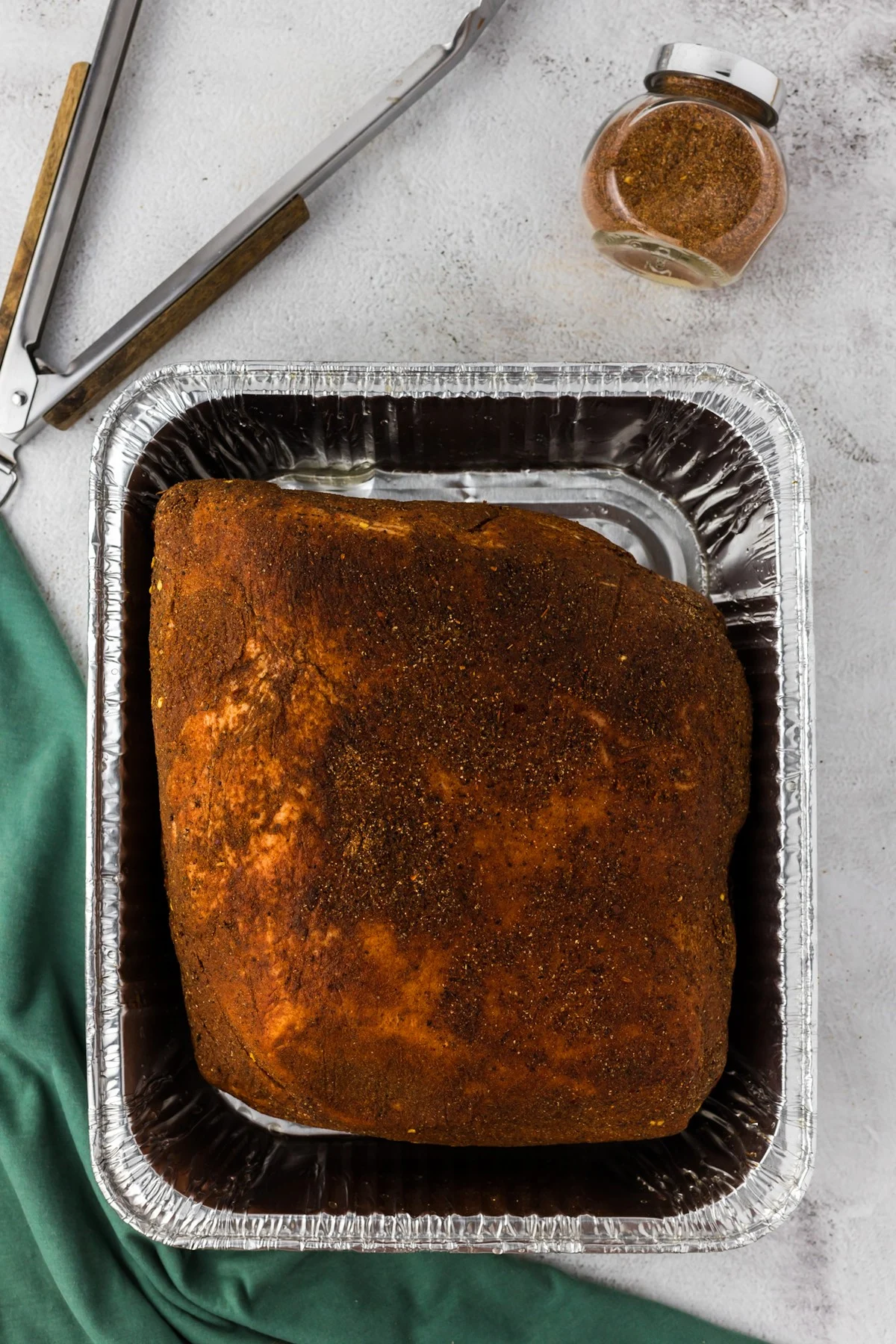 Roast at 450°F for 20 minutes. Then, reduce the temperature to 325°F for about an hour per pound.
When the internal temperature reaches 205°F, remove it from the oven and allow the pork shoulder to rest for about an hour before shredding.
Shred the meat with shredding claws and serve!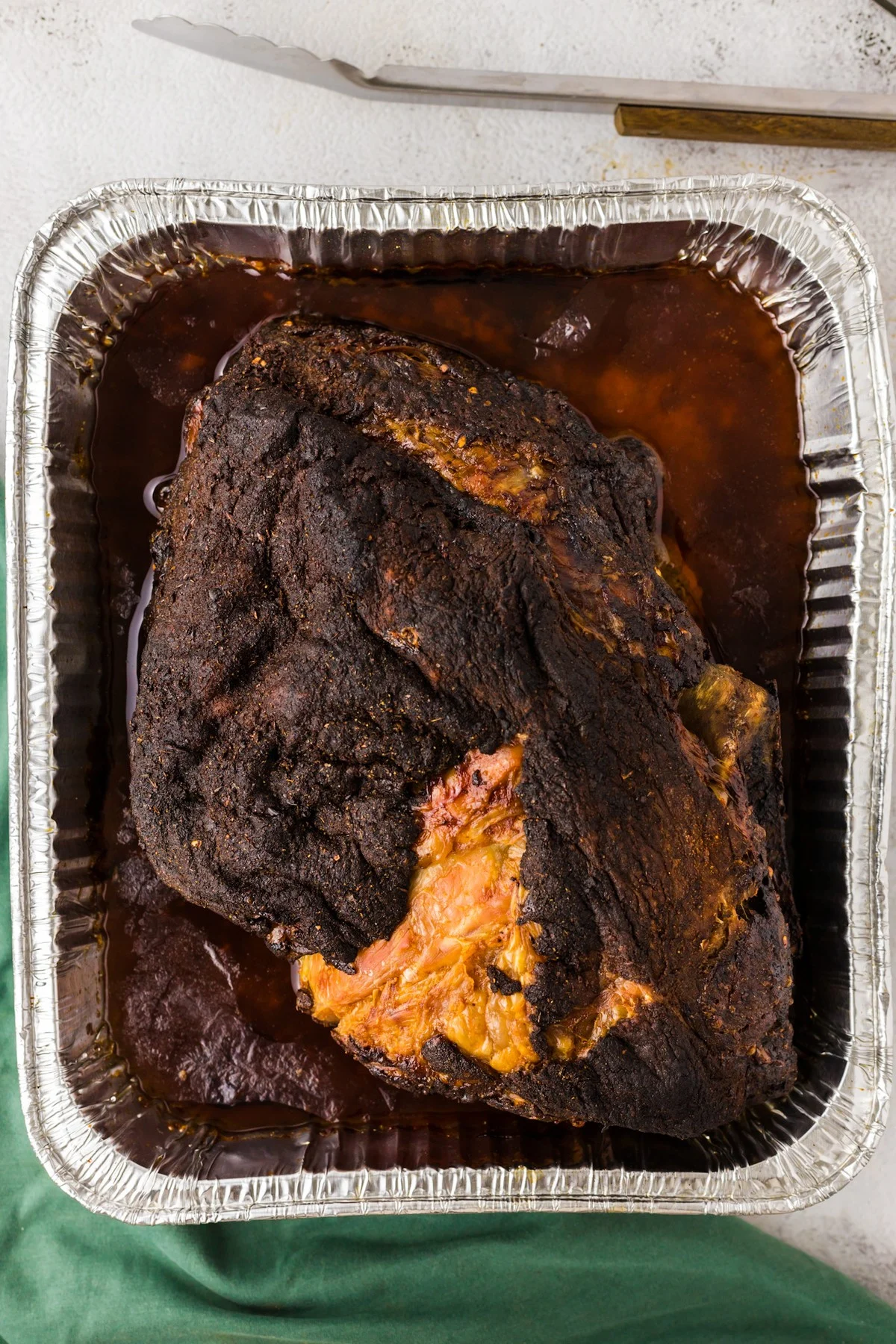 Pork Shoulder Cooking Time
How long does it take to cook a pork shoulder in the oven? Depending on the size of your pork shoulder, the cooking time will vary. This isn't a quick recipe, so make sure you plan for plenty of time.
This recipe prepares a 9 pound shoulder, so cut the cooking time in half if you have a smaller cut. A meat thermometer will help with cooking time and temp!
Do you cover a pork shoulder when cooking in the oven?
This recipe does not cover the meat while cooking, because we like the "bark" that forms on the outside. However, if you do not like the crispy parts, you can cover your roasting pan lightly with foil.
Best Internal Temperature for Pulled Pork
The best internal temperature for pulled pork is 205°F degrees. While it's safe to consume at a much lower temperature, the connective tissues will still be intact which will make the meat tough to shred and flavorless.
At an internal temperature of 205°F-215°F, the meat is juicy, succulent, and will shred with minimal effort.
What temperature should pork shoulder be cooked to?
Regular cuts of pork are safe to eat at around 145°F-160°F degrees. This includes pork chops, pork steaks, etc. Since tender, shredded pork is the goal, the internal temperature the roast must reach 200°F.
What temp does pork shoulder fall apart?
A pork shoulder is easily shredded at 200°F-215°F internally.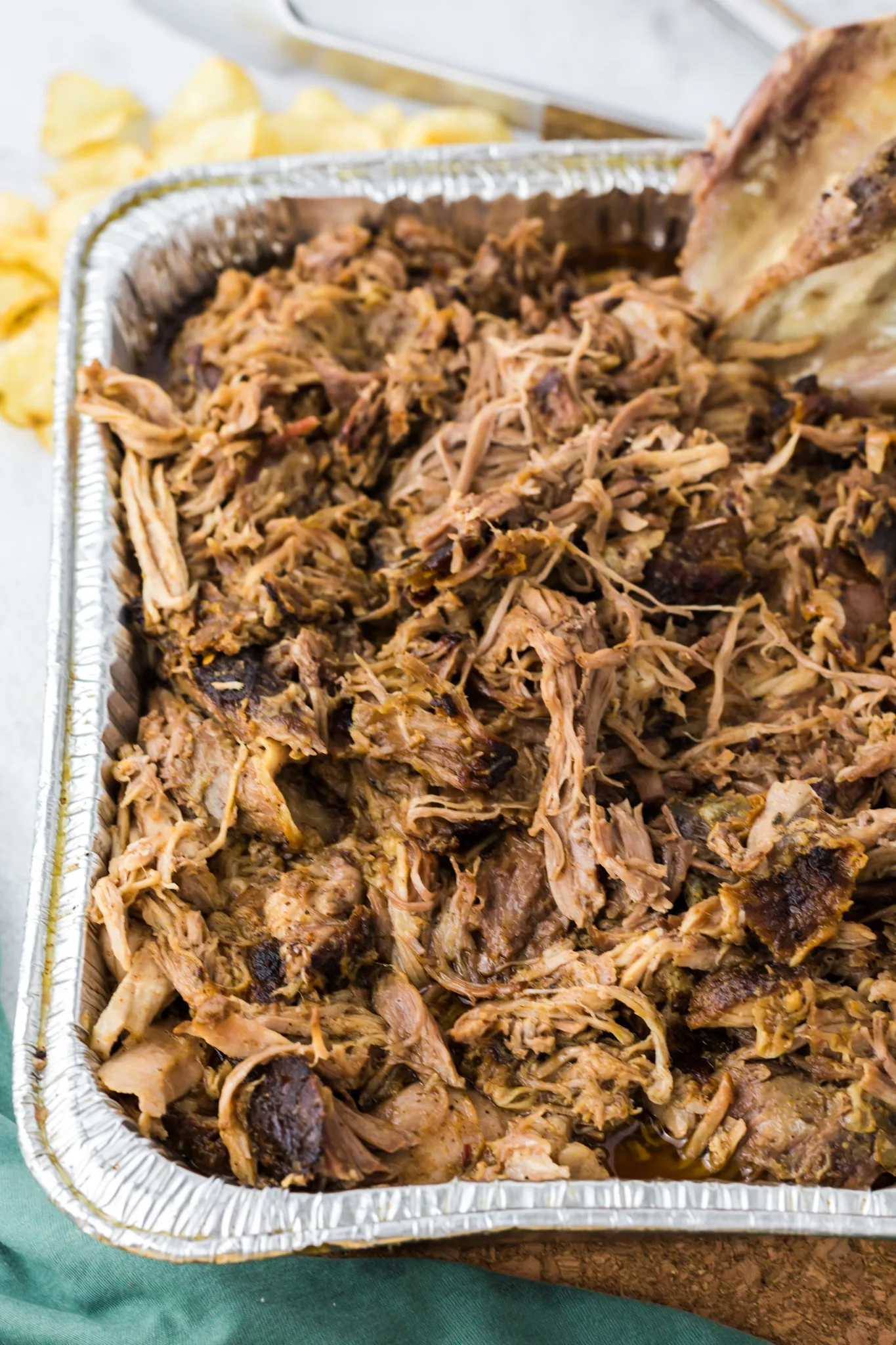 How Much Pulled Pork Per Person?
A good rule of thumb is to estimate about 1/3 pound of cooked pulled pork per person. It's what most BBQ experts recommend and is a sure-fire way to make sure you don't run out of food.
Their are many different things that influence your decision, so make sure you consider all of the major factors when planning to serve pulled pork.
Pulled Pork Leftovers
How do you store leftover pulled pork?
The best and safest way to store leftover pulled pork is in an airtight container the refrigerator for 3-5 days.
If you have lots of leftovers, you can freeze them and reheat them later for sandwiches, salads, and soups.
One of our favorite ways to use up leftovers is to make hearty vegetable soup with pork and serve with hot and buttery southern cornbread!
Here are a few other ways to use up leftovers:
What to serve with pulled pork
What goes well with pulled pork? Delicious side dishes! Whether you are serving it piled high on a bun or by itself, don't forget plenty of toppings like pickled red onion, different types of bbq sauce (white bbq sauce is our favorite!), caramelized onions, etc.
More side dishes for pulled pork…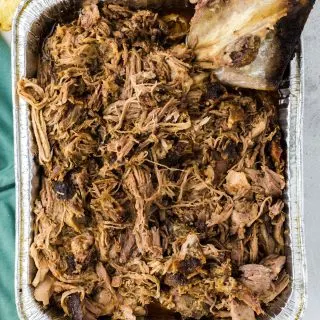 Oven Roasted Pork Shoulder
An oven roasted pork shoulder, cooked low and slow, yields beautifully shredded pork. This recipe is great for sandwiches, potlucks and makes great leftovers!
Ingredients
My Homemade Pork Rub

1, 9

pound

pork shoulder

(or butt)
Instructions
Rub down the outside of the meat with the rub.

Wrap in cling-wrap or store in leak-proof container and marinate overnight.

Spray roasting pan with non-stick cooking spray and place unwrapped shoulder in roasting pan.

Place in 450F preheated oven for 20 minutes.

Reduce heat to 325F and cook for about 8 hours, or until a meat thermometer reads 205F degrees.
Nutrition
Serving:
1
grams
Calories:
808
kcal
Protein:
65
g
Fat:
59
g
Saturated Fat:
22
g
Polyunsaturated Fat:
32
g
Cholesterol:
250
mg
Sodium:
188
mg