An oven roasted pork shoulder, cooked low and slow, yields beautifully shredded pork. This recipe is great for sandwiches, potlucks and makes great leftovers!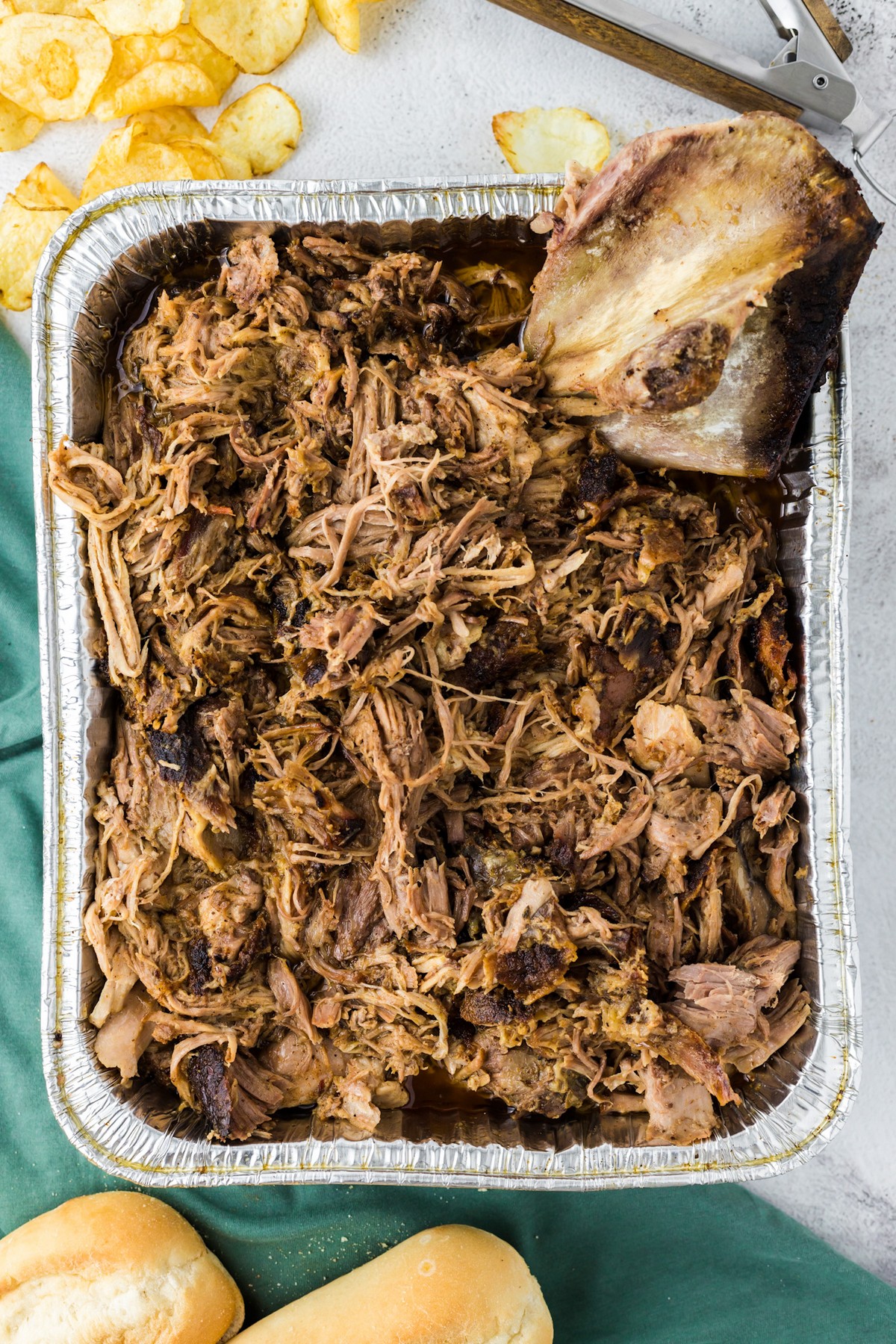 This oven roasted pork shoulder recipe starts cooking at a high temperature to get that crispy bark that everyone loves, then slowly cooked until it melts away from the bone!
Leftovers are great for sandwiches, salads and even freezes well for later. One of our favorite ways to use up leftovers is to make hearty vegetable soup with pork and serve with hot and buttery southern cornbread!
I do not add BBQ sauce to this recipe, but put them all out for guests to help themselves. I am finicky about my sauces and prefer Alabama White Sauce to most sauces. It's vinegar-y and adds a tasty tang to the meat…much like a Carolina sauce!
Toast some buns and bust out the pickles – you've got yourself a simple meal that tastes like hard work!
How to make the Perfect Oven Roasted Pork Shoulder
Tools Needed for this Recipe:
I highly recommend an in-oven meat thermometer! This takes the guesswork out of cooking a larger cut. This prevents constantly opening/closing the oven door and resists the urge to cut into a piece of meat before it's ready.
You will definitely need a roasting pan. I love my Nordic Ware Roasting Pan, but we also grab the disposable roasting pans when we are making this for a party or transporting.
Shredder claws. Forks are just no competition for big pieces of meat. We use these when shredding.
BBQ Grill Gloves are also handy when pulling it out of the oven. Sometimes those clunky oven-mitts don't give you enough grip.
First, gather your seasonings and make the rub. I use my homemade rub recipe. It takes 5 minutes to make with simple ingredients.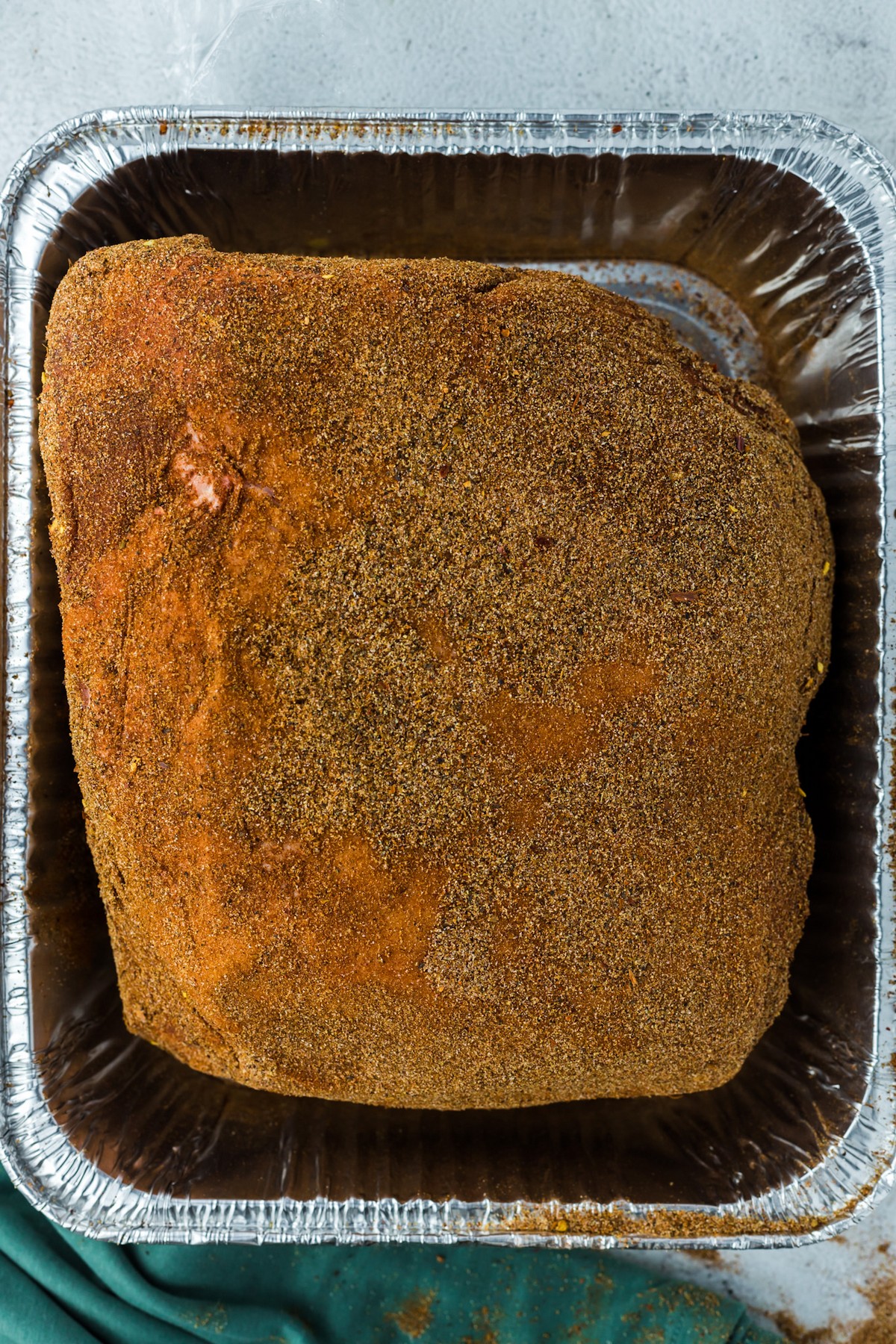 Place your defrosted pork shoulder in a large bowl or on a cutting board. Generously rub down the meat with the rub on all sides. The meat should be coated completely.
Wrap in cling-wrap, like Press N Seal, then place inside a container or grocery bags to prevent juices from leaking, and place in the fridge overnight.
How long does it take to cook a pork shoulder in the oven?
Depending on the size of your pork shoulder, roasting can take anywhere from 4-8 hours. This isn't a quick recipe, so make sure you plan for plenty of time.
This recipe prepares a 9 pound shoulder, so cut the cooking time in half if you have a smaller cut. A meat thermometer will greatly help with cooking time and temp!
About 8 hours from serving, unwrap the pork shoulder and place it in a large roasting pan that is lightly greased with non-stick cooking spray. Insert the oven-safe meat thermometer.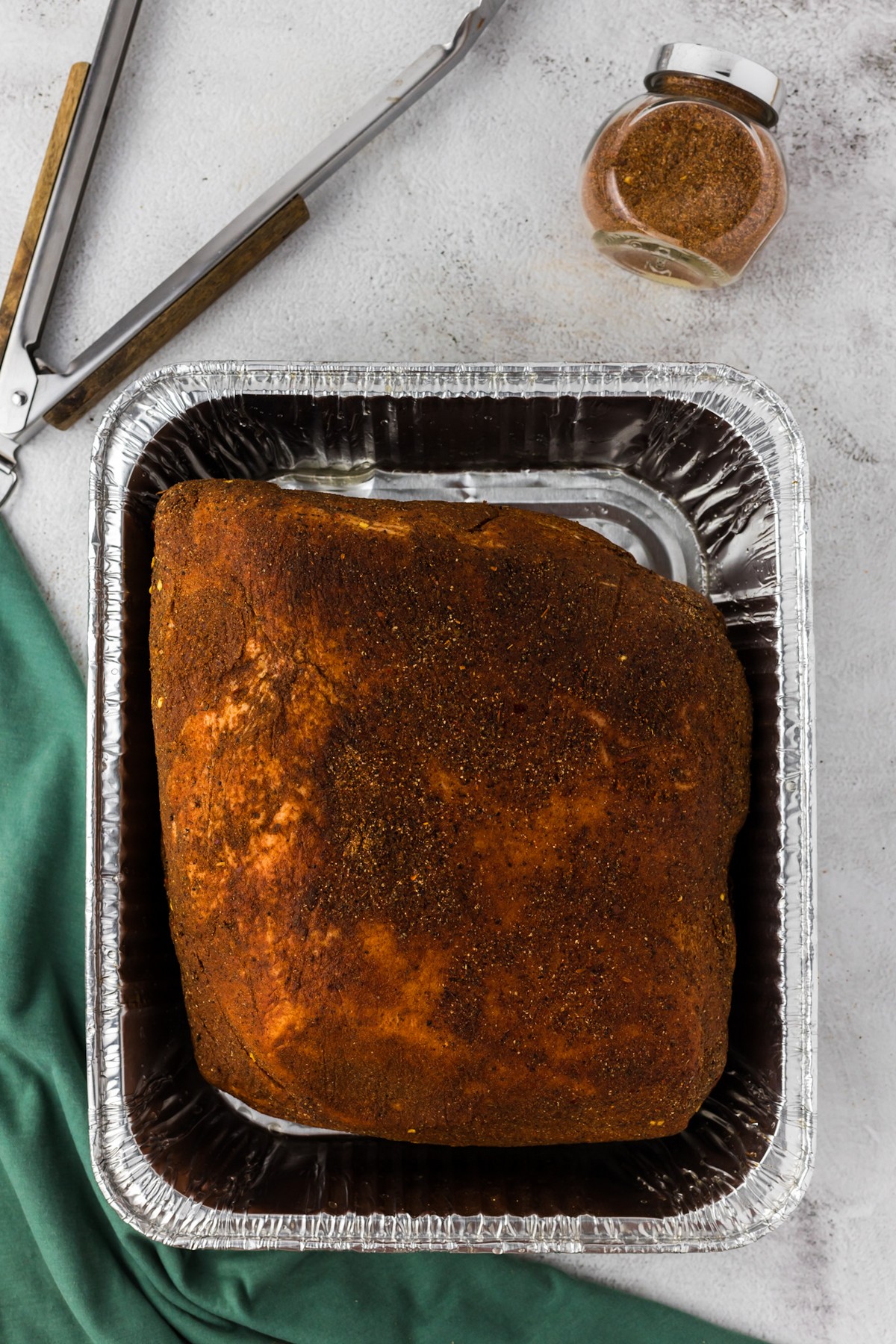 Do you cover a pork shoulder when cooking in the oven?
This recipe does not cover the meat while cooking, because we like the "bark" that forms on the outside. However, if you do not like the crispy parts, you can cover your roasting pan lightly with foil.
Place the meat in a preheated 425F degree oven for 20 minutes, then decrease the oven temperature to 325F degrees until the meat reaches an in-oven temperature of 205F degrees.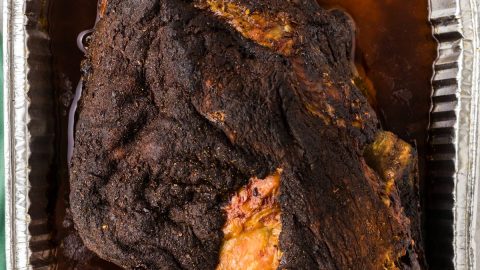 What temperature should pork shoulder be cooked to?
Pork is safe to eat at around 145F-160F degrees (depending on cut), but to get the shredded pork this recipe gives, we cook it to a much higher temp.
We cook this recipe to a higher temperature than recommended to get the perfect shredded pork for those yummy BBQ sandwiches.
What temp does pork shoulder fall apart?
A pork shoulder should be easily shreddable at about 200F. If you are having issues with shredding, continue cooking until 205F-215F.
When you are ready to serve, shred the pork and leave it in the juices.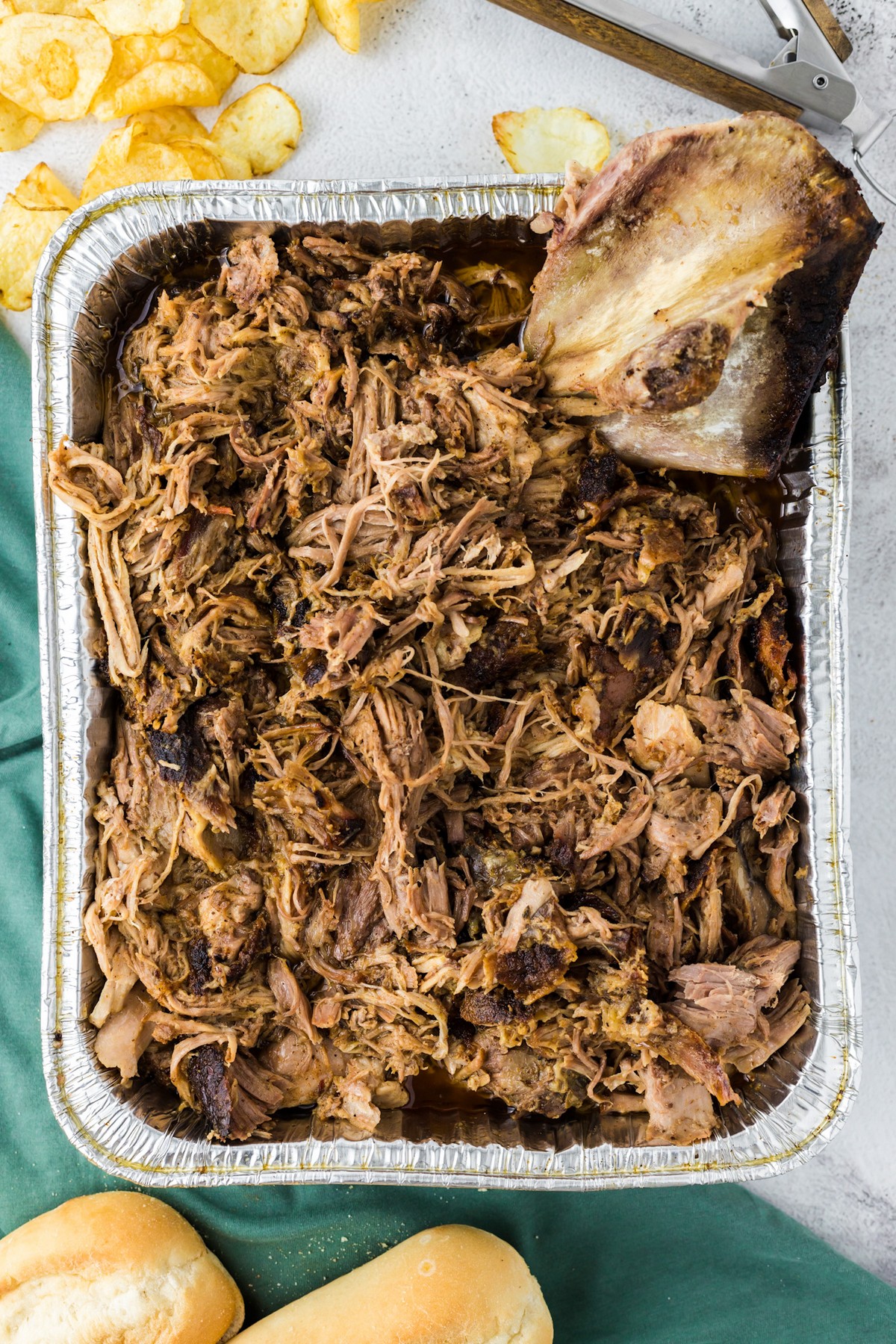 You really can't overcook this recipe (within reason!).
Yield: 4 Pounds of Meat
Oven Roasted Pork Shoulder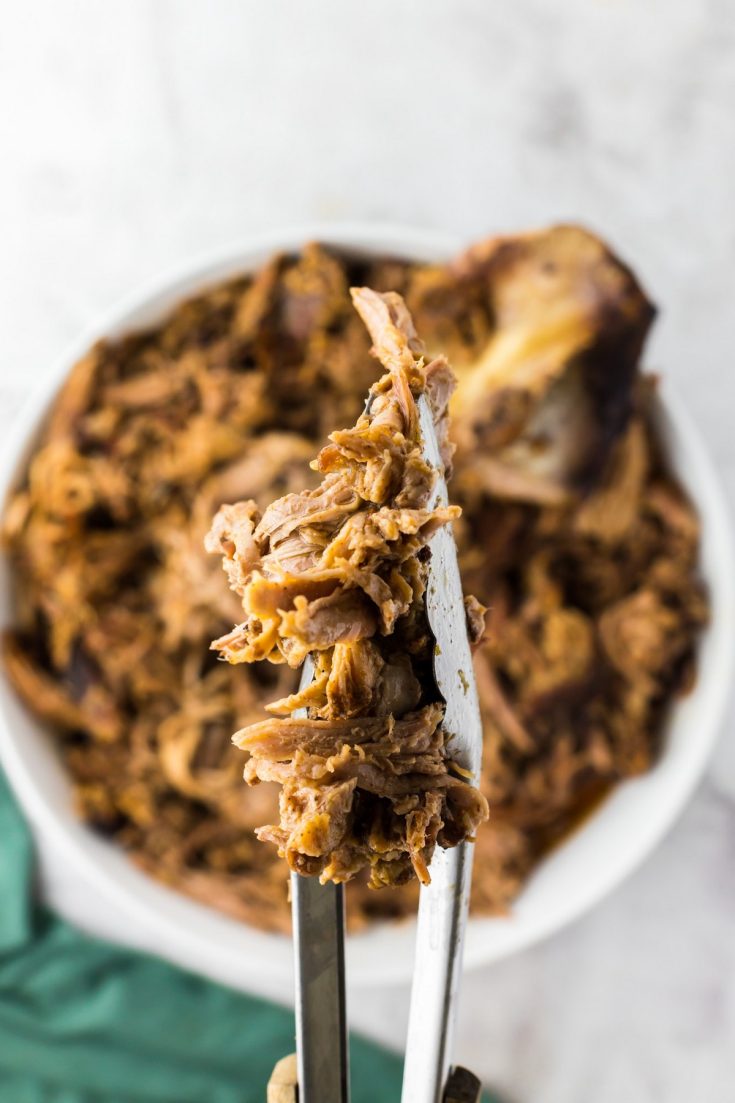 An oven roasted pork shoulder, cooked low and slow, yields beautifully shredded pork. This recipe is great for sandwiches, potlucks and makes great leftovers!
Total Time
16 hours
5 minutes
Ingredients
My Homemade Pork Rub
1, 9 pound pork shoulder, or butt
Instructions
Rub down the outside of the meat with the rub.
Wrap in cling-wrap or store in leak-proof container and marinate overnight.
Spray roasting pan with non-stick cooking spray and place unwrapped shoulder in roasting pan.
Place in 450F preheated oven for 20 minutes.
Reduce heat to 325F and cook for about 8 hours, or until a meat thermometer reads 205F degrees.
Recommended Products
As an Amazon Associate and member of other affiliate programs, I earn from qualifying purchases.
Nutrition Information:
Yield:
4
Serving Size:
1 grams
Amount Per Serving:
Calories:

808
Total Fat:

59g
Saturated Fat:

22g
Unsaturated Fat:

32g
Cholesterol:

250mg
Sodium:

188mg
Protein:

65g