This chicken wing rub is the only recipe you'll ever need! Use it for wings, ribs, brisket, pork, or anything else you want to throw on the grill, oven, and smoker. It's packed with spicy, herbaceous, and aromatic flavors. Once you try it, you'll never want to use store-bought again!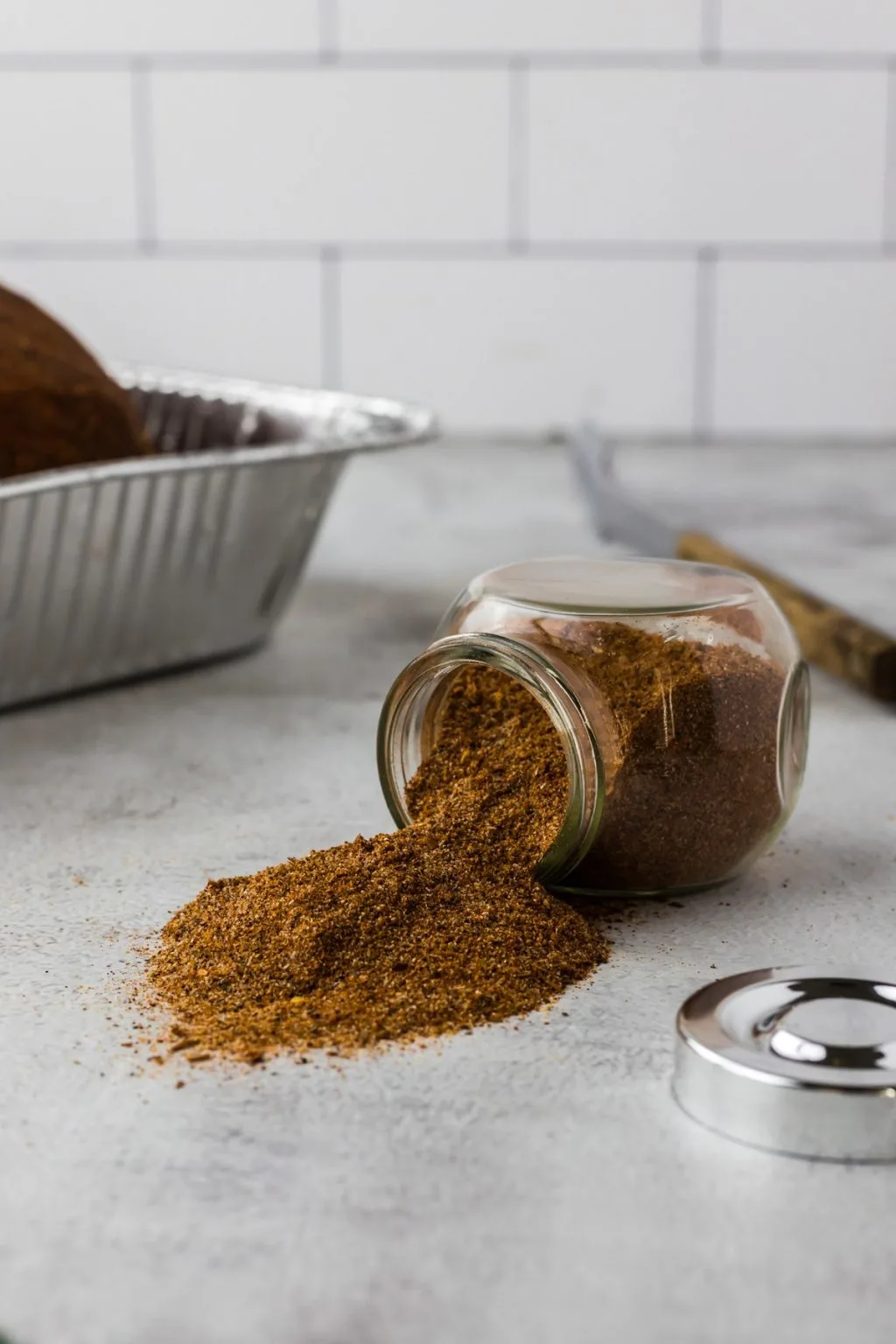 This is the one rub blend that does it all! I've been using the same recipe for years, and it never fails to be a hit. If you make a lot of grilled and smoked meats, you'll definitely want to keep a batch of this on hand.
It's the absolute best dry rub for chicken wings, but it works on pretty much anything. This is my go-to mix, but you can use my measurements as a guideline, then make customizations to suit your own taste preferences!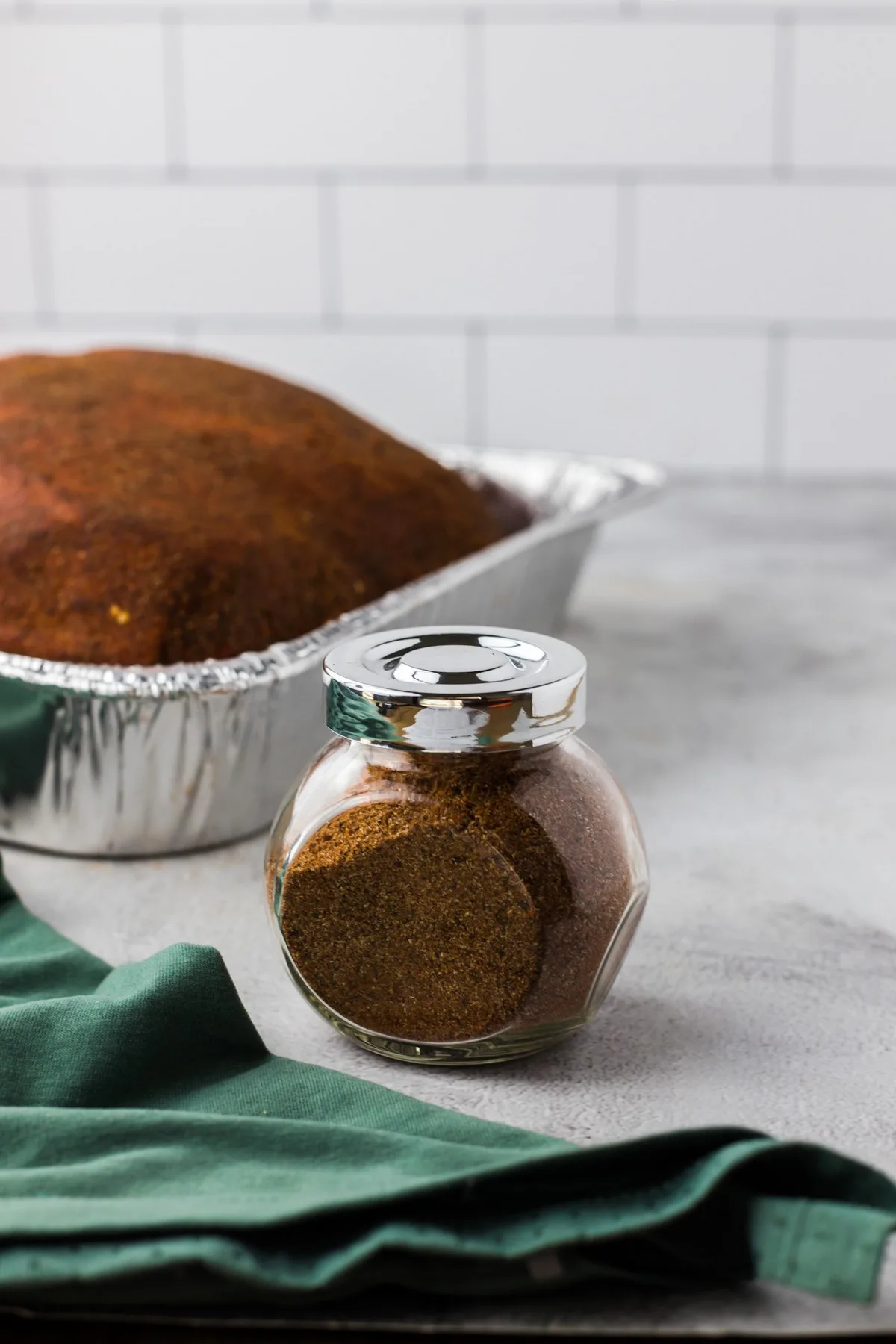 Why You'll Love This Recipe
Quick: All you need is about a minute to whip up this simple seasoning blend. It's incredible how little effort something with so much flavor takes to prepare!
Simple: You probably already have most of the herbs and spices hanging around in your pantry! Plus, you can adjust them based on what you have available.
Affordable: You can make this recipe in bulk for a fraction of the price of store-bought chicken wing rubs.
What Is Chicken Wing Rub?
The flavors of this chicken wing rub emulate the American South with bold spices like blackened seasoning, paprika, and chili powder. It's smoky, savory, and aromatic — all critical components of a good dry rub.
I also like to add onion, garlic, cumin, and red pepper flakes for a bright and irresistible balance of flavors that complements any dish. And don't feel like you have to use this on chicken wings only! Whether you're grilling or roasting, just know this recipe has been thoroughly tested on proteins like ribs, brisket, pork, and chicken!
Ingredients For Chicken Wing Rub
See the full list of ingredients in the recipe card below.
Onion & garlic powder: Both provide a punch of savory, zesty flavors to the base of this chicken wing rub. Make sure to use garlic and onion powder, not granules.
Chili powder: Ancho chili powder is my favorite way to add smoky heat. Regular chili powder also works, which is just a blend of a variety of chilis such as New Mexico, cascabel, and ancho.
Salt: If you'd prefer to add salt on an individual recipe basis, you can leave it out of this mixture.
Ground pepper: Imparts a savory kick! Ground black or white pepper both work.
Blackened seasoning: Cajun or Creole seasoning are also great options! Just note, Cajun seasoning is often spicier due to a higher content of cayenne pepper, and Creole seasoning is typically heavier on the herbs.
Cumin: Provides earthy, warm, and subtly citrusy notes. If you don't have cumin on hand, try coriander or extra chili powder.
Red pepper flakes: Along with blackened seasoning, red pepper flakes add some heat. Half or omit them if you are sensitive to spice.
Paprika: I personally love the flavor of smoked paprika in this chicken wing rub, but you can try regular paprika, sweet paprika, or hot paprika.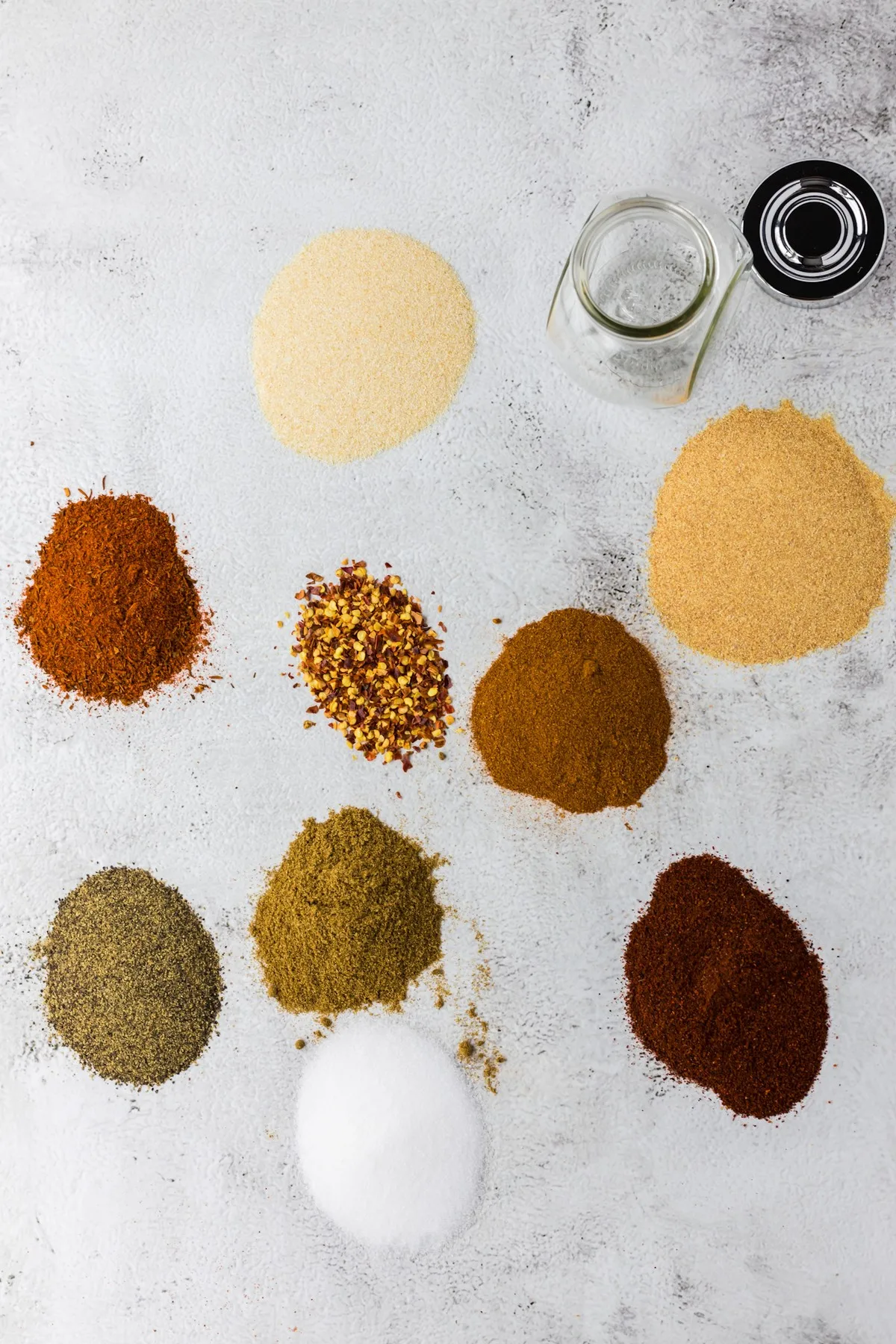 How to Make Chicken Wing Rub
Step 1: Combine The Spices
When you're making a dry rub, use a 1:1 ratio for each of the ingredients listed. For example, if the recipe calls for one cup of onion powder, you should also add 1 cup of all the other ingredients listed, unless otherwise noted.
Once you've gathered the ingredients, just combine them in a bowl and transfer the mixture to an airtight container or mason jar for easy storage.
Step 2: Season Your Recipes
The amount of chicken wing rub you need will be according to the size of the cut of meat you are using. For reference, ½ cup of this dry rub recipe will coat one 3-pound piece of meat (pork butt, ribs, chicken wings, etc).
Chicken wing rub also makes a delicious housewarming gift or hostess gift!
How to Use Wing Rub
While I personally feel this is the best dry rub for wings, there are so many other ways to use it! Here are a few ideas to get you started: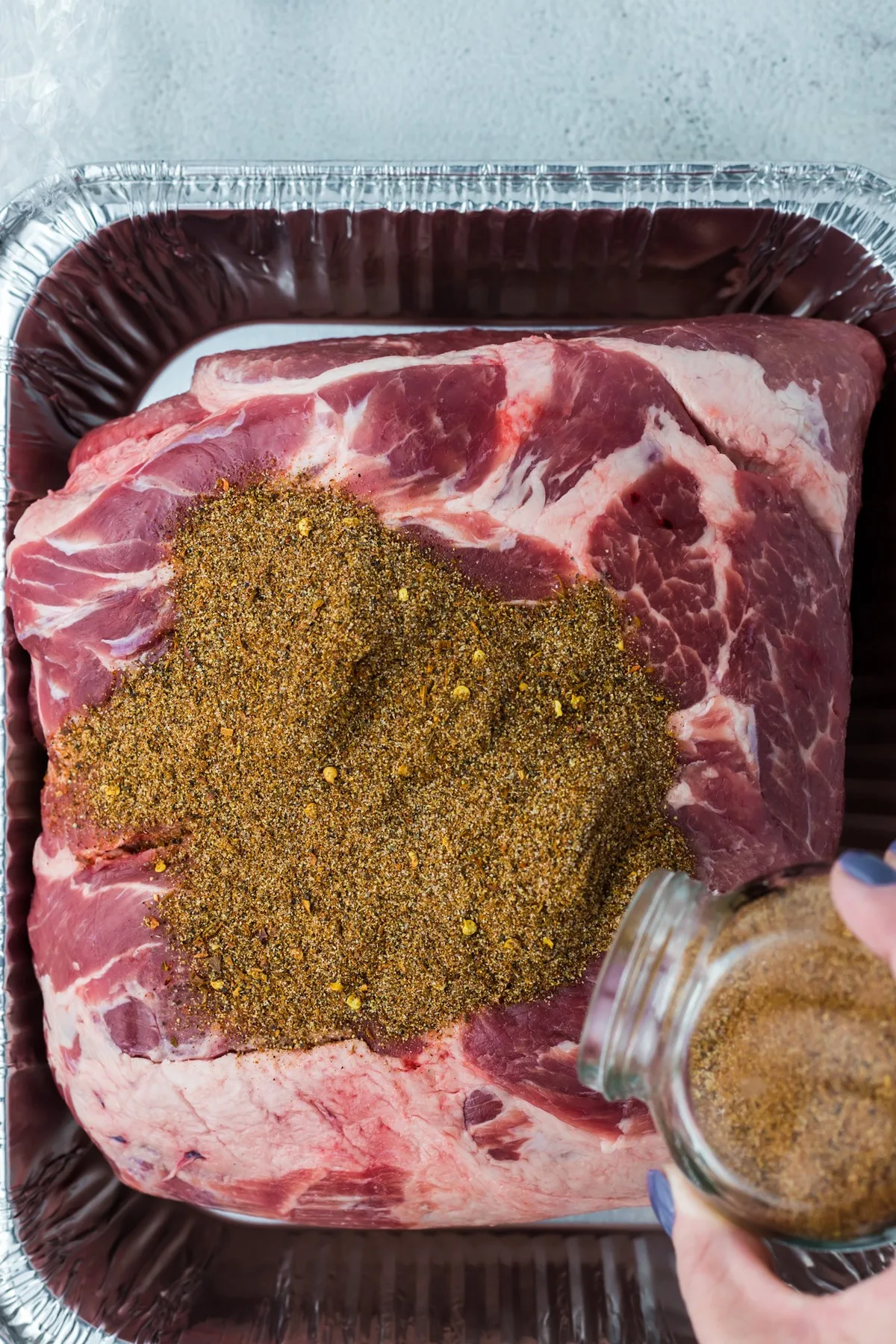 Recipe Variations
Spicy: Add more red pepper flakes or cayenne pepper for a little extra heat.
Sweet: If you prefer some sweetness in your dry rub, incorporate a tablespoon or two of brown sugar.
Non-spicy: Omit the red pepper flakes and reduce the amount of chili powder for a milder version.
Citrus: Create an infusion of zesty flavor by adding finely grated lemon or lime zest. It's a refreshing twist!
Tips For The Best Dry Rub For Wings
Use fresh spices: Always opt for fresh spices for the best flavor.
Toast the spices: Lightly toast the spices in a dry pan to enhance the flavors before combining.
Use gloves: If you have sensitive skin, you may want to wear gloves while applying the rub to different meats.
Adjust as needed: Add more or less of the spices to suit your taste preferences.
What To Do With Leftovers
To keep the seasonings fresh, I recommend storing them in an airtight container. Good choices include a mason jar, plastic food storage container, or zip-top bag.
The rub will stay fresh for up to 3 months or more this way. However, it's always best to check the expiration date on each individual spice packet.
Additional Recipes
If you're a fan of flavor enhancers like chicken wing rub, you need to check out some more of my favorites like these: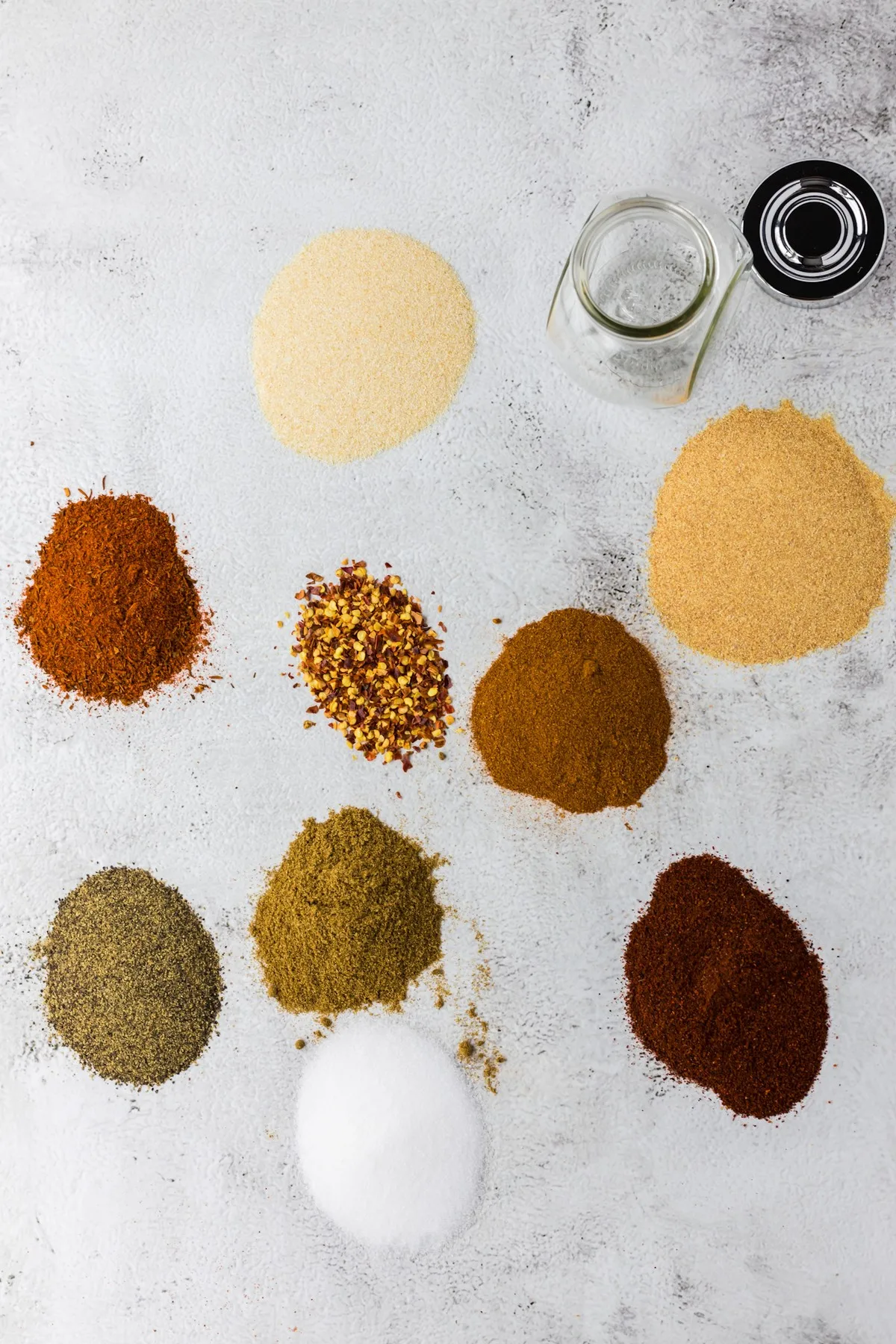 Frequently Asked Questions
What does dry rub mean?
A dry rub is a mix of ingredients that are "rubbed" onto meat using your hands. It's similar to a marinade, except it's made of herbs and spices instead of liquids.
Is dry rub better than marinade?
The main purpose of a dry rub is to enhance or add flavor. Liquid marinades also tenderize the meat.
Can you leave a rub on too long?
If a rub is left on for too long before cooking, the salt or other ingredients will dry out the meat.
Is there a recommended marinating time for a dry rub?
The ideal time for marinating with a dry rub is at least 30 minutes. However, you can technically marinate for several hours or overnight.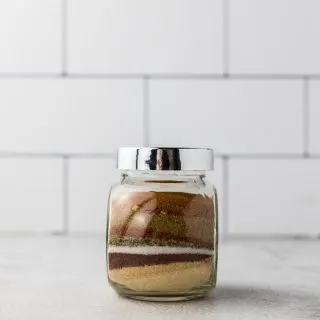 Easy Chicken Wing Rub
This chicken wing rub is the only recipe you'll ever need! Use it for wings, ribs, brisket, pork, or anything else you want to throw on the grill, oven, and smoker. It's packed with spicy, herbaceous, and aromatic flavors. Once you try it, you'll never want to use store-bought again!
Ingredients
4

tablespoons

Onion Powder

4

tablespoons

Garlic Powder

4

tablespoons

Chilli Powder

4

tablespoons

Kosher Salt

4

tablespoons

Ground Black Pepper

4

tablespoons

Blackened Seasoning

4

tablespoons

Cumin

1

teaspoon

Red Pepper Flakes

4

tablespoons

Paprika
Instructions
Combine all ingredients together in a bowl and whisk together until blended.

Place in an air-tight container like a mason jar.

Rub keeps for up to 3 months when stored in a cool, dry place.
Notes
This recipe uses a 1:1 ratio, so you can easily increase or decrease the amount the recipe yields. This means all ingredients are of equal measurement.
Try this rub on these recipes:
Nutrition
Serving:
1
grams
Calories:
229
kcal
Carbohydrates:
45
g
Protein:
10
g
Fat:
6
g
Saturated Fat:
1
g
Polyunsaturated Fat:
2
g
Monounsaturated Fat:
2
g
Sodium:
16406
mg
Potassium:
1076
mg
Fiber:
14
g
Sugar:
4
g
Calcium:
297
mg
Iron:
14
mg