Learning how to make a Thanksgiving Turkey is a little intimidating. This guide will walk you through all the important details, with tools and actionable tips included! Even beginners will wow Thanksgiving dinner guests.
When it comes to hosting Thanksgiving, cooking the Turkey is one of the most stressful things about the holiday!
What if it's dry? Under-cooked? Over-cooked?
What if this turns into a Clark Griswold moment?!
But my method is complete with a fuss-free seasoning and affordable kitchen tools that you can use again. The end result will be a beautiful, juicy bird that will have your guests salivating and snagging the leftovers!
By providing a few things I've learned along the way, I hope to squash any Turkey Day tragedies and leave you ready to conquer that bird!
What's in this post:
The Ultimate Holiday Hosting Guide
Complete guide including a timeline, menu, recipes, shopping list, checklist and more!
Do's and Don'ts for the Best Thanksgiving Turkey Ever!
How to estimate the amount of turkey per person
Account for about 1.5 pounds of turkey per guest. When you are estimating how much meat to serve, you have to account for the entire weight of the bird, which also includes the bones, neck, gizzards, etc.
Estimating for 1.5 pounds per person will assure that you will have enough meat, and quite possibly plenty of leftovers. I would rather have too much than not enough!
How do you thaw a whole turkey?
This is where I definitely recommend planning ahead. Let's avoid defrosting a turkey during Thanksgiving day with a hairdryer, shall we?
Allow for about 24 hours for thawing in the fridge per every 5 pounds. I always give myself an extra 24 hours to be on the safe side. If you have an outdoor fridge, this will be an excellent time to clear it out for the bird.
Depending on the weather where you live, you can even thaw the bird outdoors. We used to use this method a lot when I was living in Alabama. My uncle would place the frozen turkey on the garage floor a few days before Thanksgiving, and when it thawed, it would go right back in the fridge.
Obviously, if you live where it's still 90 degrees, I wouldn't suggest this. But Alabama is about 60 degrees in November, so it worked well and remained at a safe temperature. Again, use temperature guidelines for food safety!
How to Season Thanksgiving Turkey
There are a lot of recipes out there for the perfect, juicy Thanksgiving turkey. I prefer to use my basic recipe of butter and herbs. It's almost exactly like my oven-roasted chicken recipe, but instead of lemon halves, use orange halves.
Smearing butter on the outside and underneath the skin of the bird will produce a nice, crispy and browned skin on the turkey.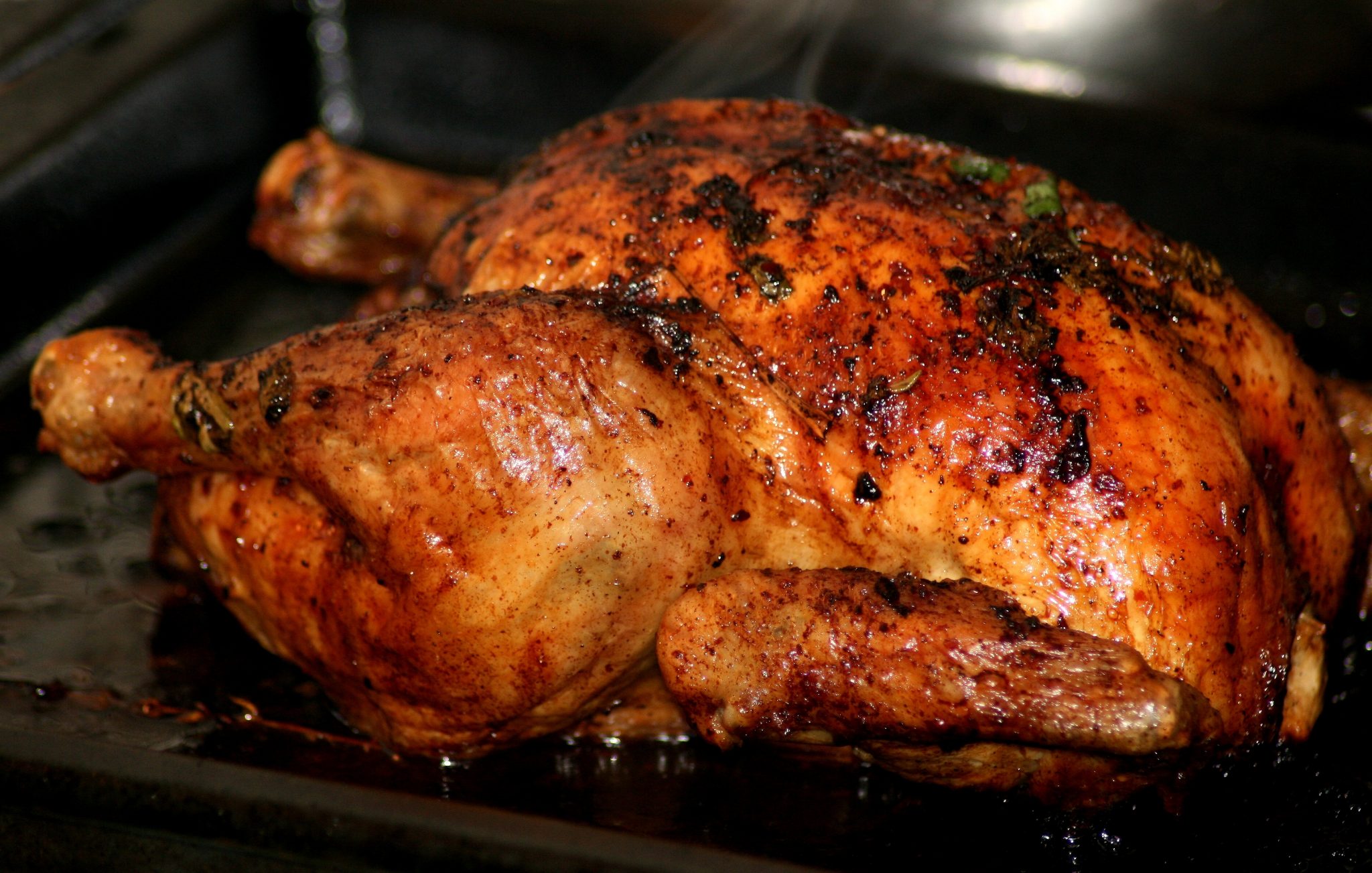 I love to use a combination of rosemary and sage leaves to place underneath the skin as well. After this, add salt, pepper, then squeeze the oranges over the top. If you have leftover bits of onion, orange rinds, celery tops, whatever…just stick it inside the cavity for additional flavor.
Be sure to remove the bag from the turkey. You can save these turkey pieces to add flavor to your gravy!
Some recipes call for white wine or champagne poured in the bottom of the roasting pan. That would also add a nice flavor and added moisture to the bird.
Other options are a simple butter and salt and pepper, or a brining recipe. I've never done a brine, but it seems a little cumbersome in my opinion. I like simplicity, especially on this busy day!
Cooking the Turkey
The time allotment for cooking a turkey varies by size and oven temperature. For a bird that weighs about 15 pounds, you roast in the oven at 325F for about 4 hours.
Roasting times and temperature for a 15 pound turkey

425°F for 3 to 3 1/4 hours.
400°F for 3 1/4 to 3 1/2 hours.
350°F for 3 1/2 to 3 3/4 hours.
325°F for 3 3/4 to 4 hours.
The key with cooking a turkey is to start earlier than needed. It's much easier to keep a bird warm than speed up the cooking process. You'll end up with a tough, dry bird.
Some recipes suggest covering the top of the bird with foil until the last hour to prevent over-browning on the breast. I don't think either way will "break" your bird, but keep an eye on it and add the foil if you need to.
We usually smoke the turkey, which takes nearly all day to do. Smoking or grilling is a great alternative to using your oven. This way, you can know the turkey will take care of itself and you can finish baking the sides!
If your turkey is done ahead of time, you can place the whole thing (roasting pan included) on a grill at 200F to keep warm. I wouldn't recommend doing this for more than an hour or so.
How do I know when the turkey is done?
Turkey is safe to eat when a meat thermometer reads 165F in the thickest part of the bird.
Carving the turkey
I use an electric knife to carve the turkey. I believe I paid $20 for it, so you don't have to spring for an expensive knife.
My biggest tip for turkey carving is to leave the bird whole until you are ready to serve. This locks in moisture and maintains the temperature.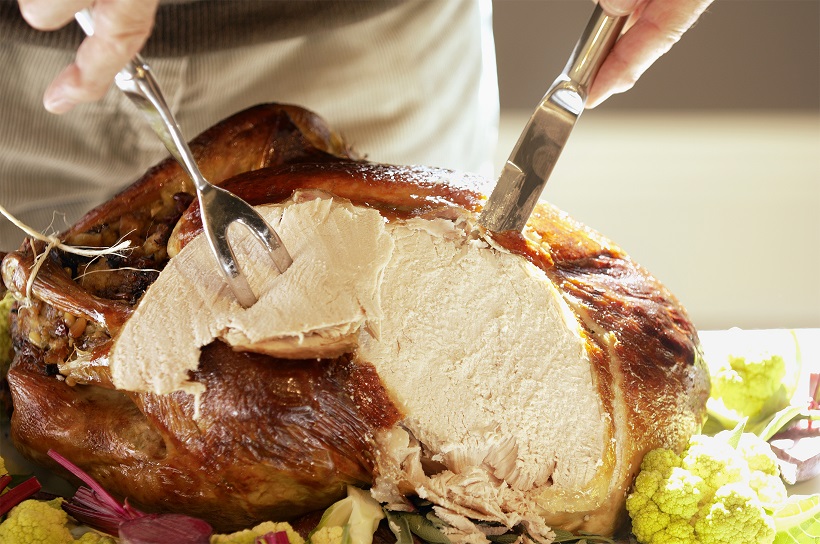 If you need to finish other food in the oven, and you do not have another warming option, just leave the bird in the roasting pan with the hot juices and wrap tightly with layers of foil.
Really, turkey will be just fine served at room temp. Don't stress about this part…just pour over some gravy!
Tools for Thanksgiving turkey
Two main tools I recommend:
Meat Thermometer
Roasting Pan
Thankfully, long gone are the days of relying on those silly pop out thermometers. Those are great if you are without a good meat thermometer. But one of my favorite tools is my Thermapen!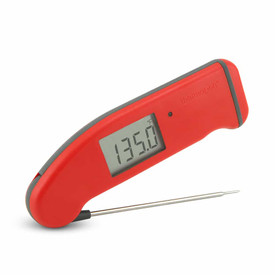 It is an instant read and the screen rotates as you turn the base. It's compact and easy to use.
Another tool that I highly recommend is my Extra Large Copper Roaster with Rack. It's super sturdy and non-stick. Like nothing sticks to this pan! It can move from the oven to the grill just fine.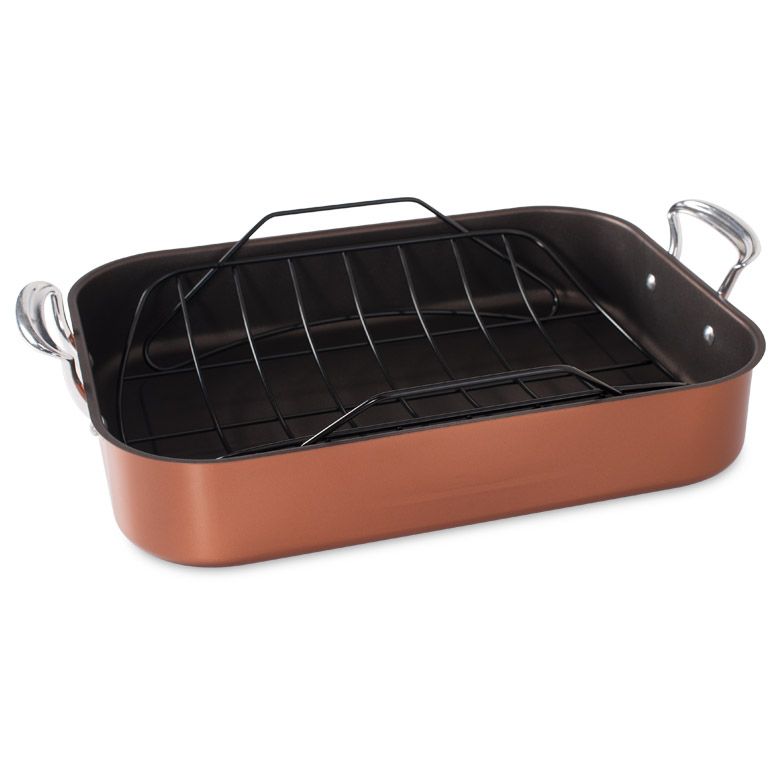 We really love this pan! If you do not have a good roasting pan, I highly recommend this one from Nordic Ware.
If you are interested in other handy tools, check out this article from Taste of Home about Thanksgiving Day tools.
What can I make the day before Thanksgiving?
If you are looking to complete your entire menu, check these recipes out. Each of these can be made ahead of time for a stress-free Thanksgiving day.
I hope you enjoy the wonderful holiday season! Remember, the sole reason for gathering on Thanksgiving is to show gratitude for all we have and those we love!