Homemade Cornbread Dressing is a Southern staple at our holiday table. Made with an old-fashioned cornbread recipe, herbs, celery and onion.
A holiday isn't a holiday without my Nana's Cornbread Dressing. This recipe has been in our family for years and is made with my easy Southern cornbread recipe. Our recipe is from the 2007 Thanksgiving Edition of Southern Living. It's a classic and it's not Thanksgiving or Christmas without it!
It brings back so many memories and emotions. What I love the most, is it makes my home smell like my mama's. Whenever I make this recipe, I am surrounded by those I love and their memories. And for that, I can't think of a better reason to make it. I hope your family enjoys this recipe as much as mine.
"Making your first cornbread dressing is a rite of passage, something you just want to be able to do so your mama can feel good about your upbringing."
I know many people opt for a more simple plan during the holidays and grab a bag from the store. I'm not one to shame, but the bagged stuff is a big no-no in the South! We are proud of the blood, sweat, tears…and butter that go into our recipes.
The Ultimate Holiday Hosting Guide
Complete guide including a timeline, menu, recipes, shopping list, checklist and more!
Depending on the region, apples, pecans, oysters or Andouille sausage may be added to this recipe. But I say, if it ain't broke – don't fix it! This recipe is a classic and for good reason.
Can you make cornbread dressing ahead of time?
Yes! And I would encourage you to plan ahead and do so. In fact, this recipe recommends you make the dressing, then let it sit for at least 8 hours in the fridge.
Tip: Make the dressing several weeks in advance and freeze. Give yourself 2-3 days to thaw before baking.
The holidays are crazy for every family and the more you can simplify your holiday meal preparations, the less stressed you will be on the big day. I've got a lot of tips and tricks to simplify your holiday preparations, like an easy Turkey recipe that is stress-free and (almost) foolproof.
Another make ahead side dish is my Kentucky Bourbon Cranberry Sauce. It's tangy and pairs well with all the savory dishes. Make my sauteed green beans with almonds for another tasty side.
How to Make Cornbread Dressing from Scratch
This Cornbread Dressing recipe starts with stale cornbread and bread crumbs. I always make my cornbread a day before I mix everything up, so the bread has time to dry out really well. When the bread is dry, it can absorb more of the soupy mixture you will add to it.
Tip: Make your cornbread in a cast iron skillet for extra flavor from the crispy, browned edges.
How do you dry cornbread for stuffing?
Basically, you bake the cornbread according to the directions, then I transfer it to a bowl and break it up and let it sit out overnight.
For the soft breadcrumbs: There is a great debate as to what kind of "soft" breadcrumbs you should use: biscuits, loaf bread, sourdough – the list goes on! Frankly, I've never noticed a difference. Just tear or grate, sit in the bowl with your cornbread for one day.
Ideas for soft breadcrumbs:
stale hot dog buns
ciabatta bread
loaf bread
Another time saver: Chop up the celery and onions a few days before you are assembling the dressing mixture to save some time.
To save dishes, I mix my dressing in the same container I use to freeze and store my dressing in. I use an 2.5 gallon Tupperware container.
First, I put my breads in the container, then add the rest of the ingredients when it's time for mixing. Also, allow the mixture to "set" in the fridge for 24 hours before baking so the flavors will marry.
I also love to bake this in my Le Creuset rectangular baker in a beautiful green color. It comes with a lid and will keep the food warm for a while if you need to make space in the oven.
When cooking this recipe, give yourself upwards of two hours for cook time. It can take a bit longer if you are using a deeper pan or have an older oven.
This recipe is so cherished in our family. I hope you enjoy this in your home this holiday season.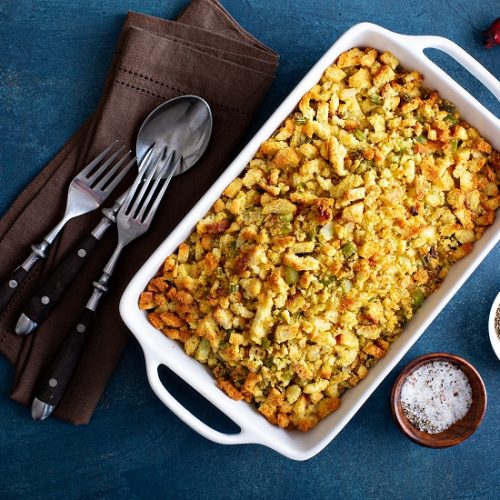 Classic Cornbread Dressing
Nostalgia, warmth and comfort are encompassed in this classic cornbread dressing. It's a staple at all holiday tables.
Ingredients
Stale cornbread

3

cups

soft

stale breadcrumbs

1/2

cup

butter

2

medium onions

diced (2 cups)

1

bunch celery

diced (3 cups)

1/2

cup

sage

finely chopped, optional

4

eggs

lightly beaten

6 10

oz

cans of chicken broth

1

tbsp

black pepper
Instructions
Make cornbread according to cornmeal package. Crumble and set aside with stale breadcrumbs for 1 day.

Melt 1/2 cup of butter in large skillet over medium heat; add onions, celery and saute until tender.

Stir in sage (optional) and saute for one more minute.

In a large 2 gallon storage container, stir in vegetables, remaining 4 eggs, chicken broth and pepper into cornbread mixture.

If you are freezing this recipe, allow recipe to set for 24 hours before freezing. OR Add mixture to 9x13 casserole dish and fridge for 24 hours, covered. 

Bake uncovered, thawed mixture at 375F degrees for about 2 hours or until golden brown.
Other Holiday Recipes: