Knowing how to care for cast iron is essential to preserving your best cookware. The upkeep is easy and only takes a few minutes after each meal.
For as long as I can remember, my Nana cooked skillets of buttery cornbread in her cast iron. Because she took excellent care of her cast iron, I now have a few pieces that precede me in age by at least 30 years.
A common misconception is that cast iron is difficult to clean and care for, but all you need is a few minutes after dinner and some elbow grease!
Buying Pre-Seasoned Cast Iron
Most skillets you buy in a store are already pre-seasoned and don't need any TLC before cooking. Just be sure to read the directions on any of the literature that came with your pan.
Lodge is my favorite off-the-shelf brand. All products are pre-seasoned and well-made. In my opinion, they are one of the best modern-day cast-iron manufacturers out there.
If you purchase a skillet or other piece from an antique shop or get a hand-me-down, you will want to clean the skillet well before using.
Can you ruin a cast iron pan?
Yes. Washing with soap, soaking for long periods of time and general neglect will ruin your cast iron cookware.
I see a lot of noses turned up when I say not to use soap when cleaning cast iron. Soap can cause rusting and ultimately ruin your cast iron. I've read a mild detergent is ok to use, but I prefer to avoid soap altogether.
I promise, through proper seasoning and care, your cast iron is clean and safe to use.
How to Clean Cast Iron Pans and Skillets
Cleaning your pan, pot or skillet after every use is the best way to maintain your cookware and keep in good shape!
After I finish cooking, I allow the pan to cool before I clean it – just enough time to enjoy a yummy dinner. It's possible that there will be a few bits that stick, but that's easily taken care of with some elbow grease or a small plastic scraper.
Pro Tip: It's important to note that these cleaning methods do not apply to coated cast-iron.

If you are unsure of the difference: Coated cast-iron is usually colorful and white while traditional cast-iron is always black or grey.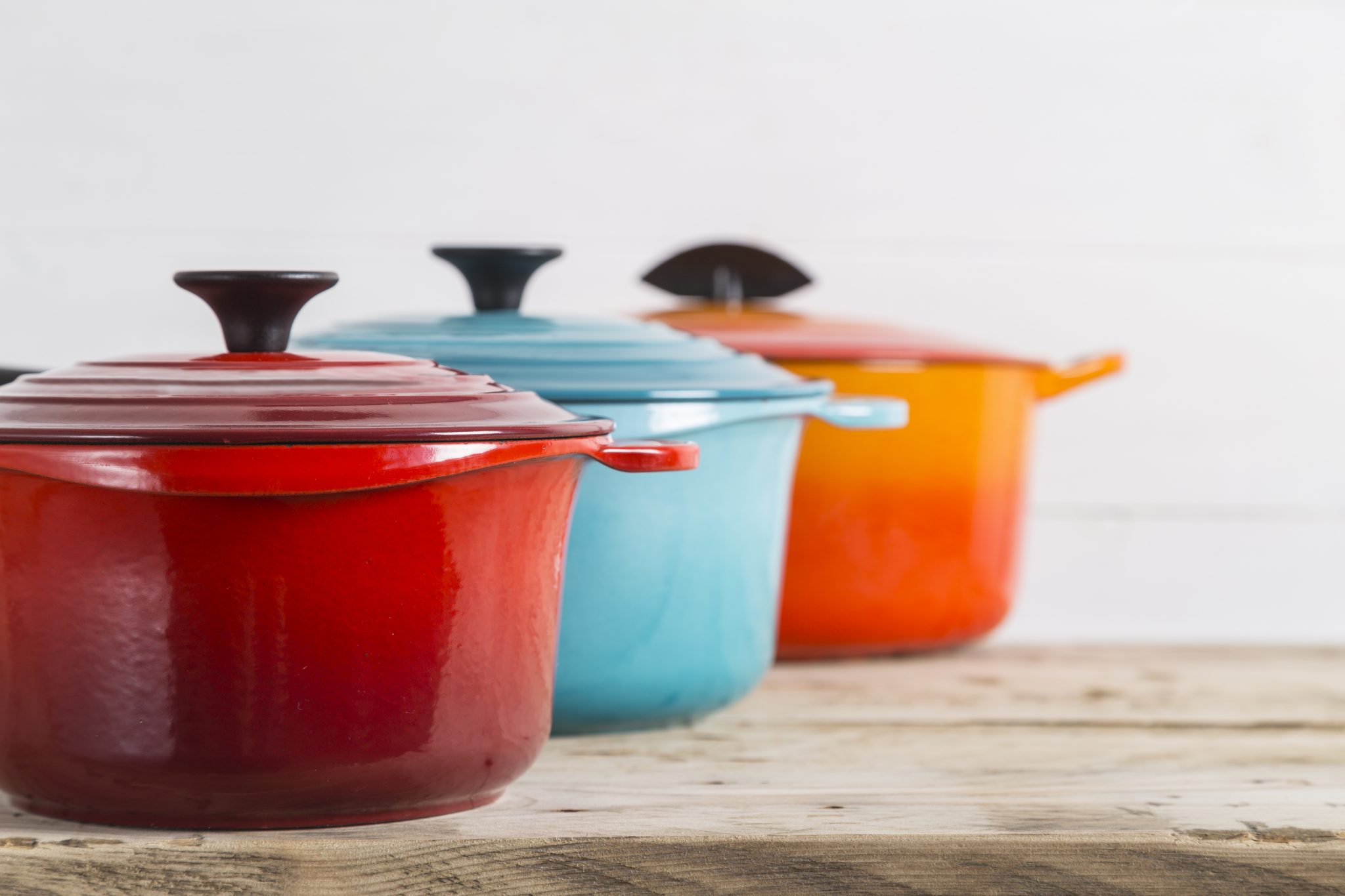 Coated cast iron is also great for simmering soups or roasting large pieces of meat like my oven-roasted chicken.
If your meal did not leave behind any stuck-on bits, you can rinse with hot water and swirl a clean sponge around the pan for diligence. Then, wipe dry with a paper towel and put away. If re-seasoning is necessary, do that at this time, too.
Can you use olive oil to season a cast iron skillet?
Yes! After your skillet is properly cleaned, I always like to add a tablespoon of olive oil to my 12-inch skillet and smear with a clean paper towel. Don't leave too much excess oil – just enough to thinly coat the pan.
But if that delicious steak or chicken left behind some burned on crispies, you will want to add a little more elbow grease.
How do you clean a burnt cast iron skillet?
Wipe out your pan as best you can.
Sprinkle Kosher or sea salt into the pan.
With a clean, damp paper towel, gently scrub the stuck on bits from the pan. Add water if needed to help.
The stubborn bits will come right up! This is my preferred way to clean cast iron.
Pro Tip: NEVER put your cast iron in the dishwasher or soak for extended periods of time.
Cast iron cookware well worth the investment and extra care. Whether you're cooking a steak or a pan of cornbread, the results are always delicious!
Take the time and invest in caring for your cast iron cookware. You'll be so glad you did.