Lasagna soup is one of our all time favorite meals on a chilly day! It's a great way to sneak in veggies for the kids and simmer on the stove or the crockpot during a busy day.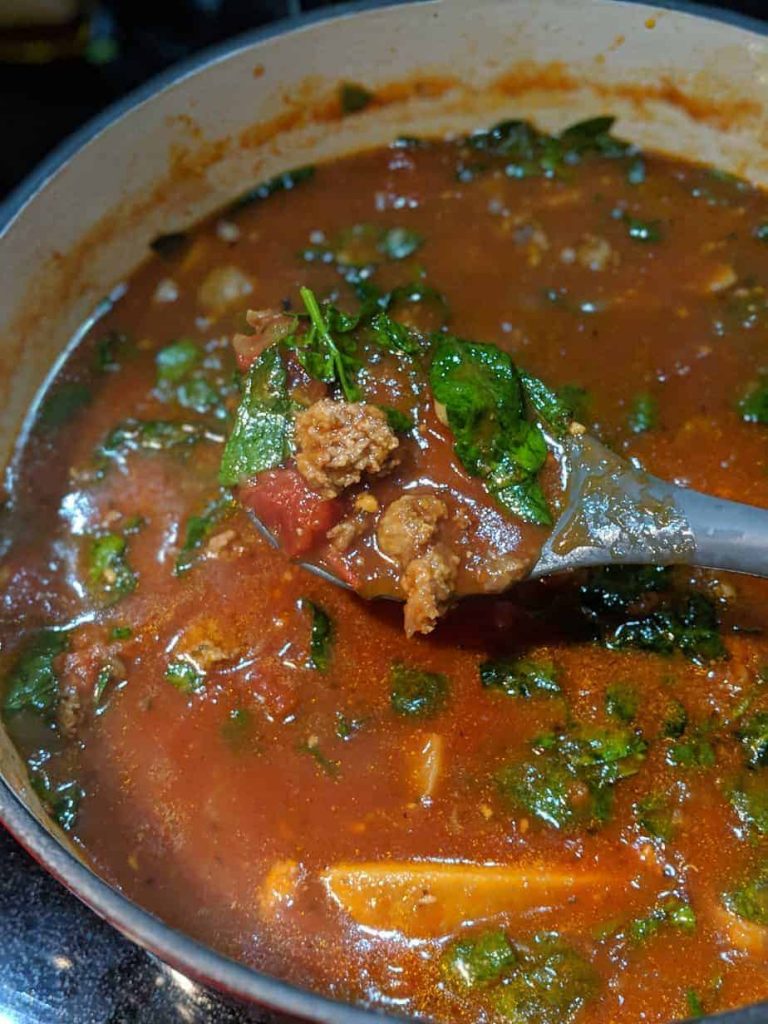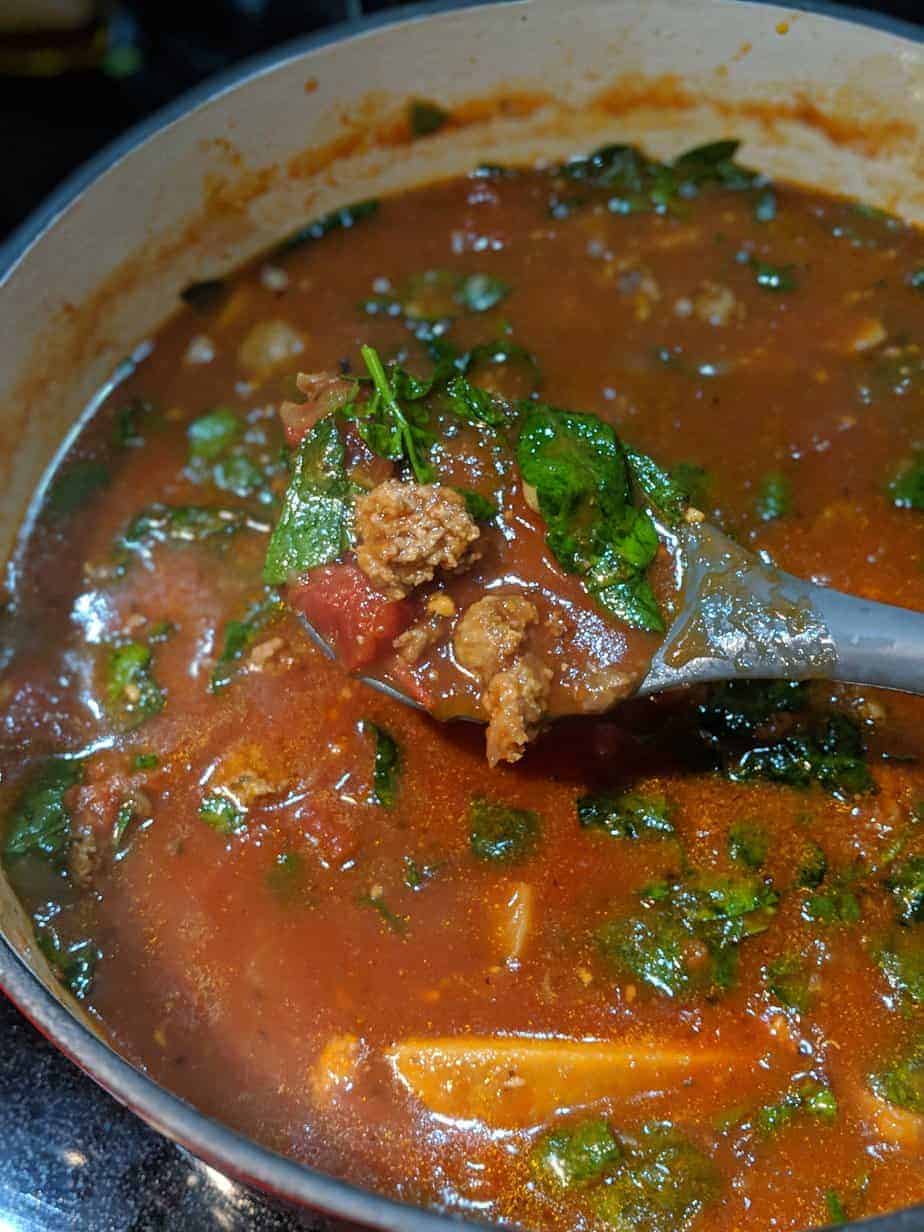 I'm all about versatility, so it's important for my recipes to be easily customized to what we have on hand and cooking method. You can add and substitute many of the ingredients according to taste.
Hamburger Soup or Lasagna Soup for Picky Eaters
When I first made this soup for Nikolai, we had to pull a fast one and call it "Hamburger Soup". If an 8-year-old hears "lasagna soup," they may run away forever, especially if hamburgers are a current favorite.
It's kinda, sorta the same thing with the tomato base and the ground meat… anyway, don't question a parent when it comes to convincing a picky eater.
Nevertheless, I made this exact recipe (sans spinach) and he gobbled it all up. The only change I made was to add the spinach to our bowls as we served it up. It's been a staple on our meal rotation ever since!
Related Post: Spaghetti Sauce Recipe (Crockpot or Stovetop!)
Ingredients for Lasagna Soup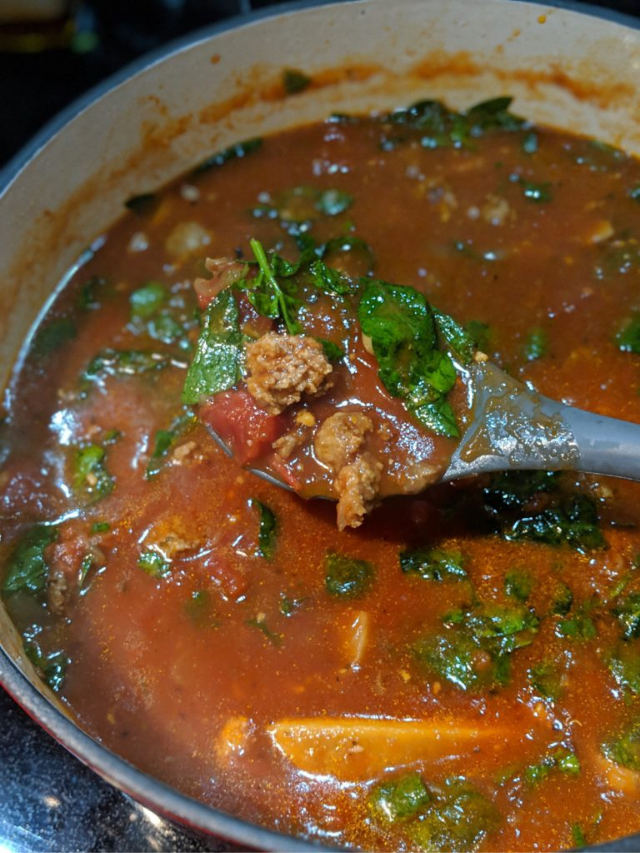 For some reason, this past batch was the best I've ever made – both Taras and Nikolai agreed.
The two things I believe made the difference: Parmesan rinds and premade Italian meatballs.
At first, I wasn't sure about adding the cheese rinds, fearing it might turn to a weird consistency, BUT it added incredible flavor. I can't explain it… only to tell you please add the Parmesan rinds!
I also picked up Italian seasoned meatballs from the meat department. I suspect they had additional seasoning, which of course, increased the flavor of the soup. Many people use ground beef for this recipe, but I prefer the flavor the Italian sausage adds to the soup, and the sausage doesn't get chewy.
In the past, I've used mild ground Italian sausage and it has turned out just as wonderfully, so don't sweat the meatballs if your store doesn't carry them.
Let's talk about the PASTA! You can use pretty much any kind of noodle you choose: broken lasagna noodles, bowties, penne… Really, anything will do!
Otherwise, the remaining ingredient list calls for your basic pantry items: onion, garlic, crushed tomatoes, tomato sauce, diced tomatoes, beef broth, canned mushrooms, fresh spinach, pasta… and cheese. Pretty basic!
How to Make Lasagna Soup
My favorite way to make this is on the stove in a heavy dutch oven pot, but this is totally doable in a crockpot just with a few more dishes to wash. Regardless, the process is the same.
Start by browning your sausage, make sure to get it nice and brown. Might wanna start with a swish of olive oil in the bottom of the pot, but don't worry about the browning on the bottom of the pan. We will get those nice flavors incorporated soon.
After the meat is browned, add in your onion and garlic with the sausage. If your sausage is nice and lean, draining won't be necessary. If you are using a slow cooker, you will now add the meat and onion mixture to the base.
Continue with the following process…
On top of the meat mixture, add in all of the canned tomato ingredients. Do not drain at all. Then, add the beef broth, drained mushrooms, seasonings and Parmesan rinds. Add the spinach 10 minutes prior to serving, or saute separately if you have picky ones.
I always prepare my pasta separately to avoid soggy noodles with leftovers.
Once the soup begins to boil on the stove top, turn to a simmer for about 3 hours. If you are preparing in the crockpot, cook on high for 4-6 hours or until flavorful.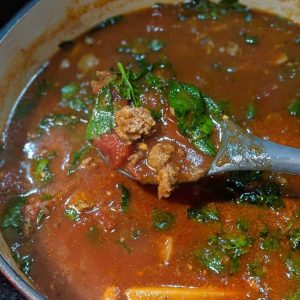 Lasagna Soup for the Stovetop or Crockpot
Lasagna soup is one of our all time favorite meals on a chilly day! It's versatile and a great way to sneak in veggies for the kids and simmer on the stove or the crockpot during a busy day.
Ingredients
1

pound

ground

(mild Italian sausage)

1

large onion diced

4

cloves

of garlic minced

1

can 28 oz crushed tomatoes

(undrained)

1

can 15 oz tomato sauce

(undrained)

1

can 14.5 oz petit diced tomatoes

(undrained)

32

oz

low sodium beef broth

2

cups

sliced mushrooms

(drained)

½

teaspoon

salt

½

teaspoon

black pepper

1-2

slices

Parmesan rinds

(optional)

6

oz

dried pasta any shape

2

cups

chopped fresh spinach
TOPPINGS
Mozzarella Cheese

Ricotta Cheese

Parmesan Cheese
Instructions
Cook beef, onion, and garlic over medium-high heat until no pink remains. Drain if necessary, then add to crockpot. (Place back in pot if using stovetop method)

Add all remaining soup ingredients except pasta & spinach. Cover and cook on low 7-8 hours or high 3-4 hours.

Cook pasta al dente according to package directions.

Stir in spinach. Cover and cook an additional 10-15 minutes. Spoon into bowls and top as desired.
Nutrition
Serving:
1
Calories:
353
kcal
Carbohydrates:
27
g
Protein:
21
g
Fat:
19
g
Saturated Fat:
8
g
Polyunsaturated Fat:
13
g
Cholesterol:
42
mg
Sodium:
1406
mg
Fiber:
6
g
Sugar:
11
g