Get ready to impress your guests this year with an Easter bunny cake that's as delicious as it is adorable! This easy-to-make cake features a moist vanilla base, creamy frosting, and colorful decorations that bring the bunny to life. Serve it as the perfect centerpiece for your holiday celebrations!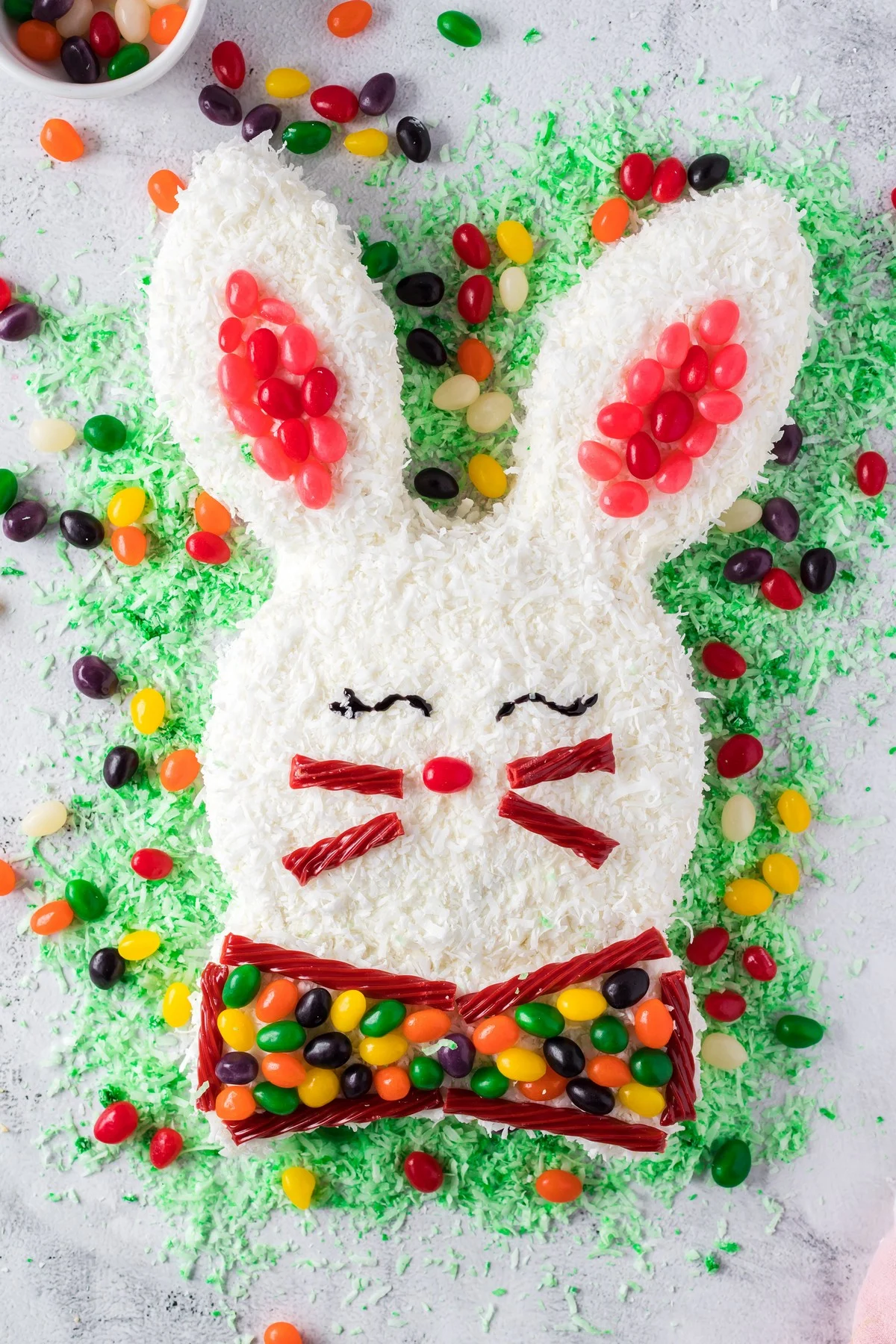 I'm so excited to share this simple tutorial for an Easter bunny cake, which is a recipe that brings back so many happy memories. The best part is how quick and straightforward it is to put together! All you need is a couple of cake pans and a little creativity to make a life-like cake that's great for all ages.
Check out more Easter Recipes here!
Why You'll Love This Recipe
Simple: No expert baking skills are required for this coconut Easter bunny cake, making it an easy and fun project for little ones.
Adorable: The cute bunny design is perfect for Easter celebrations. Serve it after an Easter egg hunt to wow your guests (especially the younger ones)!
Customizable: Put your own unique spin on the decorations by using different candies, fruits, sprinkles, or icing flavors.
Nostalgic: This Easter bunny cake will bring back so many memories of family gatherings with loved ones.
What Is An Easter Bunny Cake?
An Easter bunny cake is a fun and playful dessert that has become a popular centerpiece around holiday celebrations. You can serve it as a flavorful dessert after an entertaining Easter egg hunt or a family meal.
The cake is moist and tender, thanks to a simple boxed cake mix. Vanilla frosting adds a layer of creamy sweetness, while flaked coconut offers a slightly chewy texture. Add a pop of color with toppings like jelly beans, licorice, and sprinkles.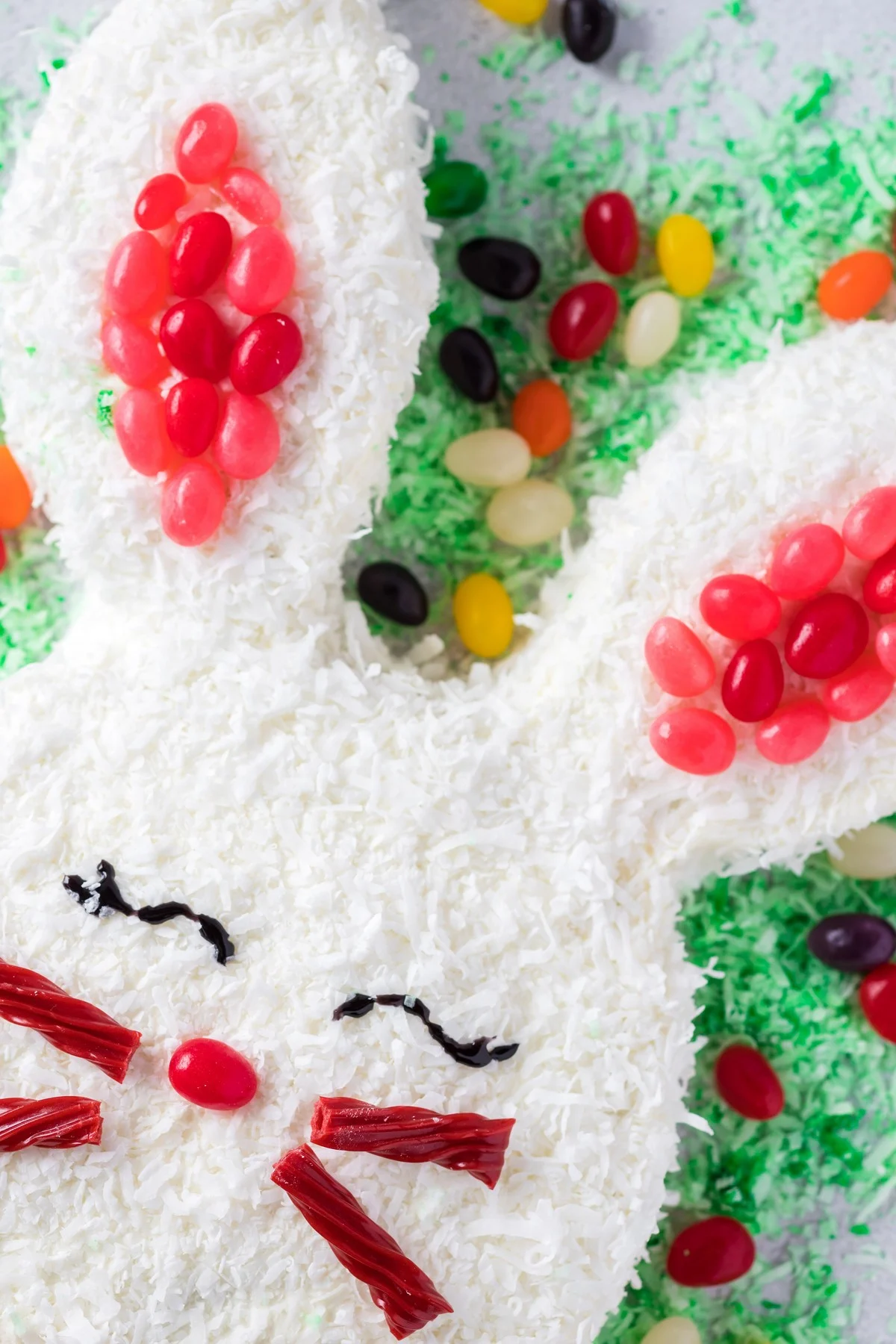 You can really get creative with this cake, especially if you're getting your kids involved! Once frosted and decorated, this Easter bunny cake is best enjoyed at room temperature, so give it a bit of time to come to warm up if it's been kept in the fridge.
Ingredients For An Easter Bunny Cake
See the full list of ingredients in the recipe card below.
Boxed cake mix: Boxed yellow or vanilla cake mix provides a sweet and tender base for the cake. You can also substitute a homemade vanilla or yellow cake recipe.
Cake mix add-ins: This varies slightly by brand, but you'll typically need eggs, oil, and water, all of which give the cake structure and moisture.
Vanilla frosting: Adds a layer of creamy, rich, and sweet flavors. If you're up for it, you can try making a homemade vanilla buttercream or cream cheese frosting.
Flaked coconut: Provides a chewy texture and a subtle tropical flavor, while also resembling the bunny's fur. If you don't have flaked coconut, you can use shredded coconut in its place.
Licorice: Use Twizzlers or another similar style for the bunny's whiskers and bowtie. No licorice available? Try fruit leather, Livewires, or rolled-up Fruit by the Foot.
Jelly beans: Adds a pop of color and fruity flavor for the eyes, nose, and bowtie. Gumdrops or even blueberries can be used as alternatives.
Pink sprinkles: To shape the inner ears. Feel free to replace pink sprinkles with sliced strawberries, pink decorating sugar, pink icing, or a mixture of red food coloring and extra coconut flakes for a similar effect.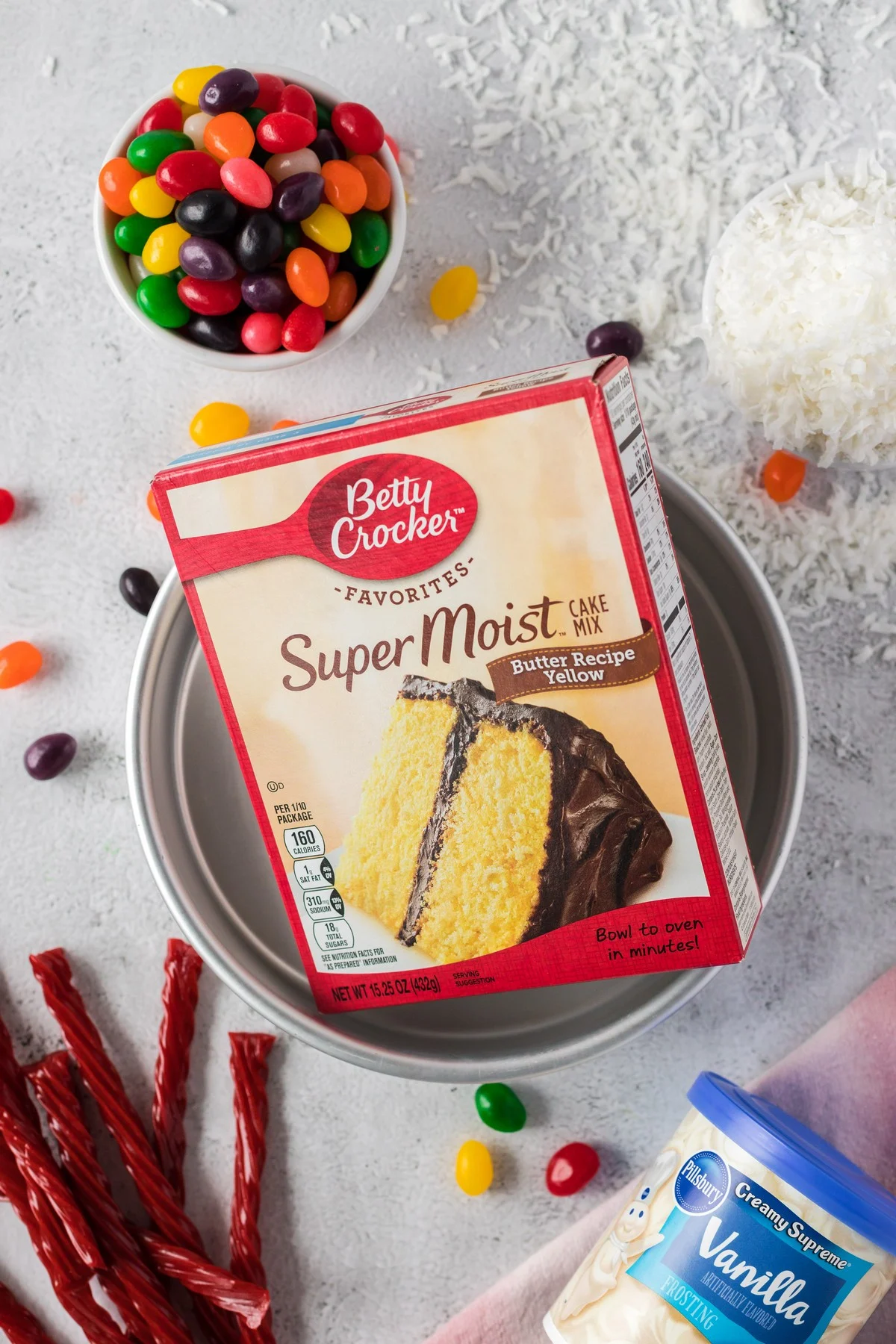 How to Make An Easter Bunny Cake
Step 1: Mix The Batter
Whip up the cake mix according to the package instructions. Once the batter is nice and smooth, divide it evenly between two 9-inch cake pans.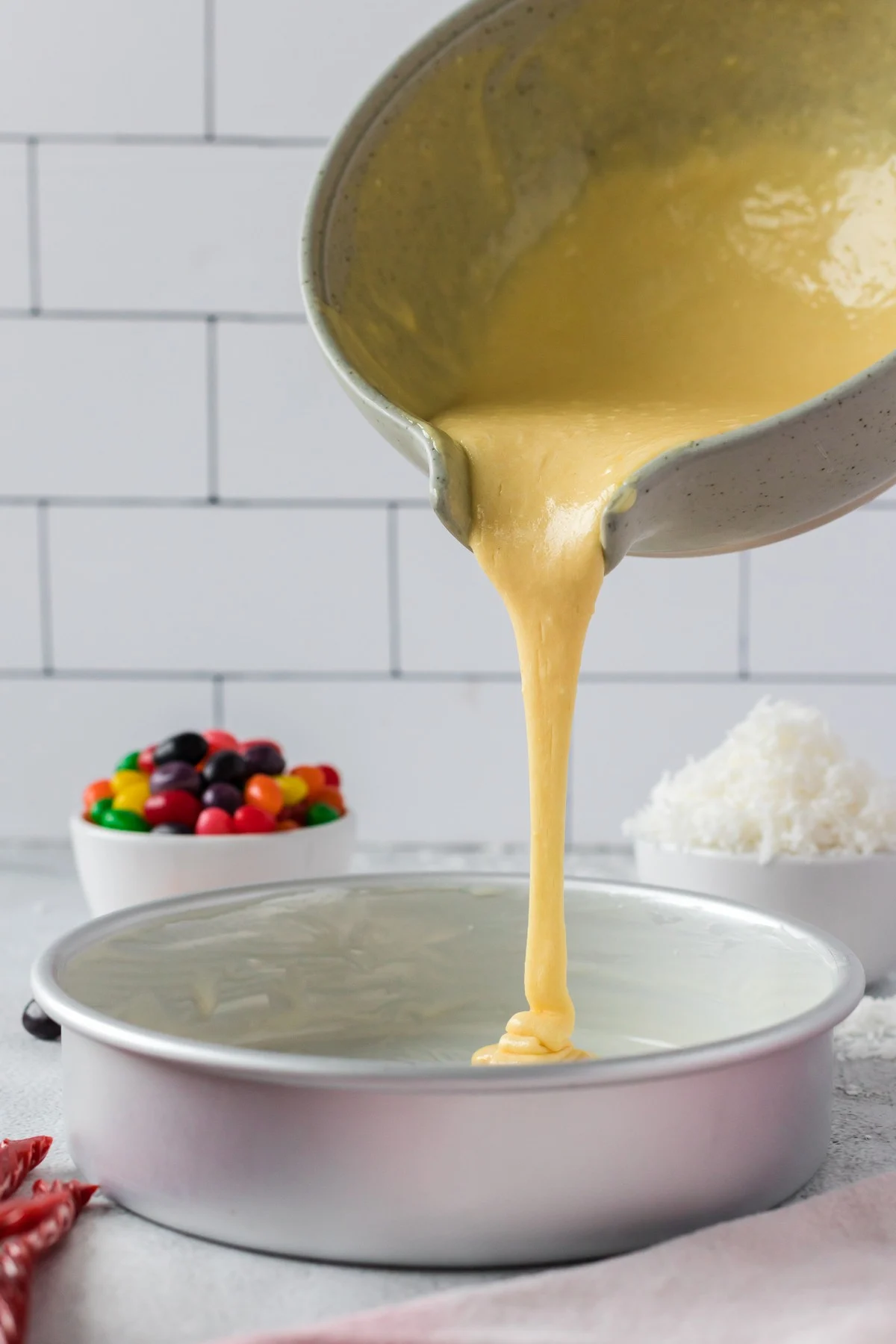 Step 2: Bake The Cakes
Pop both cake pans in the oven and bake as directed on the box. Once they are done, remove them from the oven and let them cool on wire racks. Leave them for about an hour, or until they're completely cool before cutting and icing them.
Step 3: Shape The Bunny Cake
Place one of the cooled cakes on a serving tray. Cut the other round cake like the picture below to make the bunny ears and bow tie. Arrange them around the first cake to bring your bunny to life!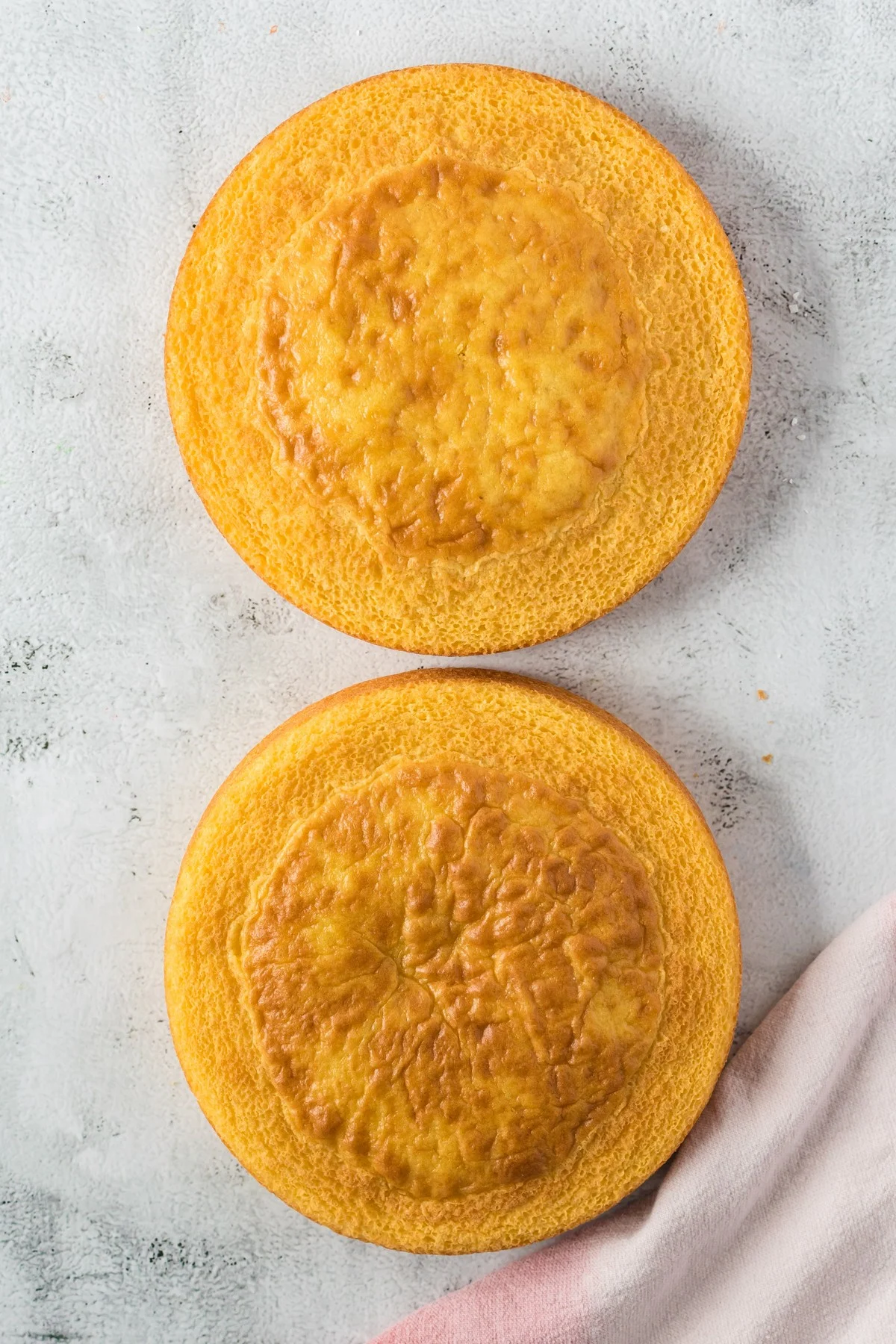 Step 4: Frost And Decorate
Carefully spread a generous layer of frosting over the top of the cake. Next, sprinkle coconut flakes all over to create fluffy bunny fur. Use red licorice sticks to outline the bow tie, then make whiskers and a mouth.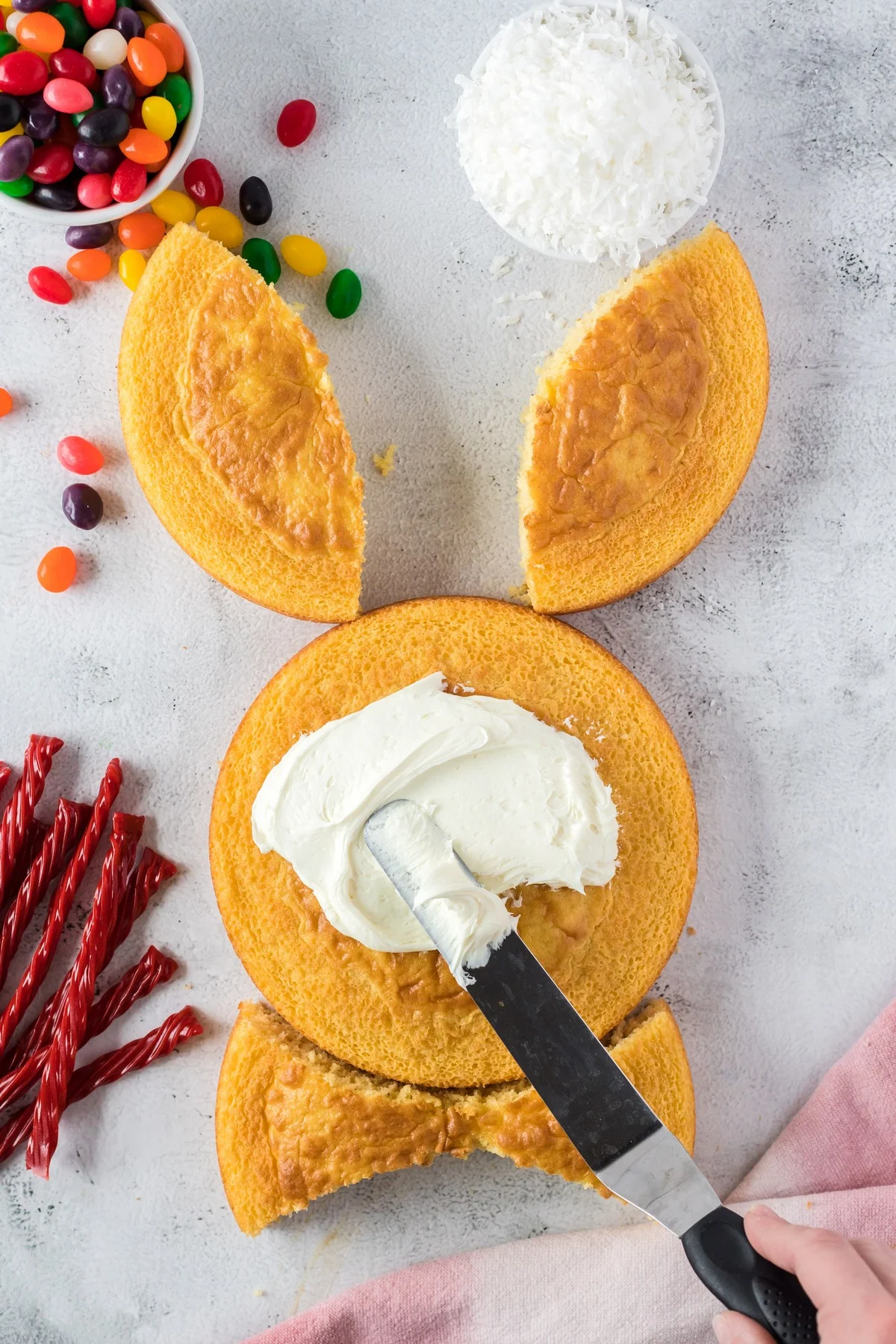 Use jelly beans for the eyes and nose, and to fill in the bow tie. Finally, add some pink sprinkles or jelly beans to create the inner ear outline. Keep the completed Easter bunny cake covered at room temperature until you're ready to serve it!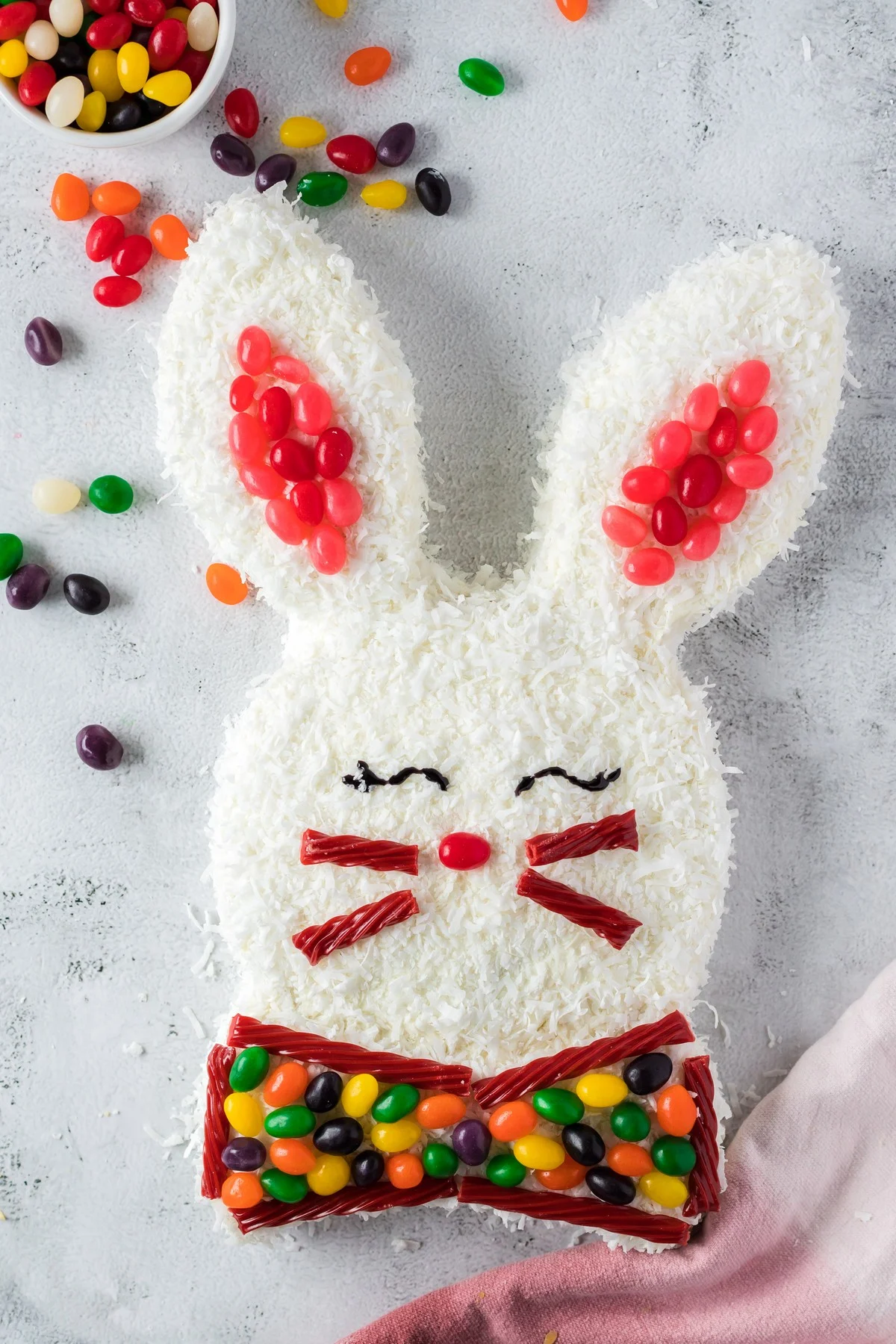 What To Serve With Easter Bunny Cake
Vanilla ice cream: A scoop of classic vanilla bean ice cream adds a creamy, cool, and rich complement to the cake.
Whipped cream: Whipped cream provides a light and airy component.
Fruit compote: A tangy, fruity compote can balance out the sweetness of the cake and add some vibrance.
Chocolate sauce: A drizzle of warm chocolate sauce adds a rich twist.
Easter Bunny Cake Ideas
Chocolate: Swap the vanilla or yellow cake mix for a chocolate cake mix, and use chocolate frosting for a dark chocolate Easter bunny cake!
Carrot cake: For a fitting Easter theme, opt for a carrot cake mix and a cream cheese frosting in place of vanilla.
Funfetti: Mix sprinkles into your batter, or use funfetti cake mix for a festive and colorful coconut Easter bunny cake.
Red velvet: Instead of classic vanilla, try red velvet cake mix and cream cheese frosting.
Tips For The Best Recipe
Room temperature ingredients: Bring all your ingredients to room temperature, especially the eggs, to make sure the cake bakes evenly.
Don't over-mix: Over-mixing the cake will result in a tough and dense texture. Mix the ingredients until they are just combined.
Use a serrated knife: Use a serrated knife when cutting the cake into shapes for a cleaner and more precise cut.
Cool it completely: To avoid melted frosting, make sure your cake is fully cooled before adding the frosting and other decorations.
What To Do With Leftovers
Room temperature: Keep the cake covered at room temperature for 1-2 days for the best texture.
Fridge: For longer periods, transfer the Easter bunny cake to an airtight container or cover it with plastic wrap and keep it in the fridge for up to 3-4 days.
Freezer: To freeze the cake, wrap it tightly in plastic wrap and store it in a freezer-safe container or bag. The cake can be frozen for up to 3 months. When you're ready to eat it, thaw it in the fridge overnight.
Additional Recipes
If you enjoyed this coconut Easter bunny cake, take a peek at some more of my best dessert recipes:
Frequently Asked Questions
Can I use a different flavor of cake mix for this recipe?
Of course! You can use your favorite flavor of cake mix for this recipe. Some more options include chocolate, lemon, or strawberry.
Can I make this cake gluten-free or vegan?
To make this Easter bunny cake gluten-free, make sure you use a gluten-free cake mix and double-check all the additional ingredients. For a vegan version, just use a vegan cake mix and replace the frosting with a dairy-free option!
What if I don't have two 9-inch cake pans?
If you don't have 9-inch cake pans, you can opt for other sizes like 8-inch pans or even a 9×13. You just have to adjust the baking time and may have to get creative with the bunny shapes based on the size.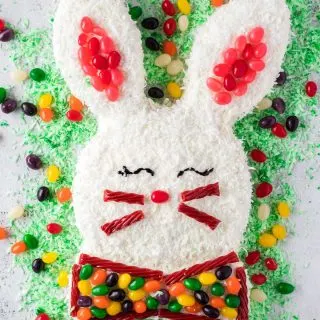 Best Easter Bunny Cake
Get ready to impress your guests this year with an Easter bunny cake that's as delicious as it is adorable! This easy-to-make cake features a moist vanilla base, creamy frosting, and colorful decorations that bring the bunny to life. Serve it as the perfect centerpiece for your holiday celebrations!
Ingredients
For the Cake:
1

box

vanilla/yellow cake mix

(15.25 ounces)

Ingredients called for on cake mix box
For the Frosting and Decorations:
16

ounces

container vanilla frosting

3 ¾

cups

flaked coconut

4

sticks

red licorice

30

Jelly beans

(about 30 or more – gumdrops can also be used.)

Pink sprinkles
Instructions
Mix cake as directed on box. Divide evenly between the two 9-inch cake pans.

Bake and cool cake as directed on box for two 9-inch round cakes. Cool 10 minutes. Remove from pans to cooling racks. Cool completely, about 1 hour.

Place one of the cooled cake rounds on serving tray. Cut other round cake as shown here.

Place ears and bow tie of the bunny accordingly.

Carefully frost top of cake with frosting. Sprinkle coconut over cake. Use licorice to outline bow tie and make whiskers and mouth on bunny. Use jelly beans for eyes, nose, and to fill in bow tie. Use pink sprinkles to fill in pink of the ears. Store covered at room temperature.
Nutrition
Serving:
1
Calories:
504
kcal
Carbohydrates:
70
g
Protein:
4
g
Fat:
25
g
Saturated Fat:
17
g
Polyunsaturated Fat:
3
g
Monounsaturated Fat:
3
g
Trans Fat:
0.2
g
Sodium:
379
mg
Potassium:
185
mg
Fiber:
5
g
Sugar:
46
g
Calcium:
102
mg
Iron:
2
mg